Two Super Bowl titles might've bought Eli Manning a few more years in New York. They don't, however, buy him infallibility.
There are a lot of "don'ts" at MetLife Stadium on a New York Giants game day. Don't wear a Philadelphia Eagles jersey. Don't forget your parking pass. Don't take up too many spaces.
The newest entry on the list, however, appears to be "don't insult Eli Manning".
Certain legions of Giants fans have taken even the slightest criticism of Manning as grounds for excommunication from the Big Blue fanhood. It's sacrilege, in their eyes, to insult the quarterback that brought them their two most recent Super Bowl titles, even as the 37-year-old enters the twilight of his NFL career.
But make no mistake: with the Giants sitting at 0-2 after the first couple of weeks, Manning is undoubtedly a large part of the problem. Diagnosing the Giants' issues obviously goes far beyond simply admitting Manning isn't what he used to be. But the circumstances behind the status of his 14th season as the Giants' starting quarterback make his early-season struggles all the more glaring.
With Manning set to turn 38 — which might as well be 78 in non-Tom Brady quarterback years — in January, the Giants have had to have the unthinkable discussion of who will succeed the youngest brother of football royalty. Davis Webb was, perhaps, the first legitimate candidate, but succession was not to be, as Webb failed to play a single regular season down in a Giants uniform.
With an unusually high pick in the 2018 NFL Draft, the time was ripe for an heir to be chosen from a polarizing quarterback class, but the Giants instead dedicated themselves to building one last title contender for Manning. They shelled out multi-millions for an offensive line renovation and passed (pun intended) on each and every elite thrower in the draft, eventually using a fourth-round choice on Football Championship Subdivision darling Kyle Lauletta. Saquon Barkley was the eventual pick, joined by a newly promoted Odell Beckham Jr., signer of a $95 million extension late in the offseason.
For the most part, Barkley has fulfilled his end of the bargain. His 236 all-purpose yards are tied for fourth among all NFL running backs, proving his worth on the ground and through the air, his accomplishments all the more impressive with the offensive line makeover being a disappointment thus far.
Barkley's strong start, however, has been cast aside by the vocal portion of the fanbase who wanted a quarterback, be it Sam Darnold, Josh Allen, or Josh Rosen. Strong as Barkley has been, it's almost been undone by those who lose their minds every time Darnold completes a 10-yard slant in green. Manning has not made the bypassing any easier to bear.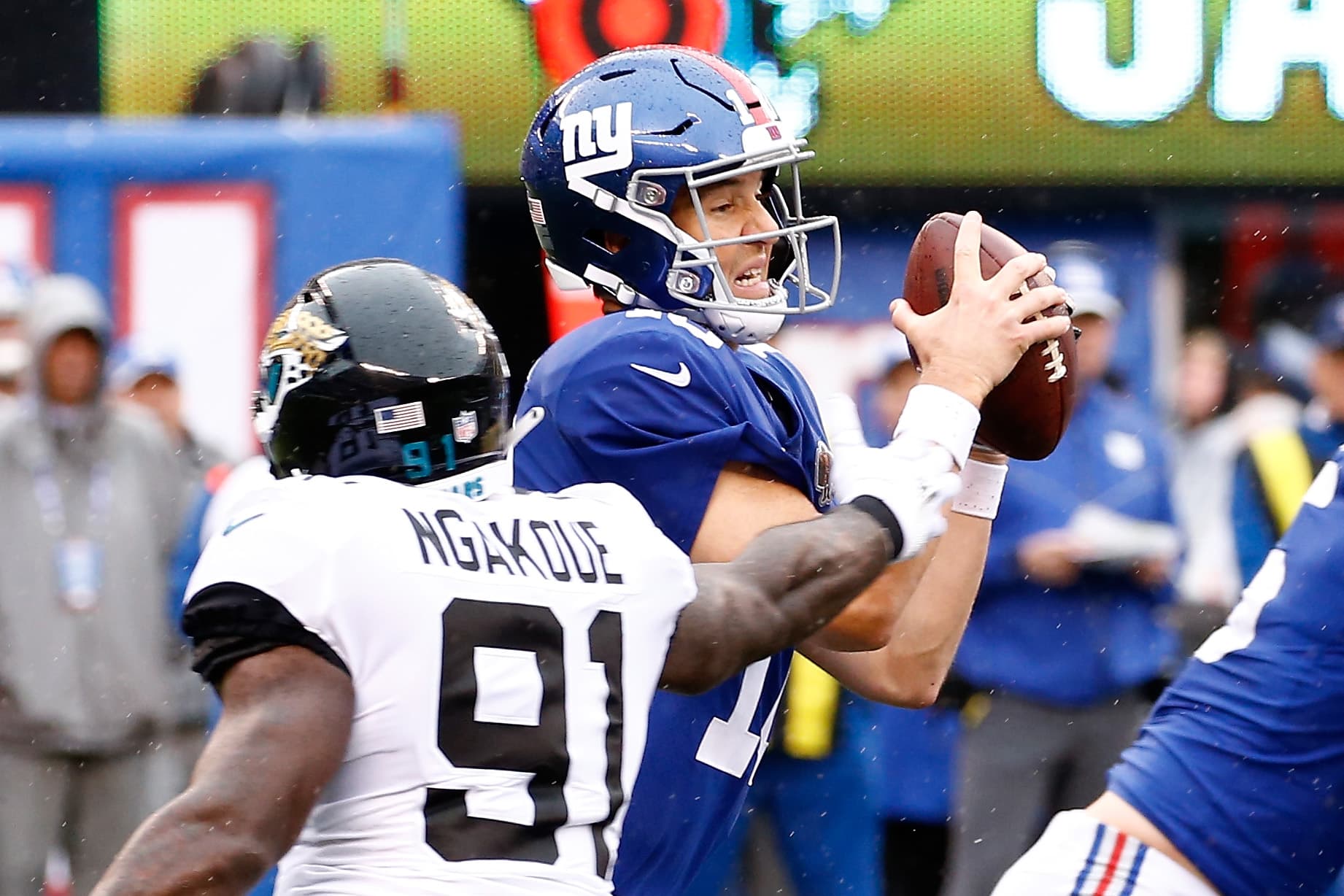 Today's league is one that worships the big play, drives that feature yardage in chunks en route to the end zone. For example, through two games, Manning's yards per attempt has been abysmal, currently sitting at 6.21, ranking 26th in the league. With playmakers like Beckham, Evan Engram, and Sterling Shepard in tow, not to mention playing in a division that features the defending Super Bowl champions and numerous other on-field weapons, that's simply unacceptable.
Last season, a 3-13 disaster that likely goes down as the most brutal campaign in Giants history, Manning had the handicap of being part of an offensive system that was steadily collapsing. The leadership regime, headlined by head coach Ben McAdoo and general manager Jerry Reese, were in over their heads, a flood brought upon by silly decisions and mismanagement, and eventually, they made Manning a scapegoat, ending his epic consecutive starting streak for New York Jets castaway Geno Smith.
2018 is different. The team decided to build around Manning, giving him a new offensive line, extending his top option at receiver, and drafting a legitimate rushing talent that can rival the studs in Dallas and Los Angeles. He can be excused by running for his life on a constant basis behind the porous offensive line, but overthrows, reduced chances downfield, and continued turnovers are on him.
Yet, some of the fanbase continues to venerate Manning, absolving him from the blame thanks to two titles that might as well be ancient history. Manning is not at the forefront of the Giants' issues, but he definitely has a share of the blame.
Manning does have a chance to brush this under the rug, able to chalk it up as the result of poor offensive line play, but, true to form, not only shouldered part of the blame for the most recent loss to the Cowboys, but included himself in the myriad of issues.
"Enough things might mess up a little bit, it's a combination of everybody, it's not just the offensive line," Manning said to Paul Schwartz of the New York Post on Monday. "When sacks are happening obviously the offensive line gets blamed most of the time but that's not necessarily the case. You got running backs, you got quarterbacks, you got receivers, everybody plays a part in that.''
SIX SACKS #SACKCITY Let's Go Cowboys @DallasCowboys #DallasCowboys #Cowboys #AmericasTeam #NYGvsDAL #SNF https://t.co/rqpQg0KFEo pic.twitter.com/sY6FHwVcTl

— Sports + Plus Cowboys (@SportsPlusTexas) September 17, 2018
It's this selflessness that has endeared himself to Giants fans. He's in for the Giants' rebuild phase, even if it means a lean year or two. However, if this truly is the last stand of Manning, there needs to be some hope, some success to build on.
New York fans are used to seeing legends reduced to shells of their former selves, or watch their New York exits end on sour notes. Not everyone, unfortunately, can depart the city like Derek Jeter, whose final at-bat in The Bronx was a walk-off single for the win. Other times, legends like Patrick Ewing and Brian Leetch find themselves unceremoniously traded. Manning won't go anywhere, his contract equipped with a no-trade clause, but bigger things need to happen to end things on a happy note.
There's time, not only to end this season on a good note, but to prove the long-term Barkley decision correct. An improvement of any kind before the season lets out could be the perfect parting gift Manning can bestow to the fanbase that will go to bat for him no matter what. His future undoubtedly does lead to MetLife Stadium's Ring of Honor at some point. That aforementioned gift, however, could also serve as a peace treaty to a rising blue civil war over his present.
Follow Geoff Magliocchetti on TWITTER