Minnesota star Jimmy Butler has requested a trade and listed the Brooklyn Nets as a preferred destination. What kind of package can they offer?

One week away from the start of training camp, Jimmy Butler has decided he'd rather spend next season (and likely future seasons) elsewhere. The four-time All-Star requested a trade Tuesday in a meeting with Timberwolves' head coach Tom Thibodeau.
According to ESPN's Adrian Wojnarowski, Butler provided a list of three teams he'd prefer to land with. Among them: the New York Knicks, the Los Angeles Clippers and yes, the Brooklyn Nets.
Sources: After NBA investigation into workplace misconduct, Dallas owner Mark Cuban and the NBA have agreed that he'll donate $10M to organizations that promote women in leadership roles and combat domestic violence. NBA can only fine $2.5M by rules.

— Adrian Wojnarowski (@wojespn) September 19, 2018
Now, Minnesota is faced with the daunting task of completing a blockbuster trade just days away from training camp. Brooklyn, on the other hand, must put together a competitive package with their front office on the clock.
A look at the Nets' assets, available players, and their best offer for Jimmy Butler.
Brooklyn arguably is in the best position to strike for Butler within the next week.
The Clippers' roster is filled with aged and injury prone veterans, and it's hard to see them parting with offensive focal point Tobias Harris. It's worth noting Los Angeles does have their own future first-round pick, as well as others.
New York has all the assets to get a deal for Butler done, but it's hard to believe they'd part with their young core. Especially following the attitude displayed by president Steve Mills and general manager Scott Perry at a fan event Monday.
The two made it very clear that (as of Monday) the Knicks would not be trading any future assets for a guy they felt the team could sign next summer. But can they sign Butler in free agency?
The common denominator his three-team list is that all clubs listed have the cap space to sign him in free agency next summer.
They're all teams he'd agree to an extension with at the time of the trade, should need be. So, New York's conservative attitude may pave the way for a Brooklyn-Minnesota deal.
---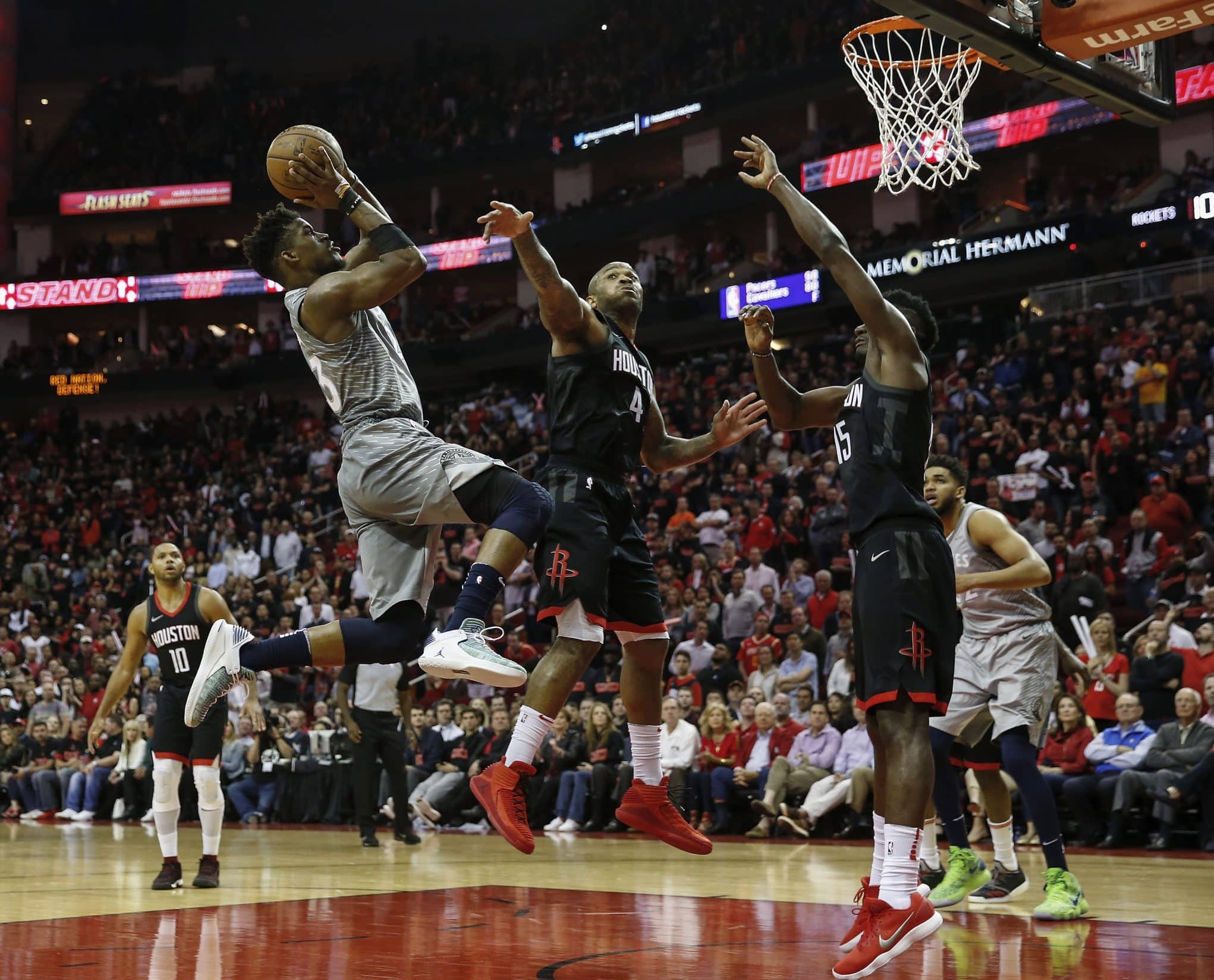 ---
What does the return look like for a star level player?
Butler's presence on the Brooklyn roster would no doubt mean a near-guaranteed trip to the playoffs. That's everything for a Nets team that hasn't been since 2014.
In exchange, Minnesota is going to need a budding young talent and experienced veteran capable of helping to replace Butler's presence.
DeMarre Carroll or Allen Crabbe?
The Brooklyn Nets traded for both DeMarre Carroll and Allen Crabbe last summer. After one year with the team, both could be seamlessly uplifted in exchange for Jimmy Butler.
The question being: which is the better fit for Minnesota?
Carroll is a nine-year veteran who's seen multiple runs in the playoffs. That's something the Timberwolves need to add to their young core, and precisely why they traded for Butler last summer.
Carroll would help to fill in the scoring void and provide some expertise to both Andrew Wiggins and Karl Anthony-Towns. He finished last season averaging a career-high 13.5 points and 6.6 rebounds.
It's also worth noting Carroll played alongside Minnesota point guard Jeff Teague for multiple years in Atlanta. That could serve as a fix for some of the Timberwolves' obvious locker room toxicity.
Crabbe is a three-point specialist who's just now growing out of the sixth-man role he played in Portland. He started a career-high 68 games with the Nets last year and posted a .378 clip from three-point range.
Minnesota finished last season as the NBA's worst team in three-pointers made, and 19th in three-point percentage. Adding Crabbe immediately provides an immediate boost behind-the-arc.
Caris LeVert or Rondae Hollis-Jefferson?
The package Brooklyn puts together for Butler will undoubtedly hold one of either Caris LeVert or Rondae Hollis-Jefferson. Both are considered young assets and are already considered strong bench contributors, or even starters on the right team.
LeVert is only 24 and has two years left on his rookie deal. He's shown the capability of playing both shooting and point guard.
There was a considerable stretch last season where LeVert played the role of facilitator for Brooklyn. That resulted in him averaging a career-high 4.2 assists per game.
Even with Derrick Rose as the backup point guard, Minnesota could use a younger and more athletic presence on the bench.
Hollis-Jefferson is 23 and coming off a career season at power forward. Ironically enough, he's almost everything the Timberwolves don't have in former number one pick Andrew Wiggins.
He can guard the one through four positions and can score from anywhere ahead of the three-point line.
Minnesota was the NBA's 24th worst team in rebounds last season. After averaging 13.9 points and 6.8 rebounds, Hollis-Jefferson would make for a nice fit in the frontcourt next to Anthony-Towns.
Should the Nets include a future first-round pick?
Brooklyn currently has two first-round picks in the 2019 draft. Their own, and the one they acquired from Denver in the Kenneth Faried deal. That pick is protected 1-12 for the next three years.
Butler is a sure-fire star. And for the first time in recent years, a first-round pick almost seems expendable in this scenario.
Adrian Wojnarowski also reported that Butler's number-one preferred destination is the Los Angeles Clippers:
Minnesota's Jimmy Butler is most determined to find a way to the Los Angeles Clippers, league sources tell ESPN. The appeal of partnering with a second star – the Clippers have two max contract slots available in summer free agency – is an intriguing scenario for him.

— Adrian Wojnarowski (@wojespn) September 20, 2018
This is exactly where the first-round pick comes into play. Both New York and Los Angeles are liable to put together packages for Butler. But it's doubtful that either of those will include a first.
The Knicks and Clippers alike seem reluctant to trade for a player they feel can be had in free agency. That reluctance is exactly what will win this bidding war for the Nets.
Including either of the two first-round picks will likely top both Los Angeles and New York's offer for Butler, by a wide margin. This is the NBA, and if you want to build that championship team, this is where it starts.
Look at Paul George, who was quoted as determined to end up a Los Angeles Laker. He most recently signed a five-year deal with the Oklahoma City Thunder.
For Sean Marks and Brooklyn, this situation is no different.
---
The Brooklyn Nets can win this bidding war, and acquire Jimmy Butler by offering up a veteran wing player, young talent, and a future first-round pick.
So, call Butler's bluff.
Show him the Nets way.
Help him campaign for your next star.
And ultimately—coach him through your next championship.