Opening Big Ten play on the road against the Buckeyes, the Rutgers Scarlet Knights look to carry momentum from Week 1's win into Columbus.
A 35-7 win over Texas State isn't going to start any conversation in the College Football Playoff selection committee's conference room. But for the Rutgers Scarlet Knights, a program desperate for any victory they can get, it represents a step in the right direction, the first of several potential turning points in their Big Ten saga.
"Opening the season 1-0 is great," head coach Chris Ash said after Saturday's opening win. "Great feeling. Very happy for our players, happy for our staff, our fans, supporters that came out today. Love the student section. Really appreciate the students showing up today. We haven't started class yet. We had a great student section, they were into it. They created an energy and enthusiasm in that stadium that we need every single Saturday. Appreciate those guys."
Sure it came against the reigning Sun Belt Conference cellar-dwellers, but the Texas State win was Rutgers' largest against a Football Bowl Subdivision member since a 31-6 win over Tulane in 2014. They've enjoyed the victory, but now so-called reality emerges in a big way. This time in the form of a road trip to Ohio State (3:30 p.m. ET, BTN).
Ranked 4th in the Associated Press poll, the Buckeyes' first game after a summer of controversy, one that cost head coach Urban Meyer the first three games of 2018, was an absurdly one-sided 77-31 victory over Oregon State at home. Rutgers knows about being the wrong end of Ohio State blowouts, their would-be Big Ten rivalry having gone completely off the rails so far. The Buckeyes, former employers of ex-defensive coordinator Ash, lead the all-time set 4-0, outscoring the Knights 219-24 in the quartet. The past two meetings have been particularly brutal, with Rutgers failing to tally a single point.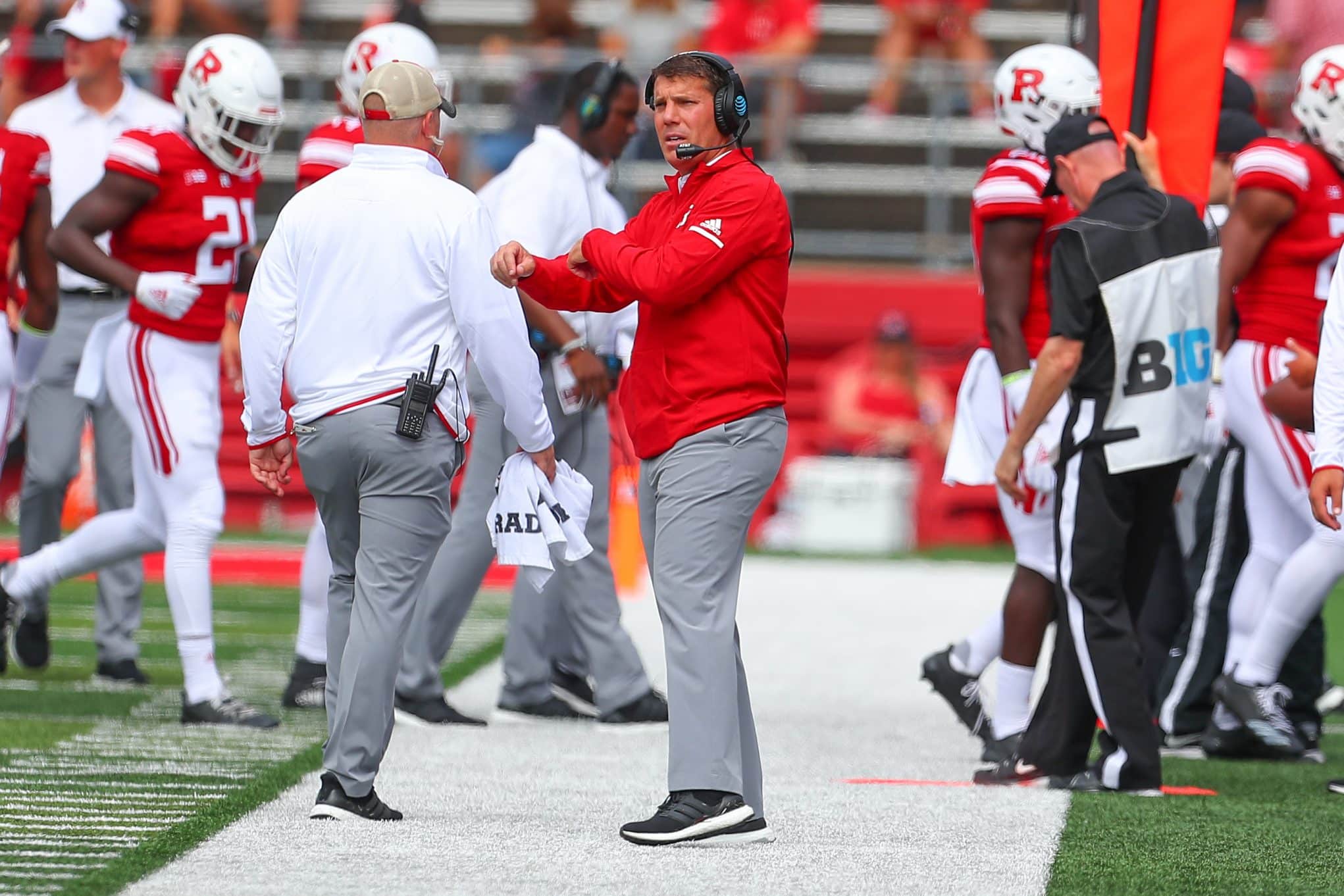 The victory over the Bobcats, however, has given the modern-day Knights an uptick in confidence headed into their conference play opener. Positives gleaned from the victory include the play of true freshman quarterback Art Sitkowski, former Miami commit who posted passable numbers in his Piscataway debut. Despite relishing the win, the Old Bridge, NJ native inviting numerous family members to the game, Sitkowski expressed a desire to look at the film and prepare for the Buckeyes as soon as he could.
"I played all right. Again, the most important thing was getting the win," said Sitkowski, he of 205 and one touchdown. "I got things that I gotta work on, and I'm really excited for that, to go watch film with coaches and players. 24-hour rule. Enjoy this win, but learn what I did today and get better."
One of the biggest keys behind Saturday's win was that Sitkowski didn't have to win the game on his own, complemented by a strong run game. Sophomore Raheem Blackshear and senior transfer Jonathan Hilliman combined for 122 rushing yards and four touchdowns, one of which became Sitkowski's first touchdown pass. Another true freshman, Isaih Pacheco, impressed once the score got out of hand, running for 76 yards on 12 carries.
"We have to be able to run the football. If we can do that successfully, we'll open up the pass game," Ash said of his rushers. "I really like our running back group. We have speed, we have power, we have small, we got big. We got a good combination of all of it. They got to push each other to keep getting better. We're going to rely on them to do a lot of things."
Despite the victory, Ash acknowledged that mistakes were made. The Knights' lead could've been bigger if not for four turnovers. As well as 50 yards on seven penalties. The flag issue was especially prevalent on the first defensive series, in which Rutgers had three separate opportunities to get off the field, but a defensive holding on third down and two fourth down infractions (one of which was personal foul with 24 yards to go) allowed the drive to continue.
The Texas State trek ended with a blocked field goal, but Ash acknowledged that a better team will take advantage of penalty-induced gifts. Another penalty wiped out a Sitkowski touchdown pass, the cancellation leading to an interception two plays later.
"We can't afford to do that against good teams we'll be playing down the road," Ash said of the infractions. "I told the team at halftime, it was a sloppy victory. Too many penalties, too many mistakes … It was good to make those mistakes, get some game reps under their belt, still come out with a victory. It will help them in the long run."
The odds are clearly against the Scarlet Knights (Ohio State is listed as a 35-point favorite), and moral victories don't count toward the standings. But to right the team's ship, one that has been off course since its last bowl appearance in 2014, better showings against premiere, conference competition are needed. There's hope that last Saturday's win can be the first step toward better days.
"I'm happy where the guys are all at," linebacker Trevor Lewis said. "We were all on the string together and making plays together, and that's something really good to see. We had young guys come in and step up, so I was just happy to see where we were at."
Follow Geoff Magliocchetti on TWITTER