Among the New York Giants cuts this preseason was seven-year veteran Mark Herzlich. Despite being cut, his story should never be forgotten.
As the New York Giants enter the 2018 season, they will do so without one of the best inspirational stories in the NFL over the last decade. For the first time since the 2010 season, the Giants roster will not include Mark Herzlich.
Herzlich is used to overcoming obstacles and his latest one which finds him without an NFL team is small compared to what he has overcome.
Standout at Boston College
After getting offers from Virginia, Boston College, Vanderbilt, North Carolina, and Duke, Herzlich chose Boston College. He started every game his freshman and sophomore seasons and was a preseason All-American candidate entering his junior year.
Herzlich separated himself from the competition during his junior season, as he was named ACC Defensive Player of Year and a first-team All-American. He decided to return to Boston College for his senior season, although he was projected to be a top-15 pick.
Cancer Diagnosis
On May 14, 2009, Herzlich announced he had been diagnosed with Ewing's sarcoma, a rare bone cancer. Although he was deemed cancer-free by October, he was unable to play during the 2009 season.
Jimmy V Fundraiser and Return to Football
I had the privilege of meeting him at a fundraiser for the Jimmy V Foundation that Dick Vitale hosts every year. I was inspired by his tenacity and excitement to be back on the football field for his senior season. Despite his scare, he was determined to get back the career cancer had taken from him.
On Sept. 4, 2010, Herzlich returned to the football field. He totaled five tackles in the Eagles season-opening victory at Weber State. Although he started all 13 games and finished third on the team with 65 tackles, he was not selected in the 2011 NFL draft.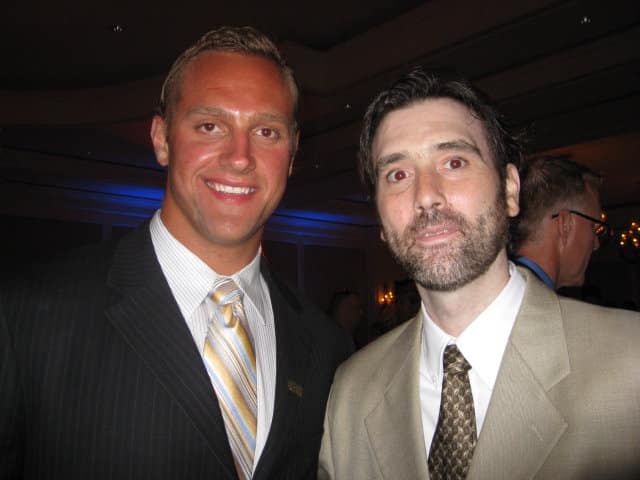 Signs With Giants
Despite not being drafted, Herzlich held out hope that he would play in the NFL. The Giants offered him a contract at the suggestion of Wellington Mara and to no one's surprise, he made the team.
For the next six seasons, Herzlich appeared in 88 games for the Giants, starting 18 and becoming a key member of the defensive and special teams units. In 2017, after sustaining an injury in the preseason, Herzlich missed the entire regular season on IR.
After signing a contract in March with the Giants, Herzlich was among the final roster cuts heading into this season, ending his career with them. His courage, leadership, and example will not be forgotten.
Surviving Cancer
I know a bit of the struggle Herzlich has gone through because I am also a cancer survivor. Diagnosed at 16, the side effects of chemotherapy, radiation and a bone marrow transplant have ravaged my body and permanently affected my life.
Beating cancer is one thing, but living with the horrific side effects of the treatment are entirely another mountain to climb. My career at ESPN was taken away because of those side effects and the onset of Crohn's disease and Lymphedema. Many days just getting out of bed is a chore.
I am grateful for the example of desire, resiliency, and courage that Mark Herzlich has shown. He is an example to all of us who will never forget the effect this disease can have on the body. Despite his setbacks, Herzlich did not let this deny him his dream of playing in the NFL. We all can learn from his example.
As a former Make-A-Wish child, I will never forget the effect meeting him had on me at that Jimmy V fundraiser back in May of 2010. I encouraged him to remember the rest of us that never got the chance to chase our original dreams.
Life After
For me and other survivors, we face a daily reminder of the disease that took away our original dreams. Now we have new dreams. Never let cancer take away your desire, heart and discourage the unique abilities God has blessed us with. We all can still find a way and make a difference in others lives.
To learn more about my journey through cancer and how to support a survivor dealing with permanent side effects of treatment, please email me at [email protected]