Todd Bowles and the New York Jets release their official Week 1 depth chart for the 2018 NFL season.
The wait is over. Not only are we out of the mystery that August provides, the regular-season rigid schedule that is the National Football League is now firmly entrenched. The feeling hits us hard now that the official Week 1 depth chart has been released.
On Tuesday, the New York Jets pushed the chart out per its PR department with little fanfare and few surprises.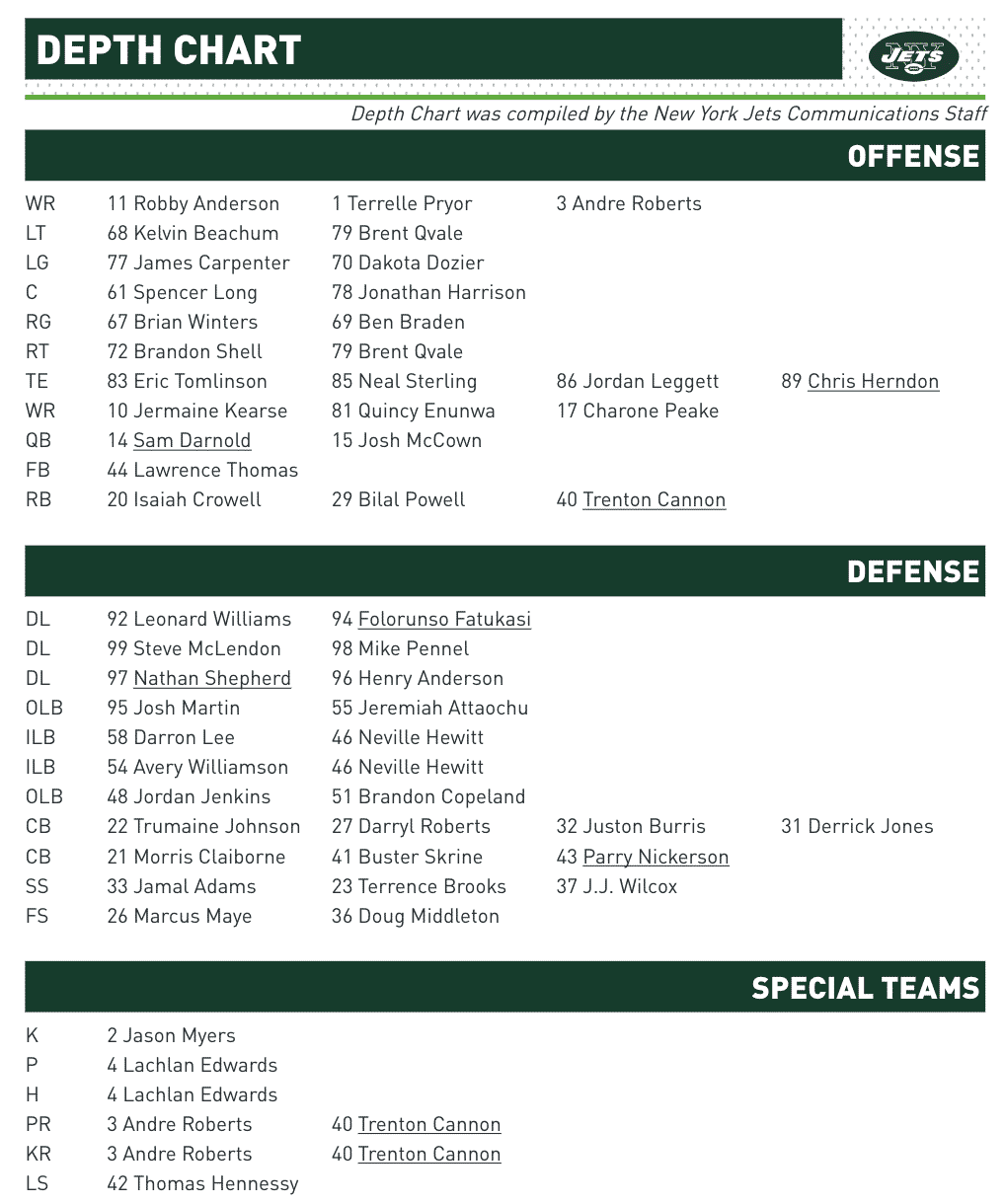 Listen, it doesn't matter who's listed as the starting back. Isaiah Crowell, Bilal Powell and even Trenton Cannon will all receive time. I wouldn't even be surprised if Cannon eventually takes the chunk of the work during some of the games in which he catches fire on a run or two. While his one-cut vision within the zone scheme leaves a ton to be desired, his raw talent is better than anybody at the position on the chart.
At widout, Jermainse Kearse over Quincy Enunwa means very little. Both Enunwa and Kearse can play the slot in the 11 personnel look.
Neal Sterling, for all intents and purposes, is the No. 1 receving tight end. The only question that remains is whether or not Enunwa plays a lot of the Y in three wideout looks. In this case, Enunwa, Kearse, Robby Anderson and Terrelle Pryor will all be split out wide with no tight end on the field.
Defensively, young Nathan Shepherd is the official starter alongside Leonard Williams and Steve McLendon in the interior of the D.
Buster Skrine is obviously the third and slot corner, but who's No. 4? It appears as though that slot is all Darryl Roberts. When the D goes big nickel or big dime, who is that third safety, Terrence Brooks or Doug Middleton? Seeing J.J. Wilcox third string might be the most surprising aspect of the initial chart.
For now, Dan Bailey remains unsigned. Jason Myers remains the kicker.
The New York Jets officially open the 2018 NFL season on Monday Night Football as they travel to Detroit to take on the Lions.