Despite the release of Davis Webb leaving the New York Giants without a true Eli Manning successor, the move for Saquon Barkley was correct.
Davis Webb will have more articles dedicated to him in New York than NFL snaps.
On Sunday, Webb became the latest casualty of the New York Giants' purge of the Jerry Reese era, as the ex-general manager's final third-round pick was waived in a bombshell transaction. Webb's Giants career ends with zero regular season throws, his blue Giants jersey worn just once in a game that counted toward the NFL record books.
The scrutinization and analysis of Webb's New York legacy, or lack thereof, has begun immediately.
There are plenty of things you can realistically argue about Webb's paused NFL career to this point. One can say he failed to show any promise in the preseason time he got. Others can argue his career was shut down before it could begin by forces beyond his control. The Giants, granted a December full of free research and development, failed to insert Webb in any of their consequence-free games late in the year, dressing him only in the regular-season finale against the equally doomed Washington Redskins.
The eventual waiving of Webb was perhaps a move by the Giants' new leadership group, general manager Dave Gettleman and head coach Pat Shurmur, to insert their own man in the Manning successor spot, fourth-round pick and this draft's Football Championship Subdivision darkhorse, Kyle Lauletta emerging from Richmond. The release can be further scrutinized because, should the unthinkable happen to the durable Manning, Lauletta, whose preseason stats weren't exactly off the charts, would be forced into action, the second contingency plan being Alex Tanney, a 30-year-old veteran who has appeared in a single NFL regular season game.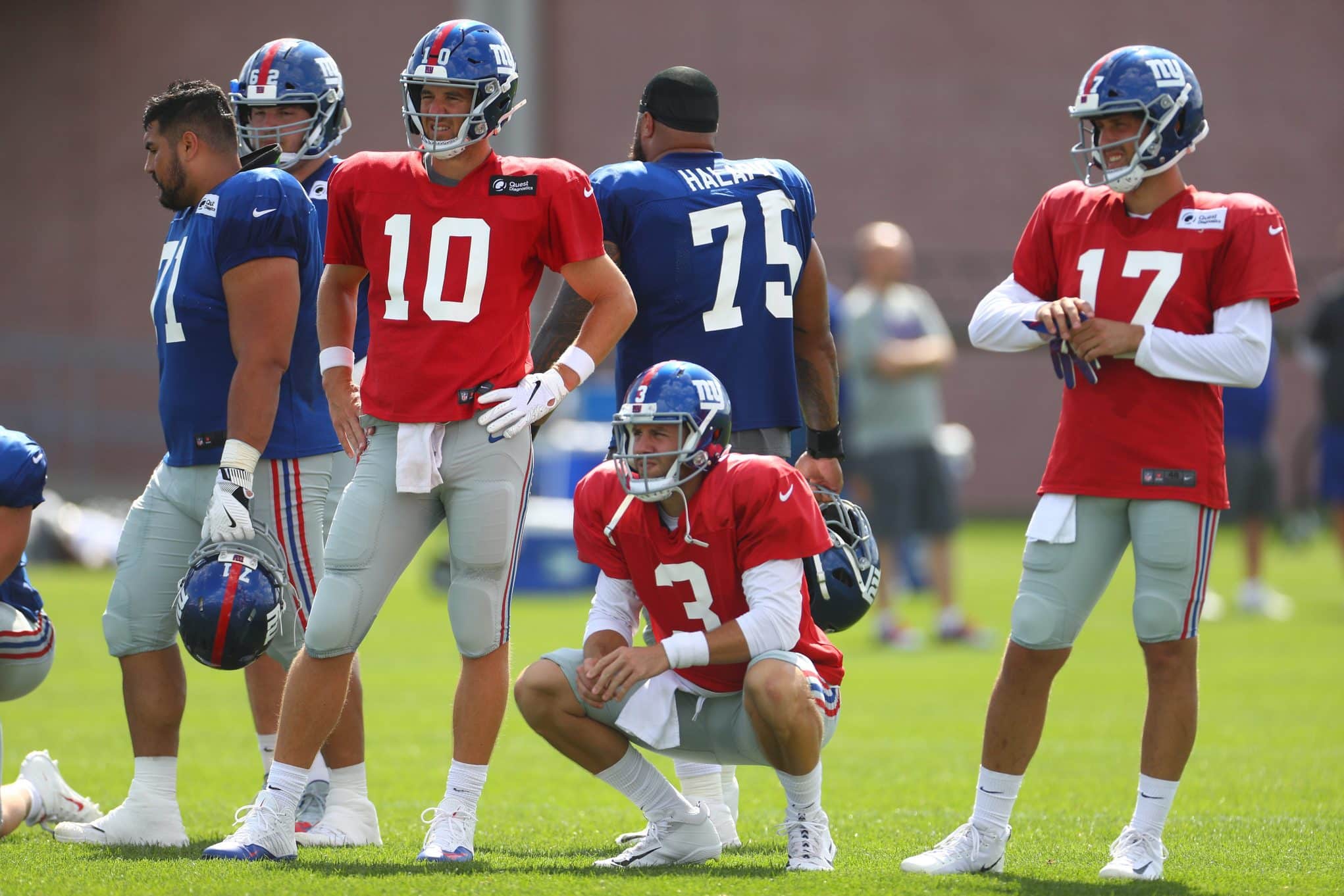 The Webb release has also brought forth a new victim: Saquon Barkley.
Barkley's NFL career will already be forever defined by the performance of another player entirely, Sam Darnold. Chosen to be the latest quarterback savior to the Giants' MetLife Stadium co-tenant, the New York Jets, Darnold's draft positioning, immediately after Barkley, will forever link the two players' careers, and the perplexing Webb decision will only put further pressure on Barkley to live up to his massive hype. In a league in which having a franchise quarterback is necessary to contend, the idea is that the Giants have no surefire future plan behind Manning, 37, who is set to become a free agent in 2020.
But the move for Barkley, discussed as it will be for years to come, was the right move for the Giants to make.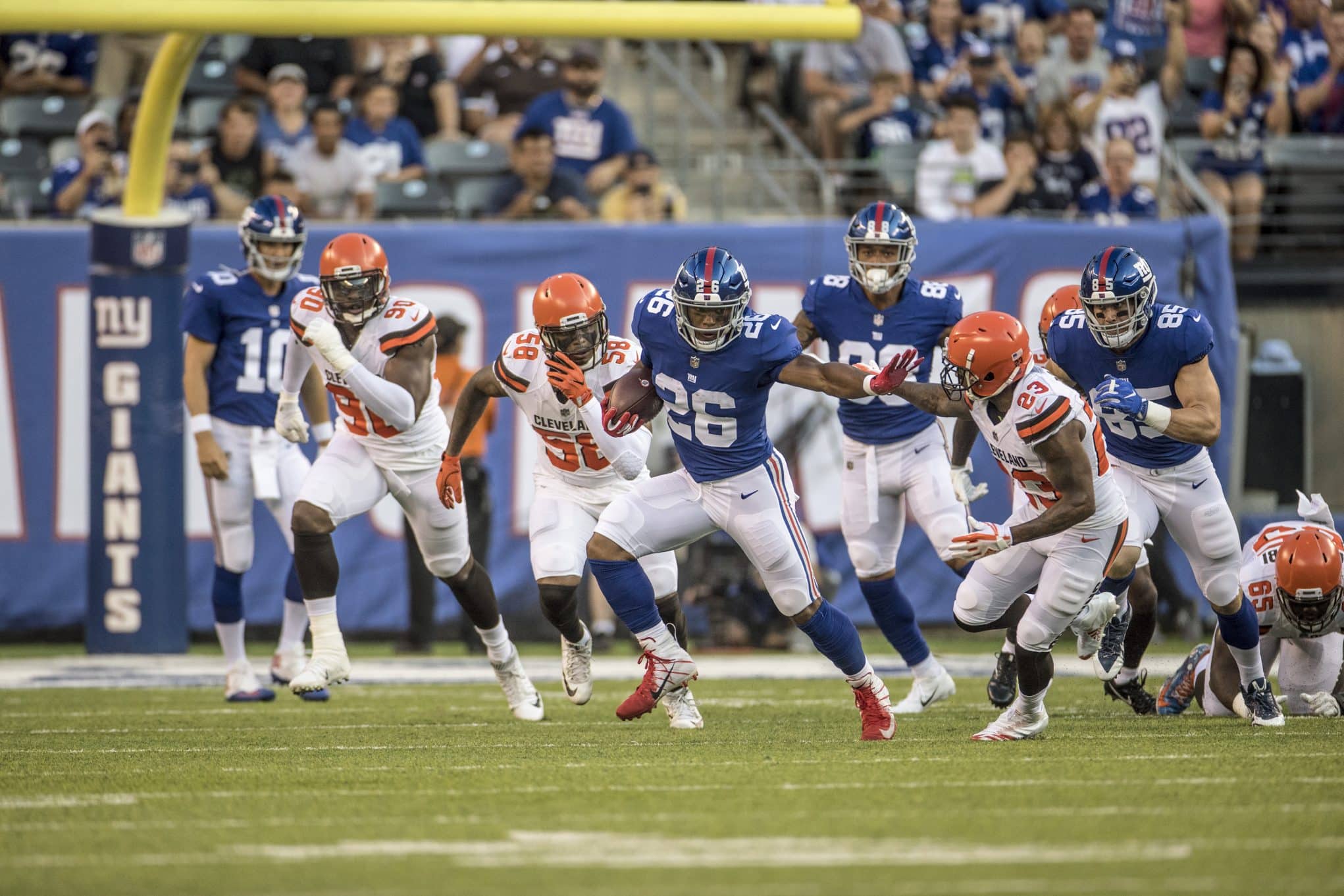 First of all, to the Webb apologists, the Giants are already viewed as wild card contenders at best in the jam-packed NFC. The defending champion Philadelphia Eagles may have dominion over the division for the time being, and the wild card picture will be crowded, to say the least. If the unheard of injury befalls Manning, the Giants would be losing their contending status, Webb or no Webb.
After all, the release of Webb, after first glance, should be not be considered as jaw-dropping as it upon its reveal. A solid summer start against the Detroit Lions notwithstanding, Webb failed to truly impress in preseason action, and was held out of the exhibition final against New England entirely. The poaching of mistakes of the past has been swift this offseason. One of the first moves of Gettleman's tenure, for example, was to release starting offensive lineman Bobby Hart, and Webb's release means half of Reese's final draft class (April 2017) is already gone.
What's done is done, and now the Giants are banking on Manning to give them at least two more serviceable years before presumably passing on the torch, a torch that will no longer be handed to Webb. With Barkley now in the fold, there's a better chance Manning's Giants coda can end on a smoother note.
With Barkley's drafting and the return of second-year back Wayne Gallman, whose solid rookie season became somewhat forgotten in the Barkley hoopla, the Giants have something at least resembling an NFL run game for the first since Ahmad Bradshaw's departure in 2012. It's no coincidence, perhaps, that the last Super Bowl touchdown scored by the touchdown was Bradshaw's reluctant six points that sealed February's 2012 edition against the New England Patriots. Bradshaw followed up that championship season with the second 1,000-yard season of his career, tallying 1,015 during the 2012 season. Two years prior, Bradshaw posted a career-high 1,235 yards, seventh-highest in franchise history.
As Bradshaw fizzled out after three seasons in Indianapolis, likewise did the Giants run game. Bradshaw's final year was the last time the Giants reached the upper half of the league's rushing rankings, their highest mark being an 18th place standing in 2015.
The lost art of rushing forced Manning to work overtime, forced into a high workload without help behind him. The past four seasons have been especially taxing on Manning. Forced to throw at least 50 times on 10 occasions, six of those games have comes over that span, including a career-high 63 throws in a December 2016 loss in Philadelphia.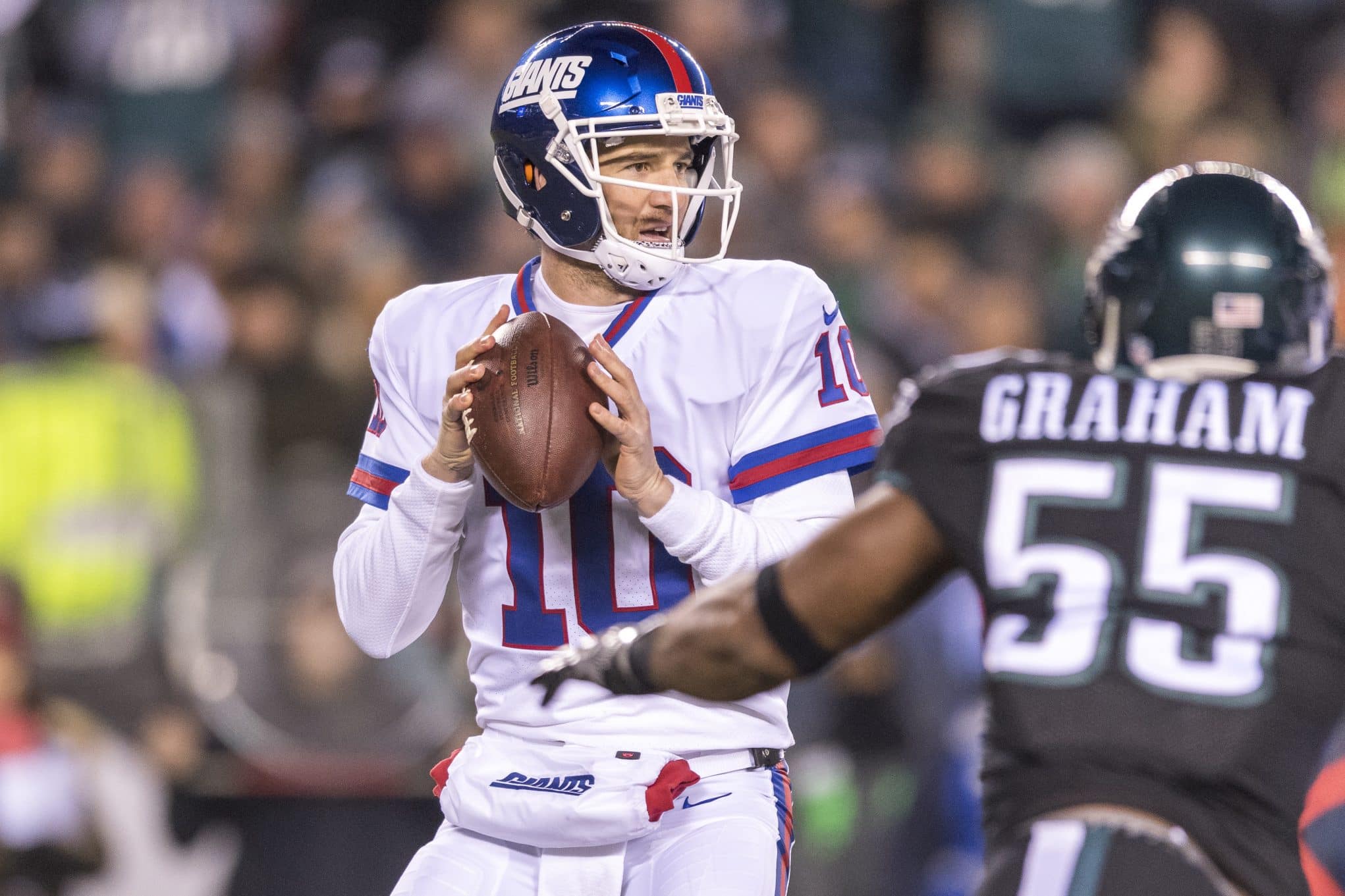 Rather than use a high draft pick on a touted rookie, especially in a class where there's no surefire prospect, that would have to adhere to Manning's unpredictable retirement clock, the Giants have a talented athlete who can potentially solve one of their longest-running problems. No long are Manning miracles required for the Giants to contend in games.
The help that Barkley, and, to a lesser extent, Gallman, can provide helps the rest of the offense as well, particularly Odell Beckham Jr. The aforementioned night loss in Philadelphia, one where the Giants could've sealed a playoff spot (they'd clinch one days later after getting help from some other teams), Beckham was targeted 20 times, and that's not even his career-high in targets. That honor also goes to a lost December game against the Eagles, the 2014 season finale that saw Beckham reach 21 targets. Overall, when Beckham is targeted at least 16 times, the Giants are 1-4. The number only slightly improves when he's asked for at least 13 times, posting a 3-7 tally.
The arrival of Barkley, as well as the continued development of homegrown draft picks like Sterling Shepard, Evan Engram, and Barkley's second-round successor Will Hernandez, assures that efforts on offense, where the Giants have gone two full seasons without reaching 30 points, are going to be collaborative team efforts. Defenses have new outlets to worry about, concern about a ground attack and play action strikes perhaps at its highest in years.
In the end, the risk was too great to use a rare high draft pick on a polarizing quarterback prospect. Gettleman admitted as much in pre-draft availability, noting how the wrong selection at quarterback can be a death sentence in the NFL.
"You miss on a quarterback, you've really hurt the franchise for five years. It's a five-year mistake," Gettleman said, per NFL.com's Chris Wesseling. "You can't close your mind. You don't know what's going to happen. Listen, we'll know when we know. I'm not making any decisions before that."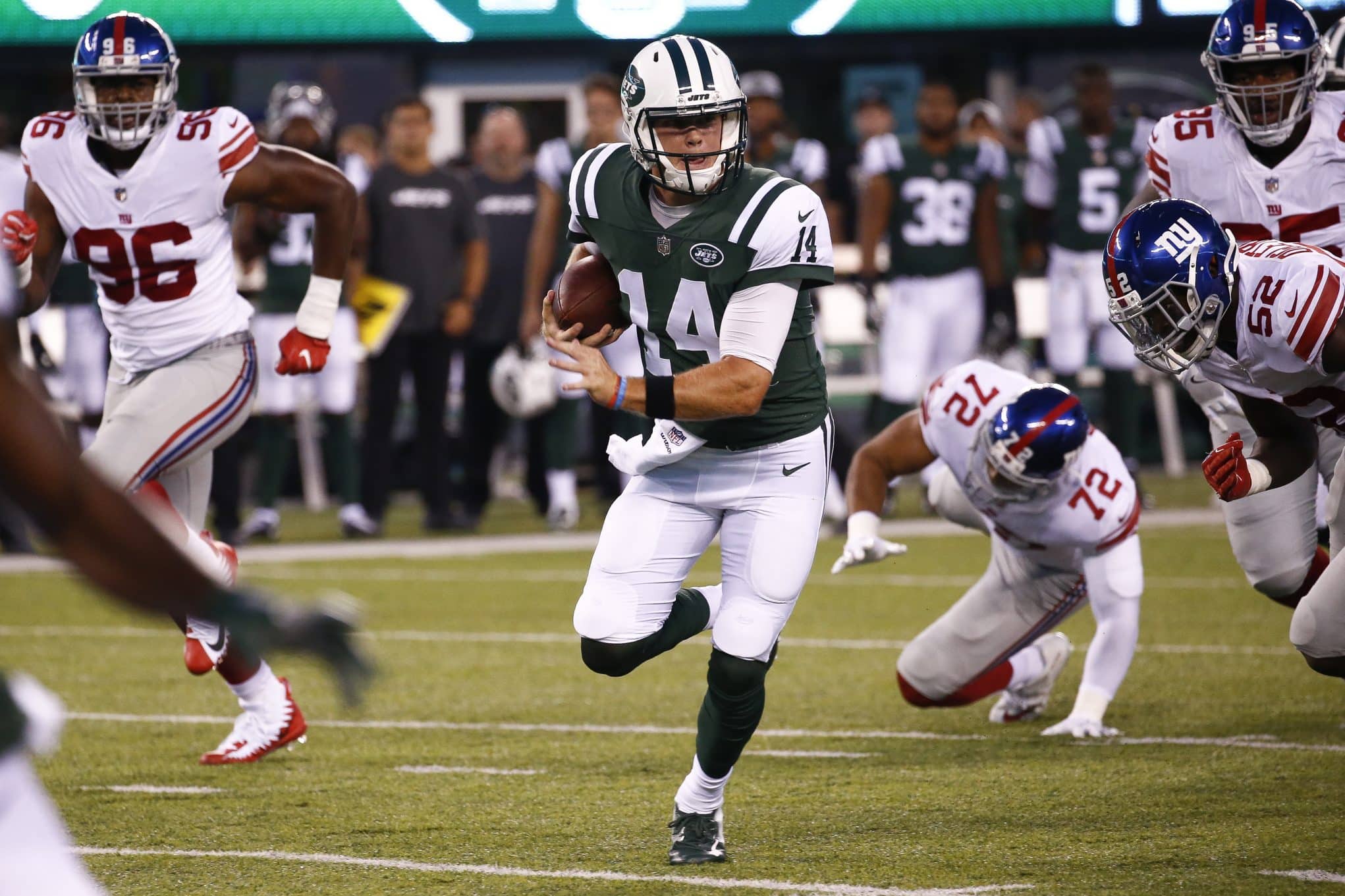 To Gettleman's point about the wrong quarterback costing a team valuable years, the Jets perhaps know the concept better than anybody. The drafting of Darnold is the team's latest attempt to recover from the Mark Sanchez disaster, using 2009's fifth overall pick to take Darnold's fellow USC alum. Two years prior, the Oakland Raiders took future bust JaMarcus Russell first overall. It took nearly a decade for the team to pick up the pieces, but the team may have finally found it's man in Derek Carr, drafted in the second round seven years later.
Of course, this will be one of the first of many retrospects the New York media conducts of the Davis Webb/Saquon Barkley/Sam Darnold saga over the years. With every Darnold touchdown, even potential scores by fellow passed passers Josh Allen, Josh Rosen, and Lamar Jackson, Giants will be reminded of the franchise quarterback they could've had. It's the decision(s) that will be looked upon as a turning point in Giants history, a continuation of the darkest period on the team timeline, or a final blaze of glory for one of it's biggest legends.
That, folks, is why we play the games.
Follow Geoff Magliocchetti on TWITTER