Teddy Bridgewater's New York Jets career is already over, but his comeback story was one of the best stories of the NFL summer.
There will be no "Teddy Bridgewater Day" at MetLife Stadium anytime soon. If and when he returns to East Rutherford, there probably won't be any video tribute.
Nonetheless, New York Jets fans won't be quick to forget the modern-day New Orleans Saint.
Bridgewater's Jets tenure came to an end on Wednesday afternoon, shipped to Louisiana for a third-round draft pick. The Big Easy won't exactly be a big easy for the 2019 free agent, as he's expected to be the backup to Drew Brees.
Though there's a chance Bridgewater could be the long-awaited heir apparent to the future Hall-of-Famer, this season will likely see Bridgewater relegated to the bench once more, forced, through no fault of his own, to watch a strong NFC team contend for the Super Bowl.
Nonetheless, the 2018 season, with nary a regular season game played as of yet, is already a victory for Bridgewater. This win will go down as Bridgewater's finest New York moment.
Once NFL commissioner and draft master of ceremonies Roger Goodell uttered the words "The New York Jets select Sam Darnold" at the 2018 selection proceedings in Texas this past spring, Bridgewater's Jets career was more or less over. The concept of letting a touted rookie quarterback learn from the bench under an experienced veteran is going the way of Blockbuster Video.
In 2003, for example, Darnold's fellow Southern California alum Carson Palmer sat behind Jon Kitna in Cincinnati. That wasn't going to be the case for the Jets, whose quarterback follies need no further documentation.
Bridgewater was once in Darnold's cleats. A 2014 first-round pick of the Minnesota Vikings, he was looked upon as a savior for a team starving for a franchise quarterback. It was, in a cruelly ironic twist, an injury that both began and ended his Minnesota career. His 2014 veteran mentor, Matt Cassel, was knocked out by a broken foot before September ended, opening his all-too-brief reign in the Vikings' backfield.
The promise was there … Bridgewater sent the Vikings into the US Bank Stadium era with the team's first division title in six years in his final full season in 2015 … but was taken away in a flash, a devastating non-contact training camp injury in August 2016 forcing him into rehab for over a year.
During the forced sabbatical, the Vikings not only passed on Bridgewater's fifth-year option, but enjoyed the veteran emergence of Case Keenum, who guided the team to 13 wins and the NFC title game. Both Bridgewater and Keenum were subsequently cast aside by the Vikings, who more or less handed Kirk Cousins a blank check. Keenum, primarily a backup before busting loose in 2017, was given a swanky, expensive deal to solve Denver's quarterback issue, while Bridgewater's best offer brought him to the Jets, who granted him a cheap, incentive-laden deal that guaranteed him $500,000 … minuscule by NFL veteran standards.
The drafting of Darnold could've forced Bridgewater to ask for an immediate trade to a new home with more assurances. His road ahead still had plenty to prove, but surely there was a team out there in need of talented veteran help, a team that could use Bridgewater's experience.
Instead, he embraced competition. In this contest, the odds were stacked against him, even in terms of beating out healthy incumbent Jets thrower Josh McCown for the right to presumably backup Darnold. Denied the privilege of being on an NFL field for over an entire season, Bridgewater wasn't going to let a little thing like dire chances get in his way.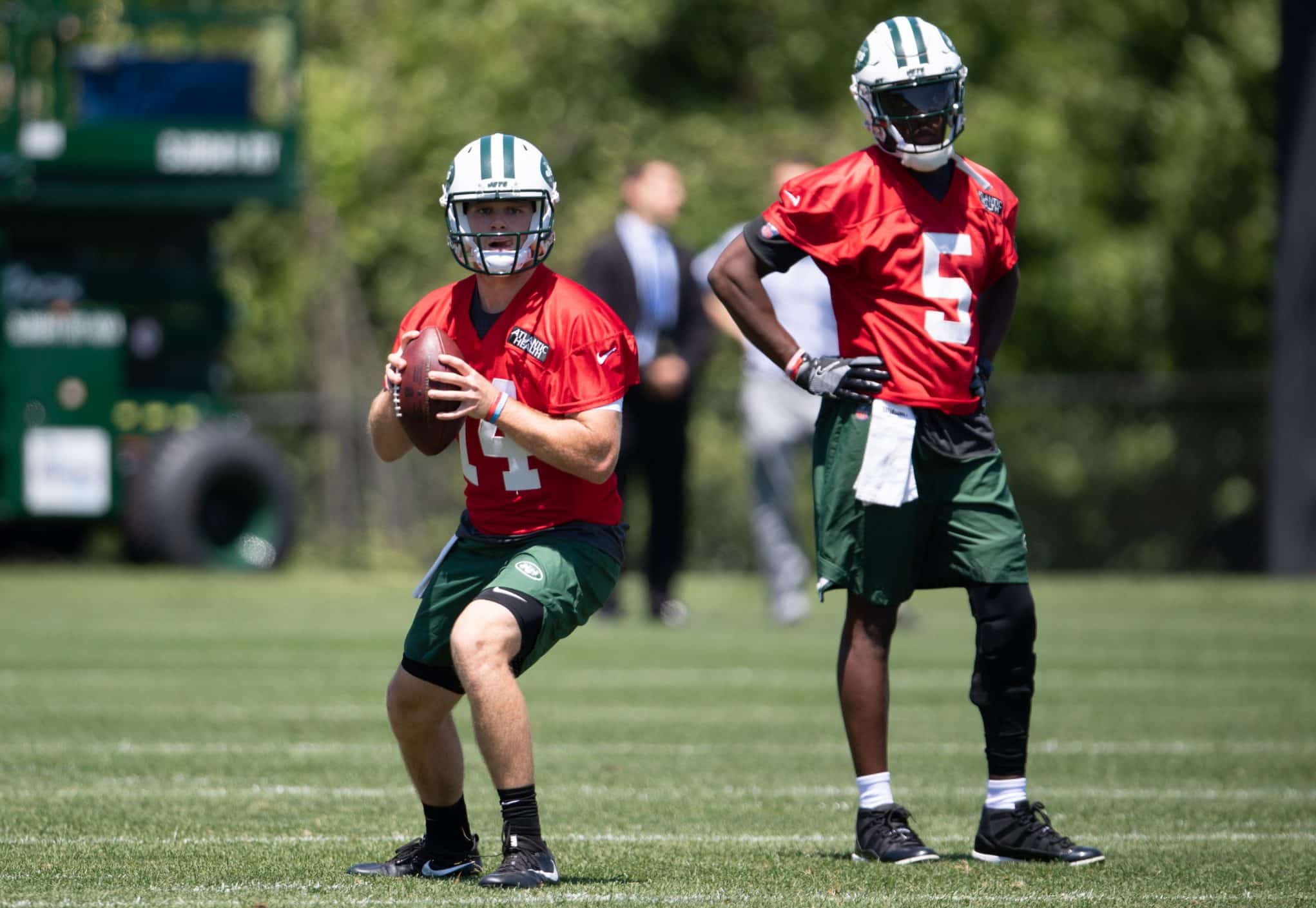 The resilience was on display before camp opened, namely during a visit to his old college stomping grounds. At the Courier-Journal Sports Awards Banquet on the Louisville campus in June, Bridgewater went into the season invoking his personal inspiration: breast cancer survivor, and his mother, Rose Murphy.
"I'm a fighter. My mom is a fighter. I come from fighting DNA. If something happens, you don't just lay down and do nothing," he said, according to the Journal's Gabe Hauari. "Bouncing back from this injury meant a lot to me because there are still a lot of people that believe in me, so I wanted to do it for those people."
In the midst of a strong camp, Bridgewater entered the Jets' preseason opener against the Atlanta Falcons on the game's second drive. Going up against most of Atlanta's starting unit, he guided the Jets to 10 of their 17 points on the evening, in a pair of drives that featured scrambles and chances downfield. Completions of 23 and 21 yards on the second drive, which ended in a Jets field goal, those plays coming after Bridgewater found Isaiah Crowell for a 16-yard touchdown in his debut.
In another unpreventable situation, however, Bridgewater's return to competitive football, concluding with a stat line of 7-for-8 for 85 yards, lay forgotten.
An effective, if not conservative, day from Darnold was enough to convince fickle fans and media alike that the Jets' best option was the former USC Trojan. Over the next two games, Darnold was given the snaps with and against the first team unit, Bridgewater watching his progress from afar. When he was allowed back in, forced into fourth quarters starring blockers and defenders whose football summits likely await in the Arena League, Bridgewater got a chance to showcase the best plays possible: getting hit.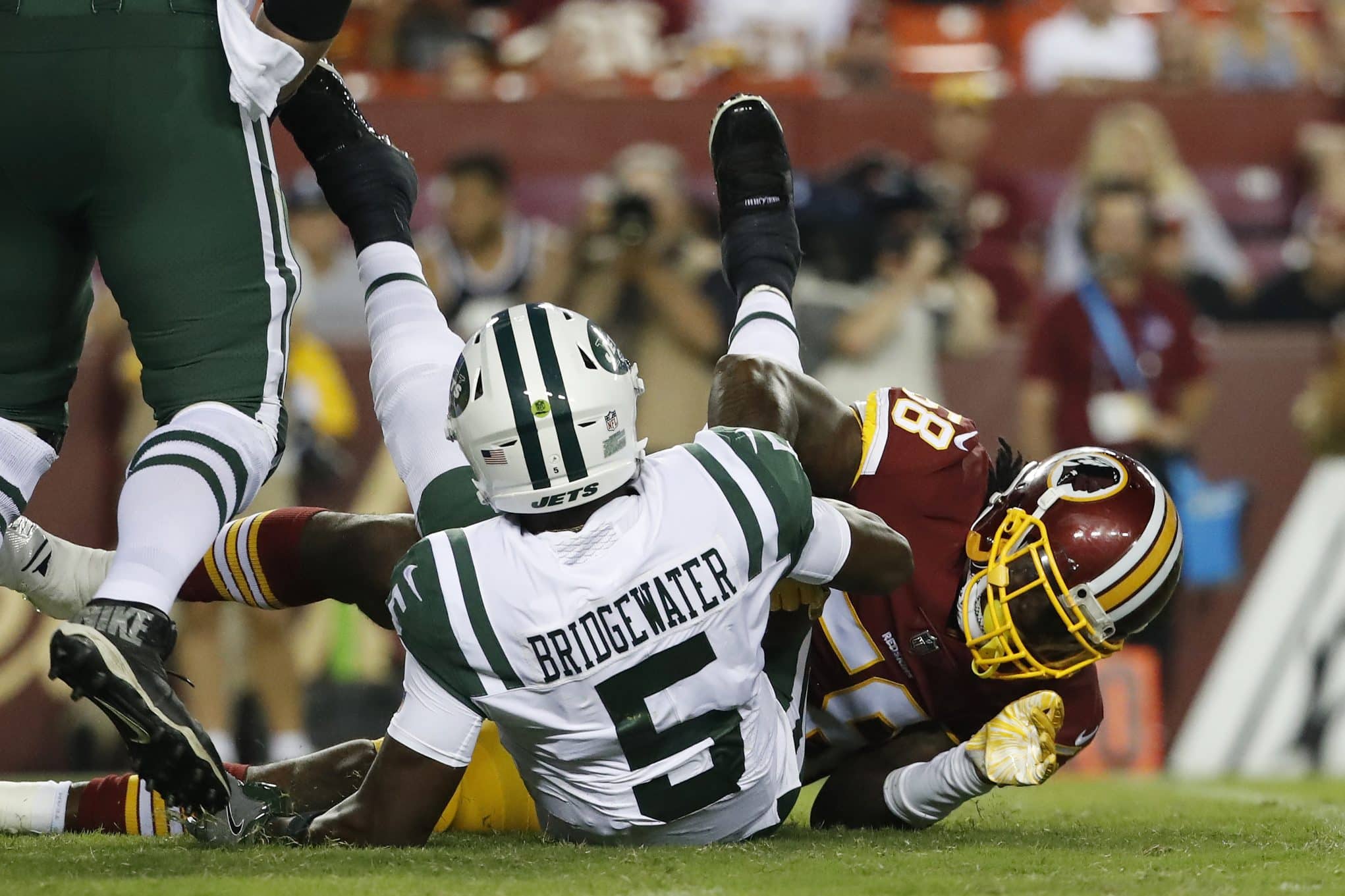 His long-term health being the primary concern after so much rehab, Bridgewater was sacked four times over the final two exhibitions against the Washington Redskins and New York Giants. With a smile, Bridgewater passed the pressures off as part of the plan.
"I just wanted to get hit. I don't know if it's the right thing to do or say as a quarterback, but for me, it's continuing to knock down that mental block that hey, you can do this. You just don't know the past two years, sitting on the sidelines, not knowing what's going on," a relieved Bridgewater said after the Washington game, per Newsday's Bob Glauber. "Some of those plays [against Washington] I could have thrown the ball or run out of bounds, but I wanted to challenge myself, see if I could take a hit. It was fun. Get up, smile, tell the guys, 'Hey, that was nothing,' next play."
Inspiring as it would've been to have him remain on the roster, maybe even having an outside shot at starting a game or two he trade of Bridgewater was a move the Jets had to make, a transaction where everyone has the ability to emerge a winner. New York opens up a potential roster spot, as keeping McCown as the backup passer saves them $10 million in cap space. New Orleans, which has done little to prepare for the post-Brees era, gains a chance to look at the first legitimate successor contender. Should the normally durable Brees go down in the regular season, the Saints now have a reliable backup option, the previous understudy being Houston Texans washout Tom Savage.
His time with the Jets short, Bridgewater's impact on the guys in green will be long remembered, evidenced by an anecdote offensive coordinator/quarterbacks coach Jeremy Bates disclosed to Manish Mehta of the New York Daily News.
"One of the coolest stories that I have of summer was when Teddy went in against Atlanta," Bates said. "Everything he's been through. Then you get to know him. And everything you hear is the truth. He's grinding and working in the training room… You get all the way to the point in the Atlanta game and his number is called. He just had the biggest smile. I got goosebumps on the sideline. It was like a little kid going and playing Pop Warner because he finally got to Saturday. It was just really neat to be a part of that experience with him, getting him back on the field. He's been incredible. He's a grinder. He's great for the room. He's a leader in the whole building. Man, I just enjoy being with him and watching him play the game because he's really talented."
Follow Geoff Magliocchetti on TWITTER