Week 3 of the preseason means roster cuts are coming. Here's what the New York Jets 53-man roster could look like.
FLORHAM PARK, NEW JERSEY—It's time. It's done. It's on. Now that the first three weeks of the preseason are in the rearview mirror, that all-too-important number of 53 shifts into focus.
From 90 to 53—nearly half of the roster vanishes in an instant. They walk away from 1 Jets Drive with heads held high while automatically inserted back into the generic NFL landscape while hoping to make the shortlist of a few teams. (Or hey, perhaps even the practice squad.)
How 53 pertains to the New York Jets is tricky. From the offensive line to the edge presence and even at the quarterback position that showcases its strongest overall talent and depth in probably 45 years, depth is apparent yet few clear-cut answers show face.
Here's the New York Jets 53-man Week 1 roster projection: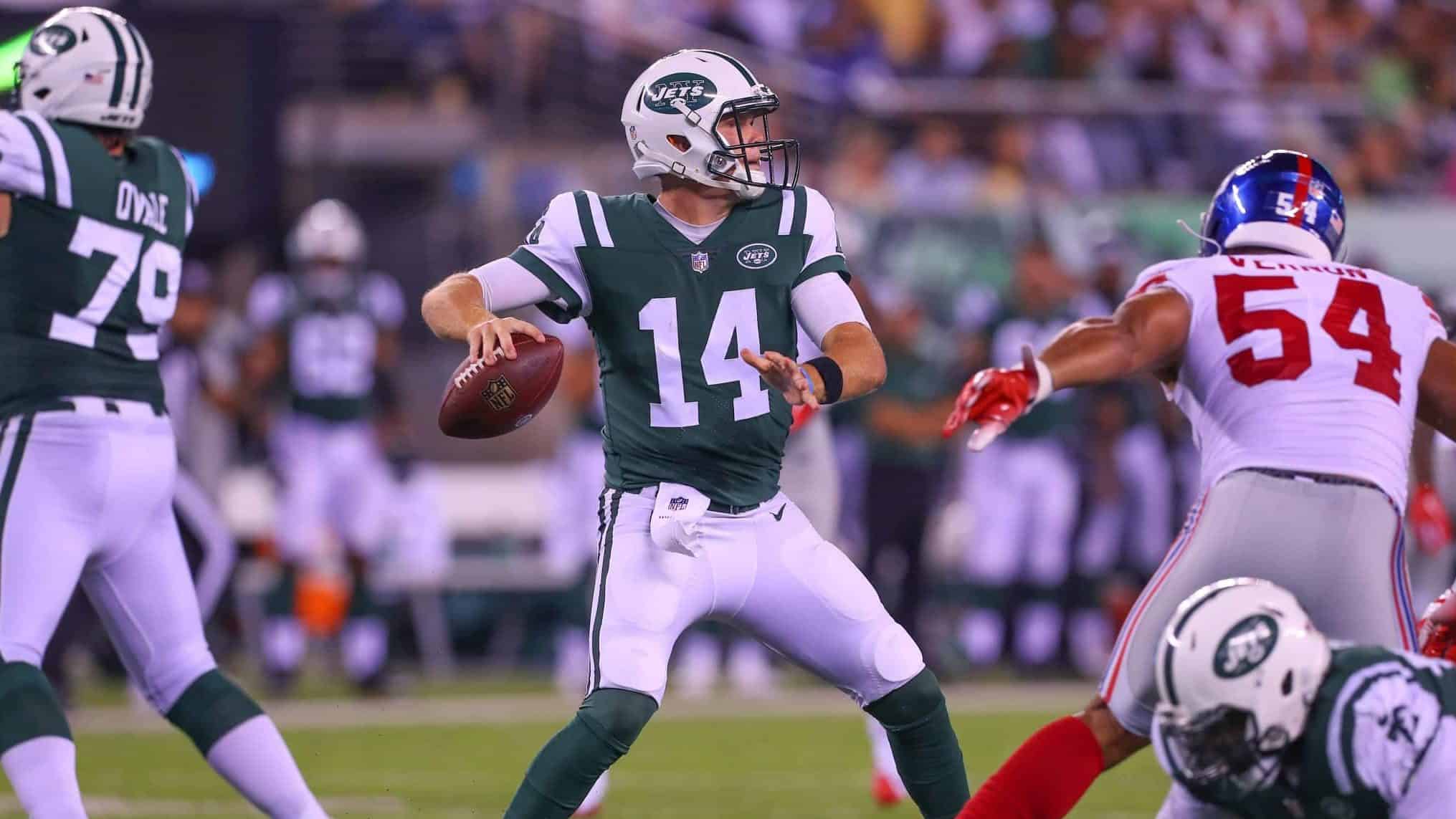 Quarterback (3)
Sam Darnold
Teddy Bridgewater
Josh McCown
It's Sam Darnold's team and that's all that needs to be said. Head coach Todd Bowles continues to make mention that he "has an idea" of who it's going to be, but fails to name a starter and probably won't until after Thursday's preseason finale in Philadelphia.
No matter though. We all know who it's going to be.
He's passed every test with flying colors. A 21-year-old quarterback shouldn't look this comfortable in the pocket behind such a porous offensive line, yet Darnold does.
What makes the kid shine even brighter is his cool, calm demeanor. He remains that perfect teammate and professional, continuing to say and do all the right things.
"I'm not really going about my day any differently than I would," Darnold said in response to awaiting the starting quarterback announcement. "I'm still continuing in practice to take advantage of every opportunity that I get to play football being able to play this position and continuing to do my thing, try to be as consistent as possible and go about it that way."
He even remained calm while saying the right things in response to the scenario that either Teddy Bridgewater or Josh McCown pull off the upset by way of Todd Bowles's looming QB decision.
"No, I wouldn't be disappointed, I wouldn't be surprised," Darnold confirmed. "Throughout my short career playing football, I've seen a lot of things. Teddy and Josh are great players, so I wouldn't be surprised. At the same time, every quarterback wants to play, but that's not my job to put the best player out there, that is the coaches job. Whether that's Josh, whether that's Teddy, whether that's me, we're just going to go out there and do the best that we can."
Sam Darnold continues to say all the right things. On what he's doing, how he's feeling during this time of awaiting the big announcement of the starting quarterback, he remains cool, calm and collected. #Jets pic.twitter.com/gd7vQGOyQt

— Elite Sports NY (@EliteSportsNY) August 26, 2018
It's Sam Darnold's time. The weak O-line is a worry, but Darnold's isn't a regular rookie quarterback. He's already shown his coaches that he can handle a weak unit in front of him.
It would have been so easy for Sam Darnold to say, "Yes, I feel like I have done enough to start."

But he doesn't. Instead, he takes on the personality of the head coach and remains that perfect teammate and many years beyond his actual age. #Jets pic.twitter.com/ePfUiSdVIs

— Elite Sports NY (@EliteSportsNY) August 25, 2018
As it relates to the other two spots, unless the Jets find the perfect place to ship off Bridgewater, he'll be that backup. Three will be at the position unless a quick trade is triggered prior to Week 1.