The memory of Nick Pasquale, a freshman receiver tragically killed in 2013, lives on through the New York Jets quarterback on game day.
Don't be surprised when a little bit of red shows up in Sam Darnold's New York Jets uniform.
A red band, a tribute to a fallen friend, adorns Darnold's wrist, a salute to Nick Pasquale. A teammate at San Clement High School in California, Pasquale, despite being a few years older, became a close friend to Darnold, brought together by a shared love of football.
"Growing up, we weren't the best of friends. He was a few years older than me, he was in my sister's grade actually," Darnold explained to Steve Serby of the New York Post. "Then as I grew up playing football in San Clemente, he was a high school legend. [He] just always went to the games, towards my junior and senior year when we had a pretty good team, we were going to the championship games and winning the league and all of that, he was always at the games and I became pretty close with him."
Pasquale, a receiver at San Clemente, was deemed to be undersized to play major college football, but defied the odds and earned a walk-on role with UCLA. Tragically, Pasquale never took the field for the Bruins. A redshirt freshman, he was killed while walking home in September 2013, the driver of the sedan involved was not cited or arrested.
Pasquale was 20 at the time.
Darnold, who would later embark on a successful college tenure at USC, never played with Pasquale, but got to know him through Pasquale's cousins, San Clemente linebacker Jameson Klatt. In a memorial Instagram post posted soon after the tragedy, showcasing a smiling Pasquale clad in a UCLA colored polo, with a heartfelt caption.
"God gives all of us time to show the world what we r made of and what we can do. Some of us get a shorter amount of time than others and my great friend Nick Pasquale was cut short this morning [sic]," Darnold said. "but he sure as hell made the most of his time and showed us all what it truly means to love and care for people and to not waste any time. #angel" [sic]."
Mel Pasquale, Nick's father, disclosed to Serby what Darnold's friendship has meant to the family.
"(After Nick's death) he walked up to me and basically said, 'I'll never forget your son and what he taught me," Mel said. "My son was an undersized two-way player at San Clemente. He was a hard worker in the weight room, he always was an overachiever there. And I think that was something that Sam never forgot. It's very obvious that's the case, because this day, it's something I think that helps drive him. My son's work ethic that he had, it helps push him."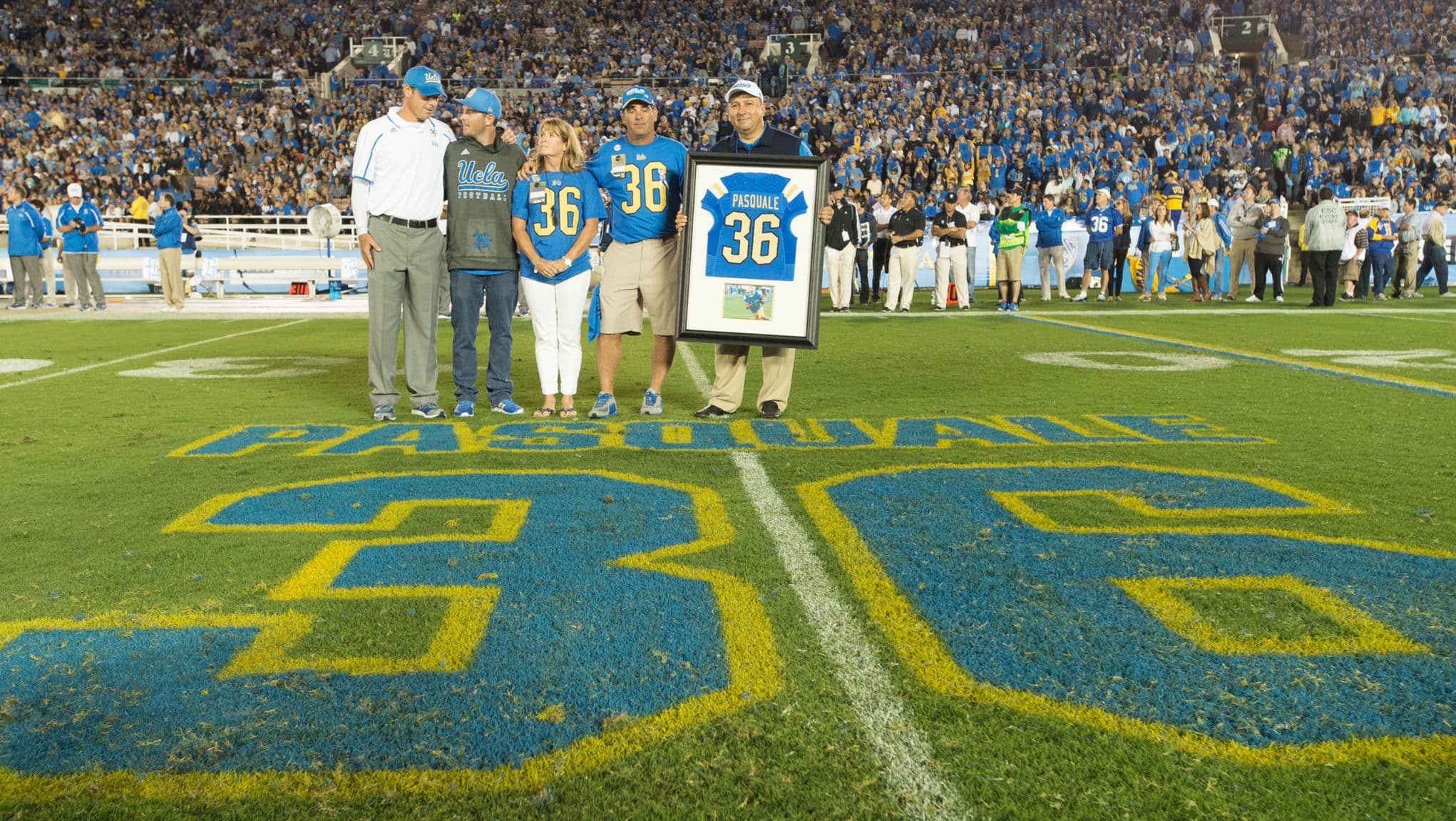 The aforementioned red wristband comes from the Nick Pasquale Foundation, which is set to hold a 5k run/walk on the San Clemente campus on Aug. 27. It reads "NICK PASQUALE PAC 10", the latter part is not meant a reference to the former name of UCLA's PAC-12 conference, but commemorating his nickname "Pac-Man" and the fact his high school jersey bore the number 10. Pasquale's fellow UCLA alums, like linebacker Anthony Barr of the Minnesota Vikings, wear a blue and gold band, in line with the Bruins' famous colors.
With Darnold bearing a red band with the USC colors, the Pasquale family continues to be some of his biggest fans.
"I love that kid, man. Man, these Jet fans are gonna lose their mind when he gets going. Brett Favre, baby, he's a gunslinger!" praised Mel Pasquale, who continues to serve as a coach as San Clemente. "I think he's a combination of Brett Favre and Ben Roethlisberger, that's who I think he is."
I couldn't thank (Darnold) enough, it's not anything that he's obligated to do, so there must be some sentimental value for him personally," Nick's older brother AJ Pasquale added. "It's just another fantastic tribute to his legacy, and we couldn't be more honored that he's going that extra mile to wear that special band on a daily basis, and I hope that it provides that extra motivation for him."
Darnold and the Jets continue their preseason slate this Friday night, as they meet the New York Giants (7:30 p.m. ET, WCBS).
Follow Geoff Magliocchetti on TWITTER