Faced with scrutinty for the first time in his NFL career, Davis Webb got over it with a strong showing in his first start for the New York Giants on Friday night.
Davis Webb is used to scrutiny. The son of a coach, football has helped the quarterback Webb make a name for himself, but he's had obstacles to deal with every step of the way.
Webb's talent of throwing the football has drawn the attention of some of the most illustrious football institutions in the nation. A district champion in high school, the Prosper, TX native went on to the famed Texas Tech University, beating out future Heisman winner and top overall NFL draft pick Baker Mayfield for the right to throw for 400 yards a game, despite battling a nasty illness that cost him 40 pounds before his freshman year.
Despite bursting onto the national scene with one of the most impressive freshman seasons in Big 12 history, capped off with an MVP performance in the Holiday Bowl, Webb's Red Raider career ended prematurely when he got taste of his own medicine from another future first-rounder, then true freshman Patrick Mahomes. Banished to backup duties in Lubbock, Webb spent his senior year at Cal-Berkeley, setting numerous single-season records with the Golden Bears.
The adversity made last season, Webb's first in the NFL, easier to bear, another scheduled step in the journey rather than an unexpected detour. The Giants' third-round pick in 2017, Webb was viewed as the first legitimate heir to Eli Manning's passing empire in East Rutherford, but it was generally accepted he wouldn't see the field considering Manning had a 200-plus starting streak going. Even in the preseason, his showcase was limited because the Giants were engaged in a decision over who would back Manning up, observing a competition between veterans Geno Smith and Josh Johnson.
Webb took it all in stride in the early going, only expressing excitement about learning from multiple veterans in his first training camp as a pro.
"I might not be in there, but mentally, I've been in every single rep. So I haven't missed one," Webb said of his playing time during his rookie training camp and preseason. "I'm not getting the same amount of reps as everybody else but that's how it is, that's the situation I got dealt, and it does not bother me because I've gotten every rep this fall camp. I'm just looking forward to playing 11-on-11, playing football for the first time in a while, and playing for the New York Giants."
Webb wound up throwing 34 passes in that preseason, held out of the second week's exhibition in Cleveland all together.
A season of learning for Webb was thrown completely out of whack by the cesspool that became the Giants' 2017 season. A season full of great expectations quickly spiraled out of control, as they lost their first five games en route to a 1-8 start. As the losses piled up, the normal crowd of reporters that routinely flocked to Manning's locker on a weekly basis would migrate to Webb's as speculation increased over whether he would enter a game. But Webb didn't dress, much less enter, a game all season. Even when management made the fateful decision to sit Manning when the team was long eliminated from playoff contention, it was Smith who was chosen to end the previously immortal streak, igniting a firestorm across the tri-state area. When Manning returned to the starter's role after head coach Ben McAdoo's firing, Webb would go on to dress for a single game, the season finale against the Washington Redskins.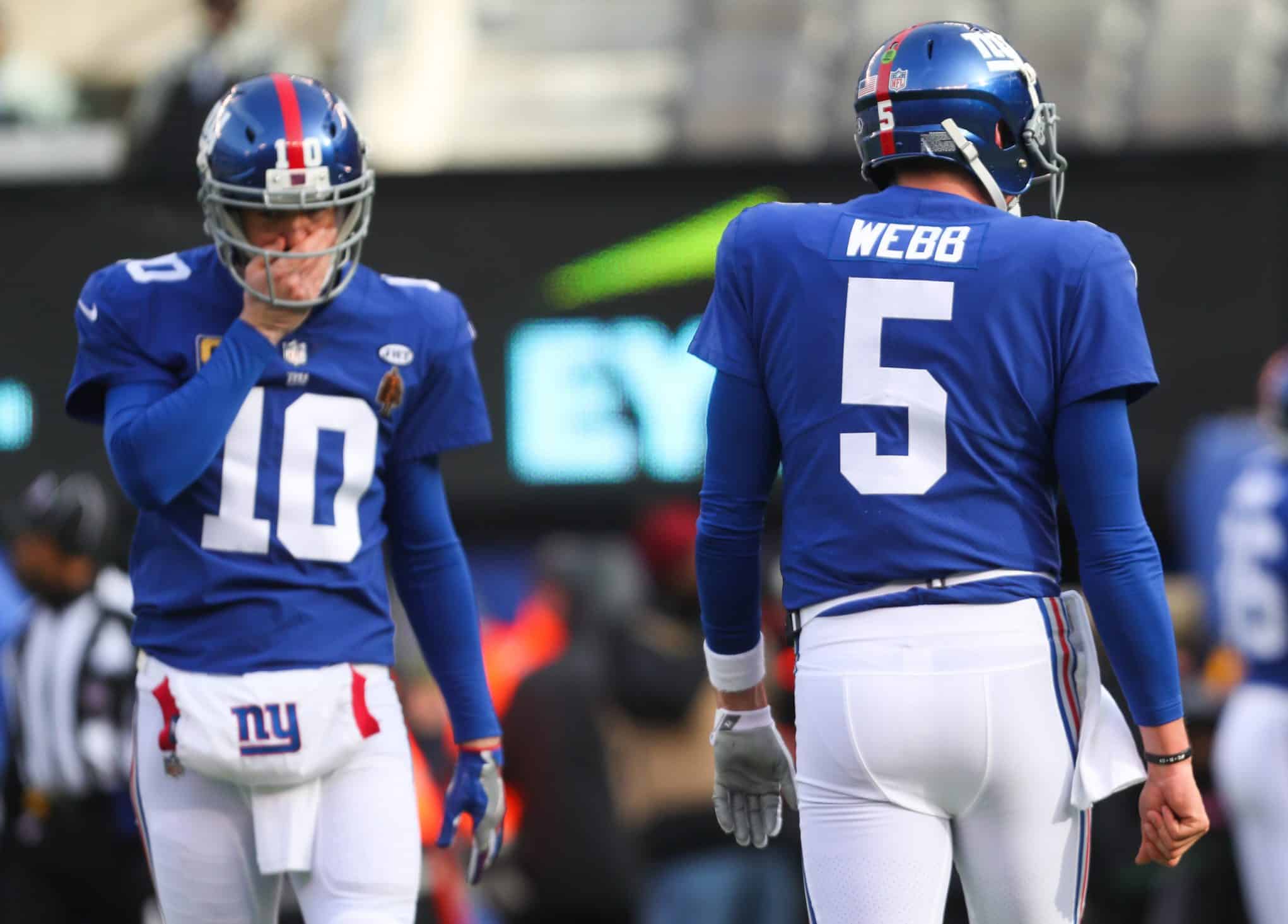 Through this semi-exile, Webb almost became somewhat of a mythical figure. Local pigskin pundits believed he could be either the one to lead the Giants into the post-Manning era, or, like so many other potential heirs chosen after the first round, a quarterback that was labeled as a stolen heir but would end up being left behind in development mode. Even the mighty New England Patriots fell to that trend, with third-round choices Ryan Mallett and Jacoby Brissett each flaming out elsewhere, while touted second rounder Jimmy Garoppolo took over the reigns in San Francisco.
So unsure, perhaps, were the Giants' new decision makers, a group led by incoming head coach Pat Shurmur and general manager Dave Gettleman, in what Webb brought to the table, they used a fourth-round selection, a pick acquired in a trade that sent franchise star Jason Pierre-Paul to Tampa Bay, to take Kyle Lauletta, the small-school quarterback darling out of Richmond.
The mythology behind Webb made him one of the most intriguing players to watch for the Giants during their offseason preparation. To his credit, Webb looked strong throughout organized team activities, minicamp, and training camp, as he looked to prove to the new bosses he was worth the surprisingly high selection.
The relative anonymity and built-up legend made Webb's first extended action somewhat shocking to witness.
In the Giants' 2018 preseason opener against the Browns, featuring an on-field reunion with Mayfield, Webb ended the day just 9-of-22 for a mere 70 yards. The lone scoring drive he led came primarily in thanks to prime field position, set up deep in Cleveland territory after a fumbled punt return.
Lauletta entered the game midway through the third quarter going 6-for-9 for 48 yards before giving way to veteran camp arm Alex Tanney. The numbers were conservative, yet effective, but, by NFL preseason standards, Lauletta might as well have won the Super Bowl. Ever a cornucopia of overreaction, quarterback play in the preseason is magnified at least tenfold if you're a touted rookie QB. Lauletta's conservative magic worked on several experts, even if his numbers came against players' whose best scenarios involve international football or the Arena League.
Kristian Dyer of Metro remarked that "Saquon Barkley may not have been the most impressive rookie on the field for the New York Giants", bestowing that honor to Lauletta who "certainly closed the gap (against the Browns) with his performance". Ed Valentine of Big Blue View noticed that Lauletta earned first-team reps during the team's Monday practice and said he "may have….cracked open the door to competing for the backup role this season", while also declaring "much of the positive buzz (Webb) generated with solid work in the spring and training camp evaporated into questions with his erratic performance". Even the Giants' official website made note of Lauletta's supposed quick adjustment to the pro game, as Michael Elsen wrote "Lauletta has demonstrated a detailed grasp of the offense, an ability to make quick and correct decisions, and an accurate throwing arm".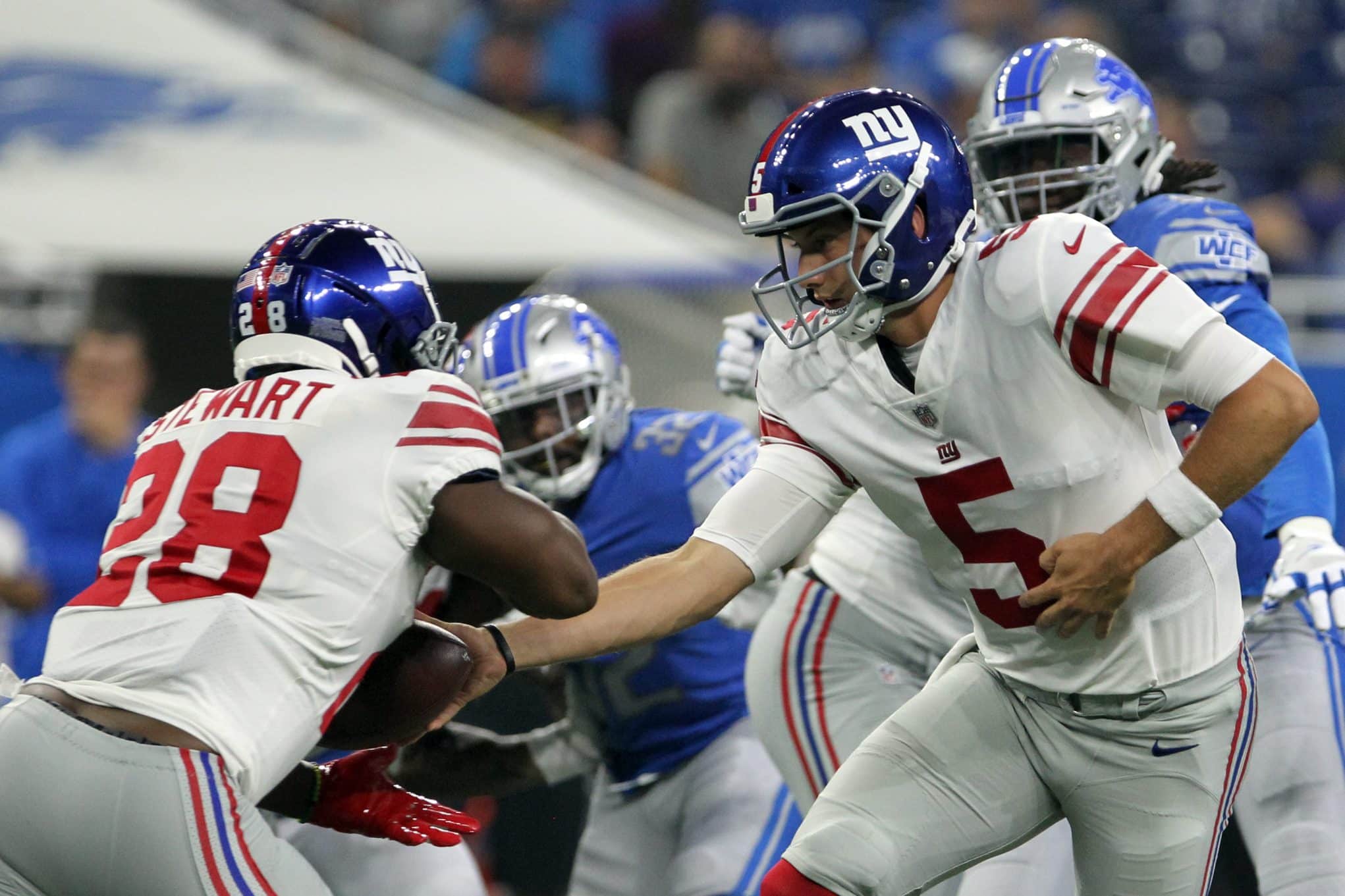 His first NFL scrutiny faced without taking a regular season snap, Webb found himself with a huge opportunity on Friday, with the Giants playing their second exhibition of the summer in Detroit. With the Giants holding Manning out of the festivities, it was a prime chance for Webb to showcase his stuff in front of Lions starters, offering a modicum of redemption and inside tracking on the backup/Manning successor job.
Slowly, but surely, Webb is crossing landmarks off his NFL checklist. Friday eliminated the biggest one yet: his first official NFL test.
Webb got things started with a bullet pass completion in traffic to tight end Rhett Ellison on his first pass attempt. After Detroit went up 3-0, things almost took a turn for the embarrassingly worst, as Webb appeared to be stripped of the football by ex-Giants linebacker Devon Kennard, with the ensuing Detroit runback setting them up a yard away from six points. A turnover-mandated review reversed the call to an incomplete pass, but Webb immediately saw the deck stacked further against him when Sterling Shepard was flagged for a personal foul.
Like so many times, though, Webb yielded a positive result from the adversity, and it became the turning point in his first unofficial NFL start.
Faced with 17 yards to go in third down, Webb began his redemption, while helping Shepard find some of his own, connecting with the third-year receiver on a 27-yard gain that continued a drive that would last 17 plays, 79 yards, and take exactly nine minutes off the clock. The 27-yard hook-up was the first of three third-down conversions on the drive, and Webb handled things himself on a short fourth down deep in Detroit territory, gaining the yard needed to continue the trek, and the drive would end with Webb finding Wayne Gallman for the team's first score of the day, the third and final third-down conversion of the drive.
Is Giants Twitter OK this week or are they still losing their freaking minds because BACK-UP Davis Webb isn't elite?

Webb to Wayne Gallman on the RB angle out of the backfield for the first score. #GiantsCamp pic.twitter.com/cqvrbo2Yqc

— Elite Sports NY (@EliteSportsNY) August 17, 2018
One of the other successful third-down throws went to Webb's friend and a fellow second-year man, tight end Evan Engram.
"People were kind of eating him up last week,'' Engram said, per Paul Schwartz of the New York Post. "If he cared about that, you would be able to tell and I wasn't able to tell.''
For an encore, Webb took a deep chance downfield, finding Russell Shepard for a 40-yard gain to kickstart a drive that ended with three more Giants points. He'd end the evening with a 14-for-20 mark for 140 yards and the Gallman score, setting career preseason-highs in each category.
"He had a much better night. I thought he was calmer," Shurmur observed, according to Schwartz. "That was the Davis Webb I was used to seeing but he had more success on his throws.''
Because nothing ever comes easy in the NFL, Webb perhaps didn't create as much separation as he would've liked, as Lauletta, again keeping things mostly safe (2-for-5, 27 yards), nonetheless led the Giants to 14 points of his own, including a 10-yard scoring run where the rookie faked a few Lions defenders out of their cleats to enter the end zone.
Webb, however, brushed off concerns about where the competition stands, keeping his eye only on what he can control in his delicate situation.
"I'm pretty confident in my ability," Webb said after the game, according to Elsen. "I just think I needed to hit the reset button and kind of figure out how I want to play football. I want to play football at a smooth, calm level, and again, I didn't play my best game tonight. Guys around me made plays."
Webb, whose statline was good enough for a 106.3 passer rating, will likely get a chance to improve on his numbers next Friday night, as the Giants continue their preseason late against the New York Jets (7:30 pm ET, WCBS).
Follow Geoff Magliochetti on TWITTER