New York Jets general manager Mike Maccagnan must take the hit for the current state of the team's banged up and frightening offensive line.
A stretch to the right C-gap. A play-action boot that doesn't fool the opposing edge. An empty look three-step drop that forces the young quarterback to make a snap decision against over-aggressive defenders on the move.
This is the New York Jets preseason offense. It's tough to even imagine a more conservative system.
Sam Darnold's stat-line is tough to grasp. Though throwing 21-of-28 for 158 yards to go along with a touchdown and a meaningless interception on a fourth down seems solid for such a young kid, his 5.4 yards per attempt mark is more dink-and-dunk than anything you've ever witnessed.
It has many onlookers up in arms. It has many Jets fans yelling at Jeremy Bates. It has the folks all calling for "Sam to throw downfield."
What most are failing to realize is that's simply not an option at this moment in time. The offensive line isn't allowing it to be a feasible option.
Bates can't risk such madness when five and seven-step drops are getting blown up by a four-man conventional pass rush. Calling a seven-step deep drop would mean opening Darnold up for punishment during a time in which they simply need him on the field to further gauge his development.
How has it already gotten this bad?
This isn't a new topic. Let's begin there.
Personally, I've been screaming from the rooftops about the state of the Jets offensive line since 2016. The most critical aspect of not strengthening this unit deals with leaving the face of the franchise, young Darnold, completely naked entering his rookie NFL campaign.
Kelvin Beachum is the left tackle of a unit Pro Football Focus ranks as 31st entering 2018. He's average—a solid workmanlike veteran who's felt the sting of two teams moving on from his services. He also holds the distinction of leaving the 22nd Jacksonville Jaguars rush attack only to be replaced by a rookie (Cam Robinson) and watch the unit skyrocket to No. 1 in 2017. Brandon Shell on the other side is another average right tackle, a fifth-round selection who enjoys NFL bloodlines.
At guard, James Carpenter experienced a down season a year ago. It's a sober reminder that anybody near the age of 30 always possesses that shot of falling off a cliff. Brian Winters is a good run blocker but struggles mightily when asked to stand straight up. And yes, he's coming back healthy—one of the positive reasons many thought the unit was actually underrated coming into August.
Then there's Spencer Long, the new center, another average-to-solid member of the unit whose familiarity with the training room far trumps anything resembling the gridiron.
Wherever you land on evaluating the five starters, the overall production post-2018 will fall somewhere in the range of "worst in the league" to at best, "better than average unit." Here's where the problem lies.
Mike Maccagnan has now had plenty of time to at least turn this unit to at least serviceable. He simply might not believe in showcasing premium talent at the spot (per salary cap-driven motives).
How do we know this? Well, he's drafted two offensive linemen in 28 total picks during his four seasons with the organization. Shell out of the fifth round in 2016 was one. Jarvis Harrison, guard out of Texas A&M, in the fifth round of 2015 was the other.
He's also gone into a critical offseason with over $100 million in cap space to only snag one average guy in Spencer Long. (Travis Swanson was a solid second-team OL signing.) And he didn't even sniff around the possibility of going after the two big fish in tackle Nate Solder and Andrew Norwell. I can understand not signing either, but to not even be in on the conversation when only six units in the land relented more sacks is simply mind-blowing—especially after coming off the same exact terrible O-line narrative as the previous offseason.
While the Jets were doing very little the Jags added the best guard in the game (Norwell) on top of the best line in the NFL.
Maccagnan must take the hit.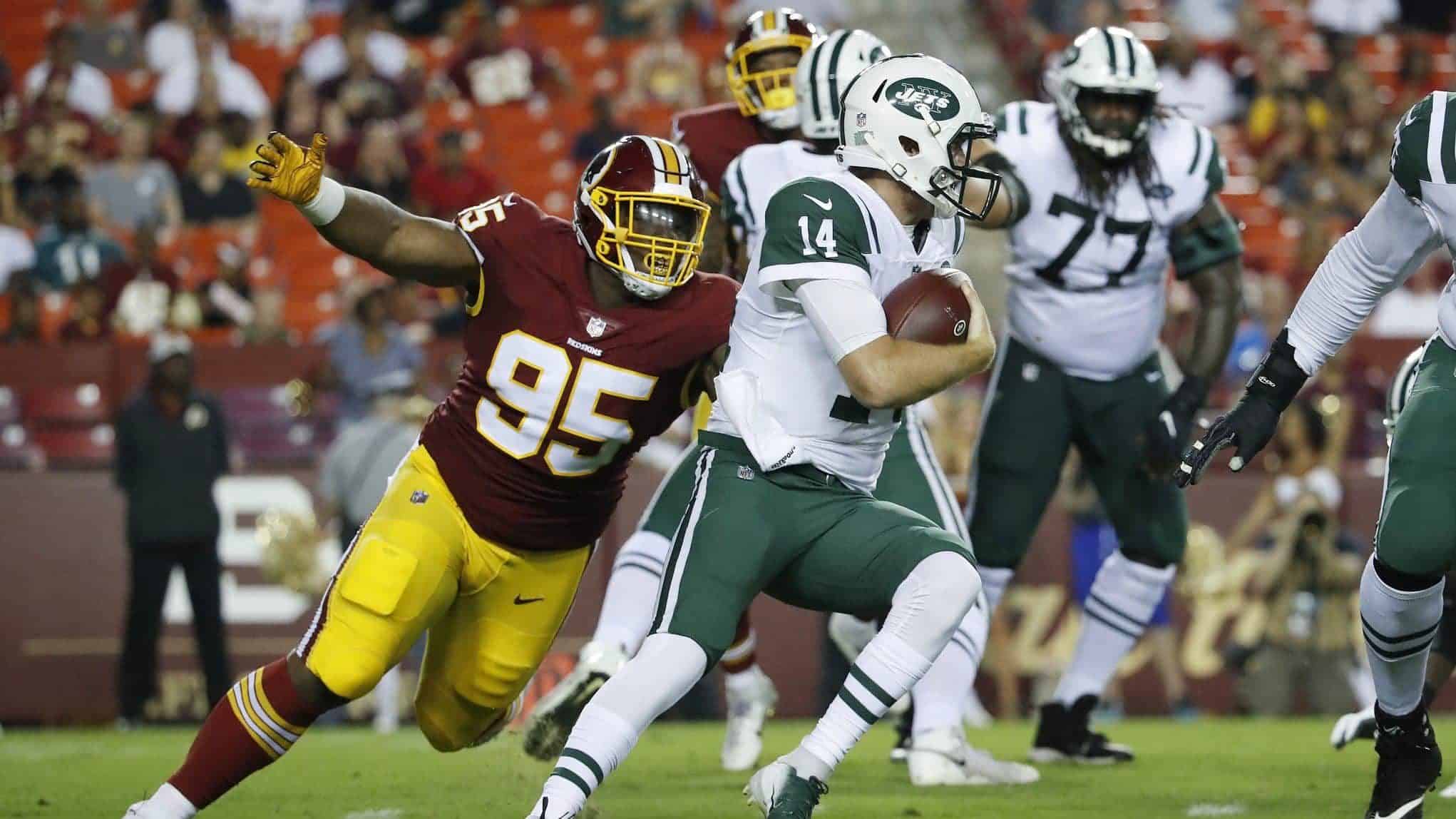 Both Kelvin Beachum and Brian Winters missed Week 2's game in D.C. against the Redskins on Thursday night. It was obvious from the get-go Darnold would have to pay special attention to his five heavies in what turned out as his first preseason start.
On literally every passing play, Carpenter was forced to lean far left in helping Brett Qvale. This would also force Long to lean right as well. Unfortunately, this would mean right guard replacement Jonotthan Harrison would be on an interior island in one-on-one against the D-tackle.
Immediately, we found out how rough it would look as rookie Da'Ron Payne abused Harrison on the Jets third down from scrimmage.
The #BamaProduct Da'Ron Payne! pic.twitter.com/b6ijzZEnMu

— Prime Bam Childress (@fearthe_beard11) August 17, 2018
Darnold was sacked three times while Tedd Bridgewater, who continues to impress, fell victim twice.
Injuries are a part of the game and competition in August for offensive linemen is a big part of how each improves. For the Jets, the injuries are coming in fast and furious while there isn't one backup player who has a shot of unseating a starter.
The Jets aren't simply unlucky. This is on Maccagnan.
Instead of selecting Nathan Shepherd n the third round this past spring, why not tackle Orlando Brown or center Mason Cole? Why not guard Tyrell Crosby or tackle Jemarco Jones in the fourth round instead of tight end Chris Herndon? Shepherd and Herndon may go on to enjoy a nice NFL career with the Jets, especially the third-round Shepherd who's pushing for first-team time. It just won't matter if Sam Darnold is out via injury thanks to a free-runner.
Adding at least one young lineman this past offseason was in the cards. This was especially the case after Mac didn't draft a singular O-lineman in 2016.
Though preseason narratives sometimes fall short of regular-season reality, at this moment in time, Mike Maccagnan must stand up and take the hit. Not having the ability to stretch the field a bit while allowing Sam Darnold to grow as a quarterback is a big deal.
Don't yell at Bowles or Bates about the underneath-conservative stuff. Understand that Mike Maccagnan needs to step up, take that hit and find a way to improve this offensive line.
The unit came into the season ill-prepared and not close to primetime by way of top-tier talent and depth. The only time is now for Mike Maccagnan to fix it.