The New York Mets are already playing for 2019 with another lost season upon us. They're not evaluating all the young they possibly can, though. 
That 11-1 start sure seems like it happened light years ago, doesn't it? Now that it's the middle of August and the New York Mets have completely bottomed out, fans can only hope they beat out the Miami Marlins to avoid the National League East basement.
Outside of trying to spoil the dreams of actual contenders over the last month-and-a-half of the regular season, they could be doing something else important. That involves taking a look at organizational talent in the upper minors in order to determine exactly how to approach the upcoming winter.
Does this mean a mostly unproven ballplayer should greatly alter how the Mets plan to compete next year? Not exactly, but it wouldn't hurt to see what some of these kids are made of.
With New York well under .500, the best time to evaluate young talent — which John Ricco said the team was going to do for the remainder of the season — is right now. Not in September when rosters expand. Right now.
So far, the only position player prospect getting a chance to play is second baseman Jeff McNeil. And even that took too long to happen.
Pull the Trigger Already
McNeil didn't make his big-league debut until July 24 at home against the San Diego Padres. Many Mets fans will tell you he should've been in the majors much sooner than that.
All he did was torch Eastern League pitchers to the tune of a .327/.402/.626 triple slash with 14 home runs, 43 RBI, and a walk rate (9.1 percent) that was nearly as high as his strikeout rate (9.5 percent). This production led to a very healthy 181 wRC+.
That earned him a promotion to Triple-A Las Vegas, where he proceeded to do more of the same — McNeil slashed .368/.427/.600 with five homers and 28 RBI (good for a 164 wRC+) in 143 plate appearances before reaching his ultimate dream.
With Asdrubal Cabrera dealt prior to the non-waiver trade deadline, the one player seemingly impacted the most by McNeil's presence on the 25-man roster has been Jose Reyes. And just about everyone will tell you they're tired of watching him take at-bats away from other players at this point in the year.
The other glaring absence in Queens is that of first baseman Peter Alonso. There's literally nothing left for this guy to prove in the minors, but he's not getting a call-up anytime soon. Heck, he may not even get a call-up in September, which is ridiculous. He had a bit of a slow start upon arriving at Triple-A but has been on fire lately and is on the brink of a 30-homer, 100-RBI campaign between Binghamton and Las Vegas.
I understand the issue with him taking up a 40-man roster spot when he doesn't have to be protected from the Rule 5 draft this winter, as the New York Post's Mike Puma pointed out. Here's what I have to say about that, though:
So what?
There's at least a small chance he could be the Mets' long-term answer at first base, so why not see what he can do in the big leagues? Worry about Rule 5 protection once the offseason hits — right now is the time to evaluate near-MLB ready talent that could potentially help this team compete next season.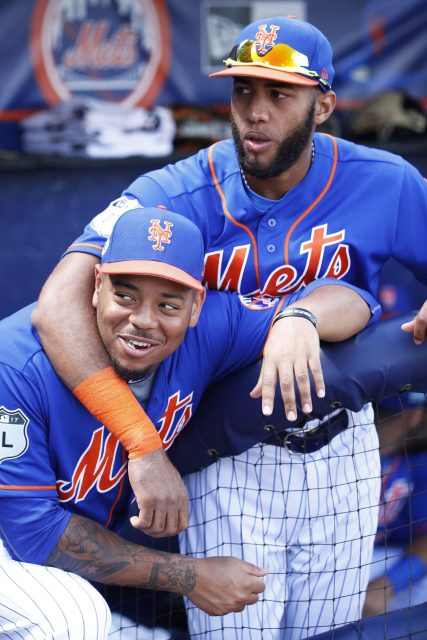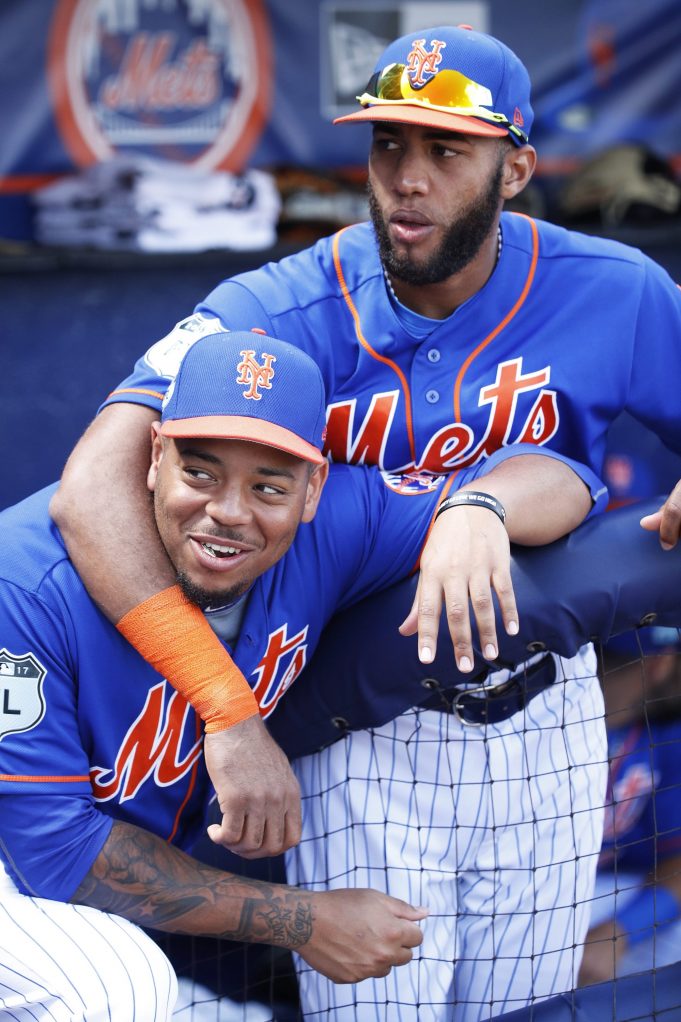 New York Just Did This Last Year
Remember when the Mets were out of the playoff race toward the end of 2017? Of course you do. Remember when they decided to give Amed Rosario and Dominic Smith an audition in August and September to see how they adjusted to MLB play? Yea, me too.
One more quick reminder — what did New York do after seeing Smith post a .198/.262/.395 triple slash (73 wRC+) through 183 plate appearances? They went and signed Adrian Gonzalez over the winter.
Signing a past-his-prime player like Gonzalez didn't make sense, but that may not have happened if it wasn't for Smith's struggles. Fast-forward back to this year, and it's hard to see any differences. Wilmer Flores and/or Jay Bruce (if he ever gets healthy) likely aren't going to be long-term answers at the position.
What they could be, though, is a decent backup plan depending on what Alonso or Smith (to a much lesser extent because he's not even there now) can show the team when given the playing time.
Or, it could help them make an informed decision out on the free agent market (but we all know the Mets don't do that very often).
Other NL East Foes Passing Them By
Is promoting Alonso and giving him that coveted 40-man roster spot going to be worth it in the long run? Who the heck knows — it's definitely a risk. You know what else I know, though? It's that Noah Syndergaard, Jacob deGrom and Zack Wheeler aren't going to be this good and this inexpensive for that much longer.
The Mets don't have to look very hard for examples of taking such a risk paying dividends. Just look at the Atlanta Braves. Did they have to give Ozzie Albies (21 years old) and Ronald Acuna, Jr. (20 years old) every-day roles? Nope, but it happened and they've become key cogs to a potential playoff team.
The Washington Nationals could very well fall short of the high expectations set for them at the start of the year. However, just imagine where this team would be without Juan Soto tearing up opposing pitchers as a 19-year-old.
Risks don't always work out, but you'll never know what could've happened unless the attempt to find out is made.
Stuck in the Same Vicious Cycle?
For years under Terry Collins, it seemed as if he preferred playing veterans — even ones past their prime — over younger players. One may have hoped that would change under Mickey Callaway's watch, but it's not too different.
After all, guys like Jose Reyes and Jose Bautista are still getting at least somewhat consistent playing time.
The organization needs to pick what they want to do and stick with it. If you say you want to evaluate young talent, evaluate it all. Flores and Bruce riding the bench so Smith and/or Alonso can get enough plate appearances to make a genuine evaluation isn't ideal, but it's not the end of the world — especially since the farm system isn't flush with position player prospects in the upper minors.
Not getting a clear sense of what's already within the organization before executing an offseason strategy is worse. And we've seen how badly that can turn out.