After a disappointing 2017 season, Sandy Alderson and the New York Mets opted to reload over the winter with hopes of contending. So far, most of the major-league signings that were made haven't worked out. 
After excitingly qualifying for the playoffs in consecutive years for just the second time in franchise history, the wheels completely fell off for the New York Mets in 2017. Major injuries to key players like Noah Syndergaard and Yoenis Cespedes were just a couple factors contributing to a disappointing 70-92 record.
Last winter was a critical one for Sandy Alderson and his front office, one that they started by hiring Mickey Callaway as their next manager. Following this move, the organization began making calculated acquisitions for veteran players that'd theoretically fill in the gaps of this roster.
In all, New York signed five free agents to major-league contracts, including Jay Bruce, Jason Vargas, Anthony Swarzak, Jose Reyes, Adrian Gonzalez and Todd Frazier. For the most part, they've worked out the opposite of how Alderson had hoped they would.
A Black Hole Instead of an Anchor
With a healthy Cespedes in tow and an unknown timeline with regard to Michael Conforto's rehab, signing Jay Bruce to a three-year, $39 million deal seemed like a safe investment. The organization was already familiar with him, and he had just put together his best overall performance in quite some time.
Bruce has battled a couple of injuries so far this year — he is currently on the disabled list, ya know — but the veteran outfielder has also abandoned a revamped approach that worked incredibly well in 2017.
After slugging a career-high 36 home runs between New York and the Cleveland Indians last year, he's collected just three dingers in 236 plate appearances thus far in 2018. His .212/.292/.321 triple slash also isn't that great, while his 70 wRC+ is one of the 20 worst in baseball among qualified hitters.
The whole point of bringing Bruce back was to be a middle-of-the-order anchor with Cespedes, and even occasionally take over some work at first base. All his struggles have done is create a sticky situation in the outfield now and moving forward with the emergence of Brandon Nimmo.
So Much for the Stabilizing Veteran Starter
On paper — and assuming health isn't a huge issue even though it was — the Mets entered 2018 with a surplus of intriguing young arms. This group included Syndergaard, Jacob deGrom, Matt Harvey, Steven Matz, Zack Wheeler, Seth Lugo, and Robert Gsellman.
What they didn't have was a crafty veteran that could eat innings every five days. So instead of bringing back Bartolo Colon, they ended up awarding Jason Vargas with a two-year, $16 million deal.
This was troubling from the start because of his performance before and after the All-Star break last year. After posting a 2.62 ERA and .287 wOBA allowed in his first 106.1 innings, those numbers worsened to 6.38 and .377, respectively, over his final 73.1 frames.
The early results have been horrific, too. Following a stint on the disabled list to start the year, the southpaw owns an 8.60 (!!) ERA in just 37.2 innings of work. He's also allowed hard contact at a 37.2 percent rate to go along with a 40.2 percent fly-ball rate.
He hasn't lasted more than five innings in any of his nine starts (he's only lasted that long four different times) and has allowed four-plus runs five times.
Oh, and he just landed on the disabled list with a calf strain. So this signing is working out awesome so far.
The Jury Is Still Out on Swarzak
After a true breakout year that was split between the Chicago White Sox and Milwaukee Brewers, Alderson brought hard-throwing right-hander Anthony Swarzak into the bullpen mix to the tune of a two-year, $14 million contract.
The most notable part of Swarzak's 2.2-fWAR performance was his rise in strikeouts — he posted career-high marks in strikeout rate (30 percent) and swinging-strike rate (14 percent) to go with a career-low 2.33 ERA in 77.1 innings of work.
His performance this year hasn't necessarily been stellar — he owns a 5.40 ERA and 26.5 percent strikeout rate — but he just hasn't been around enough to make a real impact. A left oblique strain landed him on the disabled list to start the year, and he didn't get activated until the beginning of June. So, he only has 11.2 innings under his belt as a Met.
Two things that'll hopefully stabilize as he continues racking up innings are his walk rate (which is currently 8.2 percent) and his homers allowed per nine innings (which is currently 3.86).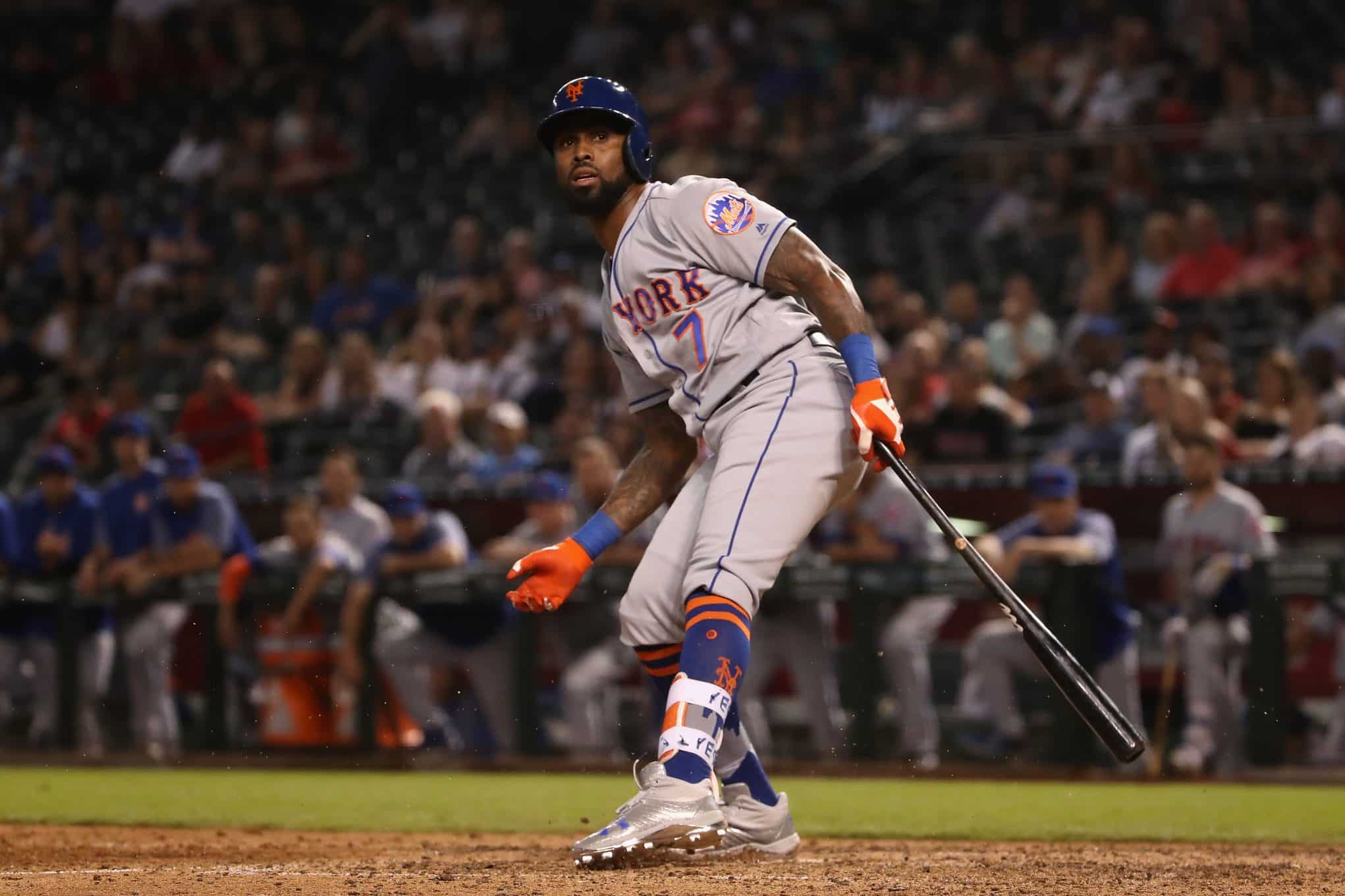 Transitions Are Hard ... Just Ask Jose Reyes
When healthy, infielder Jose Reyes had always been an everyday player throughout his career. But upon re-signing with New York for one-year and $2 million, the front office made it clear that he'd be a bench player.
While this would obviously be quite a transition, many hoped it'd be going much better than it is. He's been a detriment on both offense and defense, which is evidenced in his -0.8 fWAR.
He's also slashing .170/.257/.234 through 105 plate appearances, with his 40 wRC+ ranking among the worst in baseball when looking at hitters with at least 90 plate appearances.
Reyes' 25.6 percent soft-hit rate and 26.9 percent hard-hit rate aren't much different than his previous two years with the Mets. One big change, though, has been his ground-ball rate. After having that number settle in at 35.0 percent and 37.2 percent in 2016 and 2017, respectively, it's up to 48.1 percent this year.
It's been noted that his impact on Amed Rosario is an important reason behind him still being on the roster. However, it'll be shocking if he's still with New York in September unless his play improves dramatically.
The Adrian Gonzalez Experiment Is Already Over
Adrian Gonzalez signed with the Mets for the league minimum, so it's not as if bringing him aboard was a huge financial risk. His arrival did send a clear message to Dominic Smith about how his first taste of the majors went at the end of last year.
All this basically did, though, was keep Smith in Triple-A for a little over two months before getting another chance.
In 187 plate appearances with the club, Gonzalez posted similar numbers to last year — he slashed .237/.299/.373 with six homers, 26 RBI, and 15 runs scored, which sussed out to an 83 wRC+.
He didn't have a ton of luck, evidenced by a .260 BABIP despite a 40.1 percent hard-hit rate and 24.3 percent line-drive rate. Still, for a hitter that's typically used the whole field throughout his career, his 44.5 percent pull rate and 40.9 percent chase rate made him a lot easier to defend against for opposing teams.
[membership level="0"]
The One (Somewhat) Bright Spot
He did miss a significant chunk of time due to a hamstring injury, but third baseman Todd Frazier is the closest to a bright spot we can get among this group of offseason acquisitions. He's slashed just .223/.311/.388 with a 94 wRC+ through 219 plate appearances, but it's rather clear to see that his performance has been head-and-shoulders above the rest.
Plus, he's been a solid presence in the clubhouse and helped the salt and pepper fad catch like wildfire. That has to count for something, right?
Frazier does have eight homers, but his .165 ISO is a far cry from the numbers he's produced the last three years (.242, .239, .215). With a 44.1 percent hard-hit rate that's on track to be a career-best mark, it'd help for him to get the ball in the air more.
Between 2015 and 2017, he never finished with a fly-ball rate lower than 47.5 percent. Up to this point in the season, it's currently sitting at 36.4 percent.
Looking Ahead
Not all offseason acquisitions are going to work out — that's just the way life in the big leagues goes. What's really disappointing for the Mets, though, is that a lot of things had to go right for them to actually contend for a playoff spot.
Over the season's first few weeks, everything was clicking on all cylinders, but after that, everything has fallen apart. These veterans were supposed to be reinforcements to what the front office viewed as a strong nucleus. For the most part, they've been one of the big reasons behind what's dragging this team down.
While that nucleus remains intact at the moment with the non-waiver trade deadline approaching, the organization now has to deal with the repercussions of these free-agent whiffs. Gonzalez is already gone and Reyes may not be far behind him, but the rest are all under contract through at least next season.
So, the New York Mets need to figure out how to fix this or simply find a way to cut their losses, move on and hope their acquisitions in the immediate future work out better.