The progression of New York Jets rookie quarterback Sam Darnold is far ahead of schedule as evidenced by one specific play.
FLORHAM PARK, NEW JERSEY—Ninety-five-degree weather had no shot. Forget about the defense. On one particular play during the New York Jets afternoon practice session, young Sam Darnold showcased why he's the most NFL-ready of the young signal-callers entering the league that plays for pay.
It was red-zone work. The Jets were at the 10-yard-line with Darnold patiently awaiting the next play call to ring through his helmet courtesy of offensive coordinator Jeremy Bates.
The play showcased two patterns left and two right. The two left weapons rubbed and acted as the top two reads. Darnold took the snap and looked immediately there. Nobody was home. His second read, again, left, was stopped cold.
The O-line was crumbling. Precious seconds were wasting away. The kid knew he needed to release the ball immediately, touchdown or not.
Most rooks would have thrown the ball to the upper deck after missing out on the first two reads near the goal line. This would be labeled a "smart" play.
The tension, the giddiness and the overall anxiety of facing a collapsing pocket on third down at the 10-yard-line during just his fifth NFL big-boy practice would be too much to overcome for the average gunslinger.
Not Sam Darnold.
Fully analyzing the coverage and moving through his route progression, Darnold hit rookie back Trenton Cannon in the flat to the right side who was all alone for the score.
Red Zone, at the 10, offense runs two left and two right in the pattern. Sam Darnold passes up first and then second read left prior to hitting the flat all alone on the right for the TD.

This kid's patience and progression play is already top notch. #Jets

— RobbySabo (@RobbySabo) August 6, 2018
Cannon, another rookie impressing the world of the Jets was either the third or fourth option on the play yet the USC product calmly progressed to the final read before it was too late.
This kid is literally "progressing" at a big-time rookie level in an area that often comes last for most youngsters at the position.
It's obvious he's already the most talented of the three quarterbacks. It's not even close. Whether or not he starts preseason Game 1 this Friday night against the Atlanta Falcons remains to be seen.
After practice on Monday, head coach Todd Bowles filled everybody in that his QB gameplan is already nearly cemented. He's simply yet to inform the public of the strategy.
Either way, the positive words continue to mount about the kid coming from the sideline boss's mouth.
"He is grasping the offense, Bowles said. "It has only been barely a week for him. He is getting better every day & we will go from there."
Moreover, Adam Schefter of ESPN confirms that Darnold currently possesses a "very fair shot" of starting Week 1, according to a source.
Sam Darnold "has a very fair shot" of winning Jets' starting QB job for regular-season opener, per sources. He has to keep progressing, preseason will be critical, and he probably is a year away, when he turns 22. But Jets love what they see and he has a legit chance to win job.

— Adam Schefter (@AdamSchefter) August 6, 2018
In addition to progressing through each of his routes on every play, Darnold continues to cite the correct words every day. He might be incapable of ever saying the wrong thing.
"Definitely feeling a lot more comfortable calling plays in the huddle and then executing them and running them," Darnold said. "It's been fun to really have that first week under my belt."
He, along with Bowles, understand all depth charts and first-team looks are tossed away until the preseason starts and the hitting begins.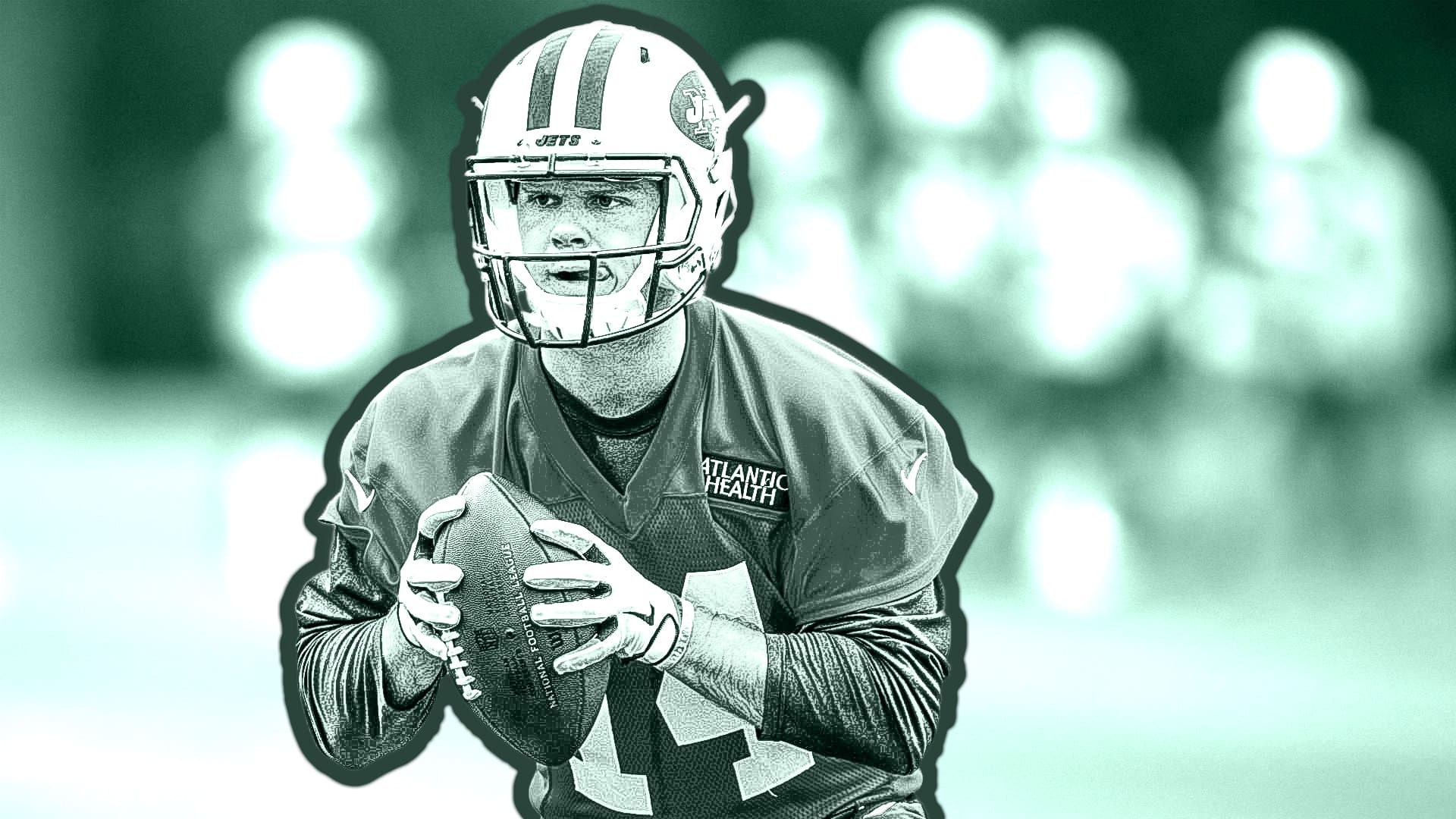 "This will be the first time that we're able to able to get hit," Darnold said. "There's no security blanket on us. We don't have those red jerseys out there. We're going to be ready to be able to get rid of the ball as fast as possible but also be able to trust our protection and trust what we've been working on for so long now."
Five practices in and the No. 3 overall pick feels far beyond comfortable. Forget depth chart placement and first-team status. Just understand that he's "progressing" concerning one most troublesome areas that ail the first-year quarterback—an area that rarely comes immediately.
Sam Darnold's progressions and overall route-analyzing analysis against NFL defensive coverage is far ahead of schedule. That's what's important at this stage of the game.