Steve Spagnuolo was the last coach to earn a win for the New York Giants. He believes there are more to come after all the offseason editions.
The man to coach the last regular season game for the New York Giants is confident in Pat Shurmur the one who will coach the next.
Steve Spagnuolo, visiting New York Jets training camp on Wednesday, was asked about his former employers by Steve Serby of the New York Post and conveyed positivity when talking about the Big Blue outlook.
"Pat's a good teacher," Spagnuolo remarked. "He's a good man." Spagnuolo would know better than most, having spent time working with Shurmur during their years in Philadelphia and St. Louis. Shurmur was the offensive coordinator with the Rams during the first two years of Spagnuolo's three-year term as the Rams' head coach.
Spagnuolo's next head coaching job came last season when he presided over the final four games of the Giants' woebegone 2017 season. Though not retained by the renovated edition, Spagnuolo bears no ill will towards the team.
"I would tell the Giants fans that I'm always gonna have a little bit of blue in my blood," he said. "That's never going to change."
Though Spagnuolo's expertise is mostly in defense, he's excited to see what the Giants' offensive additions can do to pull the team of its 3-13 rut.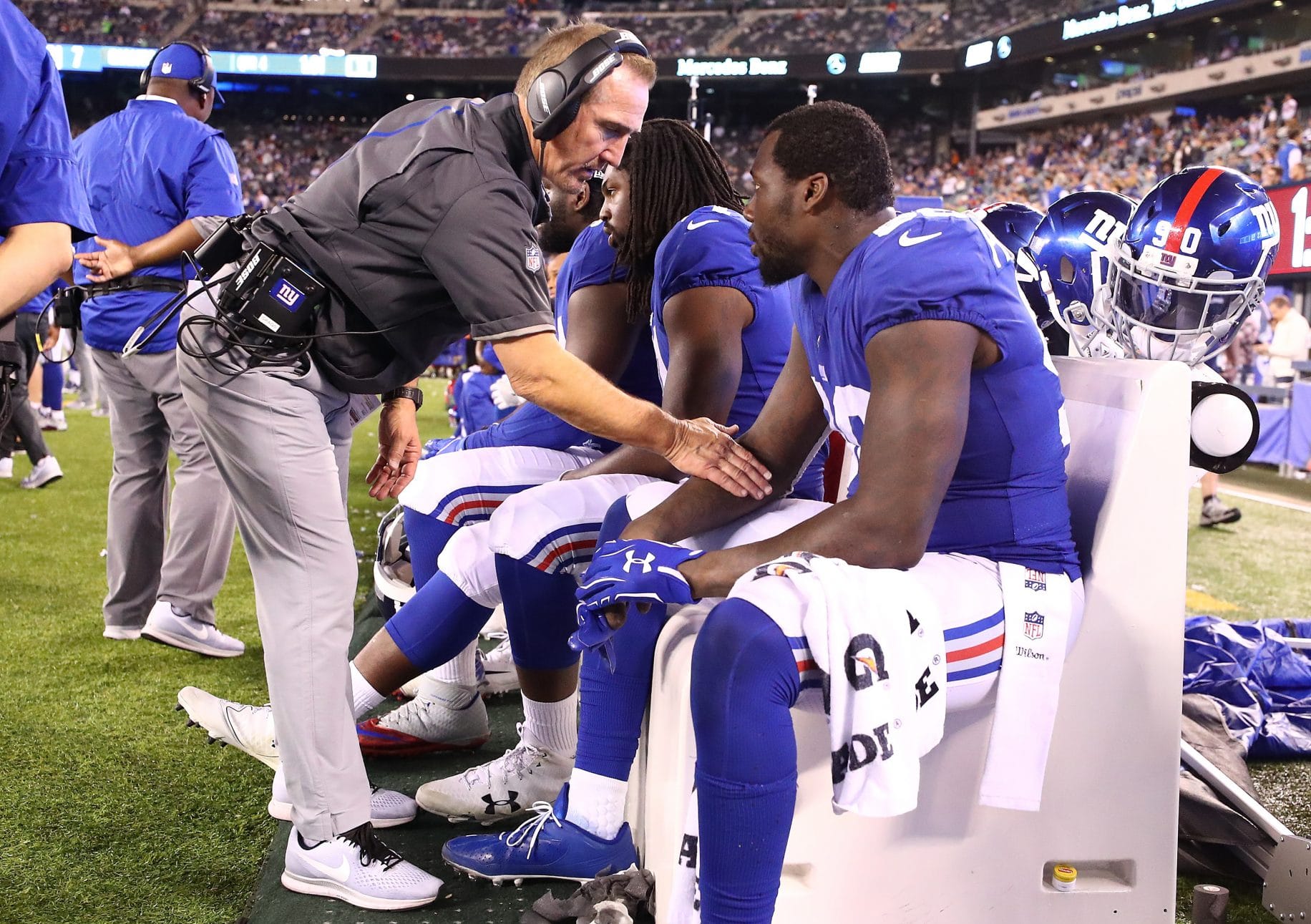 "If you're Saquon Barkley and you're coming in the NFL, it's pretty good to be with a team that has a wideout like that, right?" Spagnuolo said, referring to the return of star receiver Odell Beckham Jr. "I don't know a lot of the offensive linemen, but I like what (general manager) Dave (Gettleman) did there."
Spagnuolo conveyed a personal story where he met Barkley during a scouting trip to Orlando.
"This young gentleman walked up to me, good-looking, stud-looking kid, and he was just asking questions about the NFL," Spagnuolo recalled. "I didn't know who I was talking to. But in my mind, I'm going, 'Boy, this is a great kid, this guy really gets it, he's passionate about what he's doing.' And then somebody walked over and said, 'Hey Saquon.' I realized then I was talking to Saquon Barkley. I'm expecting him to do really well."
To top it all off, Spagnuolo is confident in the longest-tenured Giant, Eli Manning.
"I think Eli's got a lot of football left," Spagnuolo said. "I think they're gonna bounce back and be fine."
True to form, Spagnuolo, who guided the Giants to a Super Bowl victory in 2008 as a defensive coordinator, was quick to praise the defensive returnees as well.
"Eli's got some weapons. He can hand the ball off to somebody that's a quality running back and I do think they'll be better on defense just because of the injury thing, guys are healthy," he said. "(Cornerback) Janoris Jenkins played with a high ankle sprain for most of the year, and so did (safety) Landon Collins."
Spagnuolo went 1-3 as the Giants coach, taking over for the fired Ben McAdoo in December. He served as the team's defensive boss for five seasons, including the previous three. He did manage to leave on a victorious note, defeating the Washington Redskins 18-10 in the season finale.
"It felt like Giants football," Spagnuolo said after that win. "We've been chasing the feeling of being in a locker room on a Sunday or an NFL winning locker room. It feels special. All the work you put into it and it's a week by week thing. But, the work you put in during the week is demanding. Our players, our coaches, they go through a lot. Our football staff. And, it's rewarding. Prior to that, hadn't been great, but this feels good and I think the organization can carry this into the next season."
Follow Geoff Magliocchetti on TWITTER