As the New York Giants enter a season full of hope, some returning veterans will need a good camp if they wish to stick around for the revitalization.
Late July and August are anything but a summer vacation for the New York Giants, who have descended upon East Rutherford for training camp at Quest Diagnostics Training Center.
While the usual suspects have taken their marks, like Eli Manning, Odell Beckham Jr. and Damon Harrison, it won't be business as usual for several Giants as they head into a pressure-packed summer …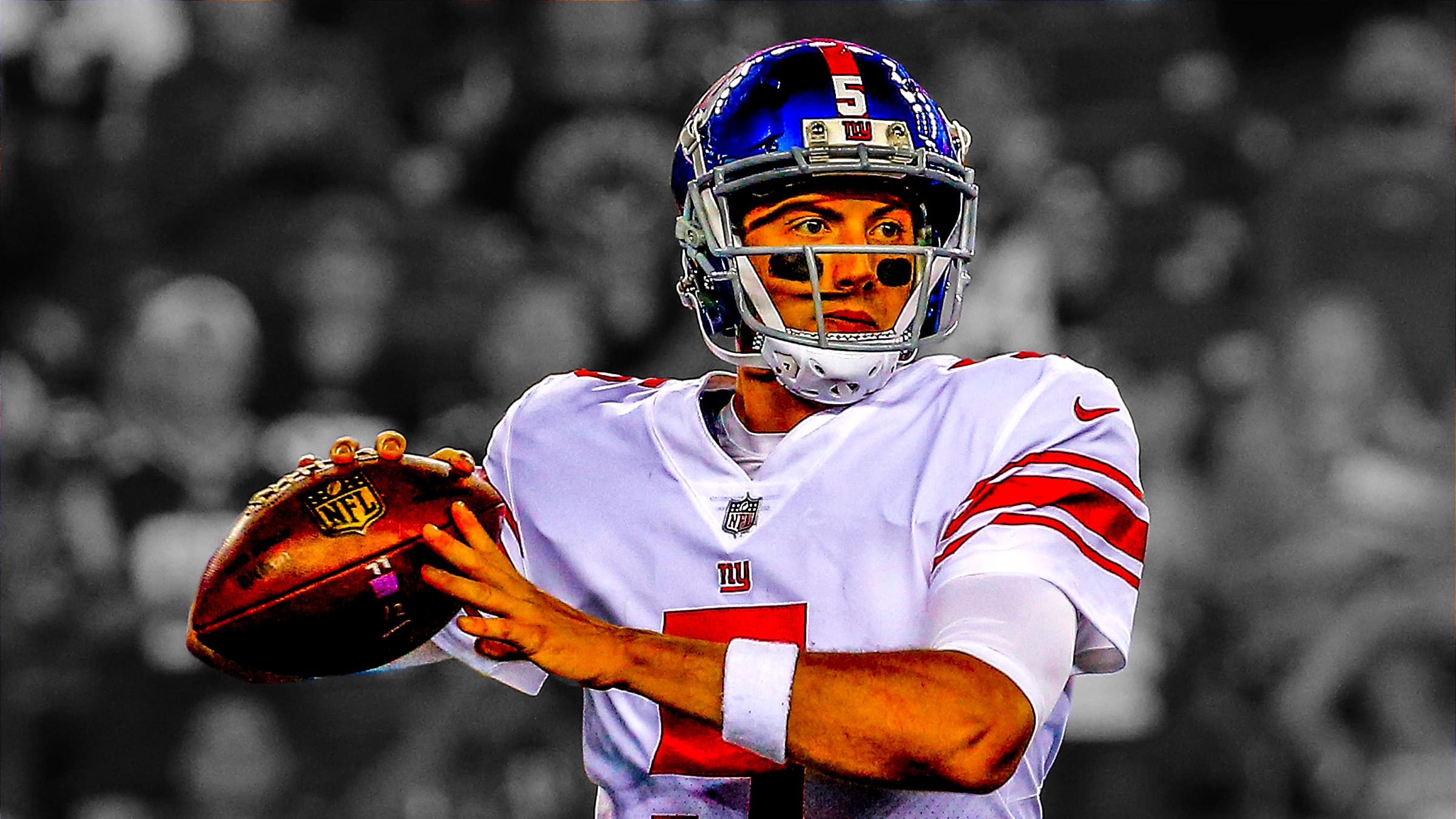 QB Davis Webb
Quarterbacks had been chosen in the Eli Manning era before, but Webb's selection in 2017 was different. Unlike Andre Woodson, Rhett Bomar or even Ryan Nassib, Webb was the first rookie quarterback who was a realistic heir to the Manning throne. The lost season would've been a perfect chance to get him into a game, but that's not worth arguing about now.
Now, Webb has some competition in the form of Kyle Lauletta, the Giants' fourth-round pick in last April's draft. Webb, much like last season during Manning's controversial benching, has handled the situation with class thus far, but the fact remains that he might be at a bit of a disadvantage. Lauletta is the selection of a new leadership group, while Webb, unfair as it may be, is one of the few remnants of one of the darkest times on the Giants' timeline. His time in the preseason was limited last season, but now he's in a position where he could possibly start the first and final games. He'll need to post some solid box score to separate himself in the battle for the future.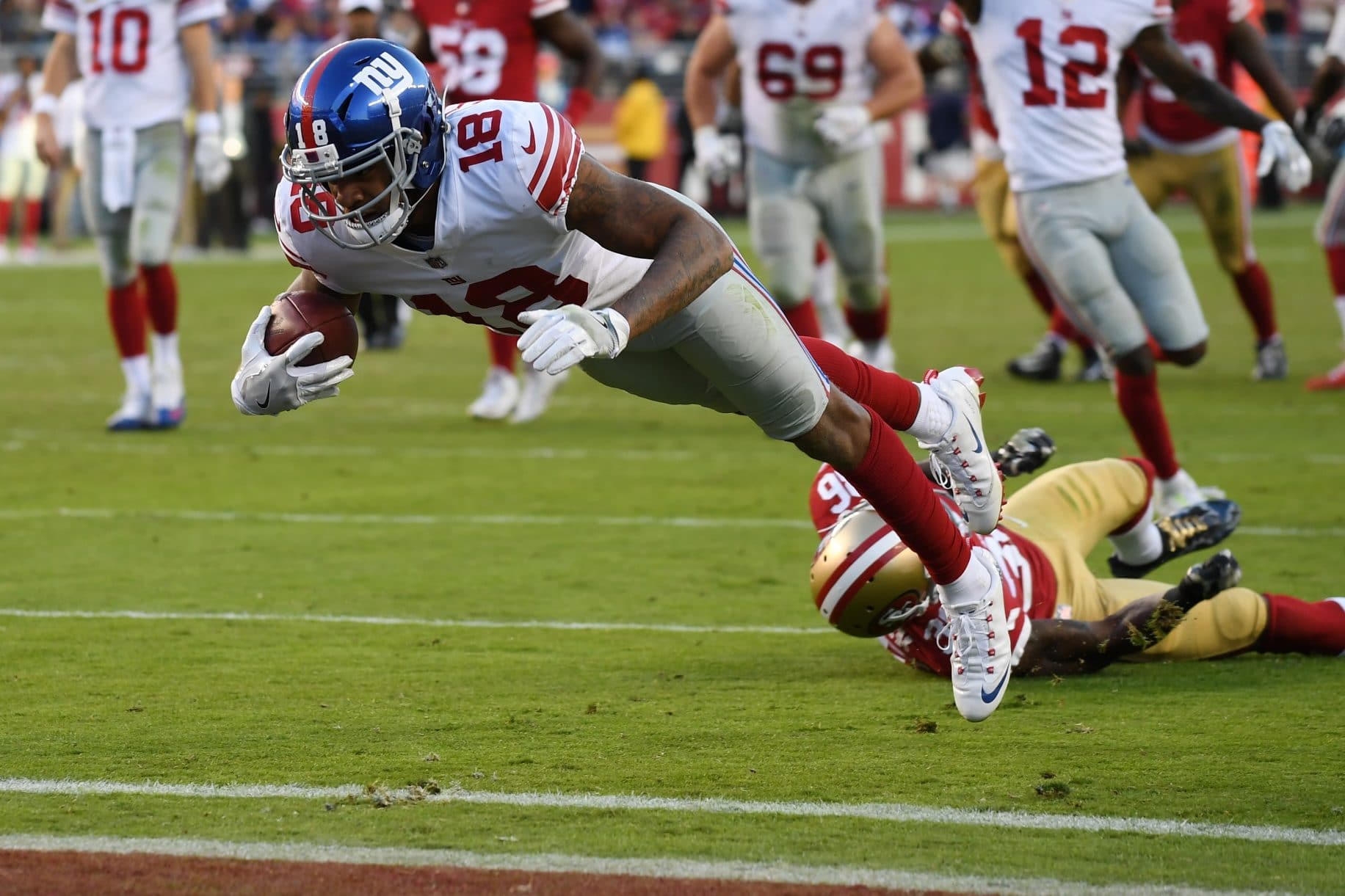 WR Roger Lewis
If anyone's used to training camp scrutiny, it's Lewis. His NFL career began as an undrafted free agent, yet he made the team with a strong summer.
In his sophomore year, he entered camp with an arrest for impaired driving. Another camp showcase allowed him to keep his spot, and he wound up taking a big role on the Giants' offense, as his 416 yards were third on the team when high-profile veterans went down with injuries.
Lewis could be a realistic third receiver option in the Giants' lineup, but he'll have to stave off veteran addition Cody Latimer, not to mention a group of undrafted rookies who were in the same position he was not too long ago. Is the third time yet another charm?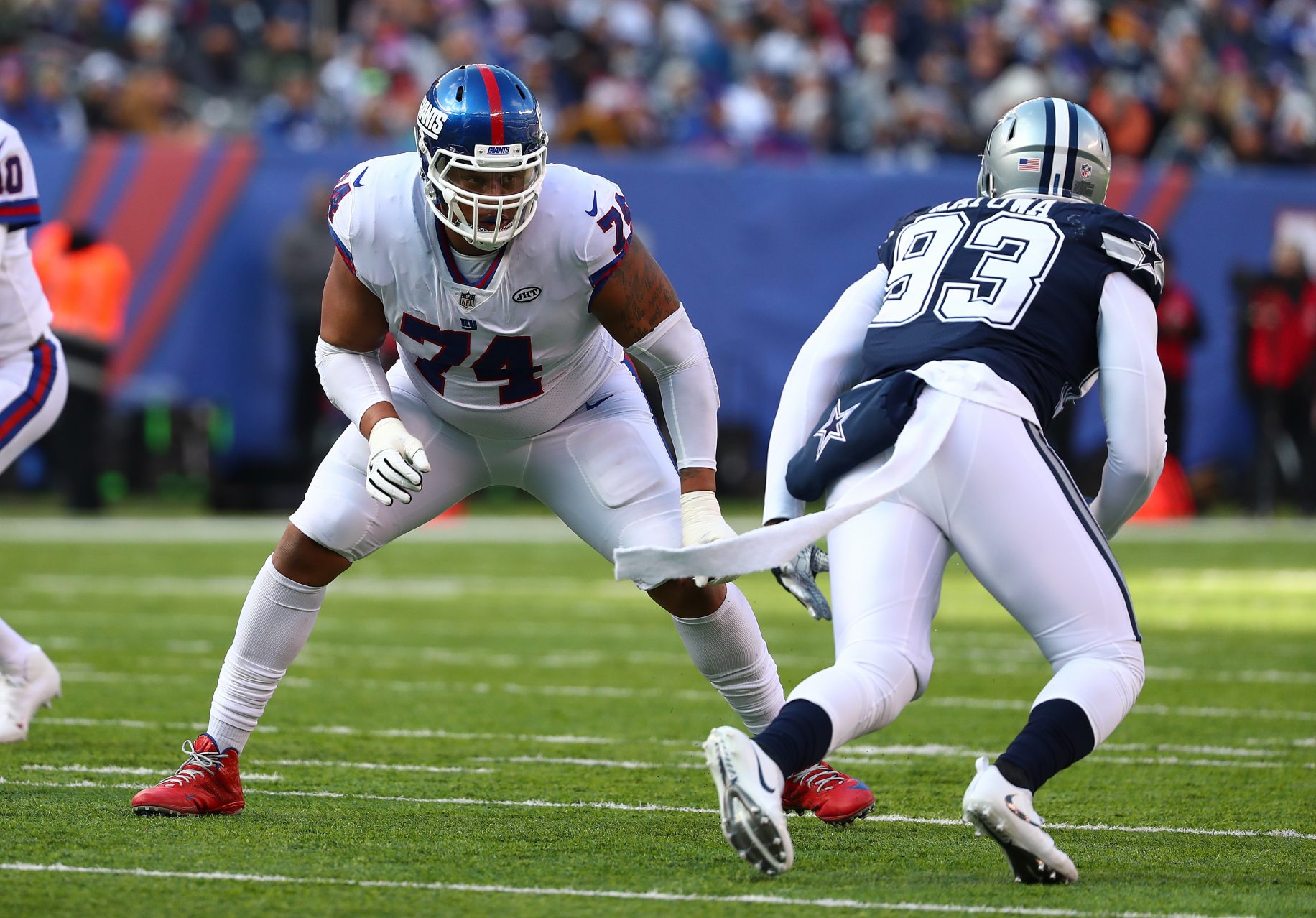 T Ereck Flowers
After a contentious offseason, rife with anger, trade rumors, and an agent switch, Flowers has reported to training camp and appears to be penciled in, for the time, being, in the Giants' starting lineup, albeit in a new spot at right tackle after the signing of Nate Solder.
Nothing more really needs to be written about Flowers, thus far, failing to live up his first-round expectations. The fact remains, however, that Flowers is entering the final year of his original Giants deal, as the team did not pick up his fifth-year option.
To kickstart a year in which he has to impress either his current or future employers, he needs to get off to a good start in training camp, especially with last season's undrafted addition Chad Wheeler on the rise.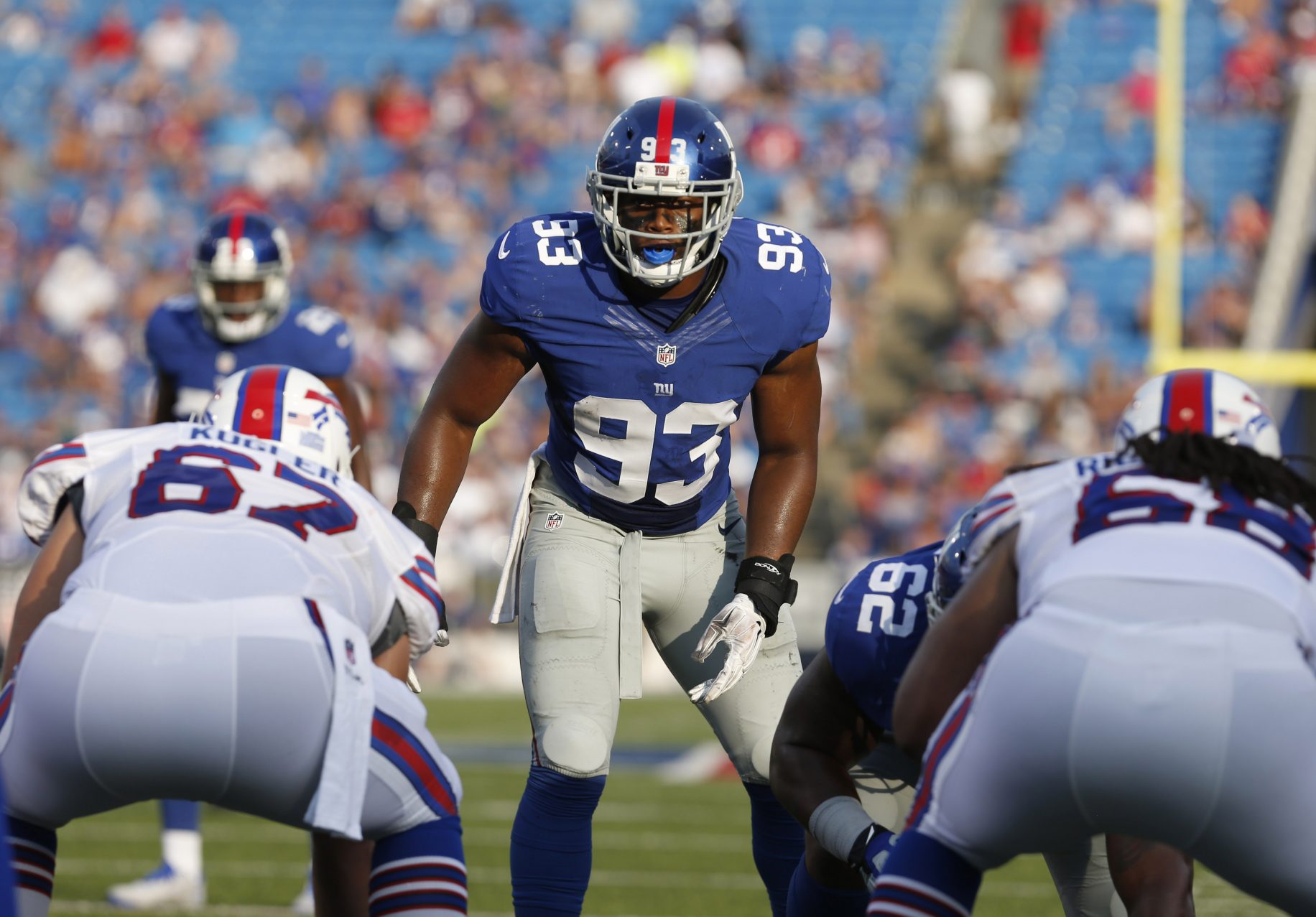 LB B.J. Goodson
The Giants are a team that prides itself on heroics from the linebacker position. Whether it's at MetLife Stadium or Quest Diagnostics Training Center, images of players like Lawrence Taylor, Carl Banks, and Harry Carson greet visitors at every which way.
Prior to this offseason, the linebacker position had been forgotten in Giants circles, the last Pro Bowler at the spot being Antonio Pierce in 2006, and the last early draft pick used on the spot coming in 2009 (the quickly forgotten Clint Sintim). But this offseason, the Giants traded for Alec Ogletree, drafted Georgia's Lorenzo Carter and signed Connor Barwin just before training camp opened.
While BJ Goodson is more of an interior prescience than that outside trio, it'd be ideal for him to have a strong training camp to remind the Giants' new leadership group, as well as opponents, that he is still a factor. In last season's opener in Dallas, Goodson briefly took the league lead in tackles, picking up 18 in the Week 1 loss before injuries cost him a majority of the rest of the season.
If Goodson can come out and retain the form he displayed in last season's opening stages, he can join the newcomers in the Giants' long-term future.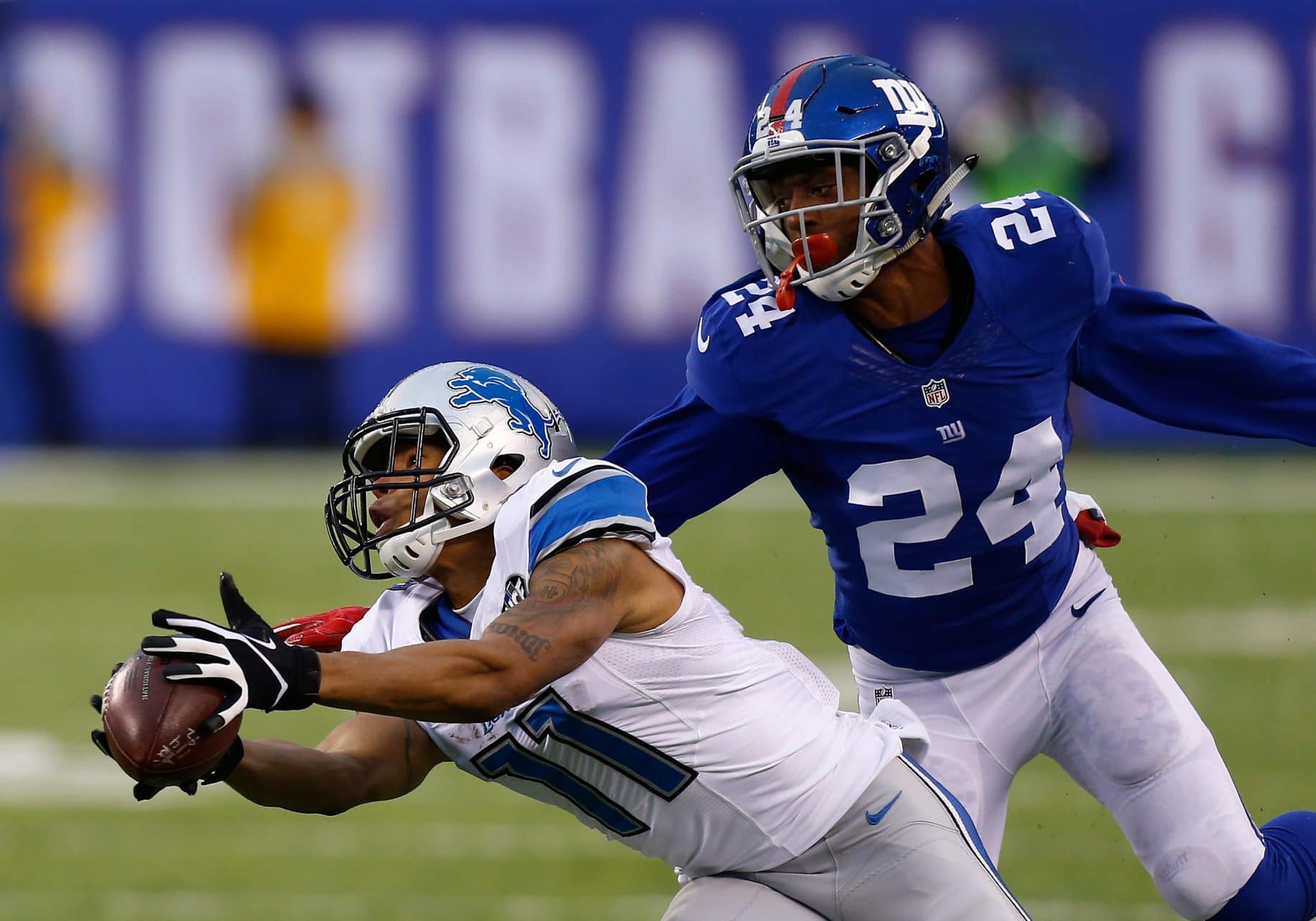 CB Eli Apple
Many are surprised to see that Apple survived one of the most brutal instances of the sophomore slump in recent memory, but he's ready for his third year in blue. Spring provided a time for Apple to atone for his 2017 mistakes, and he acknowledged full responsibility in somber sessions with the media during minicamp.
Now that the apologies are out of the way, it's time to show up on the field. Though supplemental draft selection Sam Beal will no longer be in contention, Apple will fight for playing time against several veteran additions, such as William Gay and Teddy Williams, as well as returning vet Donte Deayon.
Apple's roster spot probably isn't in jeopardy, as the Giants likely won't give up on a recent first-round pick so quickly, but his regret will mean nothing if he doesn't back it up on the field.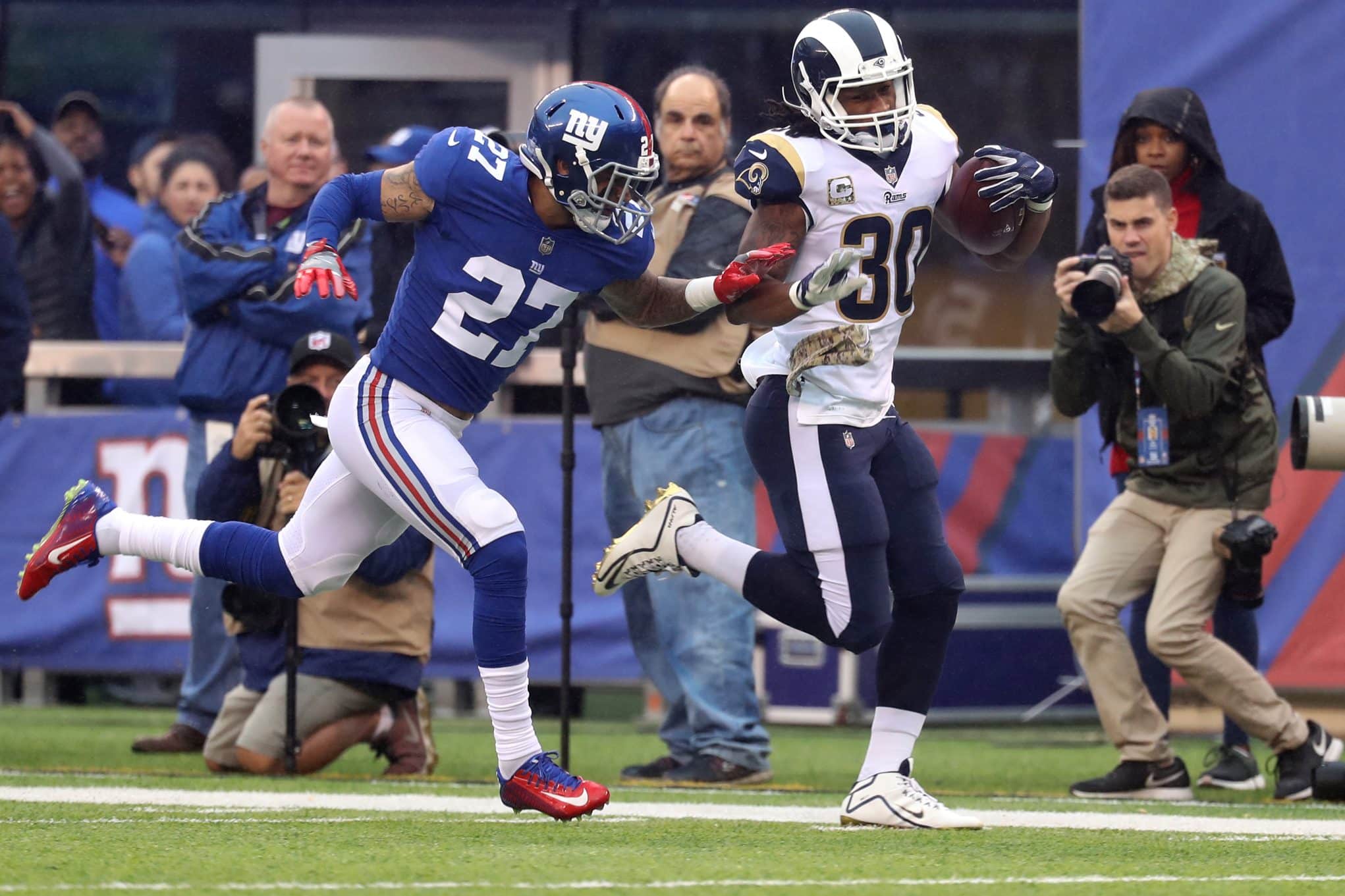 S Darian Thompson
2016's third round selection, Thompson experienced a de facto rookie year last season, missing a majority of the year prior with concussions. Flashes of potential were glimpsed, as he tallied 75 tackles, six pass deflections and his first career interception, but the Boise State alum's inexperience came up back to haunt him, as Pro Football Focus placed him 70th amongst qualifying safeties last season.
Penciled in as the starting free safety last season, Thompson will have to deal with the returning Andrew Adams, whose second-year development became a rare bright spot in 2017's abyss, in terms of playing time. Further competition on the roster comes in the form of undrafted rookie Sean Chandler.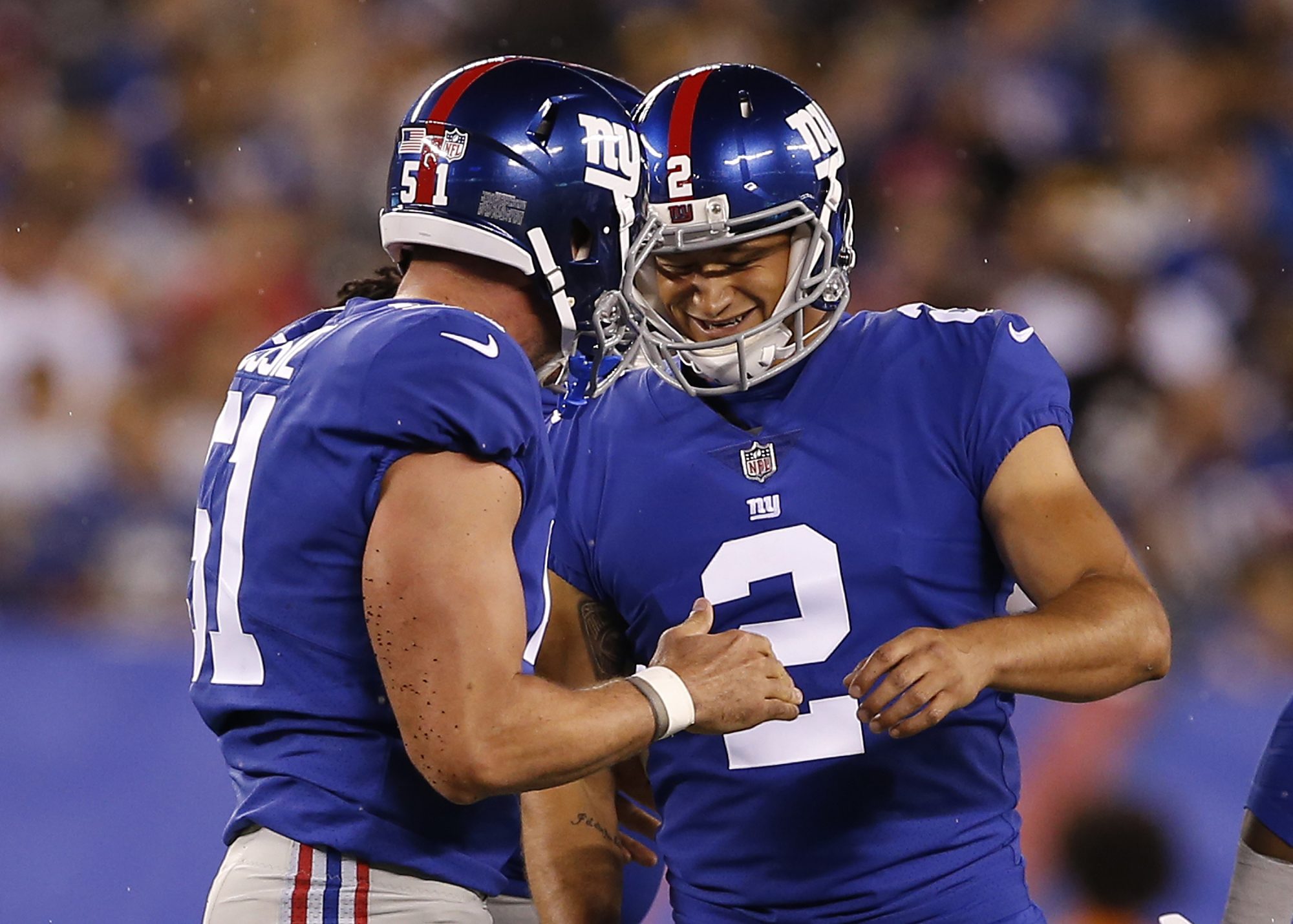 K Aldrick Rosas
Over the past two seasons, the Giants have had four kickers, three alone in 2016 thanks to Josh Brown's domestic violence revelations. Last offseason, the first-year man Rosas played his way into an NFL job with a literally perfect preseason, hitting all eight field goal attempts, the last being a game-winner as time expired in the Giants' annual preseason finale against the Patriots.
Rosas, however, struggled once the games began to matter, as he ranked 30th amongst qualifying kickers in field goal percentage (beating out only Chicago's Connor Barth), part of a Giants special teams unit that wasn't so special. While the Giants brought in veteran Mike Nugent to compete with Rosas last season, right now the only competition on the roster is Marshall Koehn, who kicked in one game with the Bengals last season. With the potential for so many close games (Eight of their past dozen games against NFC East competition have been decided by one possession), the Giants need a man they can trust in the clutch, and Rosas has another camp to prove it can be him.
Follow Geoff Magliocchetti on TWITTER