The 2018 restricted free agent class has been met with little to no offers. The Brooklyn Nets should, with caution, entertain signing Jabari Parker.
Restricted free agents are usually a focus for the Brooklyn Nets' free agency to-do list. Last year it was Washington's Otto Porter Jr., the year before it was Miami's Josh Richardson and Portland's Allen Crabbe.
This year, could it be Milwaukee's Jabari Parker?
Most fans will be critical of any deal for the former second overall pick. He has torn his ACL twice in just four seasons and isn't gaining interest as originally expected.
Jordan Schultz of Yahoo! Sports reported that Parker and his camp are surprised with the lack of interest he's received.
Jabari Parker's market never materialized the way he'd hoped for. Sources say concern league-wide predicated on both his attitude/health. As 1 high ranking executive told me: "[I] don't think anyone wants him." Remember, Jabari can take #Bucks' 1-yr, $4.3M qualifying offer https://t.co/cJntWICSmS

— Jordan Schultz (@Schultz_Report) July 6, 2018
It's not surprising that an injury-prone Parker isn't being bombarded with offers after playing just 31 games last season. He didn't make his regular-season debut until February.
Once he returned, however, Parker was relatively consistent with production. According to Basketball-Reference, his Per 36 averages landed at 18.9 points, 7.3 rebounds, and 1.2 steals per game.
If healthy, Parker may prove a key contributor to any team willing to take the gamble. As the Nets set their eyes on the postseason, Parker should be no exception.
What's to like about his game and potential fit in Brooklyn?
---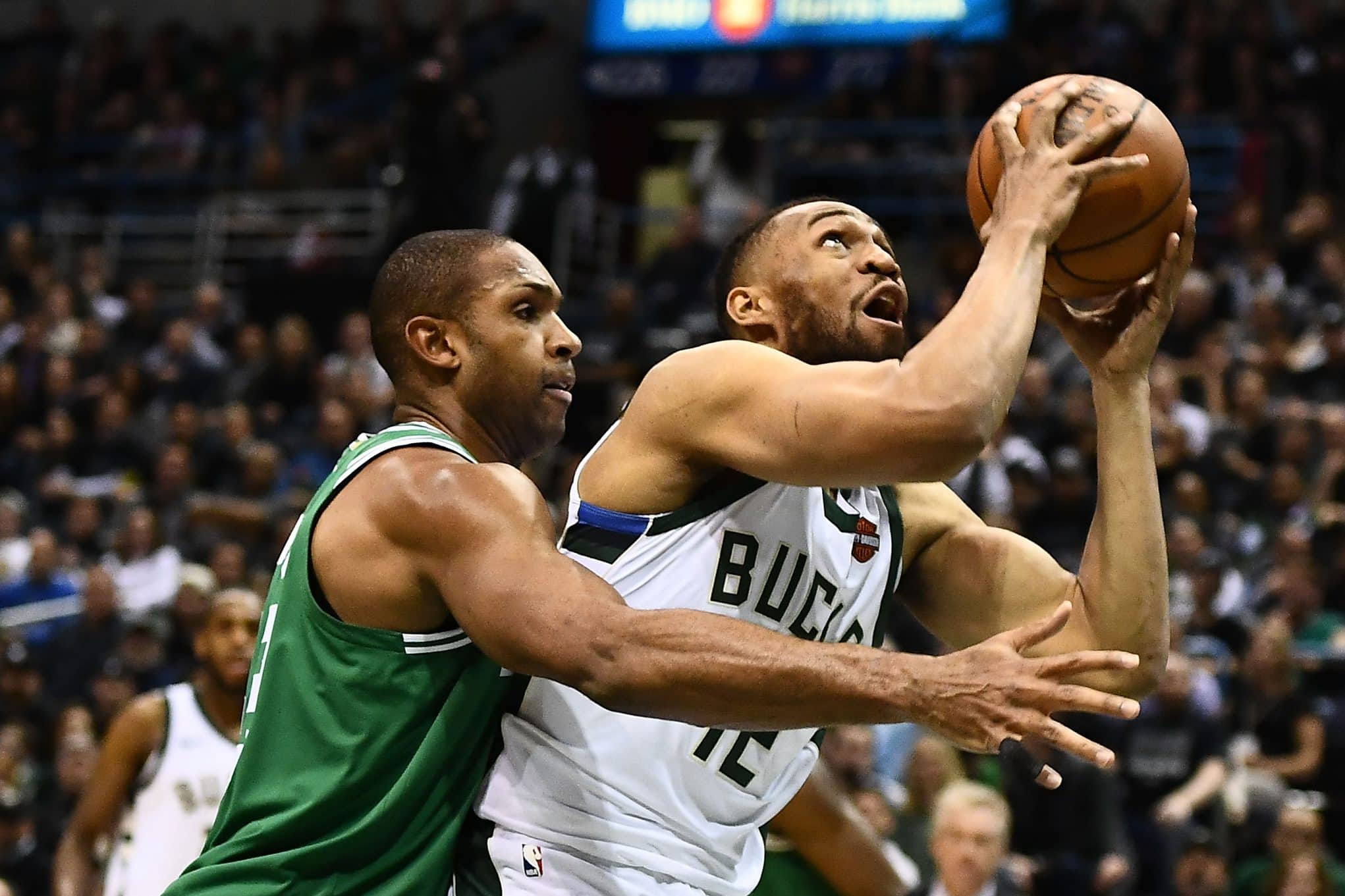 ---
Experience
While Parker has only played 82 games over the last two years, his four seasons in Milwaukee have seen nearly every environment the Nets could encounter this year.
He's seen the end to a disappointing year, he's been there competing for an eighth seed, and, more importantly, he's played in the postseason.
That kind of experience with an environment noted as 'hostile' and 'intense' by other NBA stars will be more than helpful in such a young locker room.
No one's calling playoffs for the Nets. In fact, it seems more likely that they'll bottom out the Eastern Conference yet again.
But if each player continues the growth we saw last year while remaining healthy, it's certainly in the realm of possibility.
In the Bucks' seven-game series with the Celtics, Parker averaged 10 points, 6.1 rebounds, and 1.0 steals per game. He was a key contributor in Milwaukee's Game 4 win, behind an efficient offensive and aggressive defensive performance.
Having him on the floor and in the locker room for any potential first-round series is worth the price tag.
Building Culture
As Jordan Schultz of Yahoo Sports noted in the tweet above, many teams are worried not only about his health, but Parker's attitude. 
It was reported back in April that the Milwaukee coaching staff was 'frustrated with his immaturity.' After playing just 25 minutes in the first two games of the Bucks' playoffs series with Boston, Parker was notably frustrated.
Matt Velasquez of the Journal Sentinel reported such, and got this quote from the 23-year-old forward:
"I have feelings. I've been waiting two years. I've been waiting all that time and to see myself get cut short — no one's going to handle that the right way. I just felt like I was cut short, I wasn't supported and I'm not going to react the right way. I'm human, I was wrong. But going forward, I'll just try to be a better person, a better man and be there for my teammates."
Parker's frustration is understandable, coming from a former number two overall pick.
He's gone from a potential best player in his draft class to looking at no better deal than one-year/$4.3 million. Nonetheless, I doubt the concerns around his attitude will have general manager Sean Marks shy away.
In the last year, Brooklyn has traded for D'Angelo Russell (who was guilty of breaking up a teammates' relationship) and Jahlil Okafor (who publicly called out the 76ers over lack of playing time).
The Nets have proven time and time again that they welcome young talent in any form, albeit undisciplined and immature.
Parker is no different and seems to already have the right idea moving forward. Once again signing a frustrated young prospect will only help to improve the image of Brooklyn's culture.
Potential Fit
With the Nets, Parker at least has a chance at a potential starting job. He'll be competing with longest-tenured Net Rondae Hollis-Jefferson and veteran forward DeMarre Carroll.
It's easy to see Parker playing the four next to Jarrett Allen. That would make for a lengthy and defensively adept (though young) frontcourt. Parker's 6-foot-8, 250-pound frame and ability to shoot the three will provide some much-needed floor spacing.
Last season, he shot 38 percent from beyond the arc, which would rank him second behind Joe Harris in percentage (not counting Nik Stauskas, Isaiah Whitehead or Dante Cunningham who weren't with the team full season).
What kind of deal should be offered?
The extent of a deal can be decided by Sean Marks and the Nets front office and by them only. As of now, the team is operating with just over $10 million in cap space.
That number could change quickly, behind other potential offseason moves. Among them, Brooklyn has been linked to a potential Jeremy Lin-Carmelo Anthony swap.
The Nets would be buying out Anthony in that potential deal in order to create more cap space. It's not clear yet how they would facilitate such a deal, but it is clear the Nets are active and on the phones.
Could it be for a young prospect such as Parker?
It's hard to see Brooklyn digging into next summer's cap space, but they could certainly make a one-year offer that Milwaukee feels uncomfortable committing too.
There's not much of a comparison to where Parker stands in terms of a potential deal.
Portland forward Jusuf Nurkic just signed a four-year/$48-million extension. Former San Antonio forward Kyle Anderson signed a four-year/$37 million offer sheet from Memphis which was never matched. Julius Randle signed a two-year/$18-million deal with the New Orleans Pelicans.
All of those players in one way or another can be tied to at least one facet of Jabari's situation. So a one-year deal worth the upwards of $10-12 million wouldn't be outlandish.
It would also potentially push Milwaukee into the luxury tax, something they wish to avoid as they continue building around franchise star Giannis Antetokounmpo. Either way, Brooklyn should stray from any long-term deals, with potential extensions looming on D'Angelo Russell, Caris LeVert and Rondae Hollis-Jefferson.
---
Jabari Parker is a former second overall pick on the rebound from a season-ending injury. On a one-year deal, he's the perfect roll of the dice for the Brooklyn Nets.
His offensive ceiling and ability to create paired with experience in the playoffs will prove beneficial to whichever team he plays for in the 2018-2019 season.