It's been confirmed that the Brooklyn Nets have met with free agent Marcus Smart. With so many guards on the roster, how do you make sense of adding another?
The summer of 2018 has been active for the NBA's free agency market. LeBron James and Paul George have signed lucrative max deals, while restricted free agents such as Jabari Parker and Clint Capela remain unsigned.
That is no exception for Boston guard Marcus Smart, who's also a restricted free agent. He has yet to receive an offer sheet from any team. A report from Brian Lewis of the New York Post confirmed that he's met with the Brooklyn Nets.
Why would the team have interest in yet another point guard? What can Smart and the Nets stand to gain from a potential deal?
It was being speculated that Smart had met with the Brooklyn front office. Then, general manager Sean Marks was photographed speaking with the guard in Las Vegas:
What appears to be Boston Celtics restricted free agent Marcus Smart and his agent having a conversation with Brooklyn Nets general manager Sean Marks at the Thomas and Mack Center on Monday night. pic.twitter.com/04EaquaNxy

— Michael Scotto (@MikeAScotto) July 10, 2018
Salary cap wise, Brooklyn doesn't have the $14-million that Smart's reportedly requesting; though they could likely put together an offer that makes Boston at least wince.
The Celtics have the trio of Kyrie Irving, Gordon Hayward, and Al Horford on the books next season for upwards of $80-million. Their talks in retaining Smart have yet to exceed the $6-million qualifying offer in his contract. He is reportedly "hurt and disgusted," by how Boston's approach to his free agency.
Whether it's a ploy to nudge the Celtics' hand or a meeting with mutual interest, it's our due diligence as fans to speculate on these potential marriages. What is there to like about a Marcus Smart-Brooklyn Nets partnership?
Potential Moves Forming
NBA Twitter has become a widespread phenomenon in the last year. Trade and free agency theories run rampant, and the occasional critique can bait even the likes of Kevin Durant into an altercation.
Currently, the Brooklyn Nets have four capable guards that can play at the point: Jeremy Lin, D'Angelo Russell, Spencer Dinwiddie, and  Isaiah Whitehead.
Adding Smart, who has often played the two in Boston, to that logjam of a guard party makes little to no sense. One could speculate (and we shall) that this could suggest a future trade.
It's been rumored that Lin can be had this summer for the right price, while Dinwiddie was a coveted talent back in February at the trade deadline. NBA fans worldwide love trades of any degree, and the implications of a Smart signing will drive us wild.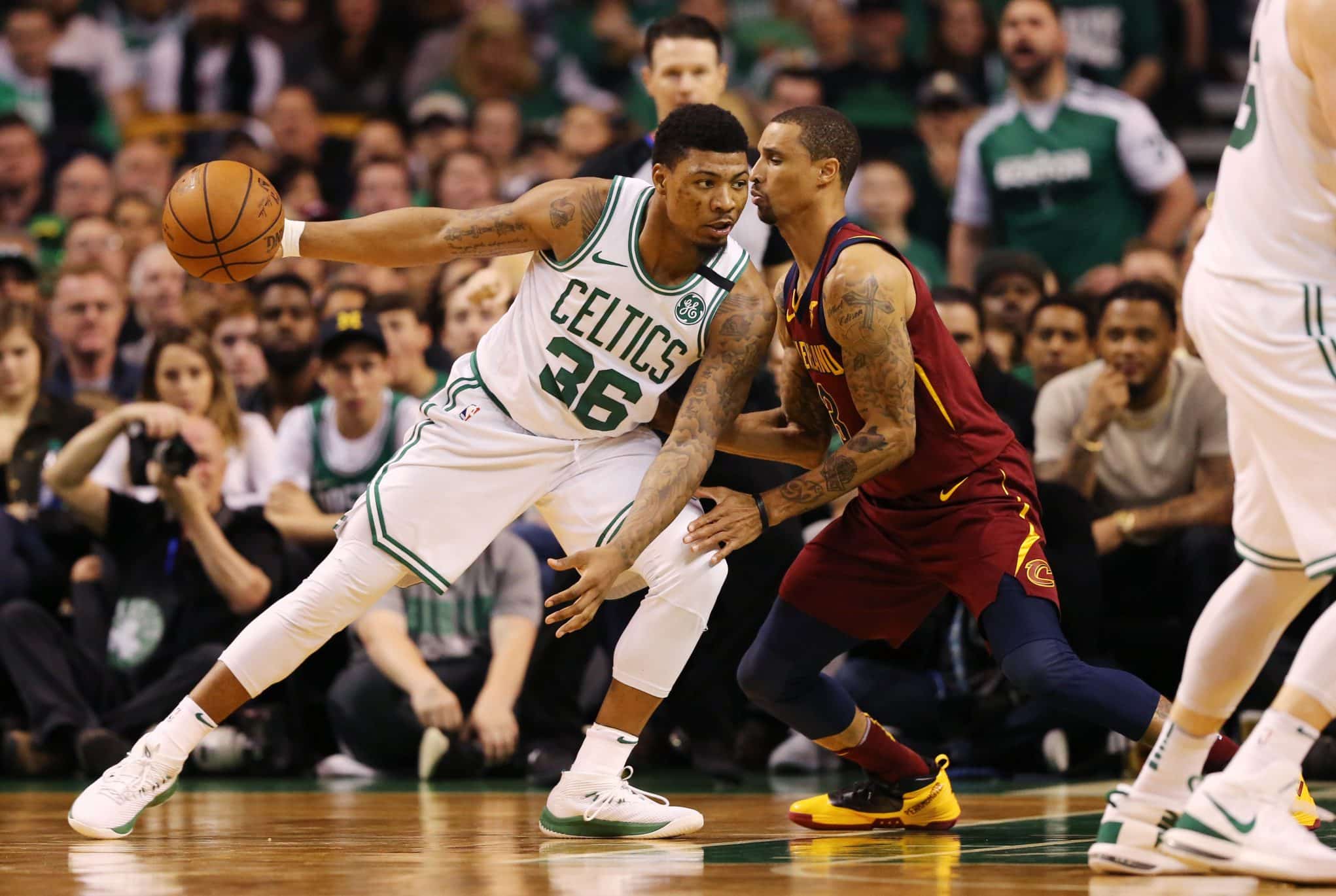 Defense, Defense, Defense
Last season's Brooklyn Nets were the most fun to watch in recent years. Spearheaded by newly acquired D'Angelo Russell and Jarrett Allen, the team made 28-54 look the most exciting it has for any team in years.
While they are young, the Nets biggest flaw last season was defense. Per NBA.com, Brooklyn had the league's 25th worst defensive rating at 108.5. They ranked dead last in steals (6.2), though landed at 16th in blocks per game (4.8).
Smart is an established pesky defender, whose career low in steals is still even 1.3 per game. Last season he ranked top-6 in defensive win shares. He's an all-hustle veteran of four years who would no doubt have a few pointers for the likes of starting guard Russell.
Building A Contender
While it seems far-fetched, the Nets are going to be serious contenders to being building a contender next offseason.
As of now, Brooklyn is projected to have upwards of $70-million in cap space next summer. The 2019 free agency class features the likes of Jimmy Butler, Kawhi Leonard, Kyrie Irving, Klay Thompson, and DeMarcus Cousins.
Any of those listed will look at the Nets roster, and base their decision on the foundation that's already been laid. Cue Smart who's played in 43 career postseason games behind averages of 9.6 points, 4.4 assists, 4.2 rebounds, and 1.5 steals per playoff game.
Whether they admit it or not, teams understand the impact he can have in a playoff series. A parallel can be found in the Lakers' newfound contending squad, put together just this summer.
LeBron James signed a four-year deal with Los Angeles worth $153 million. After a lengthy meeting with Lakers president Magic Johnson, a mutual understanding was met behind the other moves that would be executed this summer. A part of those expectations, per Brian Windhorst of ESPN, meant signing players that don't necessarily excel offensively but hold a high-IQ for the game. It resulted in Rajon Rondo and Lance Stephenson primarily, who both can be put in the same box as Smart defensively.
So as the NBA's next superteam is being formed next summer, Brooklyn could invest now in becoming a prime location with signing the Celtics point guard. He's a veteran guard ready to compete who plays a big part in winning come April.
Likelihood
Brooklyn isn't out of the mix regarding an agreement with Smart, but it kind of goes against everything they're building. Then again, no one knows the direction of the franchise more than the front office.
All we can do is speculate.
Offer sheets have to be for a minimum for a minimum of two years, so at Smart's price range that puts it at somewhere near $28-million. To obtain that room in cap space, Brooklyn would have to renounce Whitehead's non-guaranteed deal, among others.
They currently sit at just over $10-million following the Dwight Howard buyout. A potential Lin trade could also earn them cap space, dependent upon the return. Either way, a hefty multi-year deal with Smart isn't something that could likely happen today.
There are plenty of other reasons not to make this deal. Brooklyn should conserve cap space, work out their guard rotation first, and maybe let their team find its own way defensively. But should Sean Marks be thinking three steps ahead as he seemingly always is, it's possible to find a method to this madness. Marcus Smart is a defensive nightmare and provides a winning drive especially come the playoffs.
We would have to see other moves first, which doesn't alter the probability, just the level of difficulty. If any general manager is going to pull off a surprising yet complex move of this nature, Sean Marks isn't one to doubt.
If the Brooklyn Nets feel they're closer to competing than further, it's a fit that's worth the price tag. Stay tuned.