The New York Knicks plan on making a big splash in the 2019 offseason. How can they avoid repeating the same mistakes of the 2010 offseason?
The New York Knicks and David Fizdale are playing it slow this offseason. They're avoiding any major commitments and instead, investing in young talent through the draft. With little cap space and no Kristaps Porzingis, now is not the time for the Knicks to make a play for any notable free agents.
And let's be real, no prominent free agents were ever coming to New York in 2018. Despite Fizdale's strong reputation around the league, there's far too much uncertainty in New York for someone to take a chance on the Knickerbockers—at least this year.
According to ESPN's Ian Begley, team president Steve Mills is already stating that they plan on signing a big-time free agent in the 2019 offseason. Perhaps with some maneuvering, they could clear enough space for a second. It won't be easy, but is it possible? Yes.
By all accounts, it appears the Knicks are standing pat this offseason. But they have monumental plans for the 2019 offseason that could see a number of attractive free agents on the market.
Kyrie Irving has made no indication that he has long-term plans in Boston. Kawhi Leonard desperately wants out of San Antonio. Jimmy Butler is making his displeasure in Minnesota known. And it's a pipe dream, but Kevin Durant can opt out of his contract with the Golden State Warriors next summer.
Durant is certainly a long shot, but perhaps not as long as it appears. Zach Lowe of ESPN discussed this possibility on The Lowe Post podcast:
"If you think the Knicks noise is bogus, it's not … I'm not saying he's going there … I'm saying they are absolutely planning their offseason around him. Absolutely, 100%"
So if nothing else, it's clear that the Knicks are on a collision course for 2019. But it's not clear if this strategy will work. The Knicks have done this before—in 2010—and the end results were less than stellar.
With big names like LeBron James, Dwyane Wade, Dirk Nowitzki, and Chris Bosh available, the Knicks had to land one of the stars. Spoiler alert—they didn't. Instead, they settled for Amar'e Stoudemire as a consolation.
The 2010 Knicks were in no position to land the trio of James-Wade-Bosh that eventually landed in Miami. Wade talked about how the Knicks weren't prepared for the stars. Wade told The Vertical podcast:
"They just wasn't prepared. They wasn't ready to take on what we wanted to do. The city? Yeah, the city was ready. The market? The market was there. It's New York. But (from) an organization standpoint, we didn't feel like they could handle it."
So what can the current Knicks learn from the team that tried and failed in 2010? How can they prepare for the summer of 2019?
Build The Foundation
There was no foundation in 2010. The cupboard was barren. The Knicks had an All-Star in David Lee during the 2009-10 season. He left in a sign-and-trade with the Golden State Warriors that very same offseason.
Danilo Gallinari and Wilson Chandler were decent players, but they certainly weren't enough to convince any big stars to take a huge risk on New York. Signing Stoudemire was a positive because he was a star at the time. But he wasn't enough to catapult the Knicks to a championship-level squad.
Even coming off of a major injury, Porzingis makes the Knicks an intriguing—maybe even an attractive—destination for the major stars of the 2019 offseason. When he's healthy, he can be a generational talent. Much like Porzingis, Lee was an All-Star. But even if the Knicks hung on to Lee, anyone who tries to compare Lee and KP is practicing revisionist history.
Frank Ntilikina and Kevin Knox are top-10 picks with tons of upside. Ntilikina could be one of the best perimeter defenders in the NBA within a few years. Knox should have the opportunity to prove himself next season as the Knicks plan to give the youngsters a shot.
Besides the team's three most recent first-round picks, there's a wealth of young players on the roster. Damyean Dotson, Troy Williams, Luke Kornet, Mitchell Robinson, are just a few of the names. Some of this group will inevitably fizzle out, but next season can be their proving ground.
Nail The 2019 Draft Pick
The previously mentioned Porzingis, Ntilikina, and Knox are the three most recent first-rounders taken by the Knicks. The jury is still out on two of them and Porzingis' health holds the key to his future.
But the ceiling for these three is in another stratosphere than it was for the recent draft picks of the 2010 Knicks. The previously mentioned Gallinari and Chandler were nice pieces but didn't have the upside of the current Knicks youngsters.
In 2009, the Knicks selected Jordan Hill with the eighth overall pick. It was easily one of the worst draft picks in the history of the franchise considering Hill was traded before finishing a full season in New York. The fact that he was sandwiched in between Stephen Curry and DeMar DeRozan in that very same draft should keep Knicks fans awake at night.
In 2010, the Knicks didn't have a pick in the first round. Instead, they drafted Landry Fields and Andy Rautins in the second round. Fields ended up having a pleasantly surprising rookie season, but selecting Fields didn't catch the attention of Joe Schmoe reading the Sunday paper. It wasn't catching the attention of any superstar.
It's simple, but draft well. That's the surest way to build a roster. It's almost a foregone conclusion that the Knicks will have a high pick in the lottery next summer. The 2019 pick will go a long way towards proving that they can effectively build a roster.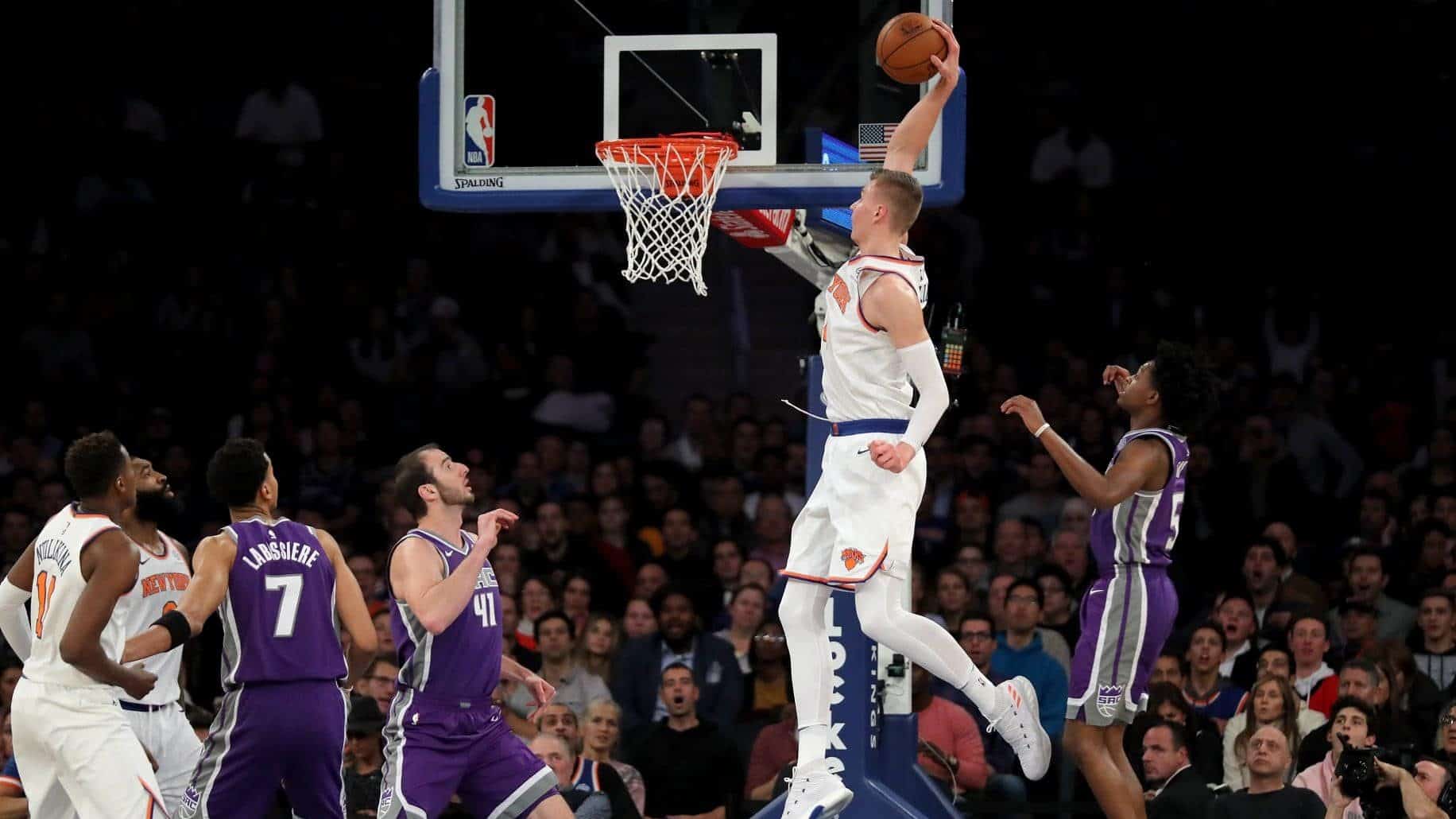 Build The Culture
This is impossible to quantify and "culture" is a grossly overused buzzword. It's difficult to know when a team's created a winning culture and more often than not, it's something that can only be seen from the inside.
Conversely, there are certain teams where it is plain to see. Supreme Court Justice Potter Stewart coined the term "I know it when I see it" in his concurring opinion in Jacobellis v. Ohio (1964). He was describing how he established his threshold for obscenity. He did so in simple and honest terms—"I know it when I see it."
For certain sports organizations, the winning culture is evident. I know it when I see it. The Golden State Warriors signed DeMarcus Cousins on a one-year deal largely because the culture is so tight and so conducive to winning. A similar move was made by Kevin Durant in 2016, albeit for far more money, but circumstances were far different for the individuals.
Steve Mills, Scott Perry, and David Fizdale have one year to build the semblance of a winning culture. They have one year to prove their worth and do enough to convince players that this isn't the same Knicks that have wallowed in mediocrity—or worse— for the better part of the last two decades.
And the good news is, they're getting a head start. Porzingis is vocal about his belief in the organization. Everyone is saying and doing the right things. Of course, they've yet to play a single game under Fizdale, but they're already convincing players that the organization has reached a turning point.
Mario Hezonja signed a one-year deal with the Knickerbockers despite receiving offers elsewhere. His decision was firmly steeped in his belief in Fizdale.
It's merely a small step forward, but forward nonetheless.
The Knicks are pinning their hopes on the free agent class of 2019. But unlike 2010, this time they have a well thought out plan to make sure history doesn't repeat itself.