The Brooklyn Nets and Ed Davis agreed to a one-year deal on Sunday. His addition bolsters rim protection and brings needed help in rebounding.
The NBA's free agency period has yet to disappoint. We've seen the likes of LeBron James find a new home in Los Angeles, and Paul George choose to remain in the small market that is Oklahoma City.
Meanwhile, Brooklyn has been busy grabbing bargain deals on the market. Among them: Ed Davis, formerly of the Portland Trailblazers. He and the Nets agreed to a one-year deal worth $4.4 million within the first hour of free agency.
Adrian Wojnarowski of ESPN was first with the report:
Free agent forward Ed Davis has agreed to a one-year, $4.4M deal with the Brooklyn Nets, league sources tell ESPN.

— Adrian Wojnarowski (@wojespn) July 1, 2018
An efficient bench scorer and prominent rebounder, Ed Davis will fill multiple needs for the Brooklyn Nets.
Last season with Portland, he averaged 5.3 points and 7.4 rebounds in just 19 minutes a game. His signing proves doubtful that the duo of Dante Cunningham and Quincy Acy, both free agents, will return to the Nets next season.
A dive into Davis' game, and why general manager Sean Marks is receiving so much praise for bringing him into the fold.
---
Ed Davis is 29-years old and coming off his eighth NBA season and fourth team. He's donned a uniform for Memphis, Los Angeles, and Portland after being drafted in 2010 by Toronto.
His role has been well defined since the beginning. Davis has never started more than 24 games in a season or even averaged double digits in either points or rebounds.
For Brooklyn, it's just the player they need. 2017 first-round pick Jarrett Allen took lengthy strides at the end of last season and will be a lock for the starting five this year.
Davis is a good backup to Allen, though likely will never see minutes sharing the frontcourt with the second year center. It's difficult to see him as a stretch-four, which the Nets' offense requires.
Davis has attempted just two three-pointers in his career and fell short on both. Though under head coach Kenny Atkinson, that could see a shift.
For Nets fans, there's more than enough reason to be excited about Davis' potential fit. NBA Twitter was more than thrilled:
Oh, man, Sean Marks strikes again. Davis was HIGH on my bargain list. He was SO good in Portland last year.

— Hardwood Paroxysm (@HPbasketball) July 1, 2018
Ed Davis for 4.4 is INSANE. Great deal, Brooklyn.

— Oliver Maroney (@OMaroneyNBA) July 1, 2018
Ed Davis was super useful for Portland. That's a real good signing by Brooklyn.

— Sam Vecenie (@Sam_Vecenie) July 1, 2018
Ed Davis is a darn good pick up for Brooklyn.

Also, Jesus Christ who's coming off the bench in Portland???

— Nekias Duncan (@NekiasNBA) July 1, 2018
Ed Davis is one of the good ones. Brooklyn has done a really nice job the last couple years slowly making chicken salad.

— Blake Murphy (@BlakeMurphyODC) July 1, 2018
I don't know about chicken salad, but that's some real hype for an eight-year veteran who's rarely made it off the bench. What is it about Davis that makes the signing such a splash?
---
For one, his rebounding.
Davis, despite his role o the bench, is a prominent rebounder. Per Basketball-Reference, he averaged 14.1 rebounds last season per 36 minutes. For reference, Jarrett Allen averaged 9.7.
Davis had a season-high 15 rebounds last season against the Golden State Warriors, and recorded six double-doubles on the year. The Brooklyn Nets ranked seventh in the league for total rebounds per game last year.
Allen's growth in year two paired with Davis coming behind him off the bench may push them to a top-five rebounding team.
---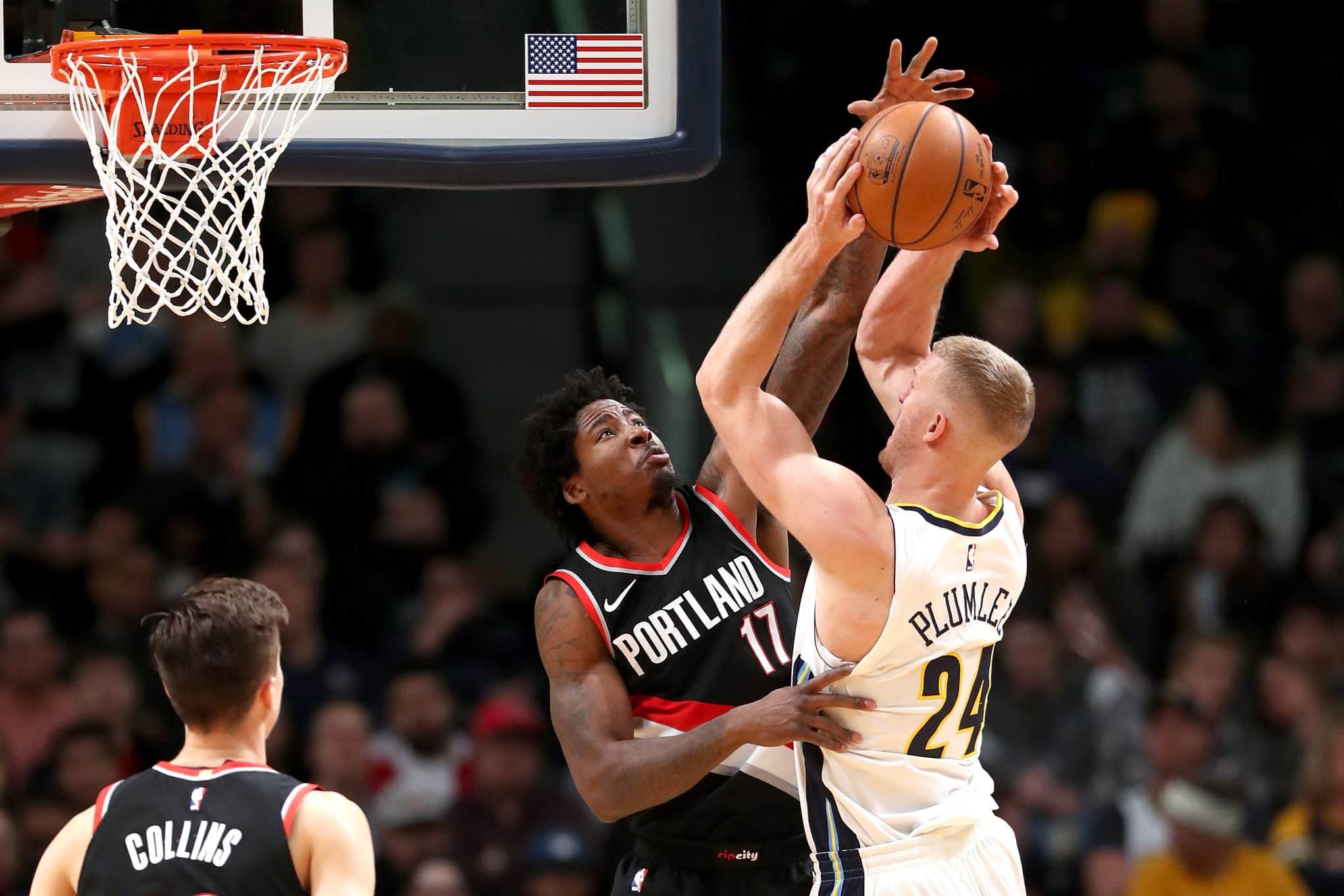 ---
In addition to activity off the glass, Brooklyn was absolutely bullied in the post last season. The first half of the year? 30-point performances from big men were a near guarantee in Barclays.
Allen's growth was evident towards the end of the year, but Dwight Howard and Nikola Vucevic come to mind as big men who harassed the Nets in the paint.
In Davis, Brooklyn doesn't get the solution to these woes, but more firepower to counter them with. According to Basketball-Reference, the former Trailblazer averaged 1.3 blocks per 36 minutes last season.
As a team, the Nets averaged just 4.7 a game, which ranked them 14th in the NBA.
At 6-foot-10 and 240 pounds, Davis has both the size and length to match up against even the bigger of the NBA's fives. He had 13 games last year with two or more blocked shots, and on two of those nights, he recorded three.
For a young team who's got all the direction and no execution on defense, Davis' shot-blocking tendencies will be an instant boost against the tougher big men matchups.
---
Ed Davis and the Brooklyn Nets will prove a true fit for the 2018-2019 season.
As first-round pick Jarrett Allen progresses into an individual talent, he and Davis will make for a strong big man rotation at the five.
Be on red alert big men of the NBA, these Nets will be waiting for you under the basket next season.