A second overall pick from the 2015 NBA Draft, guard D'Angelo Russell's future in the NBA will be contingent on his productivity next season with the Brooklyn Nets.
It's never do or die for any NBA prospect in one respective season, but for D'Angelo Russell, next season will either prove highly rewarding or gravely in cost.
Russell, 22, is a byproduct of the final Kobe Bryant years in Los Angeles. He was supposed to mitigate the changing of hands for the Lakers and instead was traded years later for a pending free agent in Brook Lopez and the draft rights to Kyle Kuzma.
Season four will prove monumental to the trajectory of this guard's NBA career, for more reason than one.
Drafted second overall by the Lakers back in 2015, Russell was an appealing point guard prospect with tremendous upside. He was compared to the likes of Penny Hardaway, Brandon Roy and Victor Oladipo.
Three seasons on the books and Russell's career has yet to make that shift from prospect to established star. He put up career-high numbers in Brooklyn last season with 15.5 points, 5.2 assists, and 3.9 rebounds per game.
Russell was the heart of the Nets' offense, though never gained ground on his shoddy defense. Brooklyn started the year 5-6 and, though that may sound lackluster, was considered an improvement from the team's 20-62 finish in 2016.
'Dloading' played a big part in that, scoring over 250 points in that span. He hit his season-high with the Nets in the first 12 games, a 33-point performance against the Phoenix Suns.
Shortly after that career night, Russell underwent arthroscopic knee surgery and went on to miss the next 33 games.
Brooklyn went 11-22 in his absence.
That being noted, there's reason for the former Buckeye to approach next year with caution.
---
Overall Narrative
To say any NBA player built a narrative and legacy in their first four seasons is beyond far-fetched. It takes year to establish yourself as a professional, to build a connotation behind your name.
But for Russell, that record is nearly tainted by his final actions as a Los Angeles Laker. In the spring of 2016, he was accused of recording teammate Nick Young admitting to being unfaithful in his relationship with pop star Iggy Azalea.
I'm not sure that the young guard's performed enough since to establish any other narrative for his career. If he falls off at any point in the next few years, people will remember D'Angelo Russell the snitch, and not the high-upside point guard prospect.
It's one of the more frivolous things to consider as an athlete competing in the NBA, but there's something to your legacy. Losing out on the opportunity to heighten his standing, could serve as a major motivating factor. Just maybe.
Guard Rotation
Barring any trades while the free agent market is open, the Nets have Jeremy Lin and Spencer Dinwiddie, in addition to Russell, on roster at the point guard position.
Lin is returning from a season-ending Achilles' tear, while Dinwiddie was one of three finalists for the NBA's Most Improved Player award. Russell meanwhile, is coming off a year where he averaged a career-high 3.1 turnovers per game.
Lin, when healthy, is without question a starting point guard. He's aggressive down the lane and constantly making plays to find the open teammate. In his one game last season, the Nets season opener, Lin scored 18 points and dished four assists:
Dinwiddie took over the point guard position when Russell went out with injury and forced himself a future in the NBA. He finished the year averaging 12.6 points, 6.6 assists, and 3.2 rebounds per game.
One of Dinwiddie's brighter performances came against the Cleveland Cavaliers, while Russell was sitting out to knee soreness. He scored 22 points (including a dagger three-pointer), dished six assists, and grabbed five rebounds:
So, Brooklyn will enter the 2018-2019 season with a logjam at point guard (and shooting guard, but more on that later).
Russell will need to take credible strides as an individual talent to secure the starting spot.
Lin isn't a movable piece without sending draft picks, and Dinwiddie is looking to earn his first real NBA contract next summer. That's more than enough pressure for Russell to get locked in and prove his place as starting one.
---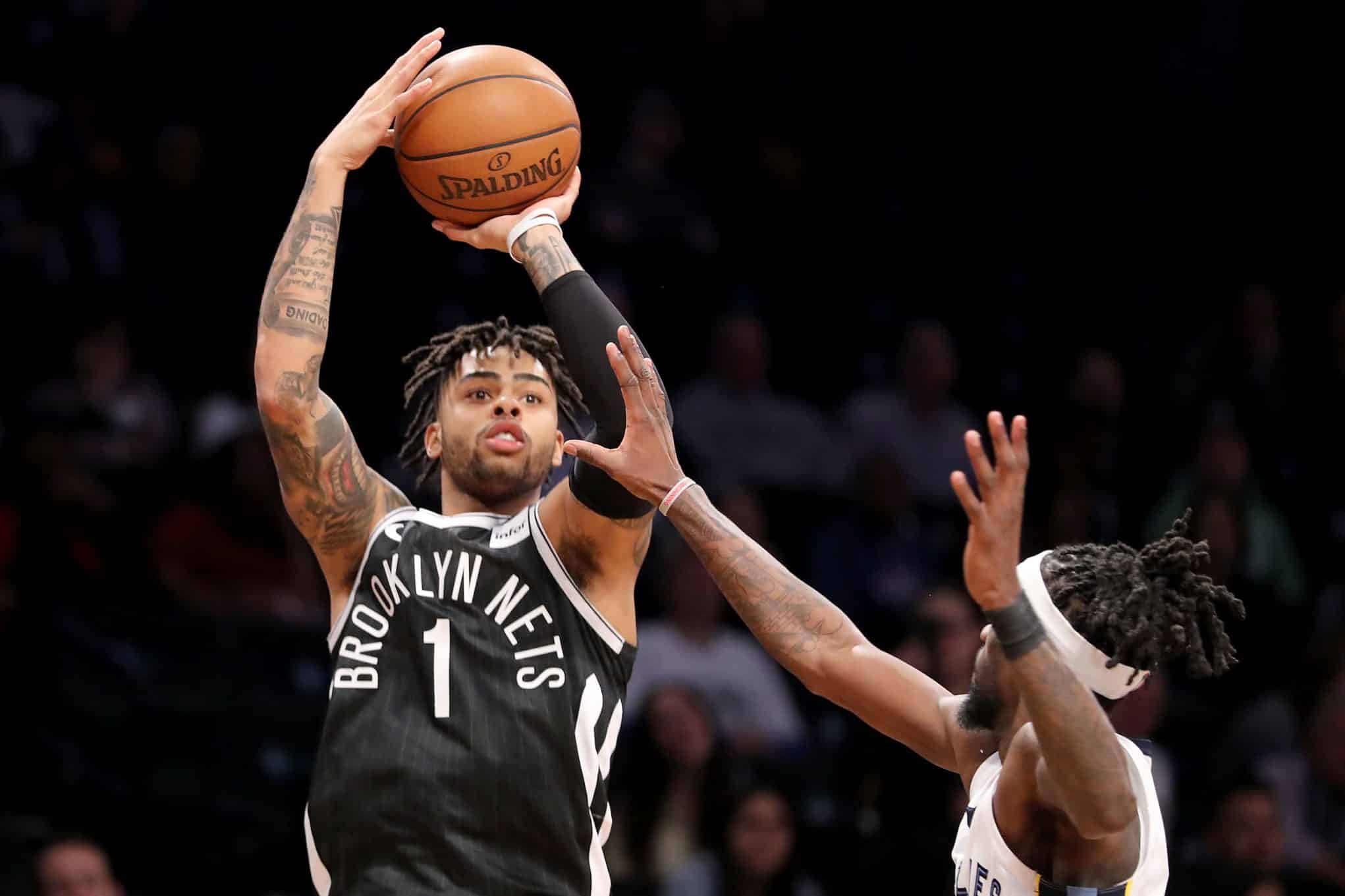 ---
Contract Hopes
Entering his fourth season, Russell will have a shot at restricted free agency next summer.
The Nets will have the option to tender him a qualifying offer for the 2019-2020 season worth $9.1 million. It's quite possible that should Russell's productivity hit a plateau this year, Brooklyn may just renounce the guard altogether.
While he's quite the young talent, the Nets are looking at two potential max slots in their salary next season; dependent on how they carry out the Dwight Howard buyout.
With his first potential big NBA contract just right around the corner, there's no doubt that finance will play a motivational factor come the regular season.
No player is ever entering the year looking to play worse, but it's something to consider as next summer approaches. These first major deals can play a big part in your career, making you movable as a trade piece down the line, or dead weight to the likes of former Brooklyn Net Timofey Mozgov.
Russell's a long way off from approaching Mozgod territory, but a lot can happen over 12 months in this league.
---
D'Angelo Russell is entering a pivotal year to any young talent's career in the NBA. His NBA narrative, future pay, and standing among the Nets' organization will all be determined by his productivity.