On the first day of free agency, the New York Islanders lost Jaroslav Halak and Chris Wagner to the Boston Bruins.
It's a terrible, horrible, no good, very bad day for the New York Islanders.
First, captain John Tavares informed the team that he would be signing with the Toronto Maple Leafs on a seven-year deal. Then, the Islanders missed out on a number of free agents, including Tyler Bozak, who accepted the same term and money from the St. Louis Blues.
Finally, Jaroslav Halak and Chris Wagner signed with the Boston Bruins, thus ending their stints in blue and orange.
Following a disappointing 2013-14 season, the Islanders traded a fourth-round pick to the Washington Capitals for Halak, a pending unrestricted free agent. Three weeks later, the two parties agreed on a four-year deal worth $18 million ($4.5 million AAV).
Halak's tenure with the Islanders was a rollercoaster ride. There were times where he was one of the best players on the Island and others when fans would pray he didn't get the start in goal. Heck, he spent a good chunk of the 2016-17 season in Bridgeport with the Sound Tigers after clearing waivers.
Overall, Halak went 88-65-19 with the Isles, posting a 2.69 goals against average (GAA), a .913 save percentage (Sv%) and 12 shutouts.
He played all seven games of the Islanders' 2015 first-round series against the Capitals but was stellar in the defeat, finishing with a 2.30 GAA and a .926 Sv%.
Last season, playing behind the worst defensive team in the NHL, Halak went 20-26-6 with a 3.19 GAA, a .908 Sv%, and one shutout.
According to Bob McKenzie of TSN, Halak's deal with Boston is a two-year contract worth $5.5 million ($2.75 million AAV).
Joining Halak in Boston is Chris Wagner on what is, according to Mark Divver of The Providence Journal, a two-year deal worth $2.5 million ($1.25 million AAV).
Formerly an Anaheim Duck, Wagner was acquired at the trade deadline by the Isles in exchange for Jason Chimera. Prior to joining the Islanders, Wagner scored six goals and 15 points in 64 games with the Ducks.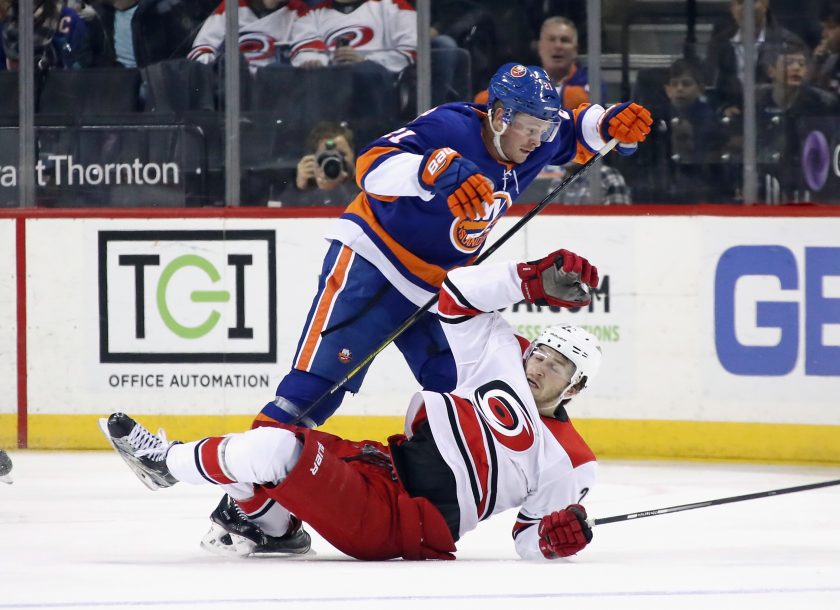 In 15 games with the Islanders, Wagner recorded one point. He finished the 2017-18 season with 253 hits, which ranked third in the league.
In addition to losing Wagner and Halak, the Isles will lose Brandon Davidson, Shane Prince, Alan Quine, and Kyle Schempp to free agency, as they didn't offer the restricted free agents a qualifying offer.
The Islanders have re-signed defenseman Thomas Hickey to a four-year deal worth $10 million ($2.5 million AAV) but now Clavin de Haan is officially a free agent.