With the John Tavares sweepstakes taking the NHL by storm, can New Jersey Devils general manager Ray Shero take advantage and snag Tyler Johnson?
It is unlikely that the New Jersey Devils land UFA superstar John Tavares during free agency. Other than the obviously apparent, the name of JT does serve a purpose.
Just because the Devils aren't going to land the 27-year-old superstar doesn't mean they have to totally lose out on the sweepstakes itself.
For instance, the Tampa Bay Lightning, one of the teams in on Tavares, just inked a five-year, $26.25 million contract with forward J.T. Miller. Miller can put the Bolts in cap trouble if Tavares decides that he wants to join the Lightning.
According to CapFriendly, that leaves the Lightning with just $5.3 million remaining in salary-cap space for the 2018-19 season, meaning they'd have to move a player to be able to afford Tavares cap hit which will likely be around eight to nine million per year.
Tampa currently has five forwards making around five million per season. These players include Ryan Callahan, Ondrej Palat, J.T. Miller, Tyler Johnson and Nikita Kucherov. They also have Alex Killorn making 4.45 million per over the next five seasons.
If they were to ink Tavares, they'd have to have to rid themselves of at least one of these guys, and probably more so because they are also going to have to re-sign Kucherov and goaltender Andrei Vasilevskiy for longer-term deals.
This scenario has presented the Devils with glorious chances to improve their roster over the past few seasons, and there's no reason that GM Ray Shero can't jump on this again.
Before the start of the 2017-18 season, the Devils sent a second and a third-round pick to Washington for Marcus Johansson. Before the 2015-16 season, the Devils traded just a second round pick for Kyle Palmieri. This is another potential scenario where the Devils can take advantage of a cap-tied team, which has become commonplace for general manager Ray Shero.
Is it possible that the Devils can make a trade for Tyler Johnson at a premium within the coming weeks?
In short, yes.
The package would be heftier for Johnson due to the fact he is under team control through the 2024 season, but this could be a huge add for a team that is looking for more forward depth. A package for Johnson would probably have to be a second-round pick and a higher level prospect like Michael McLeod. It'd be tough to part ways with a player like McLeod, but Johnson will just be 28 years-old by the start of the 2018-19 campaign.
The most important thing about Johnson is the term and price of his contract. Johnson is set to play out six more seasons of a seven-year, $35 million deal. This is a super team friendly deal and the Devils own cap space aplenty.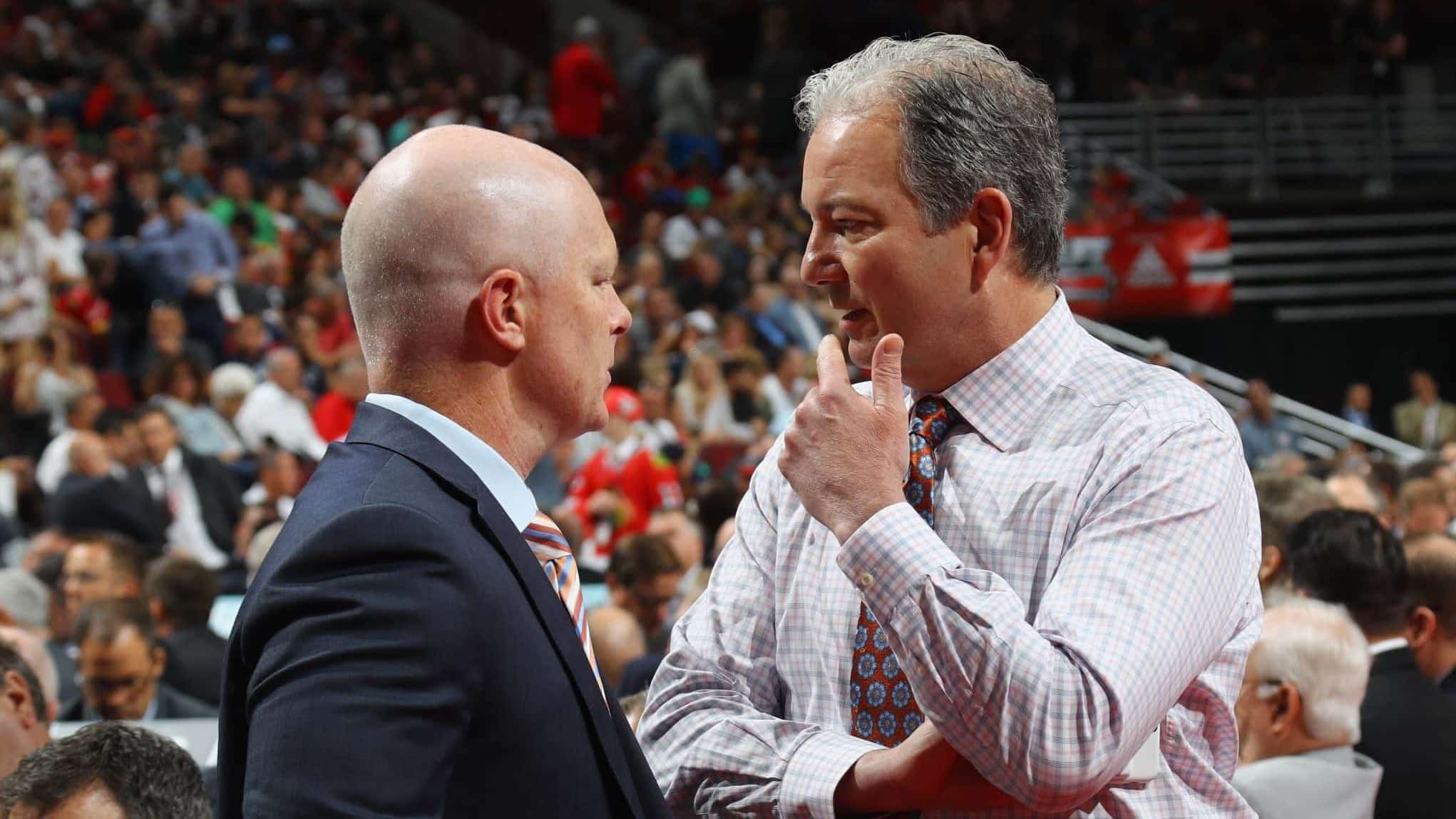 Right now, the Devils have $24.5 million in space, so adding just $5 million will provide the team a lot of flexibility if they want to go after a player like James Van Riemsdyk or Calvin De Haan. They can also hypothetically try to trade for Erik Karlsson, or try to sign him in free agency next season.
Tyler Johnson would be a huge addition for a Devils team that still needs a lot of help and depth up front.
For starters, in 389 career NHL games, Johnson has netted 110 and assisted on 151 others for 261 points. He would also add a ton of depth to the center ice position for New Jersey, allowing a player like Travis Zajac to take a smaller role, a.ka., as a defensive specialist. Another thing is if they do acquire Johnson, they can use more of their forward prospects to go after big-named players in trades.
Is it probably unlikely that Johnson ends up being shipped to New Jersey for a number of reasons.
Firstly, Tavares has to decide that he wants to sign with the Lightning. Next, if that happens, the Lightning have to decide that Johnson is the player that they want to trade. If all of that happens, and they have a trade lined up with New Jersey, Johnson would have to waive his no-trade clause to come play here.
Still, look at recent Devils history and the way Ray Shero works. It's right up the GM's alley
It isn't that out of the realm of possibility that he does that to come to Jersey considering they're making it a very favorable place to play and live. Just ask 2017-18 NHL MVP himself, Taylor Hall.