New York Islanders Hall of Fame center Bryan Trottier signs a puck for a specific diehard fan almost 40 years after the fact. 
I can't remember if it was 1981 or 1982, but the actual date of the special day is just about the only thing that's a little foggy to me about one of the great thrills that I experienced as a sports fan growing up.
What I do remember vividly is New seeing an advertisement in Newsday for an event at Macy's in the Roosevelt Field Mall on Long Island, in which some lucky fan could have the chance to play Islanders star Bryan Trottier in a game of Activision Ice Hockey, a video game for the old Atari 2600.
Are you freaking kidding me?
At the time, that was my favorite video game and Bryan Trottier was one of my favorite players on my favorite sports team and I could possibly play him in a game? Is this what they're telling me?
That would be like telling my kids today that they could play a video game on Xbox with Isles captain John Tavares (please stay on Long Island, JT), Stephen Curry or Aaron Judge. I couldn't contain my excitement so I called my buddy Robert and asked him if he wanted to go with me. While my friend stunk at the game, everybody who participated in the event received an autographed photo of Trots so Rob was all-in.
The way the event worked was that five people went up at a time and played the "computer" in a game. Whoever won and scored the most goals advanced to meet Trottier in a game. That lucky person also received a special puck. Rob and I made sure we were in the same group so that he could let me know how I was doing compared to the rest of the people in the group.
Not to pat myself on the back (ok I will), but I was really good at the game. I played the game at home so often that I was able to figure out a pattern against the computer. I never lost and rarely ever scored any less than 30 goals in a game.
That day at Macy's, I was on fire. About a minute into the game, Rob told me I had nothing to worry about. I was 10 goals ahead of the next closest person and I cruised to victory. I think I hit 40 goals against the computer, but that wasn't important.
What was important was that I had won my group and advanced to play No. 19 of my Islanders in a video game of ice hockey.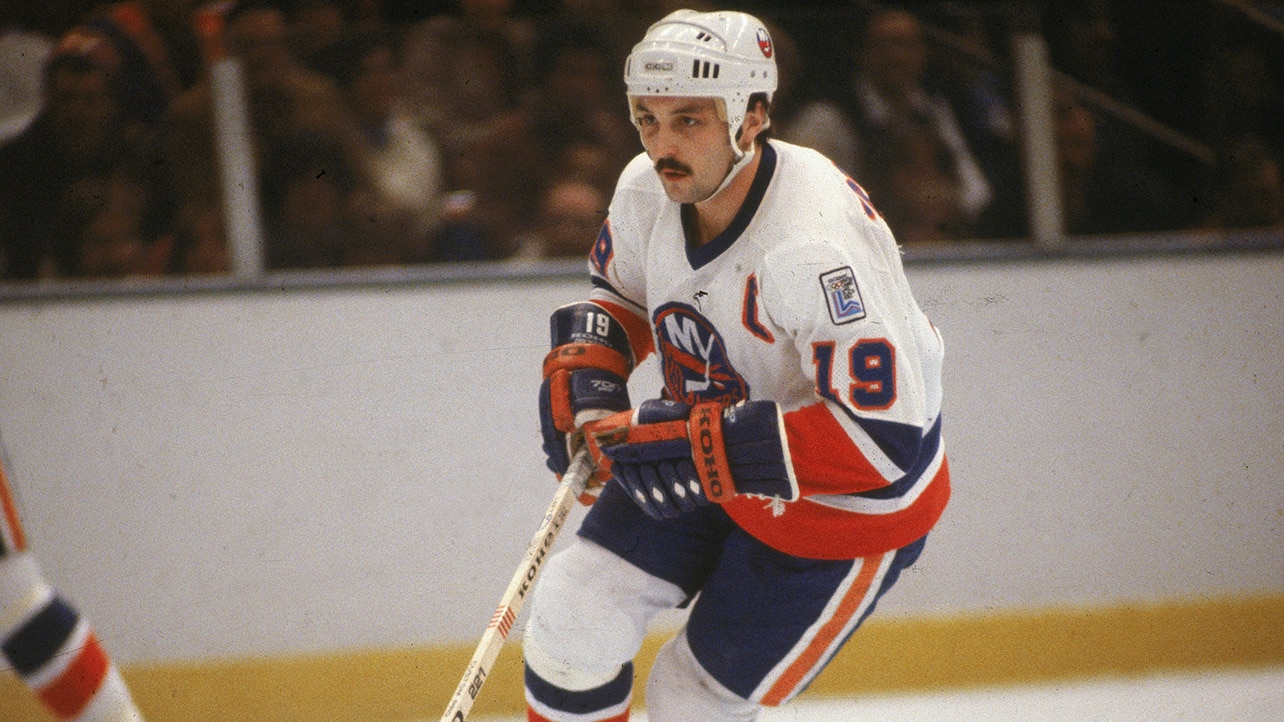 Needless to say, I was thrilled and Rob was equally thrilled for me. I was also a nervous wreck as I was led over to the area with Trots. He shook my hand and the game was underway. Trottier jumped out to a quick lead on me and it was just tough to get into a rhythm. With about a minute left in the game, Trots was beating me 7-2 before I was finally able to get things going. 7-3. 7-4. 7-5. And then I cut the lead to 7-6 with a few seconds left. I won the face-off and was heading down the screen for a shot but before I could get it off, time ran out.
I lost to Bryan Trottier 7-6, but I really wasn't upset about it. In fact, I felt great.
I had won my group and had the opportunity to spend a few minutes with one of my favorite athletes playing a video game. We shook hands after the game and I wished him best of luck the rest of the season and of course, it was capped off with another Stanley Cup for the Islanders.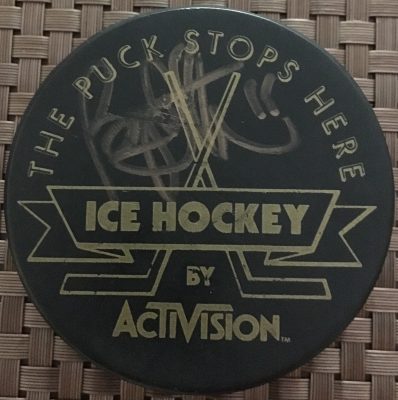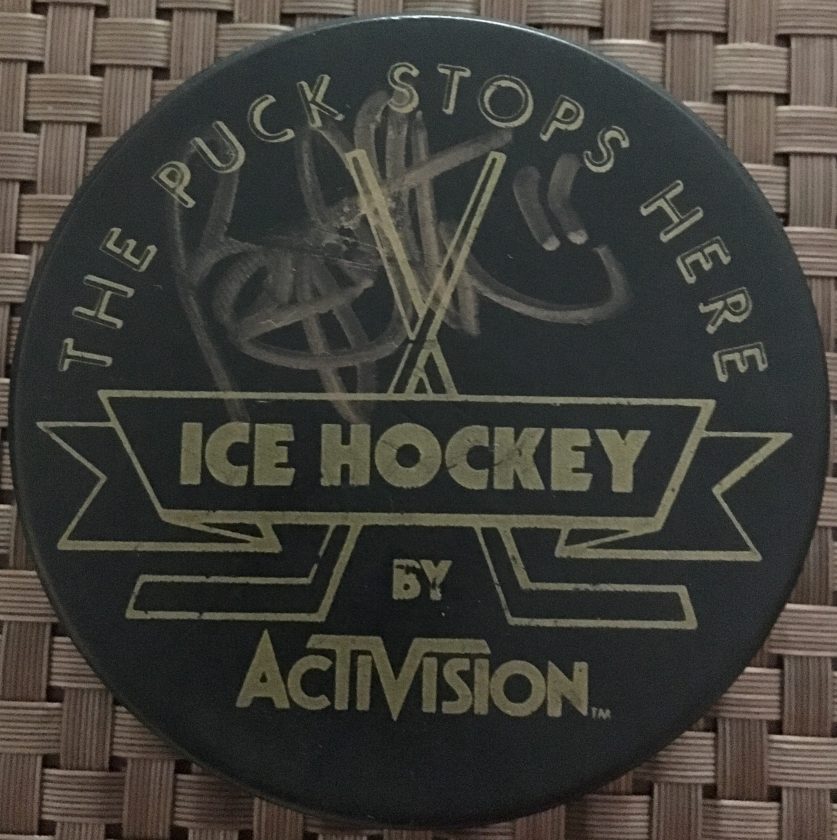 I was also given that puck that read "Activision Ice Hockey … The Puck Stops Here" on it.
For almost four decades, I have had that puck in my sports memorabilia collection. I just never had the chance to get him to sign it. I'd either be at a game or an event that he would be at and I would not have the puck with me or I would bring the puck to a game or event I knew he would be at and just couldn't get near him to get it signed.
But my luck changed this past Friday night when Trots made an appearance at the Islanders draft party at the Nassau Coliseum.
Knowing he would be there, I brought the puck with me hoping to meet him and get it signed. As he was getting ready to go on stage for a Jumbotron interview, I was able to make my way over to that area and he signed the puck for me. He was looking at it and I reminded him of when I got it and he responded, "Wow … that was a long time ago!"
Thirty-seven or 38 years ago to be somewhat exact … but who's counting?
I tried to get him to take a selfie with me, but it was just too crowded and he was escorted away to another area for a private event. No matter though. My long wait was over. My hope was to one day get that puck signed by him and it was great to finally have that happen.
That day, 36 or 37 years ago, was magical and getting a chance to reminisce about it with Bryan Trottier was awesome. I can only hope my kids can experience the same thrill as I enjoyed getting to play an athlete in a video game.
Hey, you never know.