Joe Harris is entering free agency as a question mark. If he signs elsewhere, the Brooklyn Nets can find a replacement in Rodney Hood.
The NBA's free agency will open Sunday at 12 a.m. ET. Among the players looking for new contracts, the guard position is the heaviest on the market. That includes Brooklyn Nets' sixth man Joe Harris.
Coming off a season in which he posted career-high averages of 10.8 points, 3.3 rebounds, and 1.6 assists per game; he's looking to get paid this summer.
The Nets aren't looking at a lot of cap space, and it's still uncertain what a guard like Harris is worth in a market as tight as this. Should he leave, Brooklyn will look elsewhere, and quickly for a cheaper option at shooting guard.
Among those available, Rodney Hood stands out as a potential Harris replacement. He finished last season with the Cleveland Cavaliers and became a key contributor for them in the final two games of the NBA Finals.
A look at Hood's journey in the NBA will tell you exactly what there's to like about his potential fit in Brooklyn.
---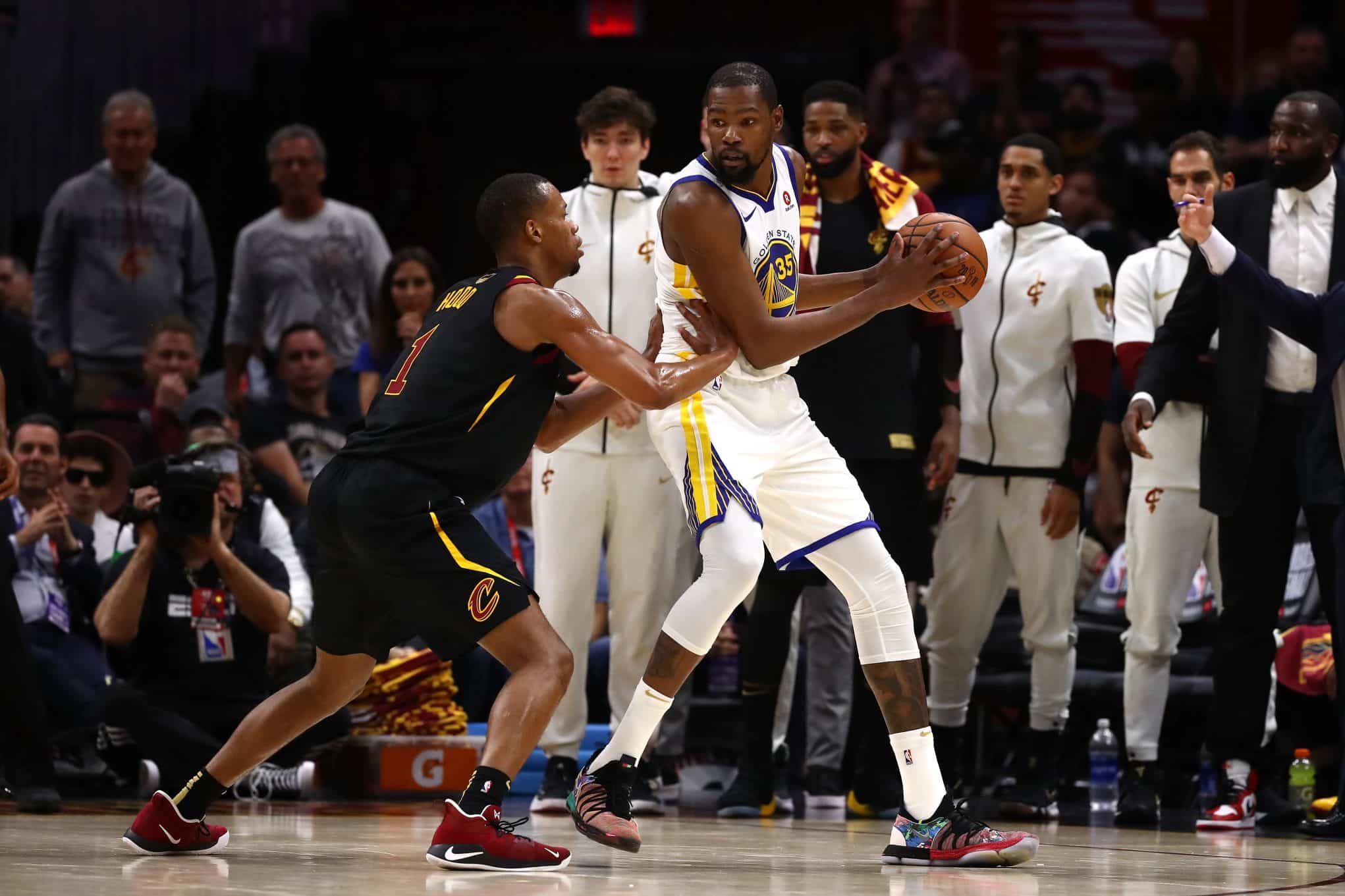 ---
Background
Originally drafted in the first round of the 2014 NBA Draft, Hood's fourth season in the league took an interesting turn.
After averaging a career-high 16.8 points per game over 39 games with Utah, he was shipped to Cleveland on the day of the trade deadline. That was in exchange for Derrick Rose, or as he is most known as nowadays, cap space. 
Hood would go on to play just 21 games for the Cavaliers, which was arguably the most dysfunctional locker room this season that we may have ever seen.
He averaged just 10.8 points and 2.6 rebounds per game.
From a key role player with the Jazz, to even refusing to play for the Cavaliers, Hood's one of the NBA's more interesting young free agents. Was the locker room so toxic that he didn't even care to play next to his teammates?
Either way, the shooting guard was given one last chance to boost his value in Games 3 and 4 of the NBA Finals. He tallied 25 points and 14 rebounds while shooting 46 percent from the field in 53 minutes of play.
So, one has to ask. Is there value to Rodney Hood's play, and can he contribute to a winning basketball team? For the Brooklyn Nets, it may turn into an irresistible roll of the dice this summer.
Scoring
In Utah, Hood was a volume scoring guard. Per 36 minutes, he was averaging 21.8 points per game. That's damn good for a 25-year-old guard who was essentially traded away to rot in Cleveland; where his per 36 dropped to 15.4 points.
More importantly, his offense really knows no bounds. Does he shoot lights out every night? No. But when he's on a roll, Hood scores from anywhere on the basketball court, and in bunches.
Check out this lights out shooting performance against the New Orleans Pelicans. Hood dropped 30 points on 86 percent shooting from the field:
Brooklyn's scoring is evenly spread, but there isn't one go-to guy on the wing. Their leading scorer last season was D'Angelo Russell, who maintained a 15.5 per game average despite missing 33 games to arthroscopic knee surgery.
If Hood can get true consistency in his shot, and it's likely head coach Kenny Atkinson can get him there; he'd be a near perfect fit for the Nets' offense.
Build, Defense
At 6-foot-8 and 206 pounds (per ESPN.com), Hood will be relatively comfortable at the two position. Though, as the NBA is ever evolving, Atkinson's small-ball lineup could feature him at the three without complication.
He's 25, so there's still time to do some filling out. But overall, I wouldn't worry about his size in terms of guarding opposing shooting guards or small forwards.
Including the playoffs, Hood tallied two or more steals in eleven different games.
In three of those games, he got up to three steals, displaying a potential defensive IQ that could use proper coaching. Sorry LeBron, but you're just not the coach we make you out to be.
While defense is one of the biggest concerns for this young Nets team, Hood won't by any means be the weakest link. He's got potential, and I think any NBA fan with eyes can see the foundation for a potential defensive presence.
Desired Contract
While I can't get inside Hood's head, and I certainly don't have the contact number for his agent, I don't see the 25-year-old signing a contract for more than one year.
He's at the perfect fork in the road of his career to sign a 'prove-it' deal. So what better fit than the Brooklyn Nets; who've recently birthed rehab and career seasons for both Spencer Dinwiddie and Joe Harris alike.
As far as the Nets' salary cap situation, Kristian Winfield offered an inside look via Nets Daily of SB Nation:
"Another, better option is that Brooklyn can waive its room lid-level exception and Vaughn's trade exception and create $12.6 million of cap space to sign one or multiple free agents."
Brooklyn earned a $1.9 million trade exception when they traded for him, and then traded him to New Orleans at the deadline in February.
Combining that with their (hopefully) saving some money on the Dwight Howard buyout, and you've got some serious cap space.
That is, in a market that's considered almost bare. Everyone's gearing up for the 2019 free agency class, including Brooklyn.
Their trade for Charlotte's Dwight Howard last week held such implications. Via Adrian Wojnarowski of ESPN:
"The Nets will save nearly $17 million on the trade in the 2019-20 season, allowing them to create two max-salary slots for 2019 free agency."
Bobby Marks, a front office insider for ESPN, has pegged the market value for Danny Green at $8.6 million.
No surprise on the Danny Green option. Market for the guard was right around the $8.6M midlevel had he opted out. Would have taken a haircut had he entered free agency unless he played the waiting game and signed a one-year contract.

— Bobby Marks (@BobbyMarks42) June 25, 2018
Green is an experienced two, with a defensive resume that laps Hood six times over. So a one-year $8 million deal is likely going to be on the high end of Hood's offers come July, and he'd be smart to make a bed in Brooklyn.
---
A young guard, at a potential turning point in his career, that still has plenty of 'gas left in the tank.' The Brooklyn Nets would be wise to give Hood a chance, as they have for many other young players deemed a victim of circumstance.
Rodney Hood offers scoring with huge defensive upside. In the case that Joe Harris secures the bag elsewhere, Brooklyn and Hood make a near perfect fit next season.