By the time the 2018 NFL season is over, New York Jets safety Jamal Adams can easily be considered the greatest safety in franchise history.
Joe Namath, Don Maynard, Darrelle Revis, Joe Klecko, Larry Grantham—men who represent the greatest at each's respective position pertaining to New York Jets history.
Others can be argued, such as Curtis Martin over Freeman McNeil at running back, Mickey Shuler over Rich Caster at tight end, and Winston Hill over Nick Mangold along the offensive line, but the previous four are bonafide and cemented as the best at each's spot in franchise history.
Through mentioning a handful of players, most offensive and defensive spots have been covered. We have our quarterback (Namath), running back (Martin or McNeil), wide receiver (Maynard), tight end (Shuler or Caster), offensive line (Hill or Mangold), defensive line (Klecko … sorry, Gerry Philbin), linebacker (Grantham) and cornerback (Revis).
Actually, good ole' Winston would take the prize home for best tackle in Jets history while Mangold would battle it out with Kevin Mawae at center. Gerry Philbin is, by far, the greatest EDGE man in Jets history and he'd also be crowned at his spot with Klecko manning the interior of the D-line.
What about safety?
By far, the weakest position fielded since the Titans took the field during the early days has been that of the safety. Men such as the hard-hitting Victor Green and old-school Bill Baird represent the best of a weak crop.
Jamal Adams can represent this man by the time the 2018 NFL season is over. This means a player with only two seasons under his belt can actually come equipped with the label of "best at his position in franchise history."
Yes, we're serious and yes, it's extremely feasible.
This is the NFL, Not NBA, NHL or MLB
First and foremost, remember which league this is.
The NFL, unlike the other three major professional sports leagues nationwide, is the place they call "Not For Long." One Sunday game equals 16 baseball games. One huge matchup against the New England Patriots comes to bring the same heaviness as 16 contests against the Boston Red Sox.
Everything is magnified. It's why one legendary season could wrap it up for Jamal Adams.
Sure, no interceptions is a glaring misstep for the kid en route to this all-world tag. Zero interceptions, two sacks, six passes defensed, one forced fumble, two fumble recoveries and 63 tackles represent Adams's stats from a solid rookie campaign. Though many expected more, the astute football mind understands just how dominant he truly was.
As a strong safety, interceptions are the last of his duties. He plays more snaps in the box and represents one of the best in the game in terms of setting the strong-side edge via run support.
In addition, he—along with six other defenders—are tremendously handicapped due to the league's worst conventional pass rush. The Jets haven't possessed at least one legit one-on-one pass rusher, making life terribly difficult for the middle-to-back end on every down. (Not only that, but Leonard Williams's Sunday life is literally wasted … but that's a topic for another day.)
The fact Adams put forth such a solid rookie campaign under such a handicap is a great win. Should he take that giant superman leap in 2018 with the same miserable pass rush, it'd be one of the more amazing Jets feats of our time.
The Competition is Dire
Who does Adams need to pass to be considered the greatest Jets safety of all-time? Truly, the competition is horrid.
Victor Green is, probably, the greatest Jets strong safety of all-time. Playing nine seasons in New Jersey (1993-2001), Green oftentimes led his team in tackles. Twice he went over the 100-tackle mark. Naturally, each time came when the team was at its worst (1995, 1996), forcing the last line of defense to collect more tackles than regularly scheduled.
Green never qualified for the Pro Bowl, collected 24 interceptions during those nine years and gave up the most remembered worst touchdown in Jets modern history—the John Elway to Rod Smith bomb via play-action on a sunny Mile-High day circa January 1999.
As great as Green was in the box and against the rushing attack was as bad as was through the air.
Baird, the other half of the real competition, played during the 1960s. This means his designation on defense is tough to fully cement. There's no question he was a DB, but he also played a lot of corner. In any event, he, too, never qualified for the Pro Bowl in seven professional seasons with the Jets while tallying 34 interceptions.
Perhaps the top safety in Jets history at the moment isn't even Green or Baird. Perhaps it's Erik McMillan, the man who qualified for two Pro Bowls during two tremendous seasons (1988-99). McMillan acted as the franchise's greatest ballhawk, piling up 14 interceptions during those two years and 22 in total during five pro seasons.
Dainard Paulson is the fourth and final candidate. He acted as Baird's running-mate during much of the 60s, tallying 29 interceptions playing in the defensive backfield (safety and corner rarely separated).
What Will it Take?
When folks hear the numbers of 34 interceptions during a career with the green and white, they automatically assume Adams has a way to go prior to reaching that "franchise elite" level.
It's simply not true.
Safety is an extremely comprehensive football position, especially strong safety. It's a spot in which he's considered part of the backend yet roams everywhere on the field up to and including the line of scrimmage. He's every bit a part of the second-level (linebacking) unit as linebackers are.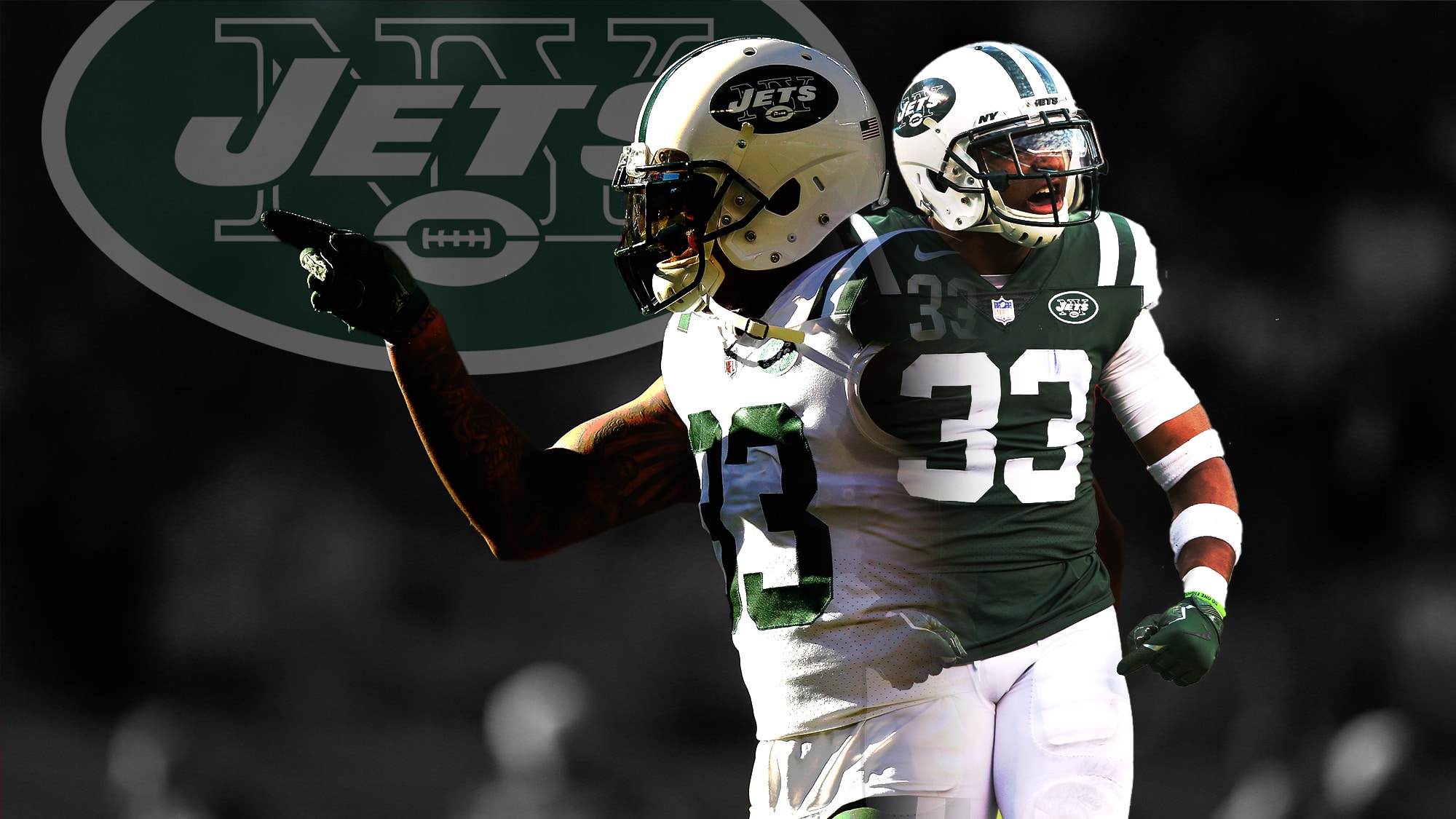 Should Adams put together a Pro Bowl season, he could already be considered the greatest Jets safety of all-time. He would suddenly be thrust into the conversation. Should he actually qualify for the NFL AP All-Pro squad—First or Second-Team—forget about it … he'd already be the guy after just two years in the league.
Perhaps a little more time would be needed to iron out the full details of a career, but an All-Pro season is something historic for this franchise unto itself.
All-Time Jets Safety Pro Bowls:
Dainard Paulson (S-CB): 2 Pro Bowls (1964-65)
Erik McMillan (FS): 2 Pro Bowls (1988-99)
LaRon Landry (SS): 1 Pro Bowl (2012)
Now we take a look at the Jets who've qualified as a First or Second-Team All-Pro at safety since the franchise was born all the way back in 1960.
All-Time Jets Safety All-Pro Selections:
The first time a Jets safety receives that AP nod will be the first. It's happened at virtually every other position through franchise history. Never safety.
Jamal Adams, with his sick skills and bonafide leadership abilities that can rally a defense despite its weak limitations upfront, has that shot ahead of him in 2018.
Should No. 33 qualify as an All-Pro, wrap up the discussion. Jamal Adams will have already captured the distinction as the New York Jets greatest all-time safety (save for a few Victor Green or Erik McMillan arguments).