Brooklyn has acquired Dwight Howard from the Charlotte Hornets. Though a future Hall of Famer, there is reason to be wary of his acquisition.
Three-time Defensive Player of the Year, eight-time NBA All-Star, Slam Dunk Champion in 2008, and five times now, the league's leader in rebounds.
Yet something about Dwight Howard has proved detrimental in recent years. In three seasons, he's been traded three times.
From Houston to Atlanta, Atlanta to Charlotte, and now, from Charlotte to Brooklyn.
While he proved last season that he can return to the prime center we saw lead the Orlando Magic to the NBA Finals, or at least some version close to it; Dwight Howard has more baggage than the average NBA journeyman.
Now in Brooklyn, Howard gets yet another chance to prove the doubters wrong and clear a few blemishes off his resume. A look at just what makes Dwight Howard a give and take acquisition, and how it may affect the Brooklyn Nets.
---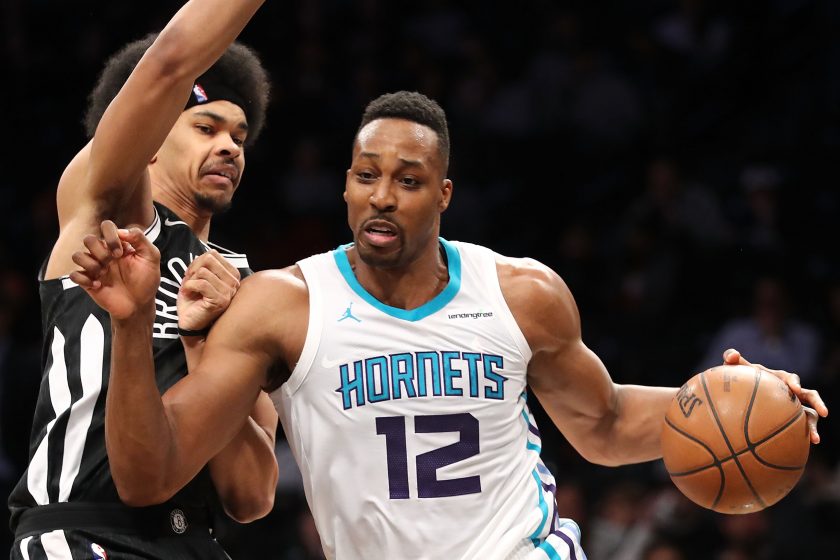 ---
Attitude
The Brooklyn Nets are establishing a locker room built off camaraderie, despite what Jalen Rose thinks. These guys have fun through the best and worst of times.
Such has not always been the case with Howard, whose ego takes up more space in the locker room than most teams deem fit.
He requested a trade from Orlando twice in his eight-year tenure, butted heads with Kobe Bryant in Los Angeles, and the same with James Harden in Houston.
Most recently, 2011 NBA champion Brendan Haywood said on Sirius XM that the Hornets locker room was not a fan of Howard.
"The (Hornets) locker room did not like Dwight Howard," @bwood_33 says on @SiriusXMNBA "Guys were just sick and tired of his act."

— Howard Beck (@HowardBeck) June 20, 2018
It comes as a surprise to none, though surprising indeed that the Nets would walk this locker room disruption into an ever-growing young core.
Solace can be found in that for now; both Jeremy Lin and DeMarre Carroll, two of the leading voices in the locker room, will be with the team next season.
Hopefully, their voices will drown out any woes spoken by Howard.
Potential Stunt to Jarrett Allen's Growth
The Nets' first-round pick last year, center Jarrett Allen, enjoyed a relatively impressive rookie season. He averaged 8.2 points, 5.4 rebounds, and 1.2 blocks per game.
All the while delivering fans a dunk mixtape that will be on repeat for the years to come:
JARRETT ALLEN JUST FINNISHED LAURI, RIP pic.twitter.com/VrrRHfGria

— The Sports Quotient (@SportsQuotient) February 27, 2018
Allen earned 31 starts in light of an injured Brooklyn roster. But one has to question what kind of room there is for growth behind the arrival of an already proven center.
One of the 20-year-old center's biggest flaws was rim protection, despite what his 1.2 blocks per game average may insist. His 6-foot-11 height is prime for protecting the paint, but he has yet to fill out his frame at just 230 pounds.
Say Allen bulks up this summer; will he return to Barclays with an expectation to see more minutes? It wouldn't be just for a sophomore center to demand starting minutes, but his progress throughout both last season and the offseason could have him (and the coaching staff) feeling he's ready.
The trade for Howard, leaves his sophomore season more of a question mark coming in. Will he take the same level of strides he saw last season? Or will limited minutes serve as a detriment to his advances?
Timing
Lastly, the timing of this trade shouldn't be left under the radar. As of right now, it's not complete in its entirety.
ESPN's Adrian Wojnarowski reported that the trade won't go through until July 6th, when the Nets have an opportunity to shed excess salary:
"The deal can't be completed until the moratorium ends on July 6. The Nets will need money to expire off the salary cap to take on Howard's salary."
If you track the NBA like most, then you know anything can happen in such a length of time.
Howard could fail his physical, Charlotte (though not likely) could be presented a better deal. We'll air on the side of caution-until the respective teams make the formal announcement.
---
All in all, this trade with Charlotte is a positive for Brooklyn, provided they escape these three scenarios.
He's going to provide defense at the rim, and maybe even serve as a mentor to young Jarrett Allen.
Do your worst Dwight Howard. The entire NBA is watching.