On the surface, it seems like New York Islanders forward Anders Lee does nothing more than stand in front of the goal and score, but a closer look truly shows just how good he is.
Lou's To-Do List
It has been and it will continue to be a busy offseason for the New York Islanders. After missing the playoffs for the second consecutive season and having won just one playoff series in the past 25 years, the team has hired Lou Lamoriello as their president of hockey operations.
In a few short weeks with the team, Lamoriello has already relieved general manager Garth Snow and head coach Doug Weight of their duties. Lamoriello has since named himself general manager and is expected to name a new coach by next week.
The Islanders' captain and franchise player, John Tavares, is set to become an unrestricted free agent if the two can't come to terms on a contract extension by July 1. Calvin de Haan and Thomas Hickey are also scheduled to hit free agency.
Meanwhile, Brock Nelson, Brandon Davidson, and Ryan Pulock highlight some of the restricted free agents the Islanders will need to re-sign.
A number one goaltender and perhaps a top-four defenseman or two are also on the team's radar as they hold picks number 11 and 12 in this year's draft as well as another two in the second-round.
Anders Lee vs Jordan Eberle?
Through all of the chaos, July 1 will begin a one-year window in which the team will have to sign Anders Lee and Jordan Eberle. Both are top-six wingers and more importantly, goal scorers.
Eberle scored 25 in his first season with the Islanders and has scored 20+ in six of his eight NHL seasons (scored 18 in his rookie year, 16 in the lockout-shortened season). In four full seasons with the Islanders, Lee has scored 25+ goals in three of them (25, 16, 34, 40).
Both are extremely important to the team but for some reason, fans believe that due to salary cap reasons, the team will only be able to keep one of them. Feeling that they have to choose between the two, many have sided with keeping Eberle.
The argument is that while Lee, the team's sixth-round pick in the 2009 NHL Entry Draft (152nd overall), did score 40 goals this past season, he only had 22 assists – career-highs in both categories, by the way. Many fans are also quick to mention that Lee plays on a line with Tavares and only scores his goals from around the front of the net.
As the argument goes, Eberle is a more pure goal scorer who can score from everywhere with his accurate release but what really separates him from Lee is his play-making ability. While Eberle's 25 goals can't compare to Lee's 40, Eberle had 12 more assists (34) playing on the second-line and on the second power-play unit.
In all honesty, I thought the assessment of the situation seemed pretty fair. However, I was determined to prove myself wrong. If it was because of the first-line ice-time and just standing in front of the goal, how has he been one of the best and most consistent goal scorers the Islanders have seen in their post-dynasty era?
Power Play Impact
Lee scored 14 of his 40 goals on the power play last season. His 14 power play goals (PPGs) were the most on the team and the sixth most League-wide. His 22 power play points (PPPs) were fourth on the team behind Josh Bailey, Tavares, and Mathew Barzal. Lee also brings physicality to the power play, doing his best to keep the opponents from clearing the zone. His 27 hits on the man-advantage were 10 more than the next player on the team, Nick Leddy.
Since his rookie season (2014-15) Lee has scored 36 PPGs, the second most on the team and the 12th most in the League. For the team lead since then, Lee only trails Tavares' 39 PPGs. Although they have both played 319 games since the start of the 2014-15 season, Tavares has received roughly 238 minutes of power play ice-time more than Lee.
Up There with the Best of Them
Over the past two seasons, Lee has scored a total of 74 goals. There are only four players League-wide with more: Alex Ovechkin (82), Patrik Laine (80), Nikita Kucherov (79), and Evgeni Malkin (75).
Doing the Little Things Right
Lee has only spent 8:51 on the penalty-kill in his career but make no mistake, the 27-year-old can do more than rack up points. This past season Lee was one of four players on the Islanders' roster to play in all 82 games. Through those 82 games, Lee averaged 17:16 of ice-time and 20 shifts per game. Lee threw 102 hits (1.2 hits per game), the sixth most on the team. Lee also blocked 38 shots, the fifth most for a forward on the team.
Lee is a left-winger but there were 16 times in which Lee had to step into the faceoff circle. Lee won the only defensive zone draw he took as he did for the only neutral zone draw. In the offensive zone Lee won eight of 14 and overall, he was a team-best 68.8 percent when it came to winning faceoffs. Granted, 16 attempts is an extremely small sample size, he came up big when his team needed him to and that's all that matters.
Hand-Eye Coordination
Lee is known for his net-front presence and with that, he is known for the hand-eye coordination that leads to goals in front of the net. Looking at the numbers, I was surprised to learn that only a quarter of Lee's goals (one deflection, nine tips) were the result of hand-eye coordination. Looking further into it, Lee was actually very unlucky, with only nine of 37 shots tipped finding a way past the opposing goaltender (24.3 percent conversion rate). To be fair, his nine tip-in goals are still tied for first in the League and his 37 tips are third on the League leaderboard but where did the other 30 goals come from?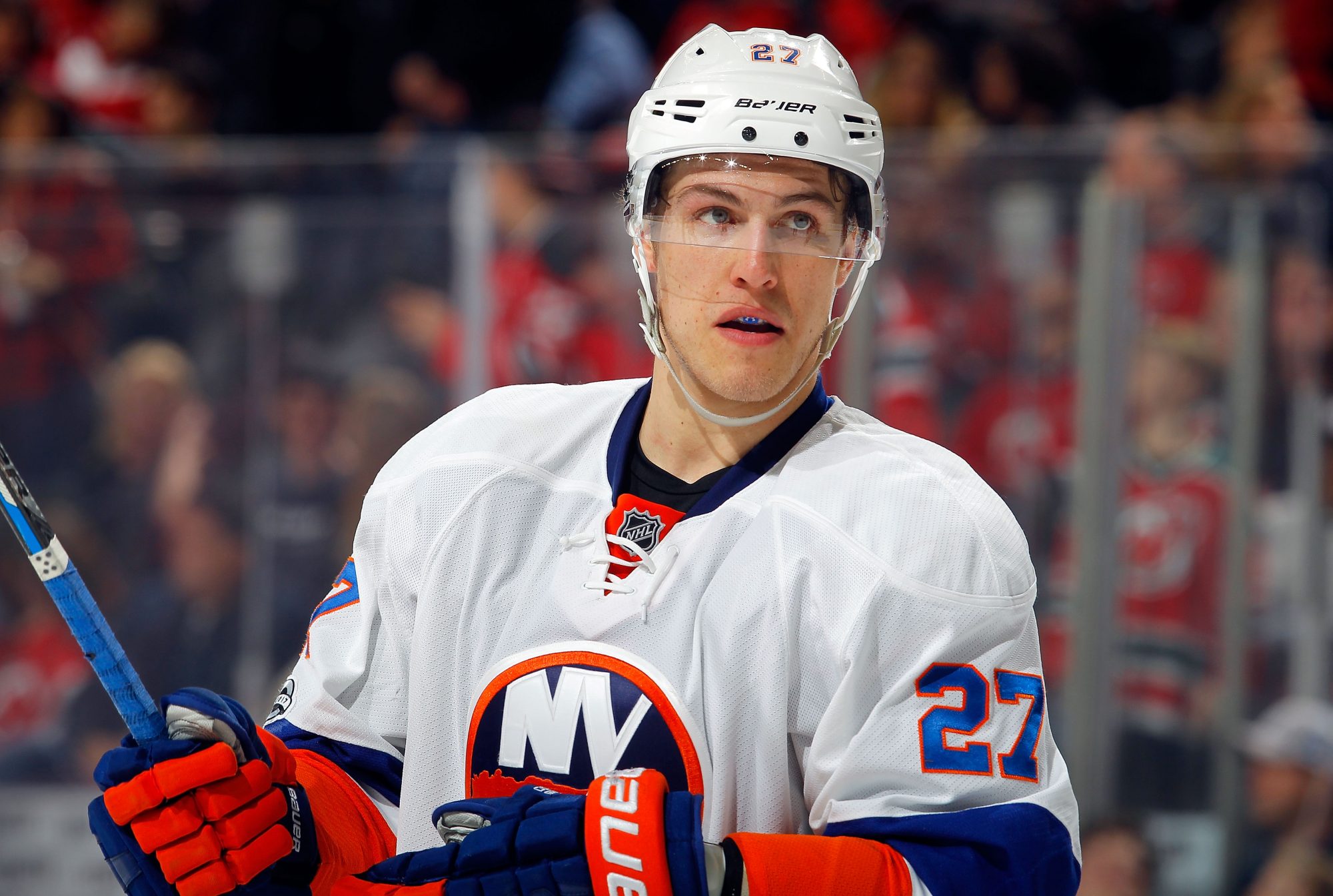 The Art of the Backhand
Earlier this year, Cory Wright of the NewYorkIslanders.com did a great story on how Eberle and Barzal are able to utilize one of the game's most underrated shots, the backhand. However, by the season's end, it was Lee who led the team in backhand goals with eight (also tied for second in the League).
He Can Shoot, Too
The Islanders are known for having some pretty deadly-accurate snipers on their roster in Eberle, Nelson, Andrew Ladd, Cal Clutterbuck, and maybe even Kieffer Bellows by next season. However, 17 of Lee's goals came off a wrist-shot (one less than Eberle and seven back of Tavares for the team lead). Another three came off snap-shots and two of slap-shots. *Note: one of his goals was an empty-netter but it is included in these statistics*
Timing Counts
Lee didn't just score 40 goals, he scored timely goals. 11 of his goals were game-tying goals including three that came in the third period, four in the second, and another three in the first. Scoring the game's first goal was rare for the Islanders but they scored first in 23 of their 35 wins this past season. Lee opened the scoring seven times last season and overall, the team went 23-10-5 when scoring first. When trailing, no matter the score, Lee never gave up. In total, he scored 10 goals to cut the opposition's leads. Eight of those 10 came in the third period and five of them brought the team back within one goal. Just as important is preserving a lead. Lee scored nine goals to add to his team's lead including six in the third period. Three of the goals he scored this past season put his team ahead on the scoreboard and two stood the test of time to be counted as game-winners.
The Isles Can Make it Work
Forget the Eberle-Lee, debate there is a way the team can keep both. According to CapFriendly, the Islanders have the most cap space available in the League with an estimated $28.2 million. Of course, it won't stay like that for long with free agents like John Tavares and Brock Nelson to sign but it's still something to take note of.
An announcement on the salary cap increase is expected to come soon but it is said to be near $82 million which is an additional $7 million more than what it is now. Coming off a six-year deal worth $36 million ($6 million AAV), Eberle shouldn't be making that much more on a potential contract extension. Lee, however, is definitely due for a pay-raise as he comes off a four-year deal worth $15 million ($3.75 million AAV). Say a contract extension for Lee would be around twice that – give-or-take – the Islanders could afford the extra $3-4 million especially with the expected cap raise.