The 2018 NHL Draft represents a crucial aspect to the New Jersey Devils success building around Nico Hischier.
The NHL is less than three days away from the 2018 NHL Entry Draft, where the first round will be held at the American Airlines Center, home of the Dallas Stars, on Friday, June 22. The first selection is expected to be announced at 7:30 p.m. ET, and the draft will be televised on the NBC Sports Network.
The Buffalo Sabres, Carolina Hurricanes and Montreal Canadiens have the draft's first three picks respectively, and the Sabres are projected to select the World's top-rated prospect in defenseman Rasmus Dahlin.
As for the New Jersey Devils, the team won't have the first overall selection like they did last year when Jersey's Team selected Nico Hischier, nor will the team's general manager Ray Shero have 11 selections like the Devils did in 2017.
As of June 18, the Devils do have the first round's 17th overall pick for this year's draft and will have a total of six picks (17, 110, 136, 141, & 172). Since Shero took over as GM back in 2015 the Devils have drafted a total 25 skaters with a handful of those picks already seeing NHL action.
Typically, first-round draft picks outside of the first 10 spots don't always meet expectations but there's hope with this year's draft class. Let's take a look at three players that the Devils could select at the 2018 NHL Entry Draft and with the 17th overall selection.
Rasmus Sandin
DOB: 3/7/2000
Origin: Sweden
2017-18: Sault Ste. Marie
POS: D
HT: 5-11 WT: 190
While New Jersey won't have the honor of selecting Rasmus Dahlin with the first overall pick, there's another Swedish born skater with the name "Rasmus" that the Devils could end up selecting at No. 17.
Born on March 7, 2000, defenseman Rasmus Sandin, is an Uppsala, Swedish native that is projected by The Hockey News to be selected at No. 17.
The key here is that New Jersey hasn't selected a defenseman with its first-round pick since the Devils drafted Adam Larsson at the 2011 draft with the fourth overall pick. Yes, New Jersey selected four defensemen at last year's draft, but three of those prospects were taken with New Jerseys final three selections.
When a team has a chance to draft a defenseman, that's the best available option during the first round, that skater cannot go unselected. Top defensemen are cornerstones for building a Stanley Cup contender. There's plenty of potential for Sandin to grow as a player under the guidance of head coach John Hynes and his staff, who've already done wonders for this team's youthful promise.
The 5-foot-11 skater spent last season with the Ontario Hockey League's (OHL) Sault Ste. Marie Greyhounds, while playing in 51 games. The left-handed shooter found the back of the net 12 times and tallied 33 helpers for a total of 45 points. Sweden has a recent history of producing top defensemen, and the Devils should take Sandin if he's still on draft board at No. 17.
Isac Lundestrom
DOB: 11/6/1999
Origin: Sweden
2017-18: Lulea
POS: C
HT: 6-0 WT: 185
This hockey enthusiast was fortunate enough to watch a majority of Team Sweden's games at the 2018 World Junior Championship (WJC) and thought that Sweden appeared to have the most overall impressive team from top to bottom. One player that stood out was forward, Isac Lundestrom.
While most of the attention for the Swedes was on prospects such as Dahlin and Elias Pettersson (New York Rangers), this 6-foot center impressed with his consistent two-way play down the middle the of ice.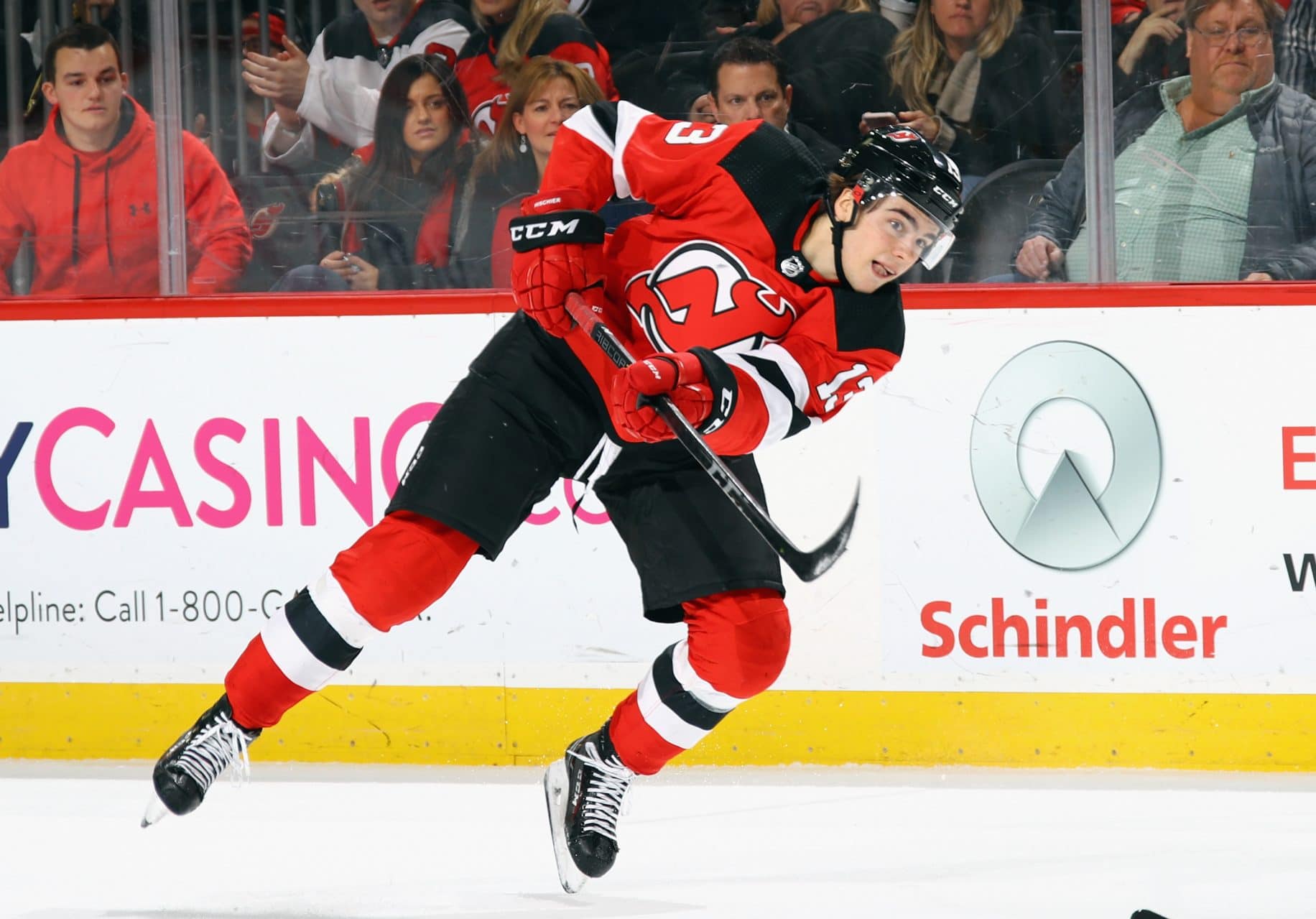 I watched the left-handed shooter play with other drafted prospects, Oskar Steen (Boston Bruins) and Tim Soderlund (Chicago Blackhawks), as the trio combined for six goals in seven games played at the WJC. Lundestrom had two of those six goals and one of which was a game-winning goal, and the center finished the tournament with a plus/minus rating of plus-four.
Keep in mind that's it's also important to factor in that Lundestrom has had invaluable exposure while playing on a big stage such as the WJC and has also already been playing against pro hockey players this past season. The Gallivare, Swedish native recorded 15 points (6G-9A) in 42 games played with Lulea of the Swedish Hockey League. There's nothing eye-popping but those numbers, but he's proven that he does have the scalability to play with the big boys and grow as an offensive threat as well.
Yes, the Devils already have their future franchise player and center in Nico Hischier, but an up and coming team such as New Jersey can never have enough depth at center.
The International Scouting Service has him projected between picks 14-20, so there's a good chance that he could fall into the Devils' lap at No. 17.
K'Andre Miller
DOB: 1/21/2000
Origin: Hopkins, MN
2017-18: USNTDP
POS: D
HT: 6-4 WT: 205
This Minnesota native is committed to the University of Wisconsin, and he'll have time to develop in one of the best collegiate hockey programs in the nation and under head coach Tony Granato. K'Andre Miller is projected by The Hockey News to be selected towards the end of the draft's first round, but considering that there's potential for this 18-year-old defenseman we could see him drafted towards the middle of the pack for the first round on Friday night.
The 6-foot-4 blueliner spent last season with both the USA Hockey's National Team Development Program (USNTDP) and Team USA's Under-18 squad, while Miller combined for 13 goals and 32 assists in 79 total games.
Keep in mind that coach Hynes served as an assistant coach at Wisconsin from 2002 until the end of 2004 and then coached the USNTDP for a handful of seasons, so there are ties to Miller heading into this weekend's draft and beyond.
Also, Granato was an assistant coach with the Pittsburgh Penguins (2009-2014), which was during the Ray Shero era in the Steel City. Having a feeder program through a program like Wisconsin is something to keep an eye on from a Devils future prospects perspective.
Yes, K'Andre spent a majority of his youth hockey career as a forward, but for a skater that's on the rise with plenty to offer – drafting and developing him on the backend could pan out to be a valuable asset further down the road for Jersey's Team.
Follow Kyle on TWITTER