The most-hated player in college basketball is leaving that behind to start his career in the NBA. Grayson Allen's competitive drive makes him a great fit for the Brooklyn Nets.
He's the Draymond Green of this generation. He's competitive, and he's been caught mistaking the basketball court for the octagon at times.
But Grayson Allen wants to win, more than anything.
The Brooklyn Nets share the same goal and are amidst a rebuild with hopes of one day contending for a championship.
With the 29th pick of the 2018 NBA Draft, I propose the Nets select Allen, and add a winning drive to their young locker room.
Brooklyn failed to live up to expectation last year, after adding young D'Angelo Russell and veteran shooters DeMarre Carroll and Allen Crabbe. Russell missed over 30 games, Crabbe was inconsistent, though Carroll had a career season.
This year, head coach Kenny Atkinson is set to reload with the same pieces, plus a first-round draft pick. In that draft selection, Brooklyn needs both an immediate impact player, and long-term addition to the rebuild.
Cue Grayson Allen, of Duke University.
A rounded player coming off four full seasons in college ball, Allen's game revolves around energy. He's capable of scoring at a high volume, and defends at the same level.
A look at the guard's competitive drive, and why he may end up in a Brooklyn Nets uniform come next season.
---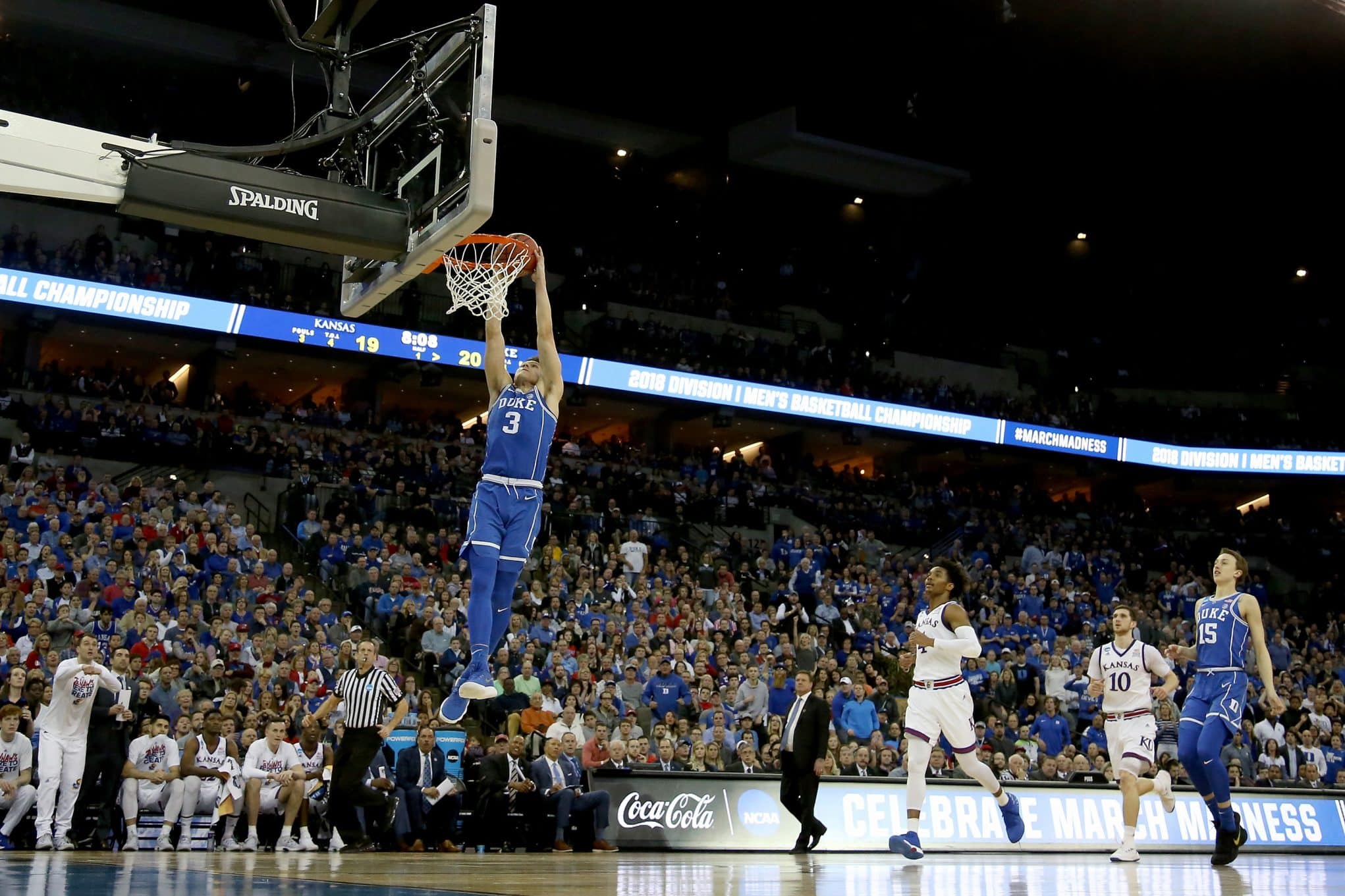 ---
Strengths
Allen experienced a decline in scoring from his sophomore season on, but still shows flashes of a prolific scorer.
From behind-the-arc to mid-range and on to the post, this kid finds a way to get buckets. Check this 23-point performance against Notre Dame back in March.
His ability to drive down the lane and launch the three-ball make him a more than appropriate fit for the Nets' offense. He shot the ball well with the Blue Devils as well; nearly 42 percent from the floor and 37 from deep.
Elsewhere on the court, Allen is making hustle plays and getting gritty on defense.
He averaged 1.7 steals per game last year for Duke and recorded a career-high five steals on multiple occasions. Including this win over the North Carolina Tar Heels.
He consistently displays that 'extra gear' on defense that separates the NBA's average and elite defenders. It would be more than welcome on a team that earned the 25th worst defensive rating last season.
For Brooklyn specifically, Allen definitely appears comfortable playing in both guard positions. With such a logjam at the one and two, the Nets may need a versatile combo guard–which he's shown he can be.
Weaknesses
Allen has displayed an ability to score the ball. He plays hard-knock defense. But his shot overall is inconsistent, and on-ball defense isn't his strong suit.
At 22-years-old, how much upside is there in a senior guard from one of college basketball's more prominent coaching programs?
Albeit high-volume, Allen's scoring appears one-dimensional. Pull-up jumpers and straight drives down the lane. Do the Nets have a playmaker that can help to expand Allen's game?
One could argue that, but even then, would it be enough? Brooklyn's core is young, and may only help the guard solidify his ceiling before it can even begin to take shape.
Then you have to take his temperament into account. Allen was accused of purposely tripping his defenders on more than one occasion throughout his career.
That doesn't look great on any job application, let alone the NBA. But should Nets' general manager Sean Marks view it on the lighter side of effort, it could further influence this selection.
Likelihood
The latest NBA mock drafts have Allen as a first to early-second round selection.
Tyler Conway of Bleacher Report has the Duke graduate going 28th overall to the Golden State Warriors.
Gary Parrish of CBS Sports has Grayson going 26th to the Philadelphia 76ers, in light of JJ Redick leaving to free agency. That has yet to be decided, however.
It's worth noting that the Nets were the first team to host Allen for a workout-which he mentions here. There was interest from the jump, and he shot nearly lights out, as seen in this video via Draft Express.
Grayson Allen torched the nets with 12 in a row to start + 20/25 treys in this around the arc drill at the @CAA_Basketball Pro Day

Allen is an impressive standstill shooter with a quick release thanks to his compact mechanics. He is a lifetime 38% shooter on 3's in 863 3FGA pic.twitter.com/Slp9iwEv4L

— DraftExpressContent (@DXContent) May 31, 2018
---
The Brooklyn Nets motto last season was 'Brooklyn Grit.' In almost every sense of the phrase, Grayson Allen embodies that as a player. With the right foundation, he may find a way to redefine it on an NBA level.
If Allen is available when the Nets get on the board at 29th overall, I have no doubt he'll be heavily considered if not selected. His proven knack for scoring and mettlesome defense make him a prime candidate to be apart of this franchise's future.