Barry Trotz represents a huge opportunity for the New York Islanders after resigning as head coach of the Washington Capitals.
It's been reported that Lou Lamoriello, the New York Islanders president of hockey operations and general manager, would like to have a head coach in place before the 2018 NHL Entry Draft which begins this Friday in Dallas, Texas.
Just over two weeks ago, Lamoriello relieved former general manager Garth Snow and head coach Doug Weight of their duties. As previously mentioned, Lamoriello has since assumed the general manager position but the head coaching position remains open.
There are several candidates for the Islanders head coach vacancy but as of today, there is one individual that stands out from the rest.
Statement from the Washington Capitals on Barry Trotzhttps://t.co/NF0xiEzce1

— Washington Capitals (@Capitals) June 18, 2018
Barry Trotz has coached the Washington Capitals for the last four seasons. He coached them to the Presidents' Trophy (awarded to the League's best team during the regular-season) in back-to-back years (2015-16 and 2016-17) and most recently, their first ever Stanley Cup.
Before coaching in Washington, the 2015-16 Jack Adams Award recipient (awarded to the NHL's coach of the year), spent 15 years with the Nashville Predators. The Predators qualified for the postseason in seven of those seasons.
In total, Trotz has coached 19 seasons and 1,524 games at the NHL level with a 762-567-60-134 (W-L-T-OTL) record. The now 55-year-old has also been the bench boss for 113 postseason games with a 55-58 record and now a Stanley Cup to his name.
Now that he has resigned from his position as the Capitals' head coach, the team, according to Elliotte Friedman of Sportsnet, will give him permission to talk to other clubs.
Looking at numbers alone, Trotz is the perfect coaching candidate for any team, not just the Islanders. He is fifth all-time amongst coaches in games played and wins. Diving deeper, his coaching style can help give the Islanders what they so desperately need.
The Islanders finished near the middle of the pack this past season when it came to shots on goal per game with 31.4. Dead last in that category were Trotz's Capitals with an average of 29. However, this is no coincidence. One of the coaching adjustments Trotz made this season was a quality over quantity approach when it came to getting pucks on net.
"We're looking at high-danger stuff versus just throwing pucks to the net for volume," Trotz told Isabelle Khurshudyan of The Washington Post. "I mean, it's like we're too poor to buy something cheap. So, why cheapen the product if you have no chance of scoring?"
This past season the Capitals stayed away from the spotlight and quietly won the Metropolitan Division. When it came time for the playoffs they weren't taken too seriously. It was one of their weaker teams they have had in awhile and there was no way they could get past the Pittsburgh Penguins, the team that eliminated them in the second round the two seasons prior.
However, Trotz got the whole entire team to buy in. Even when down two games to none in the first round against the Columbus Blue Jackets, the team remained with it an won four straight to set up a third-straight second-round meeting against the Penguins.
This time the script was flipped and the Capitals exorcised their demons in six games. They went on to defeat the Tampa Bay Lightning in seven games and then in the Stanley Cup Final, took down the Vegas Golden Knights in five.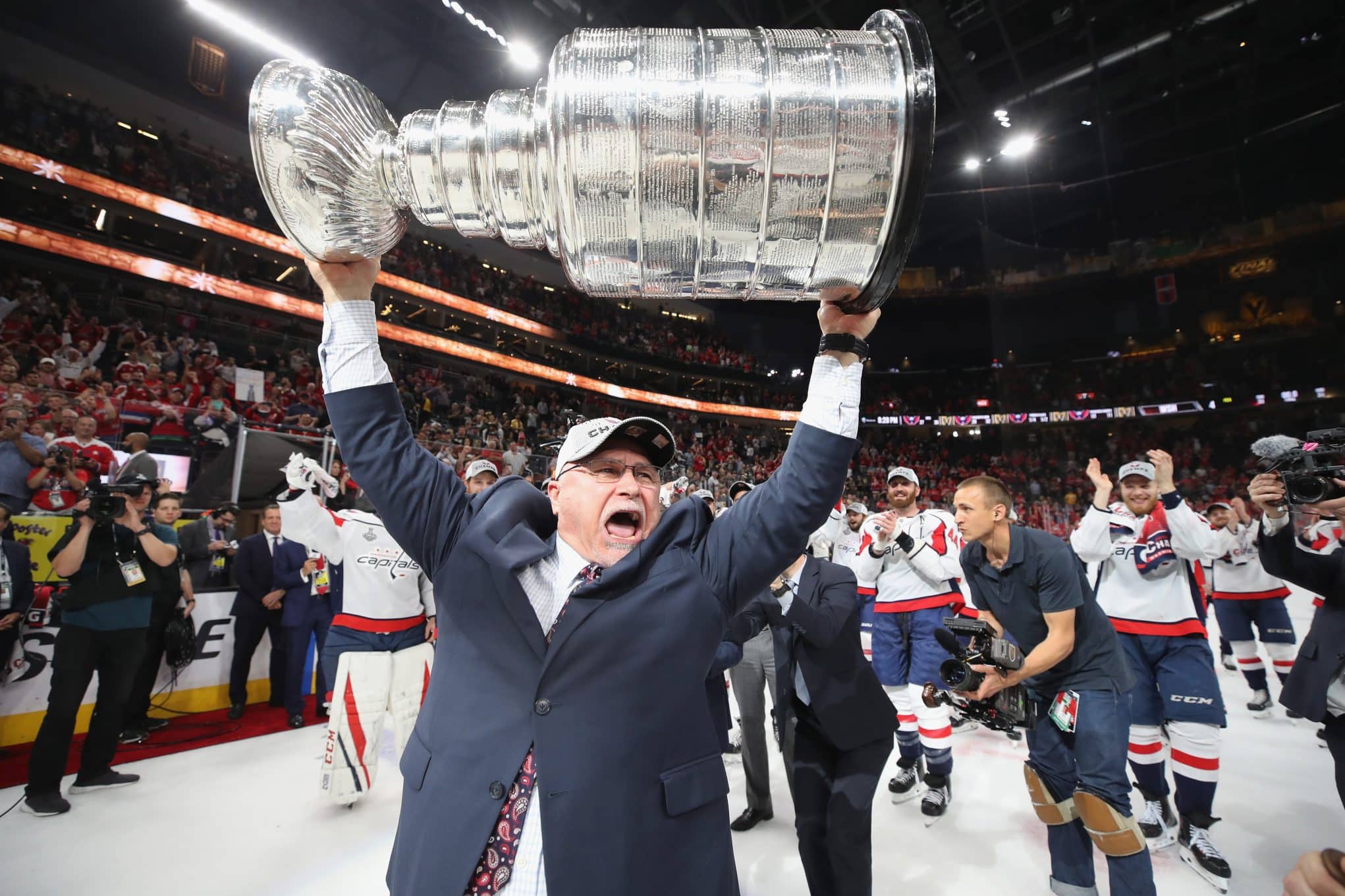 Devante Smith-Pelly tallied seven goals in 75 regular-season games. In 24 playoff games, he had the same amount including three in the Final. With Nicklas Backstrom and Evgeny Kuznetsov rotating in and out of the lineup with injuries, Lars Eller was another player who stepped up when given a bigger role by Trotz. Eller scored seven goals and 18 points this postseason including three game-winners (one which would hold up to be the Cup-clinching goal).
Trotz knows how to get the most out of his players and that goes for his defensemen as well. On paper, the Capitals defense looks pretty weak. Of course, they had John Carlson, but the overall core consisting of him, Brooks Orpik, Dmitri Orlov and Matt Niskanen is not too impressive. But Trotz got the most out of his team, just look at Michal Kempny.
Traded out of Chicago for a third-round pick, Kempny was given a chance to play with Carlson on the Capitals' top defensive pairing. After seeing just 31 games and limited ice-time with the Blackhawks, Kempny flourished in Washington. He played 22 regular-season games with the team scoring two goals but was huge in 25 playoff games, scoring two goals and five points while proving to be a reliable top pairing defenseman.
A coach that gets the most out of their players is exactly what the Islanders need. Their top-six was unbelievable last season but they need more from the bottom-six and their defense if they truly want to get anywhere.
Brock Nelson, for example, is a player that has scored 20+ goals in three of his five NHL seasons (scored 14 in his rookie year, 19 last year). However, many believe that he has the potential to be a consistent 30+ goal scorer and an all-around better player. Can Trotz unlock that potential as he did with so many in Washington?
If Lamoriello is serious about having a coach in place before Friday, we'll know who the newest bench boss of the New York Islanders is soon enough. Barry Trotz is now the best candidate available and the Islanders currently have the only open head coaching position in the NHL.