New York Jets second-year wideout Chad Hansen showcases many of the uncanny Wayne Chrebet qualities that made him unforgettable.
Weighing a smidge over 200 pounds while running a forgettable 4.53 40-yard-dash, Chad Hansen represented everything but the talk of the NFL Combine circa 2017. There was a bit of a buzz around the kid, but the term "workout warrior" obviously missed that specific name on the board.
The Cal product who took the Pac-12 by storm during his rookie season—averaging 124.9 yards per contest—quietly went about his business while all 32 NFL teams did the same. He said nothing, remained polite and continued to work on himself. He embraced the underdog role that's lived inside him for so long.
Everybody loves the underdog and those who experienced New York Jets football during the decade of the 1990s triple-check that narrative.
Chad Hansen projects uncanny Wayne Chrebet qualities.
Hansen, 23, was the fourth-round choice by New York two drafts ago. Of course, Chrebet went undrafted. Hansen stands at 6-foot-2 while Wayne-O would be lucky to have the doctor yell out anything over 5-foot-10. But other than those two differences, the two wide receivers mirror each other in splendid, intricate ways.
Underdog Walk-Ons
As was previously mentioned, Wayne Chrebet wasn't drafted. He walked on to the New York Jets professional National Football League club during the Summer of 1995. It remains the only positive thing Rich Kotite pulled off during his miserable two-year tenure.
Transpiring from that very moment in time Kotite yelled out "Schrevet" in preseason was something that could only be experienced, not explained.
Chrebet quickly became a cult-figure, a larger than life little dude who represented the every-man who, if the work is put in, can actually make it to the big time. The idea's lingered to the point (over two decades later) that MetLife Stadium still can't go one Sunday without a massive number of No. 80 jerseys floating around a sea of green.
A total of 7,365 yards and 41 scores on 580 total grabs—these are Chrebet's career NFL numbers accumulating from 11 seasons and 152 total games, hardly a Pro Football Hall of Fame-worthy stat-line.
He just wasn't all numbers. He was that fighter, that braveheart who'd go across the middle along the second-level without a single thought about his health.
Hansen's lived a similar path.
After not breaking out until his senior year of high school, only one Division I college came knocking, Idaho State. After sitting out the second year of his collegiate education, he decided to head down to the University of California and battle his way on via that classic "walk-on" status.
He did. And the Golden Bears rewarded him with a senior season to remember leading to a mid-round draft choice.
While Hansen can never duplicate the Jets fans' love-affair with the local Jersey-boy who also remained home to attend college (Hofstra), Hansen is that underdog of the same mold. He fully understands he'll need to beat out four or five players ahead of him this summer, via Jake Nisse of the New York Post.
"I'm used to this," he said at minicamp Thursday. "This is exactly what happened in college, so I've been through it before, and I think, you know, I'm a better player for it. I'm kinda grateful for what I had to go through at college, so I think that helps out here."
Other star players have even taken notice (to go along with the overall buzz Hansen's received early on this offseason).
"He's had a great spring," said cornerback Trumaine Johnson, who was signed this offseason. "I didn't know a lot about him coming in, but you see him daily making plays."
Slot Toughness & Smarts
It's well-documented what's happened in Wayne Chrebet's life since his forced retirement in 2005. Actually, it's well "known." The documented part is usually left out on purpose and in an appropriate manner.
Chrebet's openly struggled through concussion-related health concerns for too long now. His tough slot-work while never fearing a thing on the football field is what endeared himself to fans yet put him in this rough situation.
Still, the man was one hell of a slot receiver who possessed toughness, smarts and clutch playmaking ability on third down.
Chad Hansen is similar in this regard. Check out the following play from a year ago in which Hansen, working out of the bunch, was called upon to make the smart (not athletic) play.
With the Kansas City Chiefs bringing five and playing three deep and three across, Hansen had to find that soft spot in between two of the second-level zone defenders.
He executes it perfectly, coming back from the 10-12 yard hook and then sliding with Josh McCown in order to pick up the huge first down on a 3rd-and-6 late in the game.
This is what Wayne Chrebet did constantly. He was literally Mr. 3rd Down.
While Hansen also resembles Mr. 3rd Down, he has the ability to play the outside and go up and get the ball at its highest point. Chrebet had no shot in this regard. In fact, Hansen can play both the slot and the outside and also resemble Jordy Nelson (when given that sideline opportunity).
Everything about the two on tape matches up. Neither possesses great straight-line speed. Neither are overly strong (though Chrebet was underrated in that category). Neither's agility or elusiveness can match others at the position. They simply get by with grittiness, smarts, sure hands and passion.
And don't think for one moment Chrebet's career has been overstated. He literally paved the way for some of the more modern slot guys we witness today (Julian Edelman, Danny Amendola, etc.). He showed so many of them how yes, it actually can happen at the wide receiver spot.
In the same mold Doug Williams or Michael Vick paved the way for Cam Newton, Chrebet did for others.
Across the middle till the day we die. @Edelman11 @waynechrebet #theGodfather pic.twitter.com/tqmstkHq6v

— Danny Amendola (@DannyAmendola) May 1, 2016
"That was my idol, no doubt about it," Amendola told Art Stapleton of The Record. "Had his poster on the wall, it was a birthday gift. Couldn't afford the jersey, so I got the poster. He's why I wear [number] 80. That's my guy, he's great."
Other than the bothersome Jets-Pats connection here, Chrebet and his slot boys played it cool while revealing all.
"They wouldn't even call me Wayne," Chrebet recalled. "They call me 'The Godfather' of slot receivers, I guess, because they watched a lot of film on me running a lot of the same routes they run. It's just funny to have that kind of bond, but for me, it's also an honor."
This is where Chad Hansen fits in today.
When the Jets go three receivers, Quincy Enunwa will most likely play the slot with Robby Anderson and Jermaine Kearse at the X and Z. Terrelle Pryor is a wild-card. He's the Brad Smith-like jack of all trades player, so if Hansen beats out ArDarius Stewart, he'll see plenty of time in the slot.
And remember, the big-bodied Enunwa will play a ton at the Y (tight end), clearing out the slot for Hansen or Kearse to move inside.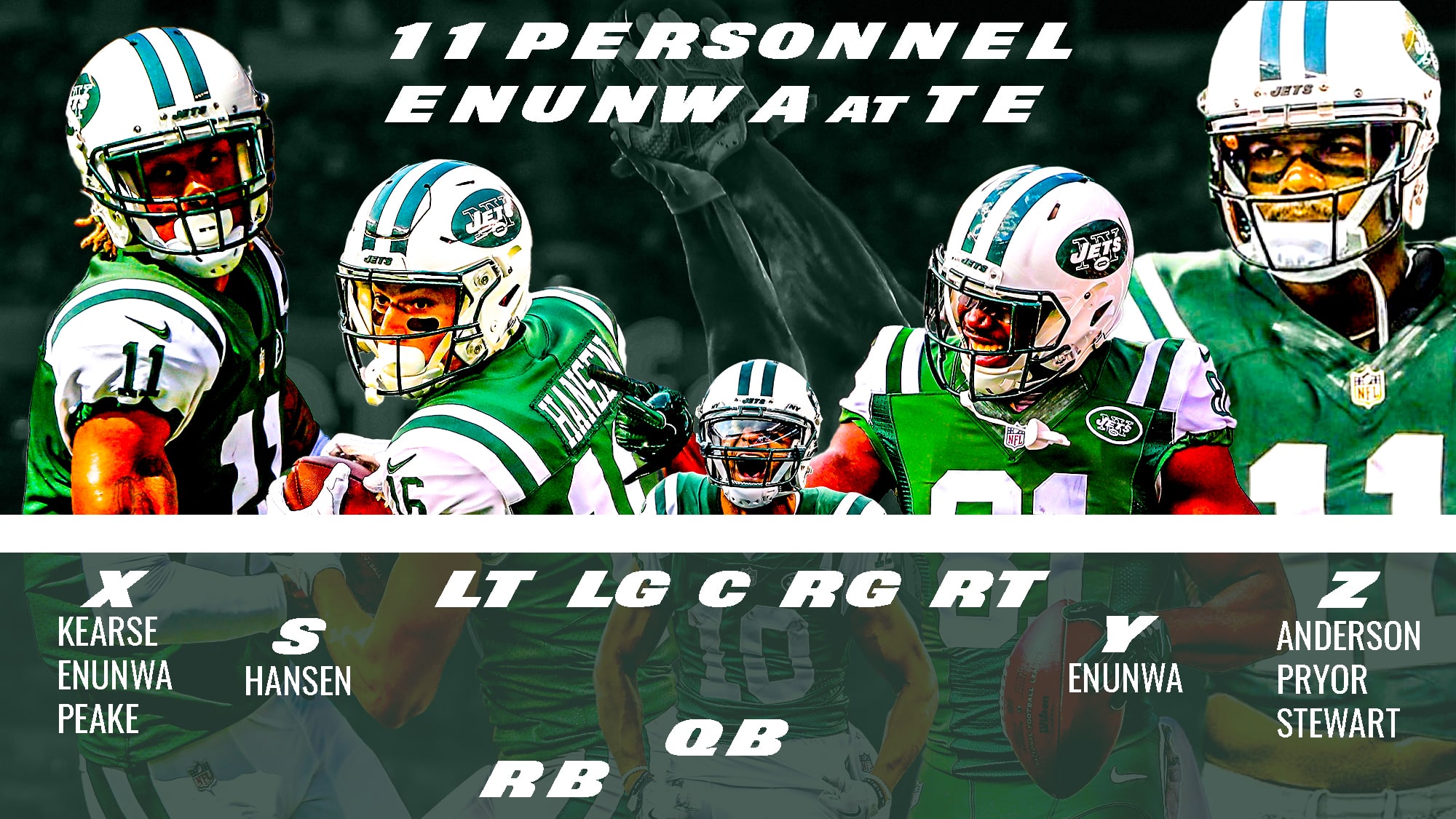 Buzz aside, it's still extremely early. Training camp and preseason must come and go for this Hansen ascent to continue as planned.
Right now, though, the similarities are striking. New York Jets wideout Chad Hansen projects many uncanny attributes The Godfather of slot receivers (Wayne Chrebet) always demonstrated. Let's just see if this underdog can seal the deal en route to regular playing time.