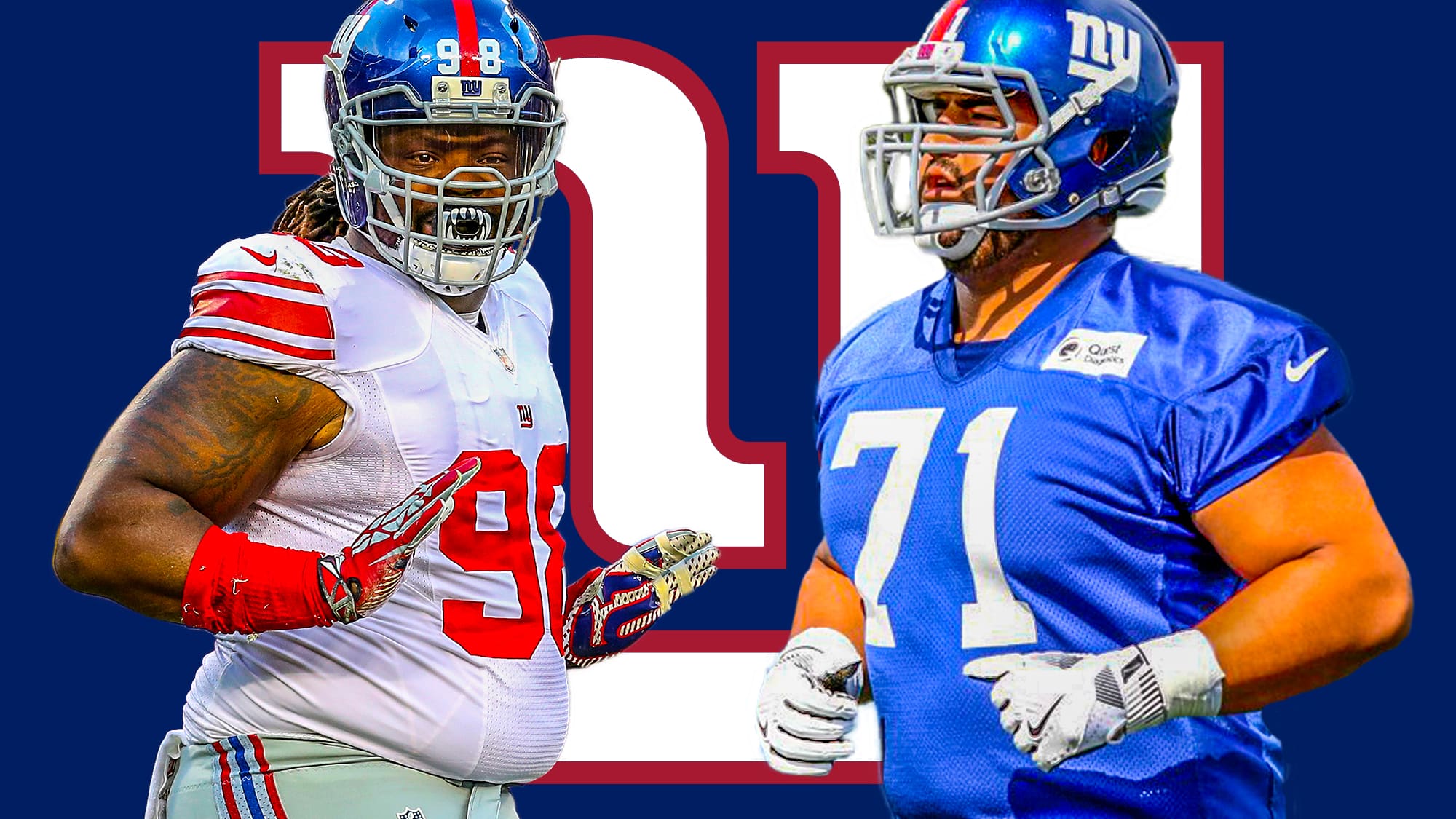 The New York Giants went out with a fight on Thursday, ending mandatory minicamp with a post-whistle smackdown between Damon Harrison and Will Hernandez.
On the last day of New York Giants minicamp, offensive lineman Will Hernandez and defensive lineman Damon Harrison couldn't help but give each other a few parting gifts. Unfortunately, that turned out to be a violent melee, going beyond the stand NFL camp fight fare.
During a particularly heated team drill, Hernandez and Harrison got into a particularly heated battle for position on the line. As the fight escalated after the whistle, Hernandez and Harrison continued to go at it, and  Hernandez's helmet was removed in the scuffle. The helmet landed in Harrison's hands, and according to reporters, Harrison used the helmet as a weapon, narrowly missing the unprotected head of Hernandez.
Will Hernandez's helmet just came off as he was tangled with Damon Harrison, and Harrison had Hernandez's helmet in his hand and swung it at Hernandez's unprotected head and JUST missed. Disgusting. Hernandez then threw a couple major punches before team broke it up #Giants pic.twitter.com/k8As1Y1KGc

— Pat Leonard (@PLeonardNYDN) June 14, 2018
Wow. Giants rookie G Will Hernandez lost his helmet during a pile-up after a running play. While he was down, DT Damon Harrison appeared to swing it at him. Not surprisingly a fight ensued.

— Ralph Vacchiano (@RVacchianoSNY) June 14, 2018
To make matters worse, offensive tackle Nate Solder, whom the Giants welcomed in on a four-year, $62 million contract this offseason, had his leg rolled up on in an attempt to pacify the situation. Solder met with reporters after the brief practice and remarked "It hurts a little bit, but I'm not a doctor", according to Greg Joyce of the New York Post.
Joyce further reported that while head coach Pat Shurmur understands the heat of battle in spring sessions, he didn't seem pleased with Harrison's excessive force.
"It's been very competitive the whole camp," Shurmur said. "There's certain things that certainly we can't do. We got it settled down, and in this situation where scuffles break like that, we just take them out of the practice, let them cool off. Will Hernandez is a very competitive guy and they just kind of butted heads."
Hernandez, the Giants' second-round pick in April's draft from UTEP, is known to have a bit of a mean streak in him. General manager Dave Gettleman described him as "cranky" shortly after his selection, and Shurmur concurred.
"It's kind of a good thing in our sport. A lot of parts in our culture, that is not admired," Shurmur said. "Certainly in our sport, it is something that we value. Cranky is good."
Follow Geoff Magliocchetti on TWITTER