The New York Jets wide receiver group heading into the 2018 season is sneaky talented to the point Sam Darnold is set with weaponry.
No Brandon Marshall. No Eric Decker. The world suddenly lost its mind.
The Summer of 2017 saw the New York Jets appropriately shed veteran players including the two aforementioned fellas. What transpired was craziness coming from the media world that makes its home Florham Park, New Jersey. They simply couldn't figure out how less actually equaled more.
A swift argument can be made the 2017 wide receiver group showcased out-wide of Josh McCown was far superior to the old version that came with Ryan Fitzpatrick a year earlier (and this transpired with stud Quincy Enunwa on the shelf the entire campaign).
Heading into 2018, a closer look at this group is a necessity. It's a much more talented area than conventional wisdom forces most to believe. Not only that, but it's extraordinarily deep in comparison to most NFL wideout collections.
Perhaps the greatest part about the group is that each man perfectly complements the next. The top five-to-six showcase respective talents that fit a singular purpose.
1. Robby Anderson: The Deep Threat
A star was born a year ago.
It felt as though the Jets—an offense that clearly took things extremely conservatively—capitalized as much as any NFL offense as it pertained to beating the Cover 3 deep along the sidelines with the nine-route. They did it with Robby Anderson.
Anderson, 25, is an undrafted Jersey kid who compiled 941 yards and seven scores on 63 total grabs a year ago. He'll enter training camp as the No. 1 wideout. At the very least, he's a solid No. 2 NFL weapon. As that speedy No. 2 guy opposite the go-to possession man, Anderson fits like a glove.
What he brings to the table is extremely valuable. Speed kills and considering he can beat almost any corner one-on-one, defensive coordinators always have to re-think crowding the box.
On multiple occasions in 2017, McCown found Anderson on the streak while facing a single-high safety (man-to-man or Cover 3). The above breakdown is an example of just that.
Week 3 against the Jacksonville Jaguars, a 3rd-and-7 brought the Jets 11 personnel against the Jags nickel. With five rushing, New York played it ultra safe with a max protect, leaving both the back and tight end in to block.
It's only a three-man route but due to Anderson's straight-line speed, it works.
2. Quincy Enunwa: The Possession Monster
Many folks have already forgotten about how beastly Quincy Enunwa truly was during the 2016 season. After breaking out a bit behind B-Marsh and Decker in 2015, Enunwa maxed out with 857 yards and four scores on 58 hauls in 2016.
He is the best weapon on the team. His recovery is the only matter holding his status back.
Coming in at 6-foot-2 and 225 pounds, the man is a perfect tight end/wide receiver tweener who fits the slot role to a tee. He'll also play outside a ton, but in that 11 personnel look, Enunwa is the slot man if Jermaine Kearse is the third wideout.
His possession skills are off the charts, a perfect contrast to what Anderson brings to the table. And unlike Anderson, he can be targeted even in tight coverage. Having that end zone fade guy who can go up and get the ball is essential and it's exactly what Quincy Enunwa can do.
In the above ESNY Film Room, Enunwa clearly puts his possession skills on display. Former All-Pro corner Malcolm Butler with perfect coverage on the fade yet Enunwa comes down with the TD. Then again, against the Buffalo Bills, he goes up and gets it on the post despite three defenders around him.
3. Jermaine Kearse: The Balanced Pro
Over the middle across the second level with vicious linebackers and strong safeties ready to strike? A skinny post or streak down the sideline? A bubble screen?
Jermaine Kearse is that solid pro who can do it all.
In the above film room example, Kearse is working out of the left slot on a critical third down. He destroys the nickel back and sheds two tackles en route to a huge gain.
Kearse can line up at any of the wide receiver spots while running any route in Jeremy Bates' offense.
4. Chad Hansen: The Tough Slot Upstart
The buzz coming from camp centers around a few players. One, in particular, is second-year man Chad Hansen out of Cal.
Wayne Chrebet, anybody?
Sure, he's not as short as Wayne-O was when he shocked the league in '95, but does fit the part in terms of slot work.
Hansen isn't especially fast. His straight-line speed will never have an offense feature him on the outside. He's smart, runs terrific routes and showcases sure hands, especially in traffic. In fact, should no major injuries hit this group, one of the top positional battles will come down to Hansen against Pryor for the No. 4 spot.
The film room example above showcases his smarts even as a rookie. On a big third down out of a bunch to the right side, Hansen finds the soft spot in the zone and slides with his quarterback to maintain that defender separation.
5. Terrelle Pryor: The Athletic One
The collegiate quarterback turned wide receiver is, on paper, the fourth wideout heading into camp. He could earn more time as August comes and goes, but with his recent lack of familiarizing himself with the offense due to injury, No. 4 or 5 is exactly where he belongs.
He is the athletic one—the guy who'll total the most rushing yards from the group.
Pryor, 28, is a six-year veteran of the league yet has only played three seasons at this position. Two seasons ago in Cleveland, he finished with 1,007 yards and four scores on 77 receptions as the No. 1 target. He's developed into a solid player at the position.
He's the one weapon on the team who can challenge Anderson to a 40-yard and may finally be the replacement to Brad Smith Jets fans have been searching for.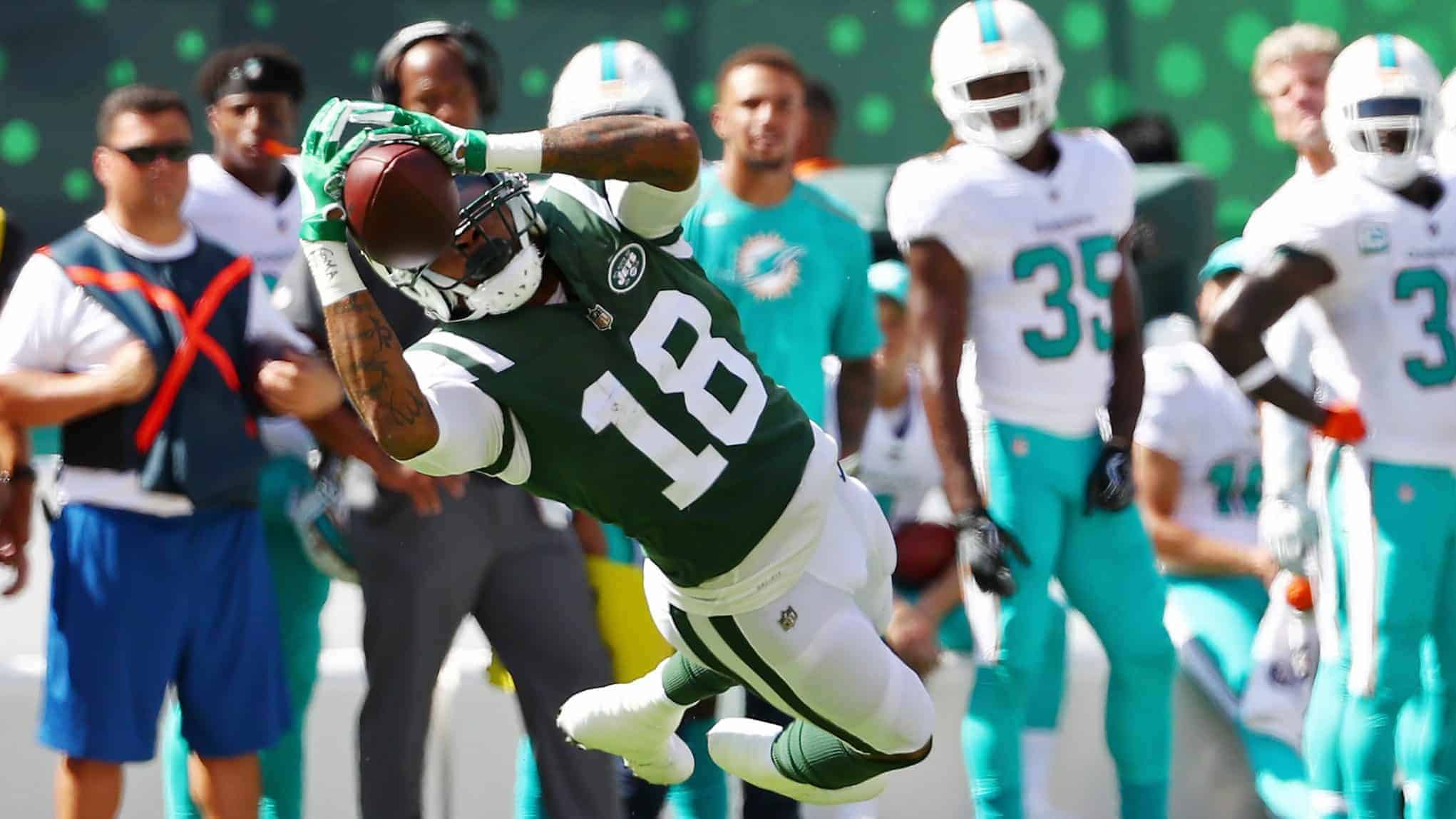 Extras: ArDarius Stewart, Charone Peake, Andre Roberts
Even after the No. 5 spot, these Jets are pretty deep. We throw Hansen on the list at No. 4 while understand it was ArDarius Stewart who actually received more playing time a year ago. The kid out of Alabama isn't handicapped at all and has every chance to work his way into the top three.
Charone Peake, Andre Roberts and even the injury-riddled Devin Smith are the deep extras.
Though many praised Peake and Mike Maccagnan for the solid seventh-round selection a few years ago, he's in danger of not making the final 53. His best chance is if the Jets decide to keep seven wide receivers.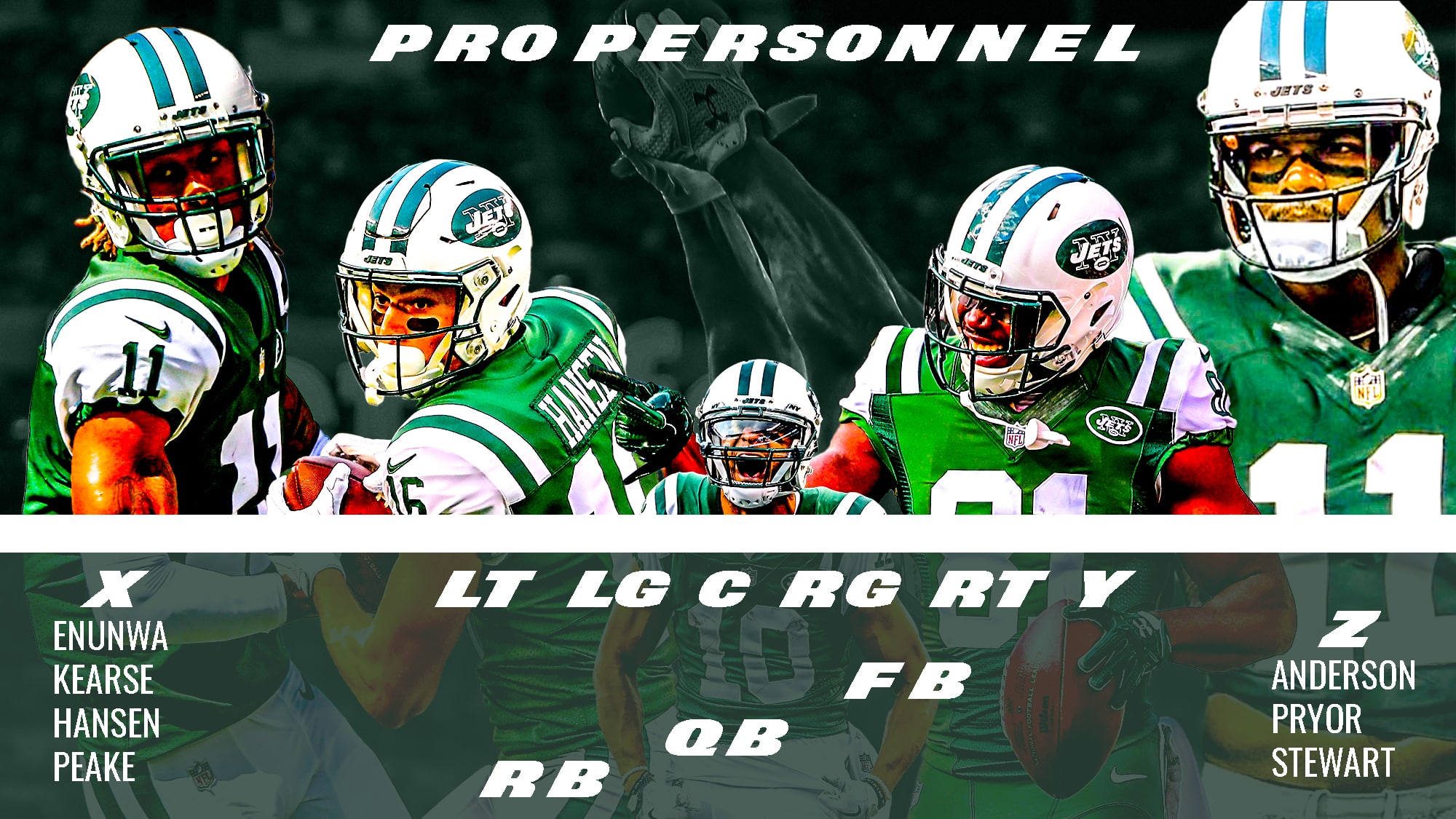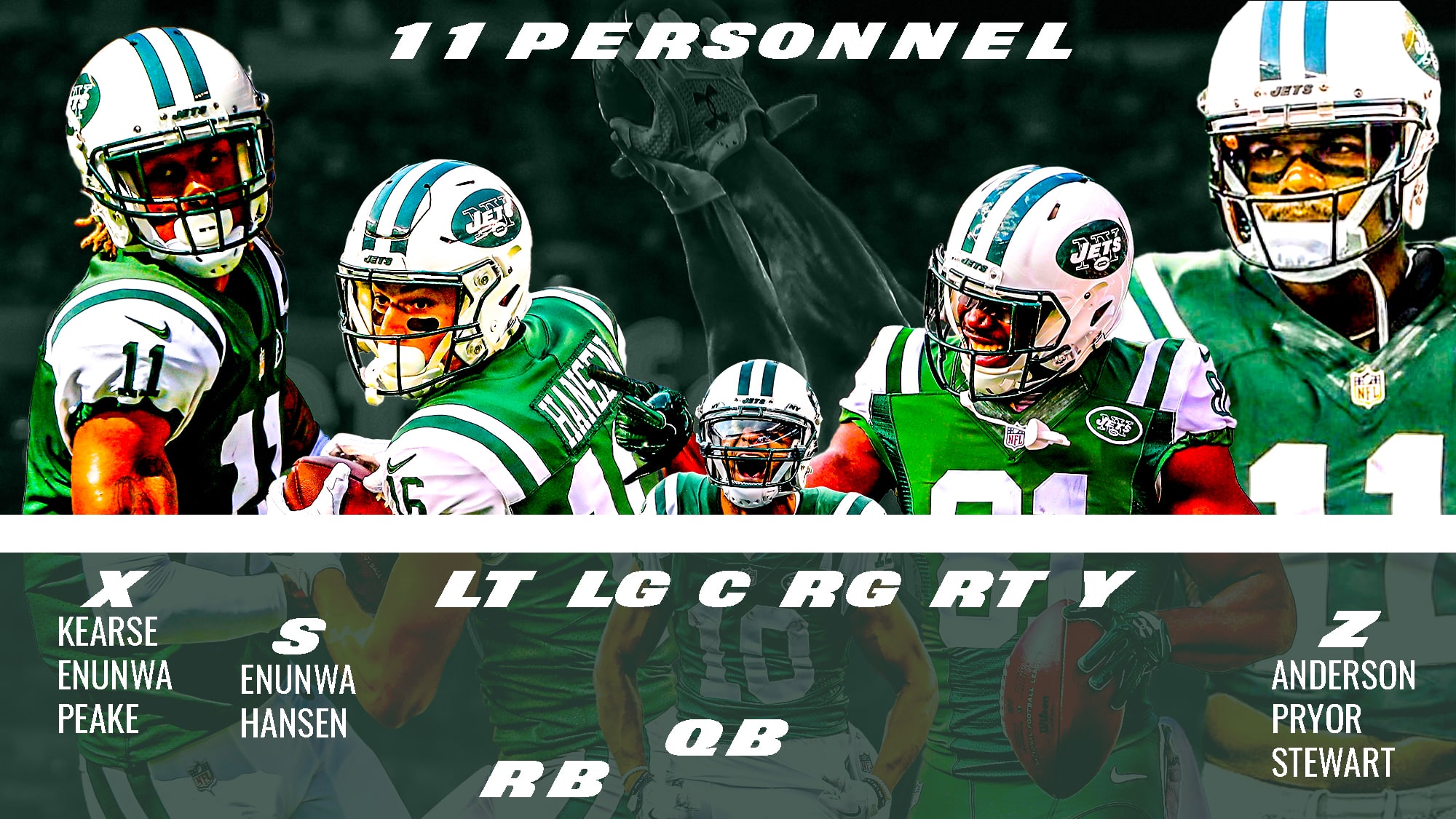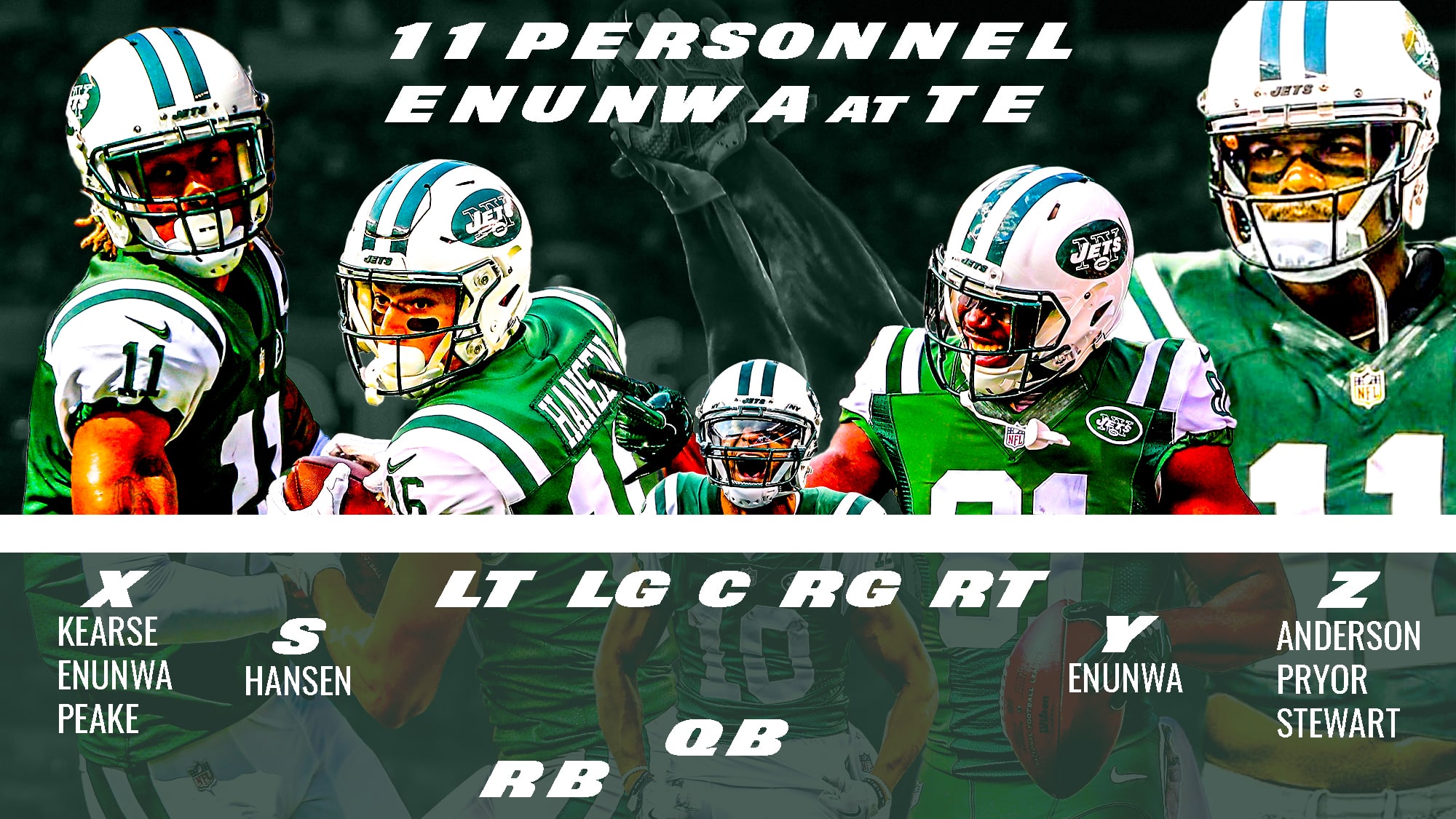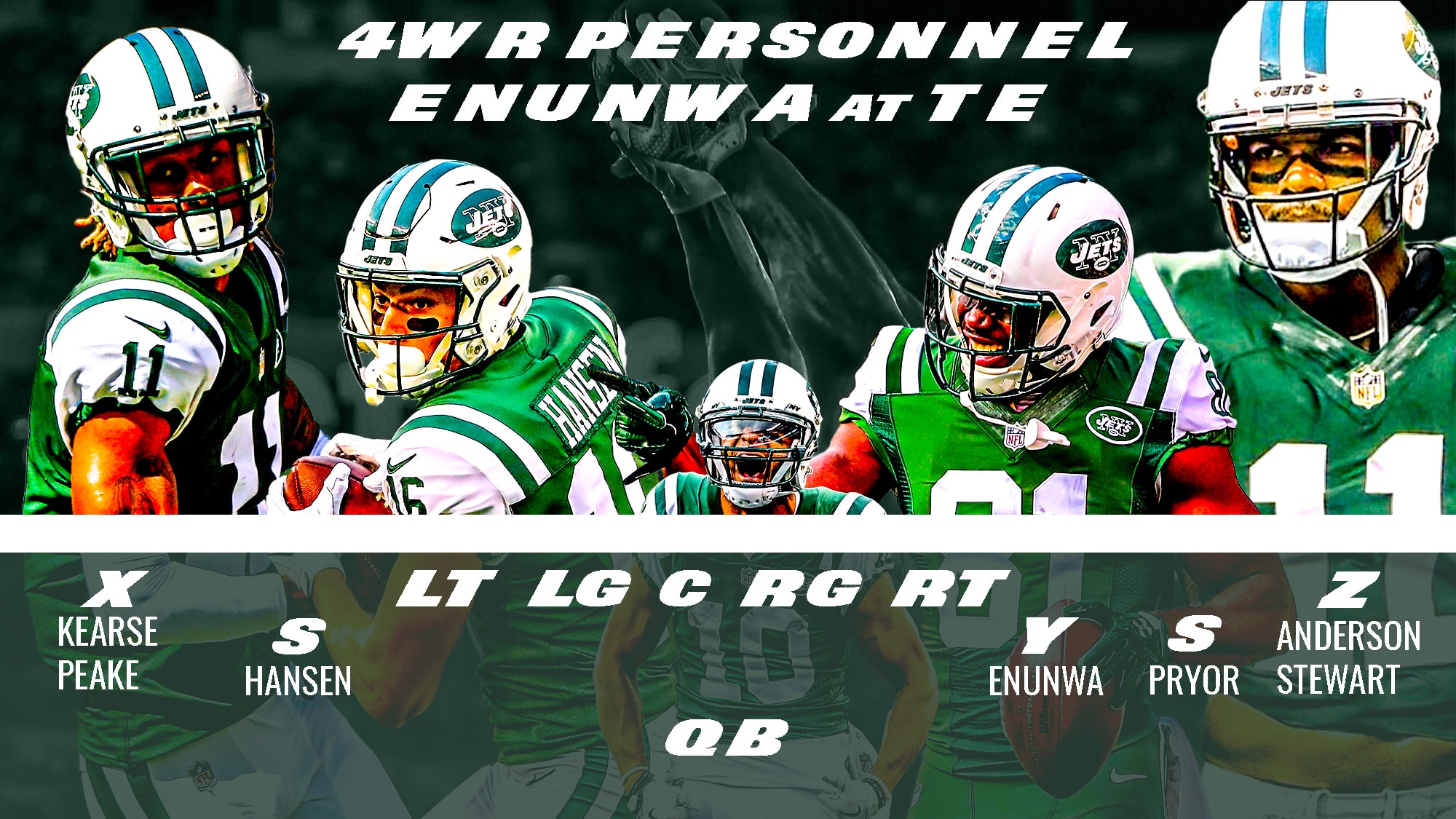 Final Thoughts
There is no Julio Jones or Antonio Brown in North Jersey. There is an Odell Beckham Jr., but, of course, he wearing that other color.
Save for stud representation, these Jets wide receivers provide everything a quarterback and offensive coordinator wants. Pryor offers excellent personnel versatility (as a rusher and quarterback) while Enunwa offers incredible mismatch opportunities out of the slot and at the Y.
From Robby Anderson's straight-line speed to Quincy Enunwa's beast-like nature from the slot (or even the tight end), Chad Hansen's smart and tough slot ability to Jermaine Kearse's tough balanced-like attitude, the Jets have set Sam Darnold up for success in terms of weaponry moving forward.