Embed from Getty Images
4. Lester Patrick, 1927-1939
The first head coach in New York Rangers history, Lester Patrick, led the team for 13 seasons.
In 604 regular season games, the legend tallied a record of 281-216-107 and a playoff record of 32-26-7 in 65 career playoff games. During that time Patrick coached the team to two Stanley Cup Championships in 1927-28 and 1932-33. He still remains the only Rangers coach who has won two cups for the Blueshirts.
He is most remembered for coming off the bench and putting on the goalie gear when Rangers goaltender Lorne Chabot was injured during the 1928 Stanley Cup Final against the Montreal Maroons. In those days, teams did not have backup goaltenders so the 44-year old coach did what the had to do to help his team. Patrick and the Rangers went on to win the game in overtime as he stopped 18 of 19 shots.
Patrick was inducted into the Hockey Hall of Fame in the Player category in 1947.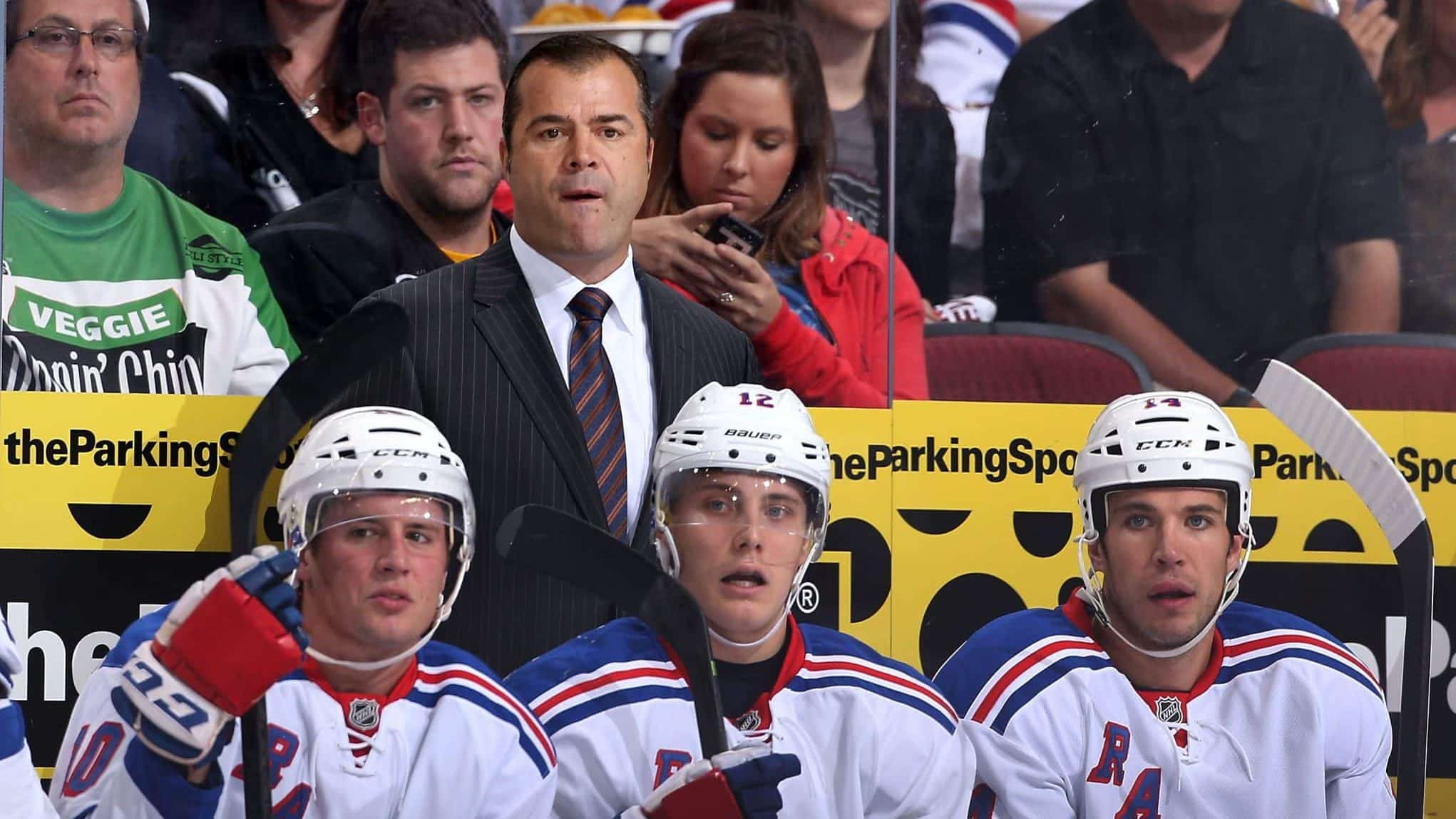 3. Alain Vigneault, 2014-2018
Alain Vigneault coached the Rangers for five seasons leading the team to the Stanley Cup Final in 2014. He coached in 410 games compiling a record of 226-147-37 along with a playoff record of 31-30 in 61 games.
The Rangers made the playoffs in four of Vigneault's five seasons as coach, as he missed the playoffs following the 2017-18 regular season. It was the first time the New York Rangers were not in the playoffs for the past seven years.
Vigneault was one of the more successful coaches in Rangers history, but the team took a downward spiral over his last two seasons. A bad defensive squad, lack of scoring and at times a struggling goalie in Henrik Lundqvist were all pieces of a problem the team could not fix. With a second-round exit in the playoffs last season and missing the postseason all together this year, the Rangers decided to part take in a rebuild and Vigneault was not the coach the organization wanted to lead the team.
Vigneault is third in regular season wins by a Rangers coach with 226, only Lester Patrick and Emile Francis have more wins.
He was fired by the Rangers following the last game of the 2017-18 season, a 5-0 loss to the Philadelphia Flyers.