Olivier Vernon will no longer kneel for the national anthem, but he still spoke out against the NFL's new rules on Saturday.
The most prominent New York Giant who engaged in last season's national anthem demonstrations broke his silence on the NFL's new rules when it comes to pregame procedures. Defensive lineman Olivier Vernon, entering his third year in blue, stated on Saturday evening that he would not kneel during the national anthem prior to games in the 2018 season.
"I'm not trying to get fined, so, no," Vernon said, according to NJ Advance Media's Matt Lombardo.
Vernon was referring to the league's new policy unveiled last month, which will penalize any on-field personnel that kneels during the traditional pregame playing of the national anthem. Players are no longer required to be on the field during the anthem and may remain in the locker room if they wish. Response to the new rules has been mostly negative, and Vernon became one of the critics while partaking in the Landon Collins Celebrity Softball Game in Pomona, NY.
"I mean, you never want to be told what to do, really, especially when it comes to your freedom of speech," Vernon said, per SNY's Ralph Vacchiano. "But it is what it is."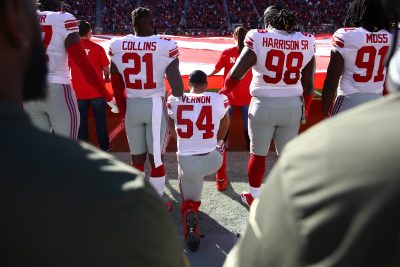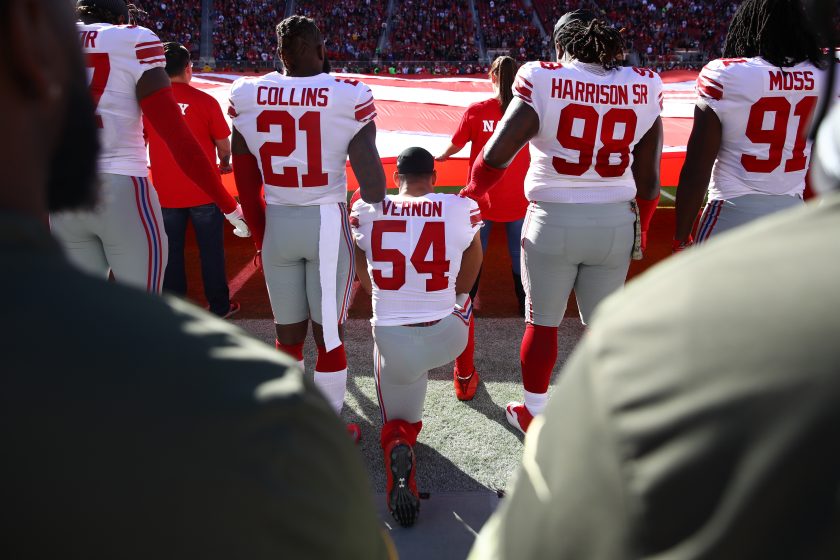 Vernon was one of the many players who joined in protest during the national anthem last season, kneeling to protest racial injustice and police brutality. Some have seen the protests as disrespectful to both the country and the military, including President Donald Trump, who has continually called for kneeling players to be released from their teams. In November, White House director of social media Dan Scavino called out Vernon for kneeling while a United States Army veteran sang the national anthem prior to the Giants' Thanksgiving Day game against the Washington Redskins. Trump responded to the tweet, calling out both Vernon and NFL commissioner Roger Goodell.
While @NFL ratings continue to plummet?…

Not So Thankful: @Giants @OlivierVernon54 Kneels During the National Anthem on Thanksgiving Day (while a Master Sergeant of the United States Army sings) at FedEx Field…https://t.co/wWvkUMiIzc

— Dan Scavino Jr. (@DanScavino) November 24, 2017
Can you believe that the disrespect for our Country, our Flag, our Anthem continues without penalty to the players. The Commissioner has lost control of the hemorrhaging league. Players are the boss! https://t.co/udXP5MR8BC

— Donald J. Trump (@realDonaldTrump) November 24, 2017
The protests were initiated by former San Francisco 49ers quarterback Colin Kaepernick during the 2016 preseason. Currently a free agent, Kaepernick has accused NFL owners of colluding against his signing, essentially blackballing him for his protest. He filed a grievance against the league in November 2017.
Vernon, whose father Lascelles is a retired police officer, began his protest during the third week of the season, two days after Trump, speaking at a political rally in Alabama, urged owners to "get that son of a bitch (referring to a hypothetical kneeling player) off the field right now!" After that first game, a 27-24 loss in Philadelphia, Vernon confirmed that Trump's comments fueled his action.
"[Me and my father] have talked on multiple occasions about what's going on in this country, and he knows it's not right," Vernon said after that game. "So I did what was necessary, and what's fair is fair. If you can protest something that's non-violent and make a stand for something, what's wrong with that? What's wrong with acting on the First Amendment? Freedom of Speech…I don't understand what's the problem with that."
Safety Landon Collins and defensive tackle Damon Harrison likewise knelt prior to the Philadelphia game, but stood for each remaining game. They did, however, stand next to the kneeling Vernon with their hands on his shoulders while the anthem was being played.
"Sports is something that brings this country together," Collins said in September. "White, Black, Hispanic…any color that you are, it brings us together. You look into the crowd, you almost got every race in the crowd. It brings us together, and we fight on together."
Follow Geoff Magliocchetti on TWITTER