Though fullback is a dying position in today's NFL, New York Giants fullback Shane Smith can make a name for himself in Pat Shurmur and Mike Shula's new set.
The New York Giants offense is going to improve in 2018, if only because the previous season couldn't have gone much worse.
Little more needs to be said about the Giants' offensive woes in recent history. For example, it's been two full seasons since they've scored at least 30 points in a game, which makes it nearly impossible to contend in today's NFL, a league that worships fantasy football and jaw-dropping offensive plays.
But, at least on paper, it appears the Giants finally have the weapons to get out of an offensive rut, one that has threatened to end the Eli Manning era on the sourest of notes. Entering his 15th season, the thought of Manning's retirement finally seems real, even if no one in Giants land wants to admit.
But under new management, the team finally has pulled out the stops to make Manning's twilight as comfortable as possible.
No longer does Manning, 37, have to depend on Odell Beckham Jr. to win games. Seemingly trapped in an offensive scheme that relied on short passes and Beckham miracles, the Giants have reinforced their offense with a series of capable playmakers, ones that will take the load off of both the two-time Super Bowl champion and the arguably best receiver in football.
Sterling Shepard, forced to take on a larger role in the wake of injuries last year, returns for his third season, becoming a reliable second option behind Beckham. Sophomore Evan Engram lived up to first-round potential, a rare silver lining in the brutality of 2017. Saquon Barkley, chosen second overall in April's draft, gives the Giants a legitimate running threat for the first time in years.
Capable veterans were added through free agency, like running back Jonathan Stewart and receiver Cody Latimer. To top it all off, the new head coach is none other than noted offensive guru Pat Shurmur, who will be assisted by offensive coordinator Mike Shula, overseer of the Carolina Panthers' Cam Newton-piloted explosives.
The one who could benefit most from this revolution, however, could very well be a running back seeking his first NFL carry. Obviously, the first choice in this regard would be Barkley, but a change of scenery could work wonders for fullback Shane Smith.
Fullback could be classified as a dying position in the modern NFL. Gone are the days of Mike Alstott and Daryl Johnston, as some teams don't even bother to carry one on their roster. That made Smith's task last summer all the more difficult. An undrafted rookie out of San Jose State, Smith was not only a prospect looking to keep an NFL job past the summer, but looking to keep an entire position there.
The Giants had rarely used fullbacks in recent years, normally putting a reserve tight end in as a backfield blocker. Smith, however, prevailed in a tough battle against converted quarterback Jacob Huesman and earned a spot on the Giants' opening day roster.
"When you have a fullback on your roster, that enables you to have an additional personnel grouping that gives some different runs and different passes and that gives the defenses more they have to prepare for," former offensive coordinator Mike Sullivan said last September. "It just gives the defense a few more things they have to prepare for, it gives us a few more options, and the versatility is always going to be to our advantage, so that is something we are excited about."
Once the regular season began, however, Smith saw his snaps limited. The nadir came in Week 3, during the Giants' infamous close loss in Philadelphia. In the second quarter, the Giants went for it on two separate short fourth downs, each in Eagles' territory. Smith was on the field for neither pivotal play, not even one that was situated near the goal line, and the Eagles stuffed potential rushing attempts for the first, en route to a 27-24 win decided by a deep Jake Elliott field goal as time expired.
Smith played a single down in Philadelphia and was waived outright later in the week, though he returned to the active roster seven weeks later, remaining on the practice squad in the interim.
Asked for an explanation, then-head coach Ben McAdoo only said, "We felt we were nicked up at a couple different spots and that's what we felt we had to do for the team."
Smith later formally introduced himself to the New York football scene in December, stopping a Marquette King punt before it ever got off, wrapping the popular punter up for the stop. Smith humorously questioned in the locker room whether his play would go down as a blocked punt or a sack.
Intriguing as his victorious position battle was last year, Smith has no guarantee he'll make it to the regular season again. But if Shula's previous work is anything to go by, this could be a truly prosperous second season.
In charge of a high voltage offense in Carolina, Shula had one of the league's hidden gems in Mike Tolbert, a former Charger that earned a four-year, $10 million deal from none other than current Giants general manager Dave Gettleman. Tolbert had gained a reputation as a scoring back with the San Diego Chargers, to the point characters from the fantasy football-centered television series The League labeled him a "touchdown vulture," taking scores from more prominent halfbacks.
Once he entered Shula's system, Tolbert became an even more well-rounded player, working on his blocking in a Carolina run game that included their versatile thrower Newton. Tolbert wound up appearing in three Pro Bowls, as well as Super Bowl 50, before departing for Buffalo in 2017.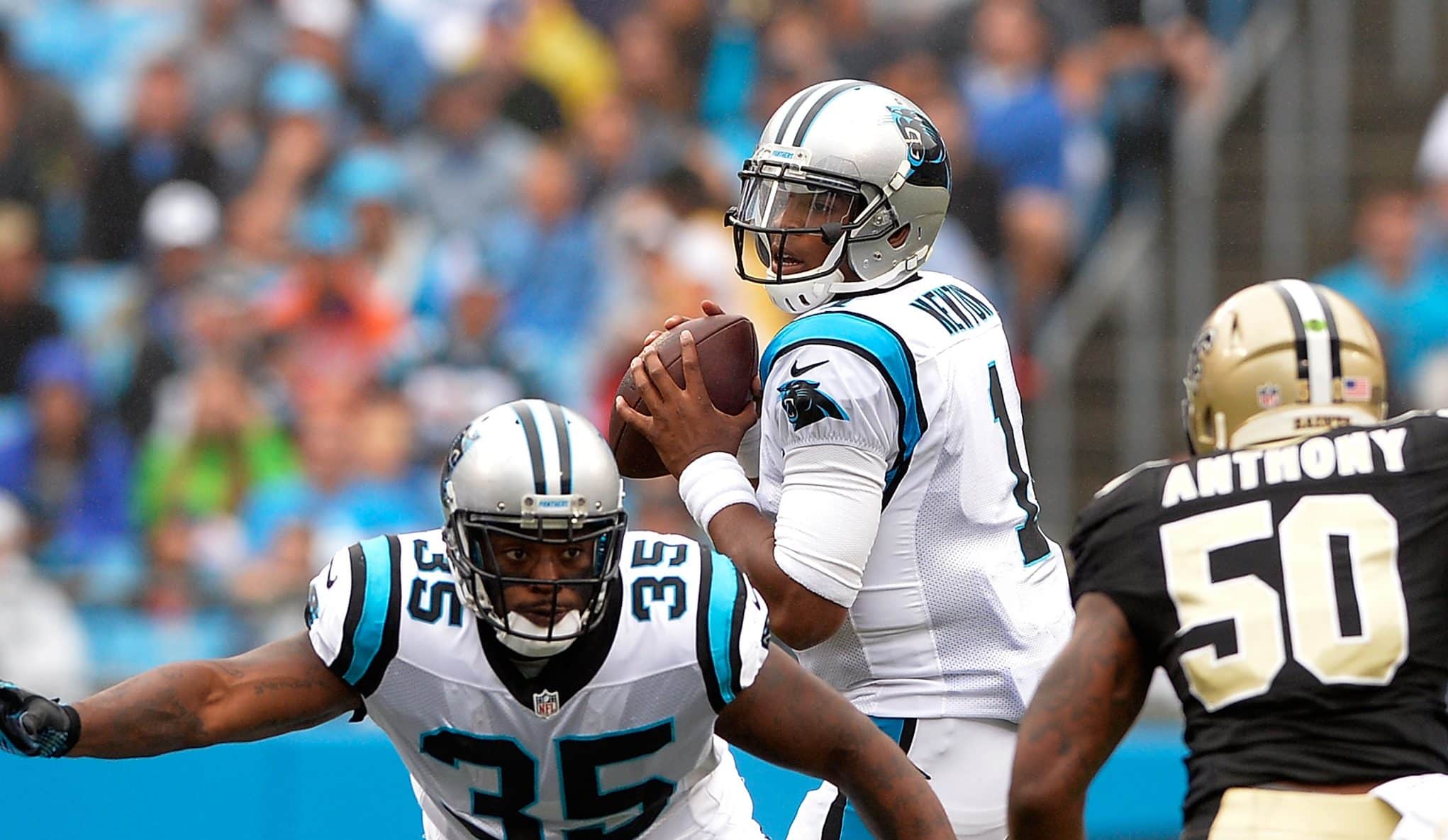 If Smith can become that type of fullback for the Giants, it can open up a whole new avenue of offensive potential, especially for a team who hasn't finished in the upper half of league rushing rankings since 2010.
According to NJ Advance Media's Ryan Dunleavy, the Giants did not use a fullback often during their organized team activities, but Smith took every single snap when they did.
"It's kind of a 50/50 shot: Am I going to get a guy who wants to use a fullback or a guy who is going to save the roster spot and use a tight end?" said Smith, who is still listed as a tight end on the Giants' official roster. "It's up in the air and you cross your fingers. When Shurmur got hired, my agent and I talked and we said it was a great move for me. I'm excited for the future. The future is looking bright."
Smith remarked that the league's juggernaut in New England has had success with a fullback in recent years, citing "tremendous success" with James Develin. The potential behind a big man in the backfield has not been lost on Shurmur.
"I think there are ways that you can use (a fullback) strategically, whether it is the grouping that he is involved in or how you get him the ball," Shurmur said. "When you have a fullback in there you always have the element of seven-man (pass) protection, which is good for the quarterback."
The Giants will wrap up spring activities next week with mandatory minicamp.
Follow Geoff Magliocchetti on TWITTER