Not only do the New York Red Bulls do their job on the field, they are champions off the field pertaining to just how special they consider the community around them. 
As the parent of two children playing youth sports, the two most important things to me has always been that they have fun and that they're safe and not necessarily in that order.
When it comes to soccer, it's important for a community to have enough fields or pitches for children to play on. But you also want to be sure that those spaces are devoid of holes, broken glass, or any other conditions that can cause injuries.
On Wednesday, the New York Red Bulls, Newark Public Schools and the United States Soccer Foundation unveiled a five-year plan that would see 20 mini-soccer courts known as "mini-pitches" built.
The initiative will engage more than 2,500 Newark Students as part of "Soccer for Success", an after-school soccer program from the U.S. Soccer Foundation that delivers positive health and youth development.
"We're thrilled," said Joe Stetson, the Red Bulls' Vice-President of Marketing and Communications. "We're not just building a mini-pitch. We're working with the school system on after-school programs. We're working with the city to develop programming. We have our coaches out there doing programs."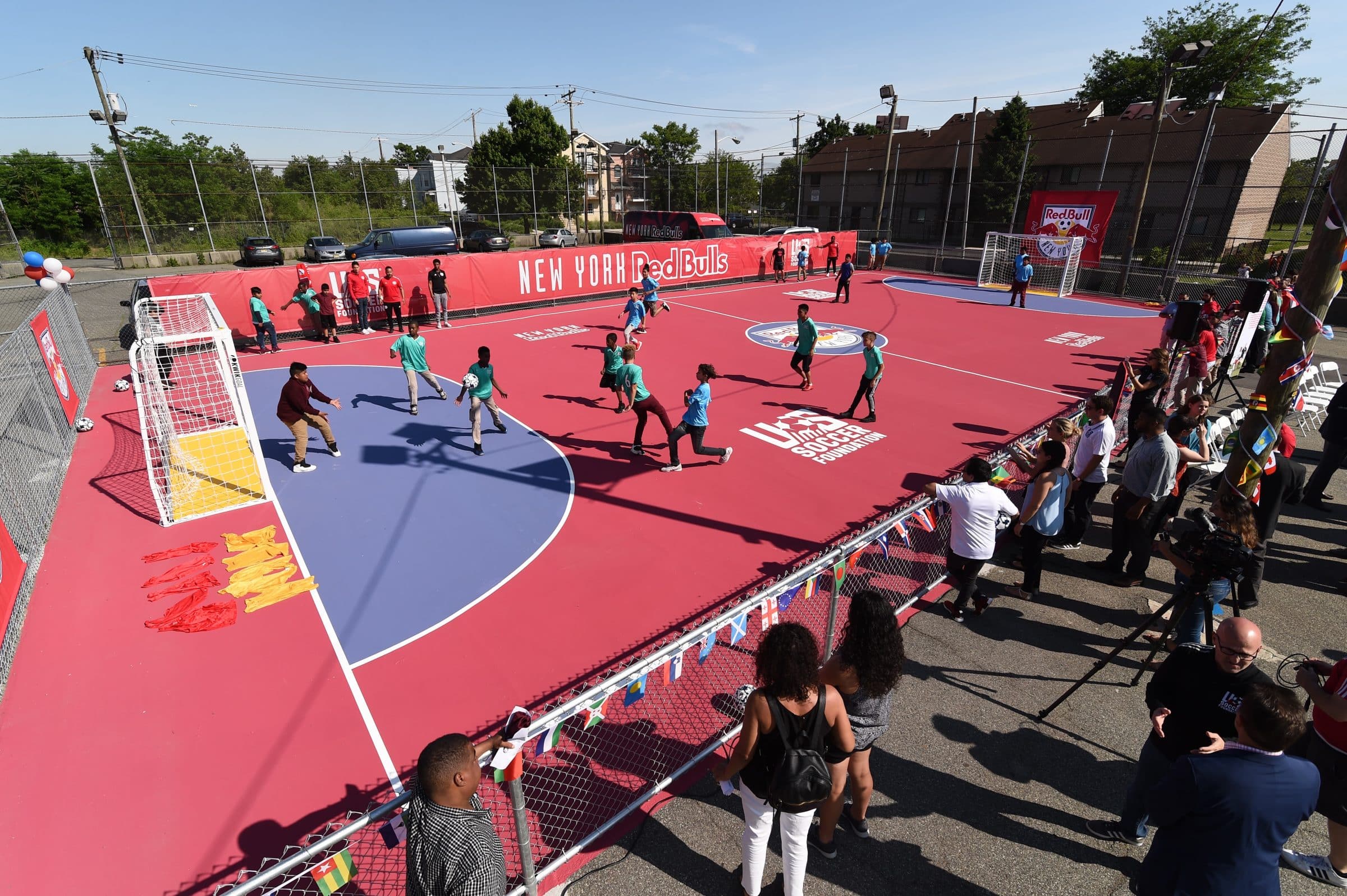 This project combines the efforts of the City of Newark, Newark Public Schools and the Red Bulls in providing kids with a safe place to play in their community while also enjoying the youth development benefits of the sport. With this initiative, more kids in Newark will have the ability to play "The Beautiful Game" on a quality pitch along with a program that has a track record of supporting development on and off the field.
"There is that safe place to play, the physical activity giving kids more reason to be active and to have a pickup space where kids could come together and play a game of soccer," said Stetson. "Soccer is such a great tool to learn about relationship building, about teamwork, about leadership, and about resilience."
Newark now becomes the third municipality in the country, along with New York City and Chicago, to make a major commitment to constructing safe places for kids to play while expanding sports-based youth development programs. The U.S. Soccer Foundation plans on building 1,000 safe places to play and engaging one million children by 2026 as part of it's "Everyone's Game" program.
The latest example of this is in Newark, just a Luis Robles goal kick or a Bradley Wright-Phillips blast from the top of the penalty area away from Red Bull Arena in Harrison.
"Our mission is to make sure that we are engaging in the community through soccer," said Stetson. "This is an opportunity for us to really see that through and really show that we're not just neighbors but that we are part of the community and we care about how you're living."
As the Red Bulls continue their quest to win an MLS Cup, they have also established themselves as a strong part of an emerging community in Harrison. But with this initiative to build 20 mini-pitches just blocks away in Newark, the Red Bulls are showing a commitment to even more of their neighbors and allowing more children to take part in the wonderful sport of soccer.