Denver is shopping their first-round pick to teams willing to take on the salary of Kenneth Faried. With eyes set on the future, the Brooklyn Nets should make an offer.
The 2018 NBA Draft is only weeks away, and teams are performing due diligence by shopping their assets. The Denver Nuggets are a young team looking to compete in the near future, behind franchise cornerstones Jamal Murray, Gary Harris and Nikola Jokic.
The team added All-Star forward Paul Millsap to the fold last offseason and would like to make another splash in free agency this summer. In order to do that, unloading Kenneth Faried's salary is a must.
So, as an incentive, the franchise is reportedly offering their first-round pick to teams willing to take on Faried and his payroll. For a team tackling the challenges of a youth movement, moving up in the draft is an offer you've got to at least entertain.
The Brooklyn Nets have the assets to make a deal work, and General Manager Sean Marks isn't shy about taking on extra salary. A look at incentives for both sides, and the assets it may require.
---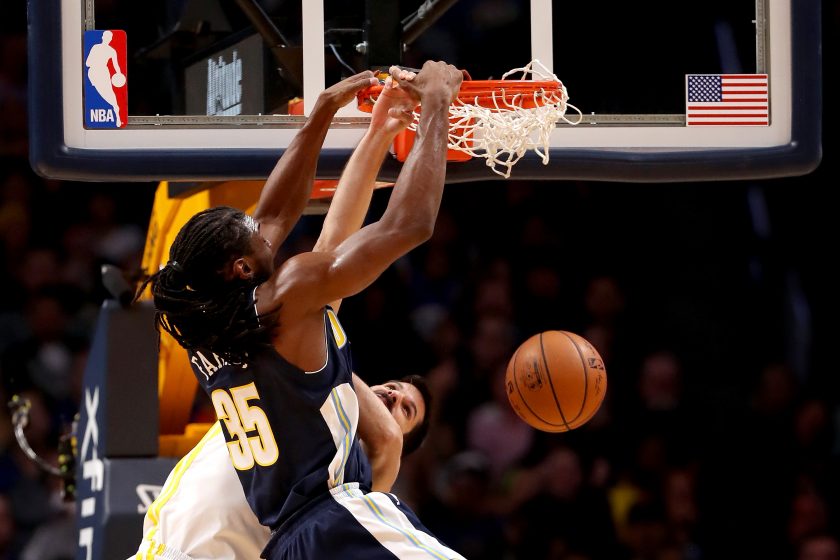 ---
Why Is Denver So Eager To Trade Him?
Faried, though once considered an incredible athlete, played just 32 games last season.
Similar to the case of Denver's Wilson Chandler, the former first-round pick considers himself a starting-caliber player.
Nuggets head coach Michael Malone opted to label him as DNP-Coach's Decision more often than not. To the coaching staff and front office, Denver just plays better basketball without him on the floor.
It's not entirely discrediting him as an individual talent, especially considering the logjam they have at the four and five slots in their lineup. One of his better games came in a win over the Sacramento Kings.
He posted 18 points and 8 rebounds on the night.
With the 14th pick being shopped along with him, it's apparent the front office either thinks that's what'll get him moved to make a deal happen, or there's just no market for Faried as a player.
Cue the Brooklyn Nets.
Why Would Brooklyn Want Kenneth Faried?
Last season, two things held true for the Brooklyn Nets. Defense was their biggest issue, right in front of rim protection.
While last year's first-round pick Jarrett Allen certainly began developing early, he's not yet ready to hold his own against the top NBA centers.
Big men outright bullied the Nets in the paint last season, and they'll need to address that this summer.
Dubbed the Manimal, Faried's 6-8 and near 230-pound frame could certainly prove useful for head coach Kenny Atkinson. Despite his drop-off last season, the six-year veteran averaged three offensive rebounds in his 2016-2017 season.
Aside from being a frontcourt presence, Faried is a seasoned veteran who's been to the postseason twice in his career. He's seen both sides of the spectrum, and no doubt has some knowledge worth sharing to such a young team.
What's it Going to Take to Reach a Deal?
While the Brooklyn front office might be eager to take on the $12-million dollar salary, it's not physically possible at the present time. Joe Harris' upcoming free agency will play a big part in any of the Nets' summer acquisitions.
He broke out of his shell last season and made his way off the bench for 14 of 78 games played. His market value may be just what Faried's salary currently stands, though one could wonder if he'd agree to a sign-and-trade.
Brooklyn has been well to Harris, and if he's looking to issue a thank you, making way for the 14th overall pick seems more than fitting. Should he leave flat out for a better offer, the Nets may look to the bottom of the bench; as they did last summer in trades with Portland and Toronto.
Should Denver have no interest in Harris, veteran wingman DeMarre Carroll could likely generate some interest. He's comfortable playing small forward and is a former teammate of Paul Millsap. He averaged 13.5 points and 6.6 rebounds per game last season with the Nets.
---
The Nets would certainly have to send their own first round pick (29th, via Toronto) in any deal. But that's exactly why this trade makes so much sense.
Denver gets to remain in the first-round while making cap space for free agency. Brooklyn gets to move up in the draft, and address a real concern in the frontcourt with Kenneth Faried.
The current-Denver Nugget makes his way into a starting lineup (TBA), and Joe Harris might even get to play for a contender.
Any questions?