New York Giants defensive lineman Dalvin Tomlinson is loving James Bettcher's new 3-4 offense to the point it's reminding him of those good 'ole Alabama days. 
One of the bright spots for the New York Giants last season was their second-round pick (55th overall) out of Alabama, defensive tackle Dalvin Tomlinson.
He finished the year with 50 tackles and a sack. His season was so impressive that the esteemed Pro Football Focus awarded him the highest grade for a rookie interior lineman.
The highest graded rookie interior defenders from the 2017 season! pic.twitter.com/Pe67EoiqVH

— Pro Football Focus (@PFF) February 14, 2018
Now, under new defensive coordinator James Bettcher and his 3-4 scheme, he'll make the transition to defensive end (which is similar in reality, just not on paper).
Following Tuesday OTA's session, Tomlinson granted us a few minutes to talk about the new 3-4 defense and the additions the Giants have made to their roster. He even gave me his NBA Finals prediction.
Jason Leach: How exciting is James Bettcher's 3-4 scheme?
Dalvin Tomlinson: "It's pretty exciting because I remember sitting down with Bettcher during the combine last year and just talking about the defense and everything and I love the scheme. It reminds me of the Alabama scheme … it's just go! You two gap in some cases but mostly it's all one gap and you're attacking your gap. I guess you can say you have less responsibility but more at the same time … I don't know how to explain it. But it's fun, it's a fun defense."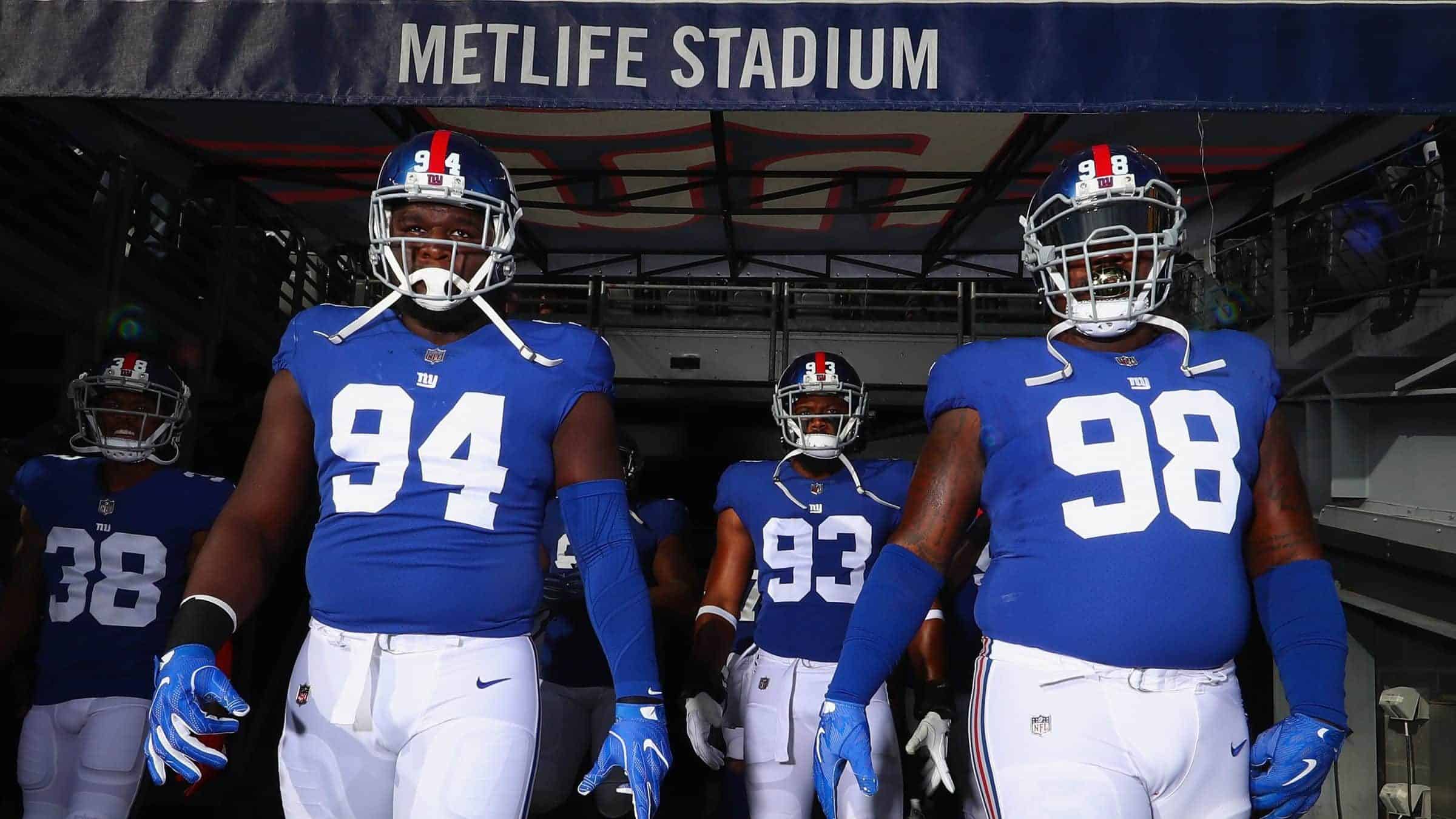 Leach: What do you think of rookie defensive linemen B.J. Hill and RJ McIntosh?
Tomlinson: "Everybody is looking pretty good so far. B.J. Hill is a great technique guy. I'm just tutoring him and help him learn the ins and outs of making the transition from college to the NFL. But B.J. and all of the rookies are looking pretty good out there, just have to get the new plays and the new defense and just make sure they know all the plays and techniques and things we need to do in this versatile defense."
Leach: What's it like going against Will Hernandez and the rest of the O-line despite limited contact during OTAs?
Tomlinson: "Well you know, the contact is limited so all it is right now is pretty much hand placement and stuff but they have a lot of potential. Hernandez has a lot of potential at guard. I feel like he's pretty good right now but the sky is the limit for him."
Leach: You had a great rookie year. How do you build off it, what did you do this offseason perhaps due to the term sophomore slump or whatever, and how do you make sure you avoid that and pick off where you left off?
Tomlinson: "Just pretty much you have to go back and break down the film. Pretty much at the end of the season how you were playing then so that you can pick up at that point and just progress and see the things you really need to improve on. Talk to other people who've seen you play like I can talk to Snacks and say what do you think I need to improve on and the coaches also and just also continue to watch film and get stronger and quicker just so that you can be more versatile in this defense because in  this defense you need quickness also and just to be more explosive off the ball and things like that in that nature and continue to build anyway possible."
Leach: You guys added a lot of depth to the front-seven this offseason. How much do you think that will help you in the fourth quarter in keeping everybody fresh so you can close out games?
Tomlinson: "I feel like it will be better just simply because in the fourth quarter, if you're too fatigued, you can't make those big plays you need to make and we're going to have more fresh legs and have more rotation. So I feel like it's going to help us a lot in the long run just because later on in the season when your body starts to get a little worn down from all the big hits and stuff like that. We'll be more fresher and pretty much almost anybody else would because we have a lot more depth than we did.
Leach: One last question, Warriors or Cavs?
Tomlinson: Ahhh … that's a tough one. I like LeBron and KD. The Warriors look like they're more set to win it, but I feel LeBron is going to pull it out in some crazy way. So I'm going with the Cavs.
Leach: Cavs in seven?
Tomlinson: Cavs in six