The New York Islanders' captain is scheduled to hit free agency at the start of July, but John Tavares is reportedly 'pleased' that Lou Lamoriello has been hired as president of hockey operations.
On July 1, 2017 New York Islander fans officially began holding their breath. That date signified the start of a one-year window in which the team had to sign John Tavares.
Now, it is May 23, 2018, and their franchise player and captain remains without a new deal. That deadline, just five short weeks away, hangs over fans and the Islanders organization like a dark cloud.
Recently, there was what you might call a franchise-altering move on Long Island/in Brooklyn (this two stadium thing is confusing). The team announced that they had hired legendary general manager Lou Lamoriello to become their president of hockey operations.
#Isles News: Lou Lamoriello has been named President of Hockey Operations.

Details: https://t.co/fmsRlhQg2r pic.twitter.com/hQudP4vj2Z

— New York Islanders (@NYIslanders) May 22, 2018
Elliotte Friedman of SportsNet reported that even before the hiring was officially announced to the public, Lamoriello had already spoken to Tavares, face-to-face in New York a week ago.
Darren Dreger of TSN was on 'Leafs Lunch' on Toronto's TSN 1050 yesterday and thinks that Lamoriello joining the organization drastically changes things for the better:
"I think this pushes the possibility, the percentage of Tavares staying with the Islanders, to at least 50-50 – to at least 50-50. Because there'd be a healthy amount of respect from John Tavares to Lou Lamoriello." (quote transcribed by Chris Nichols of FRS Hockey)
Andrew Gross of Newsday reported that Tavares was 'pleased' after hearing about the addition of Lamoriello according to a league source.
In the story, the league source also says that there was a "convergence there" in reference to what both Lamoriello and Tavares are trying to accomplish.
The 2009 first overall pick has done everything he could possibly do to win since being drafted. In 669 regular-season games, the 27-year-old has 272 goals and 621 points including 27 goals and 85 points this past season.
In the playoffs, Tavares has only been as far as the second-round but he had to put the team on his back to get there. In 2016, he single-handedly propelled the Islanders to their first playoff series win in 23 years with a dominant performance over the Florida Panthers. In the eventual series-clinching game, Tavares came up with the tying goal in the final minute and scored the double-overtime winner to get the Isles over the hump.
His 24 playoff games prove that when the stakes rise, so does his game. He's got 11 goals and 22 points over those games including four game-winning goals, two of which have been overtime winners.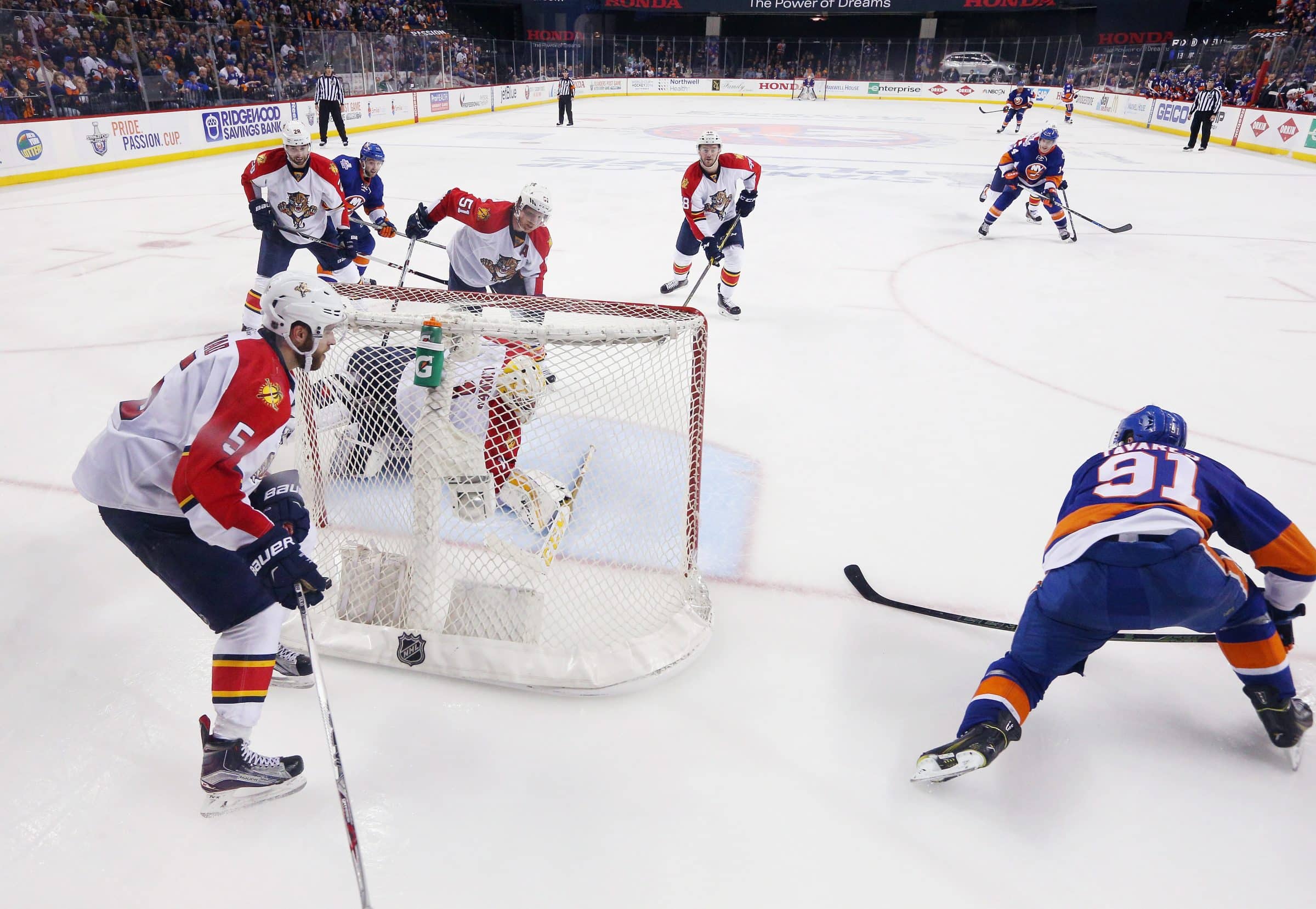 However, the Islanders management has done a terrible job building around him. In the nine years he has been onboard, and the 12 years that Garth Snow has been GM, there have blatant issues that have been left to play themselves out.
Judging by one playoff series win in what is now 25 years, only three playoff appearances in the nine seasons Tavares has been with the team, and a failure to qualify for the postseason in the past two, this never-ending 'rebuild' has been a complete disaster.
Last year, for example, the Islanders were free-falling near the trade deadline. The offense was there but the defense and goaltending were abysmal. The team was only a few points out of a playoff spot at the time but Snow elected to make two depth moves rather push for a playoff spot with a criminally underpaid top-six group of forwards and their franchise player in his contract year.
The issues didn't fix themselves, in fact, they got worse, and the Isles finished in the bottom 10 rather a playoff spot or at least a few points out of one.
Now there's a new sheriff in town and that sheriff has the reputation for making moves as he sees fit. As Lamoriello said when on air with Mike Francesa on WFAN yesterday, "Whatever decisions that have to be made, are going to have to be made. The objective is to win."
If winning is the goal – as it, of course, should be – there will be several moves that have to be made. The Islanders, as previously mentioned, desperately need help on defense.
Johnny Boychuk isn't getting any younger and hasn't played a full 82 games once in his career (72, 70, 66, 58 in four seasons with the Isles). Calvin de Haan has become more and more reliable in the past few seasons but the fear is that the pending unrestricted free agent will test free agency if the Isles don't give what he feels he deserves. Thomas Hickey is another regular in the lineup that is a UFA and in need of a new deal.
Whether those two return or not, the Islanders still need a shutdown, stay-at-home defenseman or two to complement the offensive talents of guys like Nick Leddy and Ryan Pulock.
In goal, the situation is unclear. Thomas Greiss still has two more years left on the three-year deal he signed in January 2017 but both Jaroslav Halak and Christopher Gibson are UFAs. All signs point to goaltending prospect Linus Söderström coming over to North America from the SHL but no one knows if he will be joining the Islanders' AHL affiliate, the Bridgeport Sound Tigers, or the big club.
The free agent market will be weak in terms of goaltenders available. Carter Hutton of the St. Louis Blues stands out but if the team wants to improve in that position, via trade seems the most likely and logical way.
In the 12 years that Snow was in charge, you can argue they never had a true number one goaltender so that would be a huge addition to the roster.
The Islanders have an excessive amount of money and terms tied up to players who play nowhere near their cost. Andrew Ladd, for example, hit free agency as a veteran who was clearly past his prime. What did the Isles do? They signed him to a seven-year deal worth $38.5 million that already looks bad two seasons in.
Boychuk signed a seven-year deal that's three seasons in and although his decline was expected, the 34-year-old is making $6 million annually with a no-movement clause that will transition into a modified no-trade clause next season (via CapFriendly).
Cal Clutterbuck is only a year into his five-year deal that pays him $3.5 million annually. That's a hefty price to pay for a fourth-liner with 13 goals over the past two seasons.
However, there are ways to fix these issues. The Islanders have eight picks in this year's NHL Entry Draft including the 11th and 12th overall selections and two second-round picks.
To make some immediate improvements, the Isles will likely need to part with at least one of the first-round picks if not both.
It's a great sign that Tavares and Lamoriello are already talking. Of all these problems with the Islanders and their roster, none are even close to the number one priority, re-signing Tavares. However, Lamoriello knows what it takes to win and with or without Tavares, he's going to do his best to do just that with his newest club.