One year after failing to sign Otto Porter Jr. in restricted free agency, could the Brooklyn Nets make another stab at the young forward?
General Manager of the Brooklyn Nets Sean Marks had his eyes set on restricted free agent Otto Porter Jr. from the jump last summer. So it was to no one's surprise when the 24-year old forward signed a four-year offer sheet from Brooklyn on July 6.
However, Washington struck out in free agency and had no choice but to match the offer. One year later, after a first-round exit in the playoffs, the Wizards are back at the drawing board. Could they be persuaded into a trade that lands Porter in Brooklyn?
Brooklyn's season failed to meet the anticipation held at the end of summer. Injuries took a toll, and late-game defensive lapses became a regular routine. The Nets finished as the Eastern Conference's 12th seed, with a 28-54 record.
So the youth movement continues; this summer in free agency, the trade market, and the ever-approaching 2018 NBA Draft.
The idea surrounding an Otto Porter trade stems from a previous restricted free agent pursuit. An offer sheet signed in 2016, by then-Portland guard Allen Crabbe.
A sixth-man for the Trailblazers, Crabbe signed a four-year/$75-million offer sheet from Brooklyn, that was eventually matched. One year later Brooklyn traded center Andrew Nicholson to Portland in exchange for the guard.
Could history repeat itself? After just one year on his new deal, could Porter be traded to Brooklyn for a win-now veteran? A look at what could motivate both sides to reach a deal.
---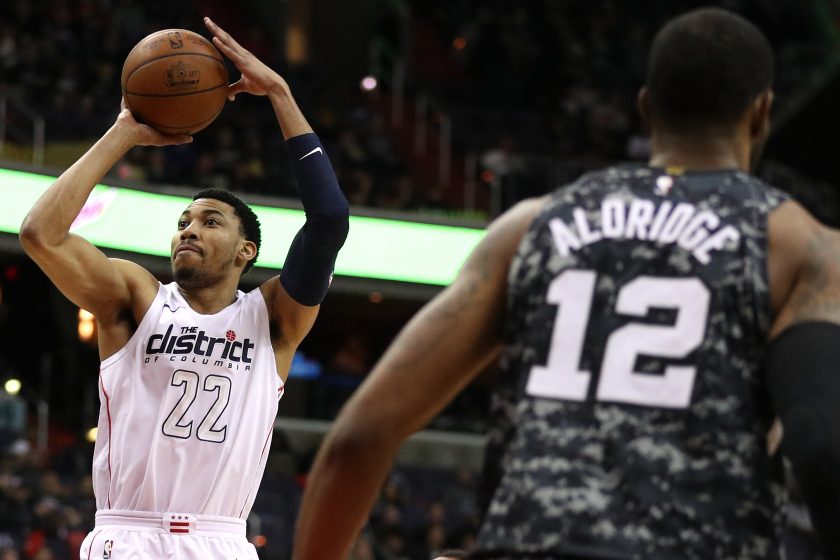 ---
The Washington Wizards reached the Eastern Conference playoffs for the second straight season and fourth of the last five in 2018.
Lead by star backcourt John Wall and Bradley Beal, Washington has consistently stacked up with, but not surpassed, the better teams in the East and NBA overall.
Porter had a quietly efficient and improved fifth year but failed to positively impact the Wizards series with the Raptors. Over the six-game series, he averaged just 10 points per game.
A disappointing end to an otherwise impressive season. He reached career-highs in points per game, assists per game, and shooting from the three-point line. With plans to make yet another run at capturing the Eastern Conference, it wouldn't surprise to see Washington explore options ahead of next season.
There are two veteran wings on Brooklyn's roster who will stir some trade interest.
DeMarre Carroll was traded to Brooklyn in a package that included a first-round pick and was initially labeled a salary dump. He ended up finishing the year with career-highs in points (13.5), rebounds (6.6), and assists per game (2).
Carroll's no stranger to playoff basketball, and was a key contributor in the Atlanta Hawks' Eastern Conference Finals run in 2015.
Allen Crabbe's season didn't see similar success, but he still managed to score a career-high 13.2 points per game. He can create his own shot off the dribble, and shot 44 percent from behind-the-arc in 2016.
Crabbe would be a more than compatible piece for John Wall, who consistently feeds his teammates with flashy no-look dimes.
Beyond help on the wing, Washington has had a need for depth at the point guard position since their drafting Wall in 2010.
In Brooklyn, Spencer Dinwiddie saw a breakout season behind the injury that forced D'Angelo Russell out for 33 games. He ended the year averaging 12.6 points and 6.6 assists per game. And, with one-year left on his contract, and for only $1.6 million, he's arguably the best bargain backup on the market.
Dinwiddie would be a great fit to get the second unit moving and provide a scoring boost off the bench.
Unless the Washington Wizards are ready to move on from the John Wall era (they're not), they need to continue building this team around him.
For a win-now basketball team, already established veterans should be the focus, while developing youthful prospects should be their next-to-last priority.
Following their first-round exit, Wall was very vocal about his discontent with the team's effort. Check this quote, provided by AJ Neuharth-Keusch of USA Today.
"I'm the guy that has to be the leader of the team, that has to get everybody better. … But at the same time, if I'm doing my part, the other 14 guys on my team have to do their part at getting better every year. Just being true to the team. I think our problem we have a lot of times is guys don't understand their role and respect their role."
Not the most uplifting word from your franchise star, let alone a guard that just signed a four-year/$170-million dollar extension.
Similar to the Cavaliers need to keep LeBron James in high spirits, the Wizards need to continue assuring Wall that they are willing to shift the team around him.
For Brooklyn, adding another established youth to the rebuild will happen one way or another, and we know Sean Marks has already taken a liking to Otto Porter.
The Washington forward averaged 14.7 points, 6.4 rebounds, and 44 percent from behind the arc last season. He played 77 of 82 games, and notched a season-high 29 points against the Golden State Warriors, twice.
A trade with Washington would almost complete a talented and young roster that includes: Caris LeVert, Rondae Hollis-Jefferson, and Jarrett Allen.
That's a team that could become very fun to watch, under the developmental expertise of head coach Kenny Atkinson.
However, should the price ever elevate to include one of the Nets' youth core or future draft picks, it should be an automatic no from Sean Marks.
Brooklyn has come a long way from the infamous Celtics trade of 2013, and that would be an apparent step in the wrong direction.
---
In theory, a potential deal for Otto Porter makes almost too much sense for both the Washington Wizards and Brooklyn Nets.
Washington needs to continue adding veteran talent that's ready to contribute come the postseason, and maintain depth at the point guard position.
Brooklyn was already prepared to pay Porter's salary last season, and this way can cash in on the assets they opted for once the Wizards matched their offer sheet. Otto Porter would make for a great, and near final addition to Brooklyn's rebuild.