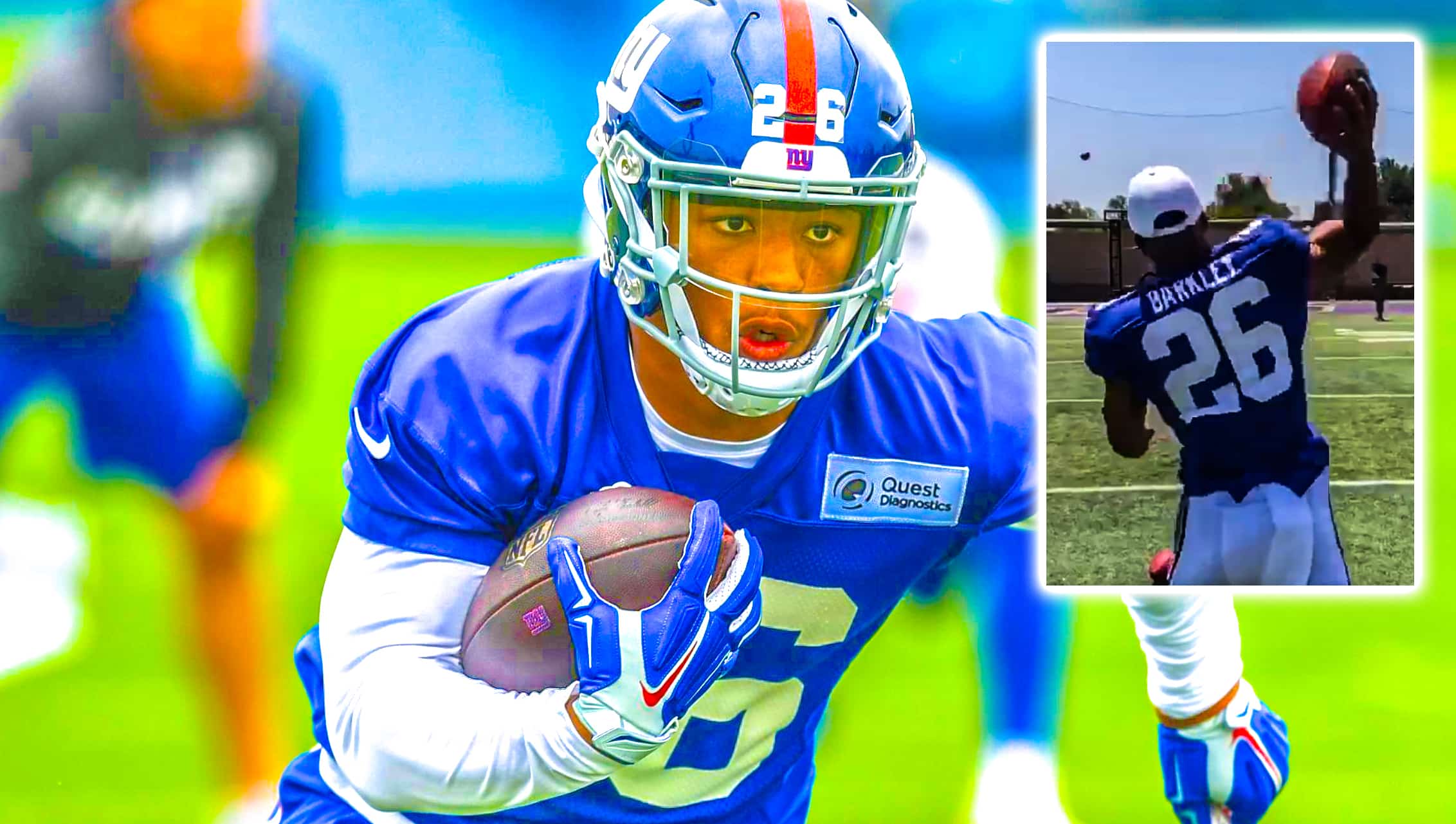 Saquon Barkley and Kyle Lauletta represented the New York Giants at the NFLPA Rookie Premiere in Beverly Hills this weekend, but it was hard to tell the two apart thanks to a viral video.
It appears the New York Giants drafted a first-round quarterback last month, after all.
The NFL Players Association gathered 40 rookies in Beverly Hills on Saturday to don their NFL gamepads for the first time, part of the NFL Rookie Premiere showcase. Running back Saquon Barkley (first round pick) and quarterback Kyle Lauletta (fourth-round pick) were on hand to represent the Giants, and Barkley gave future defensive opponents one more thing to worry about this fall.
The event's top sponsor, the association's exclusive trading card licensee Panini America, shared a particularly awe-inspiring highlight on social media featuring the new running back. Barkley, clad in his new Giants jersey, tossing footballs at a passing target.
Launching alongside fellow first-rounder Lamar Jackson, the Heisman-winning quarterback chosen by the Baltimore Ravens, the Penn State alum threw a perfect spiral about 30 yards downfield, perfectly hitting the target.
When in doubt, the @Giants can handoff to @saquon . . . or let him throw. ? #WhoDoYouCollect #RookiePremiere pic.twitter.com/NktczhpKWa

— Panini America (@PaniniAmerica) May 19, 2018
The on-field events were held at William Rolland Stadium, home of California Lutheran of the NAIA.
Barkley likewise showcased his feet for another sponsor, as sportswear company Fanatics whetted the appetites of Giants fans everywhere, featuring Barkley juking in full New York regalia.
Juke ⬅️. Juke ➡️. We think new @Giants RB @saquon knows what he's doing ? pic.twitter.com/EuS3EeZZz7

— Fanatics (@Fanatics) May 19, 2018
Lauletta shared a photo on his own account, posting his first NFL trading card courtesy of Panini.
Finally got to suit up in my @Giants gear at the NFL #RookiePremiere and it feels awesome. Go check out my #PaniniInstant card https://t.co/SrzQM4NTxz pic.twitter.com/ieR9dX2yX4

— Kyle Lauletta (@kylelauletta) May 19, 2018
Those still mesmerized by Barkley's aerial skills will get another chance to see them on May 29, as Barkley, a Bronx native, is slated to throw out the ceremonial first pitch at Yankee Stadium, prior to the Yankees' showdown with the Houston Astros. He is likewise scheduled to throw out the first pitch at a New York Mets game, the date to be determined.
Meant to showcase the new talents to league partners and media, the Premiere has been held annually since 1994 and invites the rookies deemed most "marketable" by the NFLPA. The event also is meant to serve as an educational business event for the newcomers, a chance to encounter the league's top business partners.
"NFLPA Rookie Premiere is the best opportunity for our partners to engage early on with the next wave of marketable young stars entering the league," NFL Players Inc. President Ahmad Nassar said in a statement on the NFLPA website. "Beyond providing a platform to learn about the business of football and benefits of their union as they plan for their new careers, Rookie Premiere allows players to showcase their personalities so that we can use that insight to connect the right players with the right brands to advance their stories and campaigns."
Barkley and Lauletta will hit the field with the rest of their new Giants teammates for their first organized team activity on Monday.
Follow Geoff Magliocchetti on TWITTER