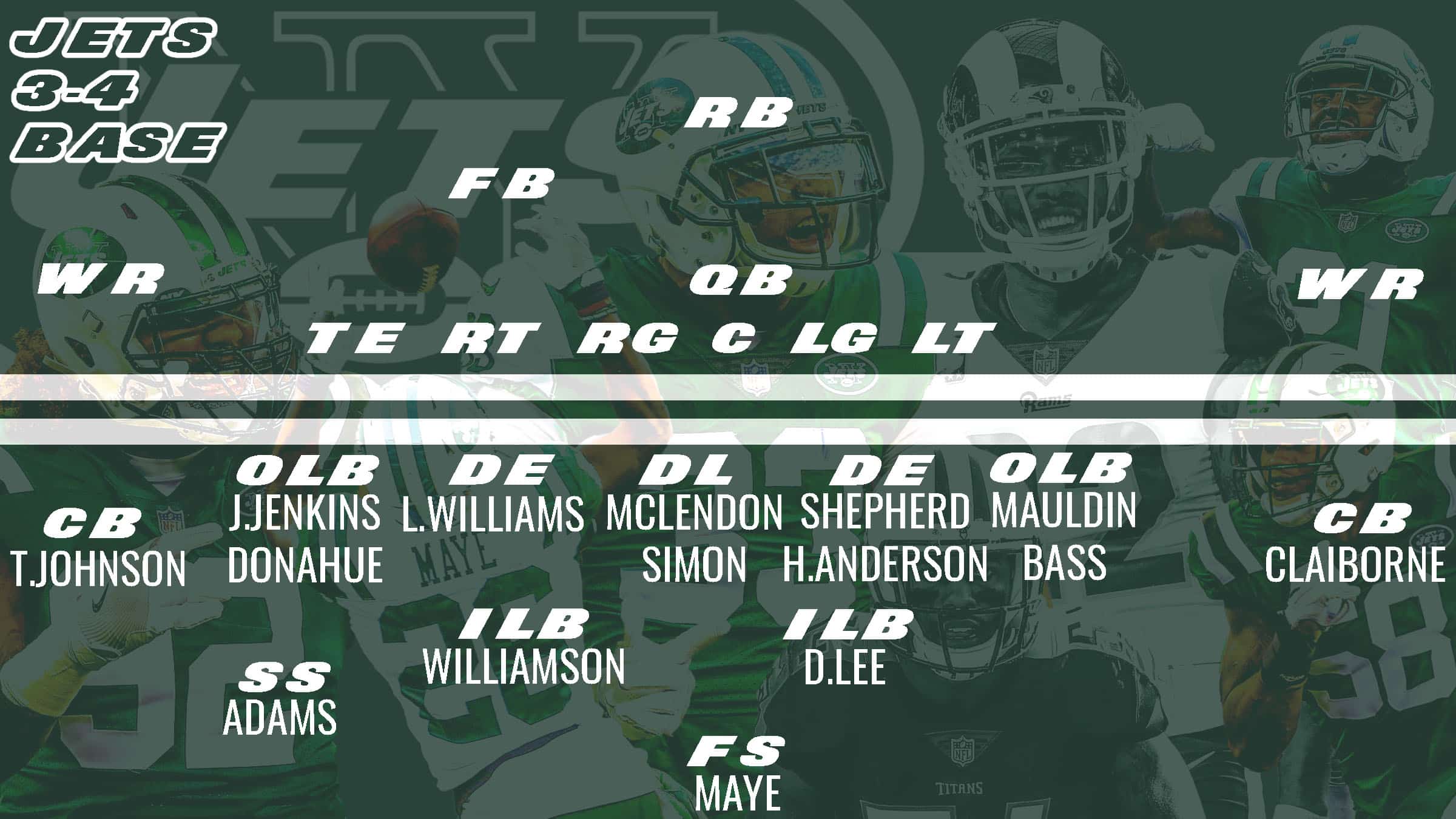 Jets 3-4 Base Defense
We first start with the standard base defense and in Todd Bowles' world, it's the aggressive and attacking 3-4.
Don't be fooled. While this is the defense you see your names populate the starting lineup on Sunday afternoon via CBS and FOX, it's neither the most critical nor most used. That distinction is for the defenses facing the 11 personnel (3 WR, 1 TE, 1 RB).
Either way, check out the base above. Of course, the fatal flaw is the edge. We already mentioned it as the desperate missing piece and will remain that way throughout. However, the Jets top guy, Jordan Jenkins, is actually best when playing out of the base.
The 23-year-old two-year pro is an excellent edge-setter and run defender from his strong-side outside backer spot. The weakside edge with Lorenzo Mauldin is the area of great concern via the rushing attack.
In the middle, it's stout. Steve McLendon and Leonard Williams account for 66 percent of the interior line and do a terrific job. The last spot is still up in the air as Nathan Shepherd, if he turns out as the real deal, can make everybody forget about the lost causes named Sheldon Richardson and Muhammad Wilkerson in a hurry.
The second-level is also stout. It's not NFL top-shelf, but it's banging on the door. Of course, the four-man secondary is excellent.
When looking at the names above, what more would any defensive mind want (other than the two edge spots)? Two really good corners, two really stoud inside linebackers, a star defensive lineman with plenty of depth, a superstar safety with another excellent centerfielder—the elements are save for the missing element.
Overall 3-4 Base Grade: A-