Former Dallas Cowboys wide receiver and current NFL free agent, Dez Bryant, is still holding out hope to sign with the New York Giants for the 2018 season.
Dez Bryant has made it clear in the past month since being released by the Dallas Cowboys that he would love to sign with a rival of his former team in the NFC East.
The team that Bryant has had his sights set on signing with has been the New York Giants, even though the Giants aren't interested in signing him as NFL Network's Ian Rapoport reported last month, per Chris Wesseling of NFL.com.
That said, Bryant is still holding out hope to sign with the G-Men according to Jane Slater of the NFL Network.
"I think he's holding out to see if New York happens to have a need come training camp," Slater said Thursday on The NFL Network. "I have to tell you that selfishly, I'd like to see Dez in this division. Covering the Cowboys as much as I do, because I think that he'd make a matchup that's already entertaining now that we have Saquon Barkley and Ezekiel Elliott, now adding Dez Bryant, and I think you have a very interesting division."
The Giants are in need of a big and physical possession type of wide receiver on the outside to compliment Odell Beckham Jr. on the other side of the formation and wideout Sterling Shepard in the slot.
Big Blue thought Brandon Marshall could be that receiver for them last season, but injuries curtailed Marshall's season to only five games played in 2017 and after not passing a physical this offseason, the Giants decided to cut the veteran wide receiver.
Even though the Giants and general manager Dave Gettleman seem to be not interested in pulling the trigger to sign Bryant, Big Blue players have recently spoken out about publicly, trying to persuade the team to look into signing Bryant.
Giants cornerback Janoris Jenkins tweeted out a statement earlier this week to encourage the Giants to sign Bryant because of how much it would make the team better this season.
Gone give us Dez for one year and watch how we become even more scary

— JackRabbit2.0 (@JjenkzLockdown) May 14, 2018
The market for Bryant has been cold, to say the least. Bryant did receive a multi-year offer from the Baltimore Ravens, but turned it down and instead wants to play under a one-year "prove it" deal this season in efforts to help him get a bigger deal next offseason.
Bryant told 247sports.com's Mike Fisher before the 2018 NFL Draft that it's not about the money for him. That he wants to win and that he feels the Giants are one team that can win next season with him.
"It won't be about the money," Bryant told Fisher. "I'm just wanting to win. I want to go somewhere, I'm not going to lie. Our division, New York, they got a hell of a defense, OBJ coming back, Sterling Shepard, that'd be crazy. Crazy. Football means everything to me. Dallas winning the championship means everything to me. I come from nothing, so I'm not going to jeopardize how I feel about football or about winning. Football gave me life. Gave my family life."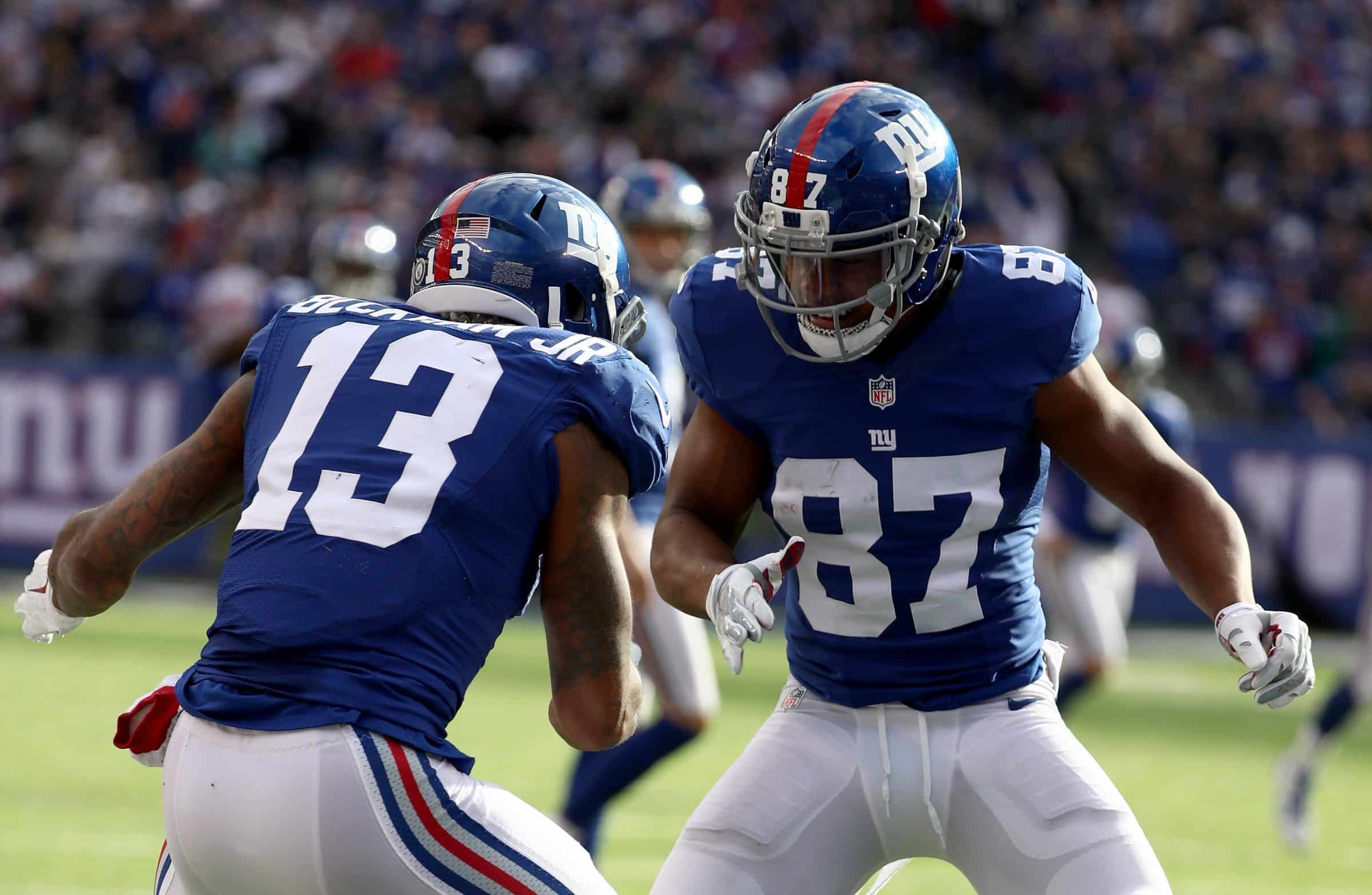 Last season Bryant had 69 receptions, 838 yards receiving and six touchdowns for the Cowboys. It was the most catches and receiving yards he's had in the last three seasons, but nothing close to what he averaged from 2012-2014. In those three seasons, Bryant averaged 91 catches, over 13 touchdowns receptions and had over 1,300 yards receiving.
Even with the significant drop off of play over the last couple of seasons, Bryant at 29 years old still has a chance to be a good wide receiver in the NFL.
If he stays healthy, limits the drops and is not a problem in the locker room, Bryant can help a team like the Giants win.
Bryant and Beckham on the outside, along with Shepard and tight end Evan Engram in the middle of the field, would give the Giants and quarterback Eli Manning a lot of weapons to work with. Not to mention now with Saquon Barkley in the backfield at running back, the Giants would be loaded at the skill positions on offense and have guys across the board that could be big-time playmakers for them.
Right now, the Giants top four wide receivers on the team are Beckham, Shepard, Roger Lewis and Cody Latimer, the former Denver Broncos wide receiver the team signed in free agency.
Follow Steve Bassin on TWITTER