Third-round draft picks Lorenzo Carter and B.J. Hill will play huge roles for the New York Giants in 2018 and beyond—and make Big Blue forget about past mistakes.
The New York Giants believe they got two steals in the third round of the 2018 NFL Draft when they selected linebacker Lorenzo Carter 66th overall and defensive tackle B.J. Hill 69th overall.
Both played four years in college, which will make the transition from the amateur ranks to the NFL easier.
During his career at Georgia, the 6-foot 5, 250-pound Carter recorded 166 tackles, 14 sacks, forced six fumbles, and scored a defensive touchdown.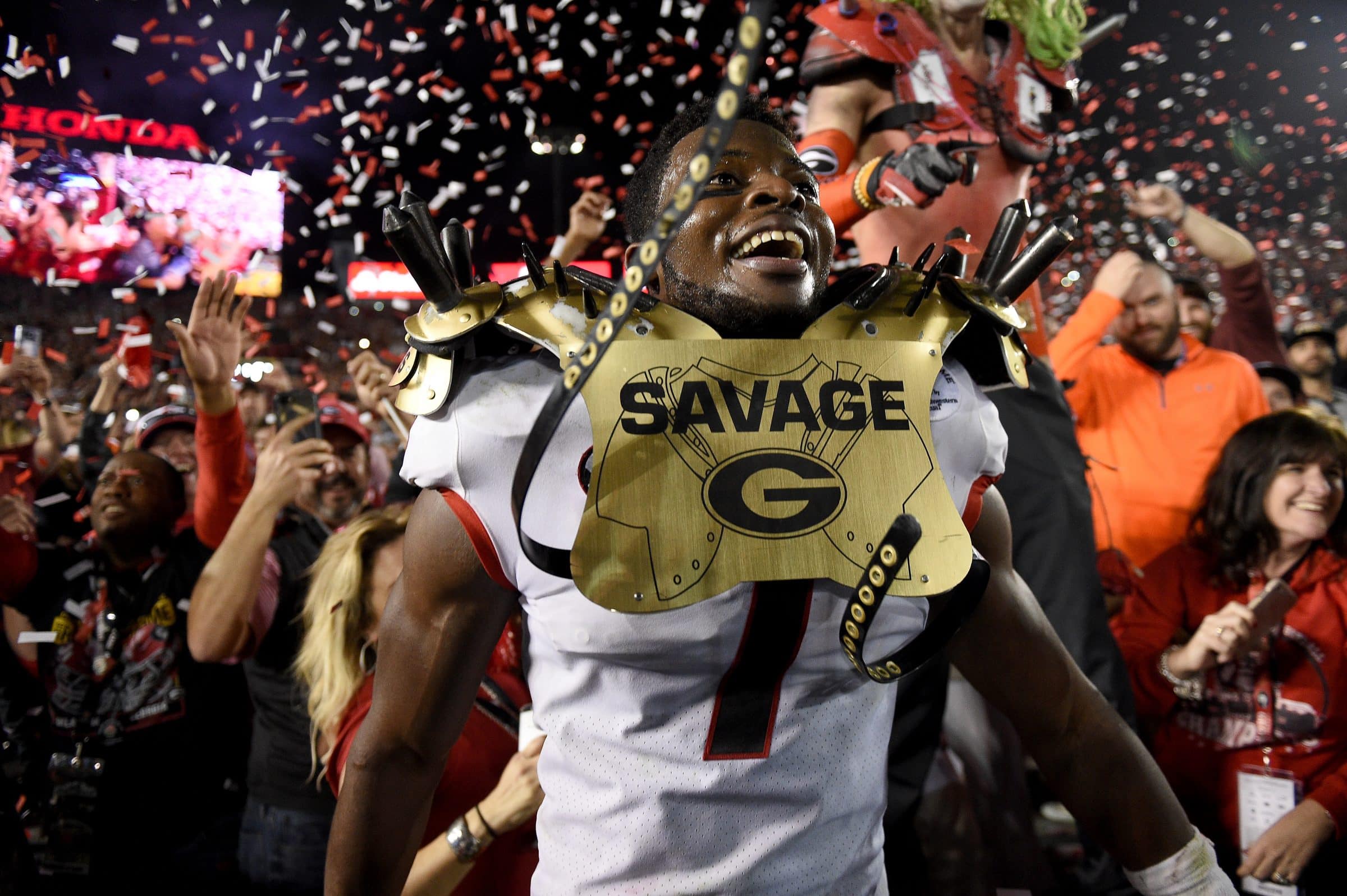 Meanwhile, the 6 foot-3, 311-pound Hill recorded 183 tackles, 23 ½ tackles for a loss and had eight sacks in his four years at North Carolina State.
Third-round draft picks are vital to a team's success as you expect them to be a starter as a rookie, or at the very least to be a major contributor during the season. The Giants are confident that they have this in their two third-round picks.
Carter is expected to start at one of the outside linebacker positions in defensive coordinator James Bettcher's 3-4 defense, while Hill will see significant playing time on the defensive line.
If Carter and Hill have successful rookie seasons, it will be a huge contrast to what the Giants have gotten out of their third-round picks in recent history. In fact, you have to go back to 2008 when the Giants selected Michigan wide receiver Mario Manningham in the third round (95th overall) to find a player that has made a major contribution to the team.
Here's a look at the Giants' third-round picks (and their stats with Big Blue) since they took Manningham.
2009: Ramses Barden, WR (85th overall): 29 receptions, 394 yards, zero touchdowns
2009: Travis Beckum, TE (100th overall): 26 receptions, 264 yards, three touchdowns
2010: Didn't have a third-round pick
2011: Jerrel Jernigan, WR (83rd overall): 38 receptions, 391 yards, two touchdowns
2012: Jayron Hosley, CB: (94th overall): 90 tackles, two interceptions, one forced fumble
2013: Damontre Moore, DE: (81st overall): 43 tackles, five and a half sacks, two forced fumbles
2014: Jay Bromley, DT (74th overall): 76 tackles, two sacks
2015: Owamagbe Odighizuwa, DE (74th overall): four tackles, one pass defended
2016: Darian Thompson, S (71st overall): 82 tackles, one interception
2017: Davis Webb, QB (87th overall): hasn't played a single down
The jury is still out on how the careers of Thompson and Webb will pan out. But as you can see, the Giants have gotten little out of their third-round picks over the last nine years.
The lack of production from their third-round picks is one of the reasons the Giants have missed the playoffs in five of the last six seasons, and why general manager Jerry Reese was fired in December.
But new general manager Dave Gettleman is confident that Carter and Hill will break the trend of futility the Giants have had with their third round draft picks, especially under Bettcher's watchful eye and in his defensive system.
During his conference call shortly after being drafted, Carter spoke about how he can fit the Giants defensive system.
"I feel like I can fit into a lot of systems, especially being at Georgia, doing the things I did. I did some of everything. It wasn't comfortable at first, it wasn't what I really wanted to do, I wanted to pass rush. But being in that system, getting a chance to put my foot in the water, do a little bit of everything everywhere, I'm comfortable everywhere now. So, I'm comfortable in any defense. I'm just looking forward to getting there and getting a playbook."
During the team's rookie minicamp, Hill spoke about how his versatility can help the team.
"It's been great just coming here and competing with some guys, just learning the defense and doing my job. It's not hard because I have been kind of doing the same thing, same defense I had in college, so it's not bad at all."
.@BJHill5 discusses his position versatility and how excited he is to be at #NYGiants rookie minicamp! pic.twitter.com/sKjqoCX4j4

— New York Giants (@Giants) May 12, 2018
It's never a guarantee that a top college player will turn into a dominant player in the NFL. But the talent and upside of Carter and Hill are so great, this is one of the reasons we gave the Giants draft class an A-minus.
If Carter, Hill and the rest of the Giants draft class can play up to expectations, then they stand a good chance of not only making it back to the postseason in 2018—but returning to the land of perennial contenders.