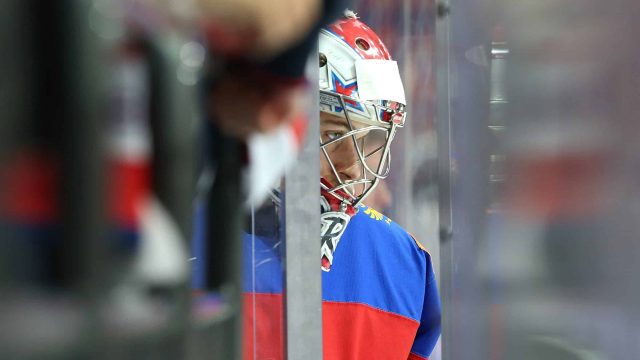 The New York Islanders need Russian goaltender Ilya Sorokin far more than he needs them. That's a problem.
Vadim Shipachyov, the former Vegas Golden Knights center who, last November, retired from the National Hockey League at age 30, has a message. It's going to make the New York Islanders' quest to get Ilya Sorokin to come to North America so much more difficult.
For Shipachyov wants his countrymen to think twice — scratch that, 10 times — before taking their talents overseas.
"Now I know that Russian players should think 10 times before leaving for abroad," the Cherepovets native told SKA St. Petersburg's website. "It's different from what the clubs and agents tell you."
Shipachyov is referring to his unsuccessful stint in the United States. Once a point-per-game scorer in the Kontinental Hockey League, Shipachyov couldn't live up to his lofty expectations with the expansion Golden Knights. After bouncing around between the Chicago Wolves of the AHL and the NHL's Knights, Shipachyov decided to retire, prematurely, in just his second month overseas.
In a candid interview, he faults misleading agents and front office personnel as the reason he wasn't a successful force at the game's highest level. "Face to face I was told one thing," he said. "But when it came to hockey, the story changed."
Just another reason for Russian players to be leery of the National Hockey League.
Top Kontinental Hockey League prospects, including Sorokin, might not listen to Shipachyov's argument, but that is beside the point. Over the last few years, a number of defects have pointedly argued against coming to the NHL.
It appears to be having an effect.
Sorokin, on Friday, told Sport-Express hockey writer Igor Eronko: "Sure, someday I would be proud to be a part of NY rivalry." But, speaking through his Russian agent, Sorokin stressed that he doesn't want to sign with New York while Garth Snow is still the general manager.
This certainly complicates things. For the past few months, the prevailing theory has been that Sorokin remains in Russia because of money concerns. This is definitely an issue. Sorokin is CSKA Moscow's highest-paid player, and the KHL is notorious for its lack of income tax. Coming over to North America would require a sizeable financial sacrifice.
Sure, Mikko Koskinen signed with the Oilers (one-year, $2.5 million) and Pavel Francouz signed with the Avalanche last month.
But that misses the point. Sorokin is also suspicious of the NHL's bureaucracy — namely, Garth Snow — which has directly affected his decision to take his talents to the Borough of Trees. In all likelihood, Snow has made assurances — a shot at the starting job, consistent playing time, etc. — that Sorokin believes he won't be able to keep.
Since a transfer agreement between the two pro leagues has yet to materialize, Sorokin could stay in Russia for years. And who could blame him? He would be passing up on the full package — guaranteed playing time, a starting job, a presumably tax-free contract — to play in North America.
From the Islanders' perspective, this is a true bummer. The team has limited options to improve their goaltending, which was the league's worst by every conceivable metric last season.
Christopher Gibson and Jaroslav Halak are unrestricted free agents. Thomas Greiss is coming off the worst campaign of his career. And the market for netminders is thin, starting with Cam Ward, who is on the wrong side of 30.
Snow is going to have trouble filling this void.
Sorokin is a freak athlete, known for making show-stopping saves and getting out of his crease. "He may get into some sticky situations," InGoalMag's Greg Balloch writes, "but Sorokin's explosiveness allows him to get back into most plays, even when it looks impossible." The Islanders have not had a goalie with that much fluidity since, well… it's been a while.
It looks like it will be a while longer.