Two of the NFL's most illustrious franchises will soon bid farewell to renowned throwers. How each, Eli Manning and Ben Roethlisberger, is handling his impending departure sets the Pittsburgh Steelers and New York Giants on different paths.
Save for a memorable monologue on The Michael Kay Show in 2011, New York Giants starting quarterback Eli Manning is a man of few words, often letting his play on the field dictate his reputation. Manning, however, has held one of New York City's most scrutinized occupations for over a decade, so he has been called upon for words countless times. Over the years he's dealt with miracles and messes in this roller coaster span on the Giants timeline, but right now it's a quote from last June's minicamp that is standing out, concerning the third round drafting of fellow quarterback Davis Webb.
"Once they drafted him, (there's) nothing to say different than drafting a defensive lineman or a linebacker I'd say, so I'm fine," Manning said. "We drafted a quarterback 4 years ago with Ryan Nassib so I understand they have to draft a quarterback and they have to draft players on the board who are going to help out down the road."
For the first time since 2003, the idea of someone other than Manning not being the franchise quarterback of the Giants is a realistic possibility. His status as the youngest Manning brother often shields fans from the idea that Manning will indeed retire some day, but it's a possibility both fans and team management must prepare for. The Giants' leadership group is indeed laying the groundwork for a Manning-less MetLife Stadium, having drafted Webb last season and Football Championship Subdivision stud Kyle Lauletta in the fourth round this year.
The Pittsburgh Steelers, fellow drafters of a two-time Super Bowl champion quarterback in 2004, are in the same boat. The indirectly aforementioned Ben Roethlisberger went minutes after Manning and has since fulfilled the trademark consistency the Steelers have come to be known for, a staple in the Pittsburgh offense over the past decade-plus.
Though they're both two-time Super Bowl victors and rare remnants of mid-2000's football, Manning and Roethlisberger's respective reigns couldn't be more different. Whereas a slight pall has been cast over Roethlisberger's legacy thanks to injuries and off-field controversies, Manning has been one of the most durable and affable personalities in the league. Different throughout their careers, it appears they'll end their tenures on the same note if Roethlisberger's comments about Pittsburgh's preparation are any indication.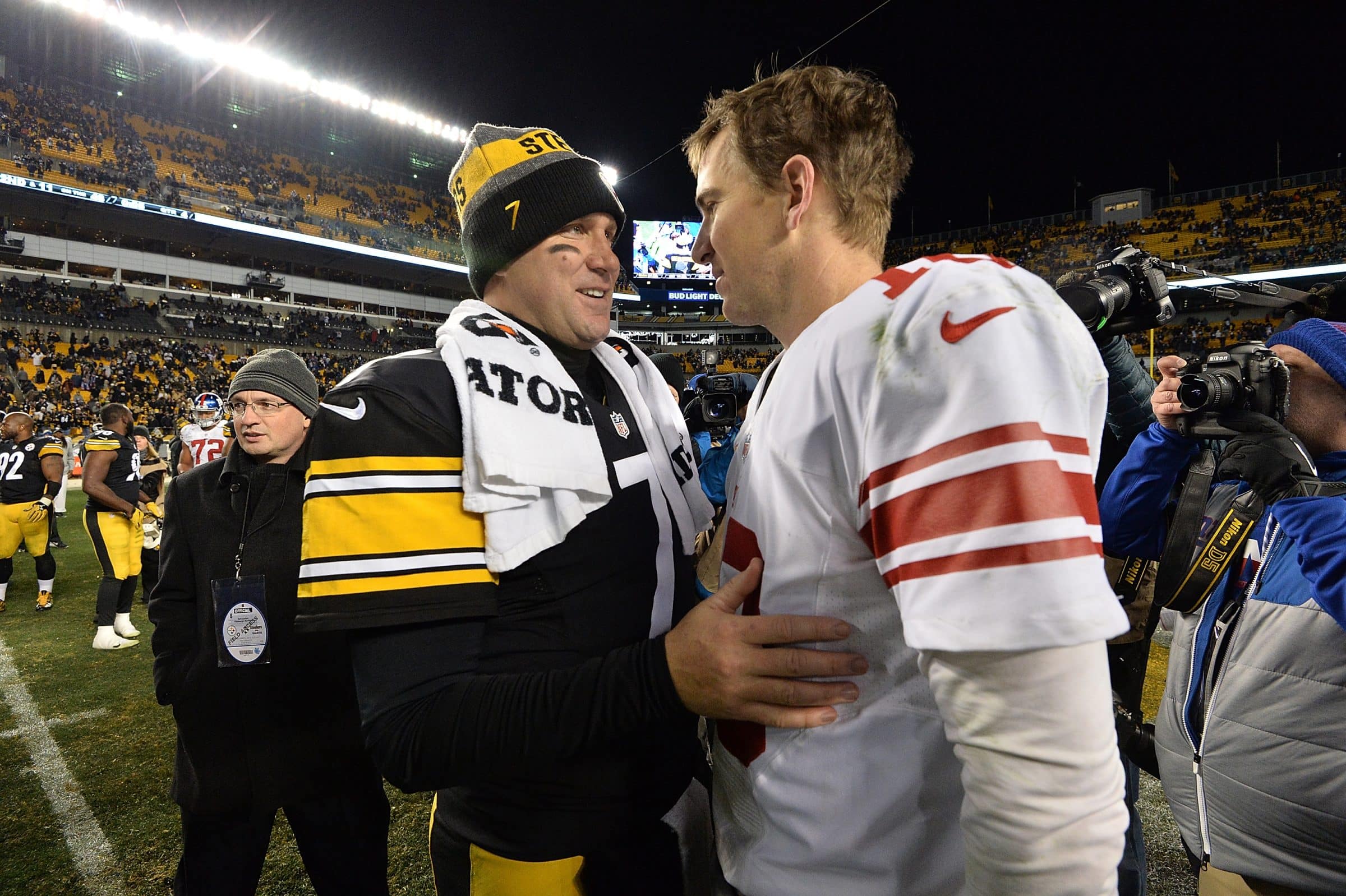 The Steelers have likewise drafted mid-round quarterbacks in the past two drafts, with Josh Dobbs (fourth round in 2017) and Mason Rudolph (third round in 2018) joining the team in back-to-back years. While preparing for their future, the Steelers have used early picks over the past couple of drafts to immediately add to their AFC-contending arsenal. Linebacker TJ Watt and receiver JuJu Smith-Schuster were last year's top selections, for example, and the pair immediately endeared themselves to Steelers fans with strong personalities and on-field heroics. This season, the Steelers again went with immediate contributors on both sides of the ball, taking linebacker Terrell Edmunds and receiver James Washington with their first couple two weeks ago.
That, however, wasn't enough to satisfy Roethlisberger, whose comments on the Cook and Poni Show on SportsRadio 93.7 The Fan (KDFA-FM) last Friday stirred controversy in the Steel City, suggesting anything but a warm welcome for Rudolph.
"Maybe in the third round, you know you can get some really good football players that can help this team now. Nothing against Mason, think he's a great football player. I don't know him personally, but I'm sure he's a great kid," Roethlisberger told hosts Ron Cook and Andrew Fillipponi. "I just don't know how backing up or being a third, well who knows where he's going to fall on the depth chart, helps us win now, but you know that's not my decision to make that's on the coaches and the GM and all those kind of things. If they think he can help our team, umm so be it, but I was a little surprised."
With these comments, Roethlisberger has shown his ignorance of Steelers history. Recent third rounds have been the definition of hit or miss for Pittsburgh, who, to be fair, enjoyed instant production from defensive tackle Javon Hargrave in 2016. While 2017's selection, cornerback Cameron Sutton, dealt with injuries in his rookie year, Sammie Coates of the 2015 draft has already departed, picking up just 22 receptions in two years with the Steelers. Markus Wheaton (2013) had two solid years before injuries ended his Pennsylvania term in 2016, while 2014's option, receiver Dri Archer, is out of football entirely.
Roethlisberger appeared to take offense to a confident Rudolph's comments to Jacob Klinger of Penn Live, as the new Steeler remarked "It's not Ben's job to teach me anything", suggesting an acknowledgment that staring duties still belong to the veteran. The one nicknamed "Big Ben", however, somewhat brushed these words off.
"I don't think I'll need to (guide him) if he said he doesn't need me," Roethlisberger said later in the 93.7 interview. "So if he asks me any questions I might have to point to the playbook."
Furthermore, when Roethlisberger entered the league, he himself had a reliable mentor, former first-round pick and XFL legend Tommy Maddox.
While Maddox never lived up to the massive hype behind his drafting, originally envisioned as the heir to John Elway's Denver throne in 1992, he built himself a solid career in the niche areas of professional football. After throwing for 64 touchdowns with the Arena Football League's New Jersey Red Dogs, Maddox was the lone MVP of the ill-fated first incarnation of the XFL, leading the Los Angeles Xtreme to victory in the Million Dollar Game. Using the Vince McMahon-fueled momentum, Maddox signed on with the Steelers in 2003, working through two solid seasons as their starter before Roethlisberger took over.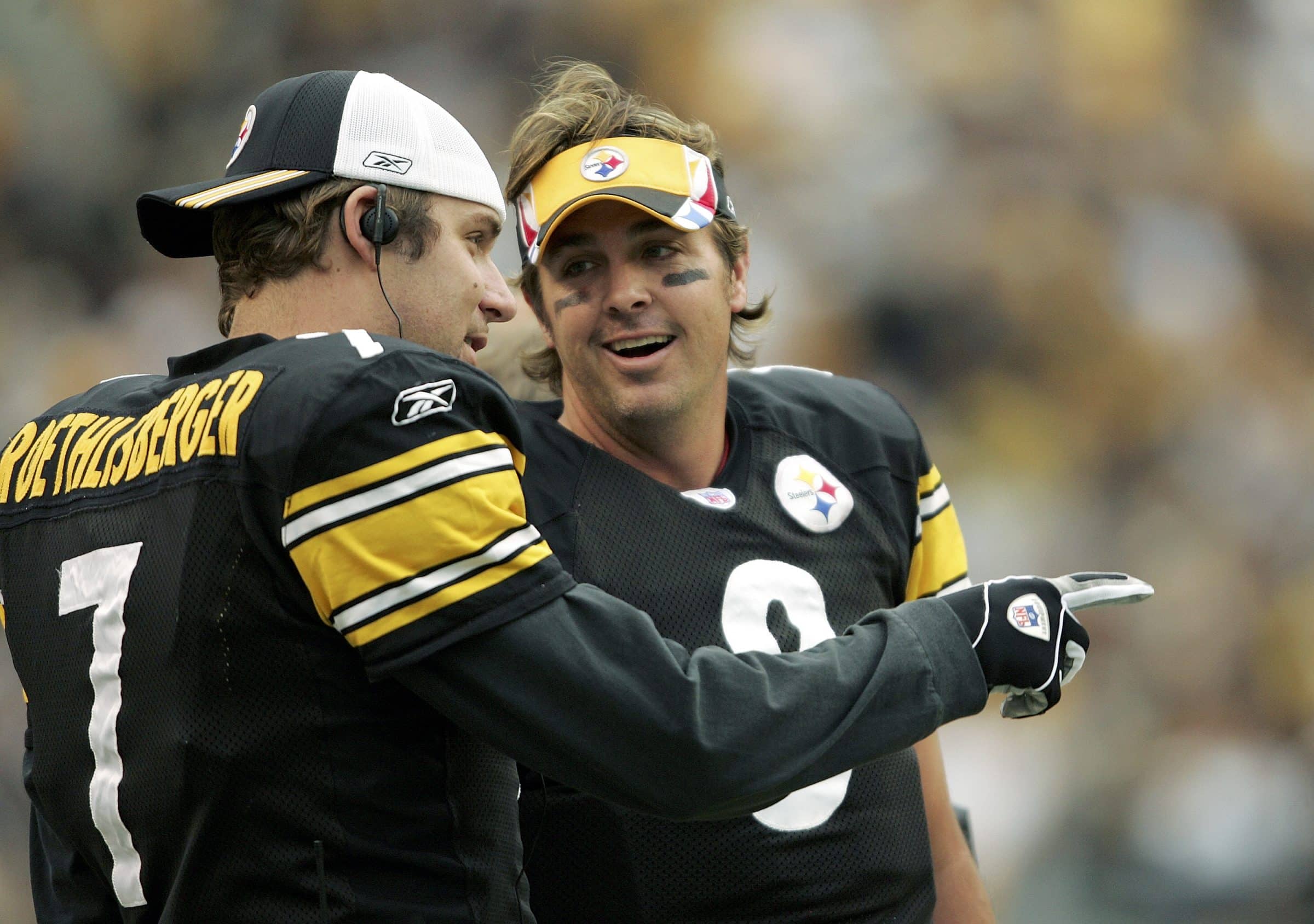 "He'll meet me halfway out on the field to answer a question for me," Roethlisberger said of Maddox's influence in a 2005 interview with USA Today's Tom Spousta. "I owe so much of my success to his help."
Just over six hours away in East Rutherford, Manning has gone a different route, providing the smoothest past possible for the inevitable day of transition. In a rare Roethlisberger similarity, Manning knows the value of learning behind a mentor, as his career began behind future Hall-of-Famer Kurt Warner in 2004. Time will only tell if the transition will happen while Manning is still on the roster, but, for the time being, he's expressing nothing but anticipation for the chance to mold the next generation of Giants football.
As the Giants' 2017 season slowly descended deeper into the netherworld, Manning's media sessions were increasingly peppered with questions about Webb, who wound up dressing for only one game last season. Never straying from the answer he provided in minicamp, not to mention continuing to personify the class expected from him, Manning never questioned the use of a third-round choice on the quarterback, only speaking highly of Webb's progress as the season went on. In a classic tale of Manning class, ex-teammate and current analyst David Diehl told a story of Manning, hours after his infamous benching for Geno Smith last season, was the first to report for activities the following morning, mentoring Webb in the team cafeteria.
"I think he's done a good job just studying and asking good questions and trying to play the game from behind when he's watching practice," Manning said in December. "He's a smart kid and he can figure it out."
When the Giants made the unexpected selection of Lauletta in the fourth round, Manning, speaking at a charity event forGuiding Eyes for the Blind earlier this week, displayed only an enthusiasm to work with two touted youngsters once organized practices begin.
"I know he's very talented," Manning said, according to Paul Schwartz of the New York Post. "(I'm) excited to get him in the facility, get him on the practice field and work with him.''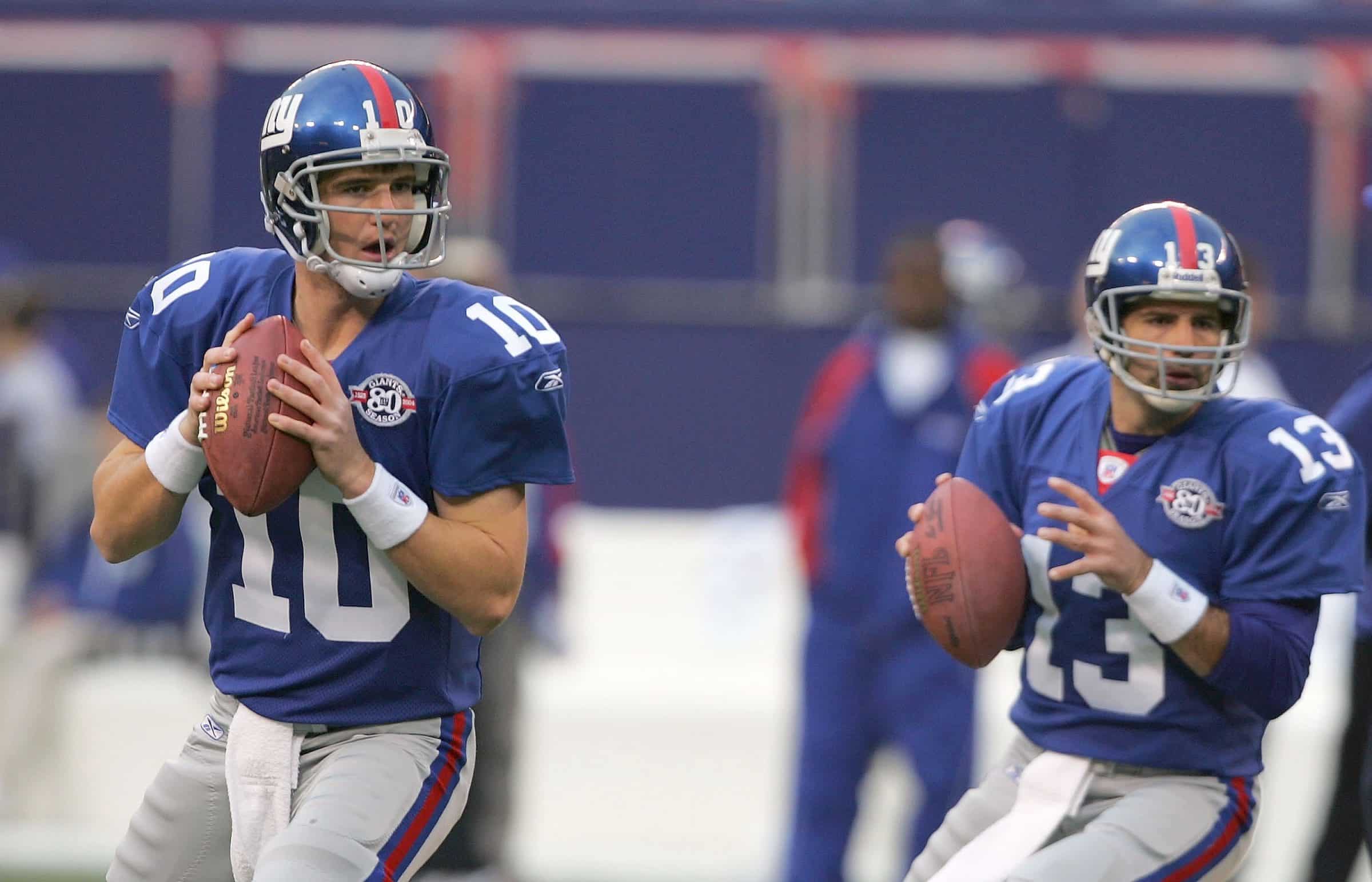 With 10 Super Bowl titles between them, the Giants and Steelers, have become two of the most illustrious franchises in football history. Moving on from a legendary quarterback isn't easy, and the process must be handled delicately. Both the Giants and Steelers both had far too many needs to do what the Colts did in 2012, when they filled in the Peyton Manning gap with top overall pick Andrew Luck. In this case, the process needs as little resistance as possible, or it could set the team back years. Even the mighty New England Patriots might've fallen victim to this trend, as time will only tell if Tom Brady's implied influence over the Jimmy Garoppolo trade will set the franchise back.
It's an uncomfortable situation, and it's the type that teams will try to avoid at any cost. The New Orleans Saints, for example, have done little to prepare for life after Drew Brees, with Tom Savage and Taysom Hill the only other quarterbacks on their roster.
It's downright shocking this still needs to be said in 2018, but Giants fans have been reminded once more how blessed they are to have chosen Manning in 2004.
Follow Geoff Magliocchetti on TWITTER