Jason Witten turns 36 on Sunday, but he perhaps provided the best gift of all to Giants fans by announcing his retirement on Thursday afternoon.
For New York Giants fans, fear of the number 82 has finally subsided. Well, at least until their two Monday Night Football games in the 2018 season.
Witten, who turns 36 on Sunday, announced his retirement from football earlier this week, capping off a stellar 15-year career with the Dallas Cowboys, whom he joined as a third-round draft pick in 2003.
Now part of ESPN's primetime team, following in the footsteps of fellow Cowboys alumni Troy Aikman and Tony Romo, Witten retires with 1,152 receptions for 12,448 receiving yards and 68 touchdowns, making him a sure-fire inductee to the Pro Football Hall of Fame in Canton, OH soon enough.
For Giants fans, this day was long anticipated on the calendar. Witten faced the Giants 30 times in his career and wound up tallying 154 receptions for 1,568 yards. While the catches are the most he's recorded against any one team, the touchdowns truly stand out.
Of Witten's 68 regular-season scores, the 15 he earned against the Giants are, likewise, the most he had against any opponent, and it's not even close. Behind the Giants are the Washington Redskins, against whom Witten caught nine scores.
Giants fans will argue that Witten's mere prescience on the field was enough to induce headaches, but there were several instances in particular that created enormous disturbances in the Big Blue Force.
12/21/03- The First Score
The 2003 season was a tough one for the Giants. The final year of the Jim Fassel era ended with an eight-game losing streak, while the Cowboys reintroduced themselves to NFL relevancy under a new coach, New York legend Bill Parcells.
Parcells was one of the earliest believers in Witten, praising the then-rookie for his toughness. Breaking his jaw in a game against Arizona, Witten ended up missing just one game, the only one he'd miss in his NFL career.
Splitting time with Dan Campbell at tight end, Witten earned the first touchdown of his career against the Giants, doing so in the penultimate game of the season at Texas Stadium.
Witten's 36-yard touchdown from Quincy Carter was his lone reception on the day and the only six-pointer of the game, a 19-3 Dallas win. To add insult to injury, the Cowboys clinched their first playoff berth since 1999 with the victory.
Ironically enough, in Witten's final meeting with the Giants at home, the Cowboys again won 19-3, with the game's lone touchdown going to Witten once more.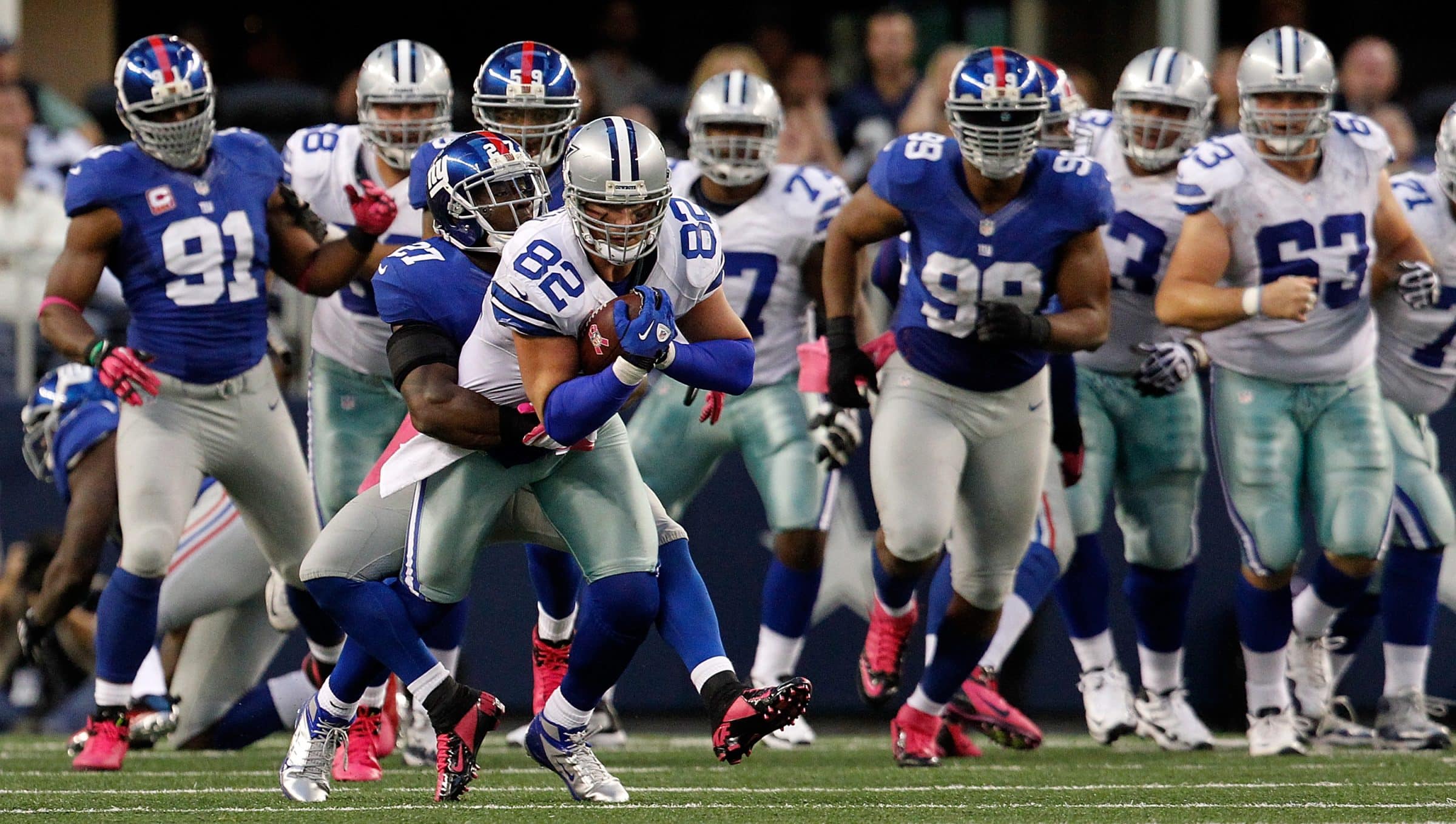 10/28/12- Victorious Defeat
Even in victory, the Giants were unable to control Witten, and that trope played itself out in its maximum form during the Giants' 2012 visit to Dallas.
Jumping out to a quick 23-0 lead, the Giants eventually hold off a Cowboys rally to secure a 29-24 victory. At the forefront of that valiant effort was Witten, who tallied 167 yards on 18 receptions.
Not only did Witten set a new Cowboys franchise record for receptions in a single game, but broke a league record he previously tied. With those 18 grabs, Witten set a new landmark for his position, the most catches ever accumulated by a tight end in a single game.
Kellen Winslow had held the record since 1984, though Witten tied him during a 2007 win over Detroit.
Three years before breaking it, Witten had come one short of tying Winslow again, nabbing 14 receptions in a 31-24 Cowboys loss to the Giants in the teams' final meeting at Giants Stadium.
9/13/15- Last TD with the BFF
Witten's name will perhaps forever be linked with Tony Romo's. The two entered the league together as rookies in 2003 and went on to form one of the most trusted and publicized friendships in recent NFL history. The two collaborated for 37 touchdowns, the last two of which came against…well, by now you know it's the Giants.
The final score came in particularly heartbreaking fashion, as the teams met in their 2015 opener at AT&T Stadium. The Giants had control of the game for a good portion and led 23-13 midway through the fourth quarter.
A Witten score from Romo, put in with just over five minutes remaining, cut the lead down, but the Giants still seemed to have control with a 26-20 lead with just over 90 seconds to go.
That's when, for the final time, Romo and Witten worked their magic. Going 72 yards in just six plays, Romo capped off his final fourth-quarter comeback with an 11-yard touchdown pass to seal a 27-26 victory.
12/10/17- Goodbye, New York
If Eli Apple was going to celebrate any opposing scores, it might as well have been this one.
Witten's sudden retirement didn't allow for a gift-laden retirement tour prevalent in other sports, most prevalently baseball. He did, however, provide Giants fans with one last parting gift in his final visit to East Rutherford last December, even if it's one Giants fans would like to return immediately.
In a 10-10 game in the fourth quarter, Witten's 20-yard score from Dak Prescott gave the Cowboys a lead they would never relinquish. With that tally, Witten's career came full circle, as it wound up being the last of his 69 career touchdowns, sandwiched by scores against the Giants.
Jason Witten, I would say we hate to see you go but…honestly, we're not. Congratulations on a great career and looking forward to seeing you in the ESPN booth!
Follow Geoff Magliocchetti on TWITTER