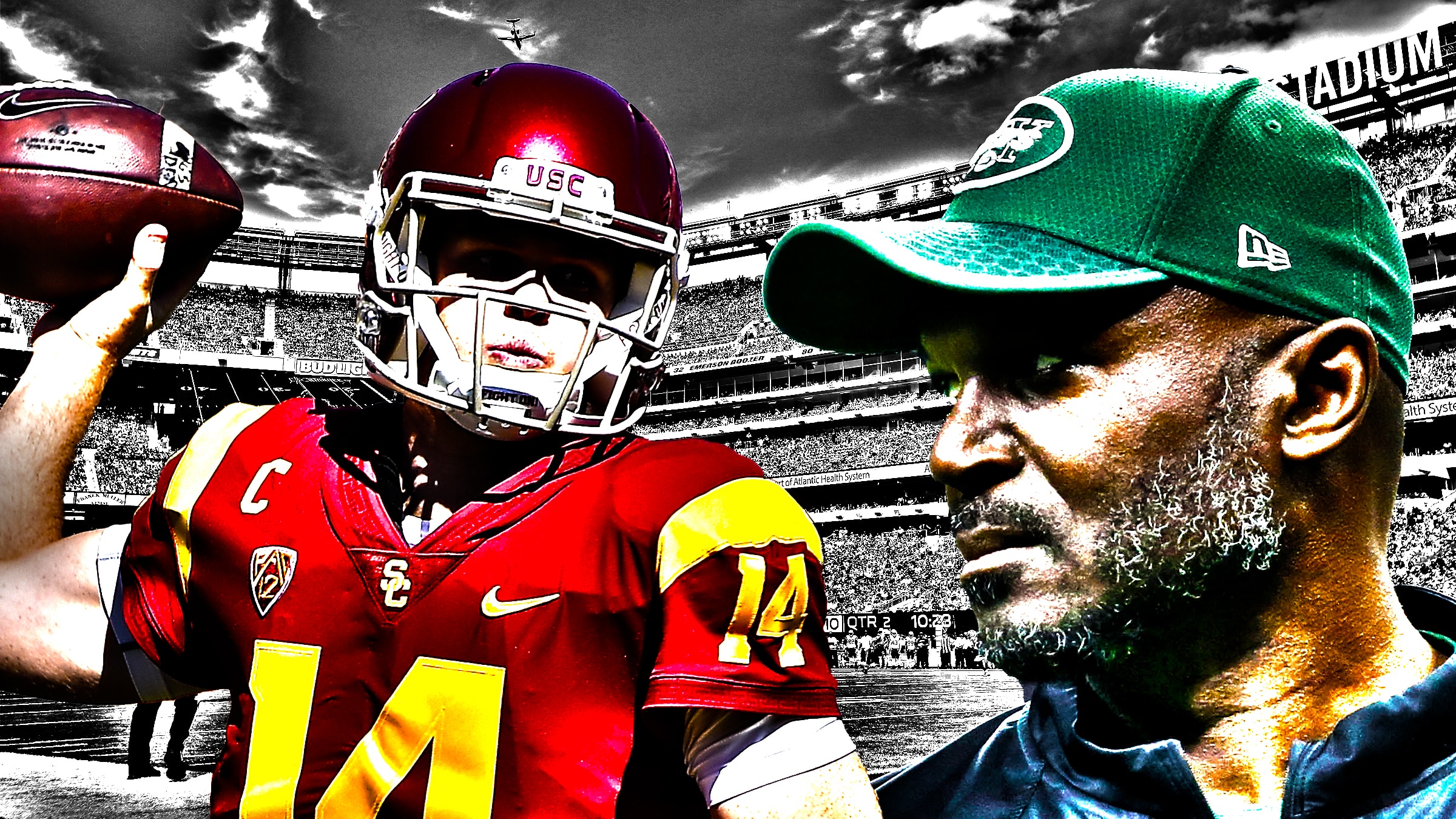 New York Jets head coach Todd Bowles provides a priceless reaction to what he saw from rookie Sam Darnold on Friday during rookie minicamp.
Meet New York Jets head coach Todd Bowles, a man of very few faces. A man of very few emotions. A man who'd remain tight-lipped and serious during a comedy club routine if his job depended on it.
Now meet the new Todd Bowles, the very same stoic character who's now been gifted with a legit, young face of the franchise who plays the all-important quarterback position.
#Jets coach Todd Bowles asked how Sam Darnold looked today in his first practice of rookie minicamp … and he laughed and then … ?? pic.twitter.com/YLcZURk9yS

— Dennis Waszak Jr. (@DWAZ73) May 4, 2018
In response to the question regarding how Sam Darnold looked in his first official practice with the organization, Bowles' response was loud yet not extremely clear.
"He was great. I want him to play right now!"
Folks, that's an average performance coming from a terrible actor in Bowles.
What is apparent is that the sarcasm is dripping wet. He hears the rumblings surrounding young Darnold. When will he play? Will he start Week 1? Will he even have a chance to play?
Therefore, Bowles comes in with the "I want to play him right now!" answer while slamming his hand on the press-conference podium.
Regardless, this kid is good. It's obvious he's far and away the best talent the Jets have secured at the position in decades and heads and shoulders better than anyone else at the spot—including Josh McCown.
Sam Darnold can sling it ? pic.twitter.com/dJPbbbGIUg

— New York Jets (@nyjets) May 5, 2018
Confident Sam Darnold hits Jets practice field for first time.

More from @dwaz73: https://t.co/Xao1G3bP5w pic.twitter.com/W27he03yg5

— AP NFL (@AP_NFL) May 4, 2018
Day 1 of New York Jets rookie minicamp is officially in the books with Todd Bowles going nuts, a brand new team motto, Sam Darnold speaking confidently and Nathan Shepherd breaking it down to wrap it up.
It's time for Jets football again.
First day on the job ✔️ pic.twitter.com/kdqbb3b7Yk

— New York Jets (@nyjets) May 4, 2018
???? @Join1Love pic.twitter.com/2WJdW7sasP

— Avery Williamson (@AWilliamson54) May 4, 2018
Break it down on @NathanDShepherd! #1T1G

? https://t.co/DGCKfT3IUi pic.twitter.com/SJ1lz9O3yj

— New York Jets (@nyjets) May 4, 2018